Dining out in Singapore is serious business – we find Michelin starred hawker stalls on its streets, Michelin starred restaurants in 5-star hotels and everything in between. One of these in-between delights is the deliciously indulgent champagne brunch.
Read on for an overview of our most loved champagne brunch experience in Singapore. Get ready to slip into a brunch induced coma only to wake up all champagned-up and pleasantly content - yes, there is such a thing!
The Sunday Champagne Brunch at Brasserie Les Saveurs is more of a grand event than a Sunday Brunch, it's four hours (12 - 3pm, with an hour of aperitifs from 11am to 12pm) of sheer delight that tops the list for this reporter.
All luxury, replete with crystal chandeliers and high ceilings, the restaurant reaffirms your faith in French cuisine as one of the world's most delectable cuisine.
Commence your experience with a complimentary hour of aperitifs from 11:00am to 12:00pm at Astor Bar, before continuing on with a free-flow of your preferred Champagne as you begin your epicurean brunch experience at Brasserie Les Saveurs.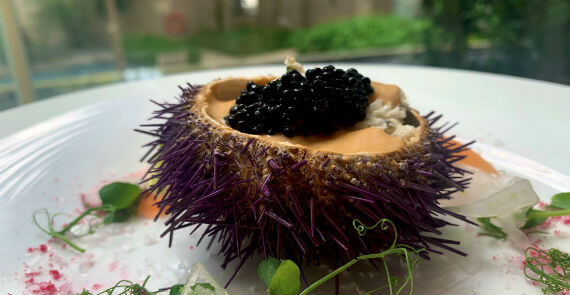 A popular choice is the L'expérience Des Connaisseurs experience. At S$198++ per person, it includes a flow of 'R' de Ruinart Brut NV, wines, Tiger beer, soft drinks, juices and freshly brewed coffee and tea.
For the finer things in life, you may indulge in the La Grand Cuvée experience at S$486++ per person, including a flow of Krug Grand Cuvée NV.
An amuse bouche of Smoked Salmon Tartare with Avocado and Salmon Caviar, set to tantalise the taste buds, is introduced to the table shortly after you're led to your seat; followed by an endless flow of exceptional small plates of eggs and foie gras, made à la minute, along with a portion of succulent Grilled Half Maine Lobster doused in savoury Garlic Butter Sauce.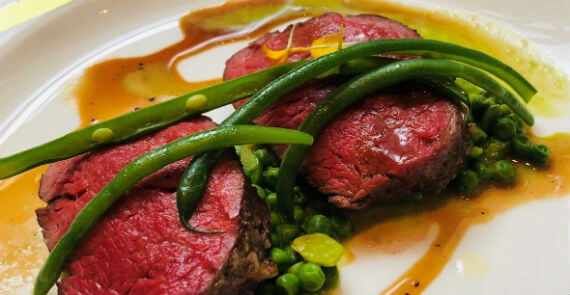 Cleanse your palate with a serving of Liquid Nitrogen Sherbet before tucking into the plats de resistance.
Select from hearty Grilled Beef Tenderloin with Green Peas and French Beans, tender Baked Cod Fish with Lentil Ragout, Shimeji Mushrooms and Green Asparagus, to a juicy Impossible Meat-stuffed Baked Tomatoes with Rocket Pesto and Ratatouille; while the little ones are well taken care of with a kid-friendly menu perfectly curated to suit their delicate palates.
Expect to further captivate palates with an impressive line-up at the inviting buffet counters, including a medley of Homemade Breads, Cold Cuts, Cheeses, Lobster Bisque Mousse with Caviar, Roast of the Day, a Japanese selection of sushi and sashimi, and succulent Fruits de Mer.
For a theatrical experience, look on as a master chef fires up the crowd pleaser dessert of Crêpe Suzette Flambé, then continue on to a luscious parade of delectable desserts for more sweet sensations.
That's not all – the truly luxurious experience is perfected by an enjoyable, light accompaniment of jazz music led by award-winning musicians. Reservation is highly recommended.  View Full menu here.
Lobby Level, The St. Regis Singapore
29 Tanglin Road 247911 MAP HERE
Reservations: W. www.brasserielessaveurs.com | P. +65 6506 6860 | E. [email protected]
Comments
As soon as you enter the chic atmosphere of the Astor Bar, you feel you have arrived. The intimate surrounds, a perfect pianist and the free flowing champagne and cocktails, (for an hour!), was the perfect way to settle in to our brunch experience at St Regis. Once we had enjoyed catching up over delectable canapés and drink, we headed into the light and airy Brasserie Les Saveurs, where we were able to enjoy a relaxing view of the pool and water fountains while choosing from an array of appetisers and mains. In the meantime the smoked salmon tartare with avocado and salmon caviar arrived, which I enjoyed immensely. I also thoroughly enjoyed my appetiser of Pan Seared Foie Gras - it just melted in my mouth. Continuing on with the Foie Gras theme, I selected samples of the Foie Gras Mouse in a charcoal cone, Foie Gras Terrine and my favourite dish of the day, the Crème Brulee Foie Gras from the generous buffet. I also relished the tastes of both the Duck and Salmon Rilletes alongside the beautiful variety of salads made of high quality ingredients. As the fun and frivolity flowed between our group, so did the free flowing Ruinart Champagne. And once we were finished with the bubbles we were able to move to wine, where there was a nice selection of red and whites (and Bloody Mary's!), which kept our thirst at bay throughout the afternoon. Next we were treated to grilled Maine lobster with garlic butter sauce. The lobster was incredibly succulent and cooked to perfection. This was definitely a highlight of the brunch. As our bellies expanded we were treated to the sweet sounds of a gorgeous female jazz singer, which lulled us into expanding our bellies even more with our mains. My main of baked cod with lentil ragout and green asparagus was delicious, however I did have food envy, as the grilled beef tenderloin with green peas and French beans looked and smelt incredible. However, I was not disappointed when it came to the selection of decadent sweets. A heavenly chocolate macaron, a slice of Opera Cake and a kefir lime jelly mousse were the perfect way to end of the afternoon. This was my first brunch in Singapore and I found it a more refined, relaxed and intimate compared to brunches in some of the high-end Hong Kong hotels. I look forward to more brunches of this caliber in Singapore! View the menu here: www.bit.ly/SundayBrunch_EC1
The French should stick to what they know best - quality cartoucherie, distinct cheeses, elegant patisserie and classic French dishes. With a new chef on board, St Regis recently revamped their Sunday brunch offering with a more exquisite selection of their house pour champagne, a delectable buffet comprising seafood, roast meats, breads, cheeses, salads and desserts and an ala carte menu from the hot kitchen. The Buffet It tries to do what people expect out of a usual buffet in Singapore - fresh seafood, sushi, prime roast meats- lamb and beef, a salad station; which in my opinion, is missing the point of being a French brand. While it's all fresh and yummy, I would have liked to see a more French Medittaranean approach. Perhaps have grilled crevettes instead of boiled shrimp that I can get at any other buffets in Singapore? Forget about the sushi and sashimi. Or at least give it a French twist! As for the salad station, I was expecting a potato gratin, ratatouille, shrimp cocktail, anchovies and tomatoes but was disappointed that I couldn't find any. What stood out for me from the buffet spread was their excellent selection of cheeses, charcuterie, pastries and breads, foie gras, terrines, rillettes, mousse, aspics and wonderful patisserie selection. Hot Kitchen Menu While the buffet spread was nothing out of the ordinary, items on their ala carte menu was truly exceptional. Every item on the menu made it worth the trip. From the scrambled egg with black truffle shavings to the pan-seared foie gras, to the grilled half Maine lobster in garlic butter sauce, you will experience the finesse that the French are known for. The main courses - Chateaubriand de Beef, Filet Cabillaud Roti (baked cod fish, lentil ragout, shimiji mushrooms and asparagus) and Impossible Tomato Farcies (baked tomatoes stuffed with Impossible Meat, rocket pesto and ratatouille) are classic French recipes that are just absolutely delicious. Wash it all down with that exquisite Ruinart Champagne and be sure to catch the moment when they saber the champagne to mark the long-standing celebratory tradition practiced at St Regis all around the world. An overall enjoyable experience.
Rock Star Greeting "Welcome to the famous St Regis Singapore". You can't help but feel special when you are greeted with such warmth and then personally escorted through enormous glass doors. Within minutes I was sipping on a glass of Ruinart Champagne inside the classic elegance of the Astor Bar with my host John Gordon of Expat Choice Asia. WOW Wine Service A highlight of the wine service was the Brasserie Les Saveurs Restaurant Sommelier conducting a sabrage on a bottle of Ruinart Champagne. Sabrage is a technique where a sword or "saber" is used to open the bottle. It's very theatrical and has its history dating back to Napoleon times. Ruinart is the oldest Champagne house that has exclusively produced Champagne since 1729. In the past 10 years Ruinart has had two women winemakers: Amelie Chatin who was followed by Caroline Fiot. St Regis is following suit by appointing fabulous women in leadership roles: the Director of Food & Beverage and the Director of Marketing Communications, both with fabulous first names Denise and Denice respectively! However, they still have some work to do to get the wine service and the wait staff to a level befitting the luxury of the brand. WOW Moments Brasserie Les Saveurs and its olde-world architecture is reminiscent of the stately castles and manors of Europe, especially its floor-to-ceiling windows and resplendent crystal chandelier. A table by the window overlooking the tropical garden and sparkling pool is a gorgeous spot to indulge in a Sunday afternoon brunch with specially crafted canapés, a lavish spread of appetisers and decadent desserts. Oysters, snails, sashimi and jamon were followed by smoked salmon tartare with avocado and salmon caviar. We then experienced perfectly pan seared foie gras and grilled Maine lobster with garlic butter sauce. Chateaubriand de boeuf with fresh green peas and French beans rounded out the meal. There was almost no room for dessert. Almost. It was a treat to meet recently appointed Executive Chef, Thibault Chiumenti. At our table he shared his culinary journey and what he has in store for the dining experience at St Regis Hotel. Exciting times ahead. If you were ever in two minds about having Sunday brunch at the St Regis, I highly recommend giving it a try. View the menu here: www.bit.ly/SundayBrunch_EC1