Hero Video: ONEº15 Marina Club
Situated on Sentosa Island, Singapore's prime leisure district, ONE°15 Marina Sentosa Cove, Singapore  is a part of an emerging trend of hip and upscale luxury neighbourhoods, positioned to become one of the world's most well-integrated waterfront lifestyle communities.
Evoking the glamour and elegance of Monte Carlo, ONE°15 Marina Sentosa Cove, Singapore  offers world-class marina facilities and is furbished with a comprehensive range of luxurious private club amenities catering to both boaters and non-boaters alike.
ONE°15 Marina, Sentosa Cove, Singapore promises to be an unprecedented lifestyle destination with a well-appointed clubhouse featuring modern facilities including a designer infinity pool, well-equipped fitness centre/ gymnasium, members' lounge, modern spa, waterfront bistro offering international cuisine, Chinese restaurant, tennis courts, as well as 26 luxurious rooms with scenic views of the hill or marina.
For members seeking an escapade to a paradise of sun, sea and sand, swanky boathouses and yachts with four bedrooms, a complete suite of amenities and outdoor barbecue areas are available for charter from the club. Alternatively, superyachts, ideal for hosting private parties and cruises to nearby islands are available for charter from ONE15 Luxury Yachting, a subsidiary of ONE°15 Marina, Sentosa Cove, Singapore.
With the completion of Phase 3, a brand new marina section consisting of 66 berths, the Club is positioning itself to be the home of megayachts from all over the region. ONE°15 Marina, Sentosa Cove, Singapore has an entrance of 40 metres useable width (50 metres minus low water apron) and a 5.6-metre datum depth. It is amongst the few marinas in Asia with full facilities to accommodate megayachts of up to 200 feet within its shelter of natural, deep water.
Since its inauguration in 2007, ONE°15 Marina, Sentosa Cove, Singapore has won several international accolades including Outstanding Hospitality Award at the Helm Magazine Singapore Yacht Show Awards 2013, Asian Marina of the Year at the Asia Boating Awards consecutively from 2012 to 2014, Best Asian Marina/Best Yachting Club 2009 and the prestigious FIVE Gold Anchor Award. It is the first marina in the region to achieve ISO 14001, a prestigious and internationally-recognised certification for Environmental Management.
The Club's environmentally-friendly practices and efforts were also recognised when it was named Green Maritime Company of the Year at the Asia Boating Awards 2015. ONE°15 Marina, Sentosa Cove, Singapore is honoured to be the host of upscale international yachting events including the Clipper Round the World Yacht Race, the Volvo Ocean Race, Asia Superyacht Conference, Asia Pacific Superyacht Conference, Asia Pacific Yachting Conference and the Singapore Yacht Show.
In addition, ONE°15 Marina, Sentosa Cove, Singapore is also the proud venue host of the Singapore Straits Regatta, sanctioned by the Singapore Sailing Federation and supported by five other marina clubs for 4 years. As venue hosts to upscale international events as such, ONE°15 Marina, Sentosa Cove, Singapore is truly living out its vision of being Asia's First Finest Marina and Leisure hub. 
Marina and Yachting Facilities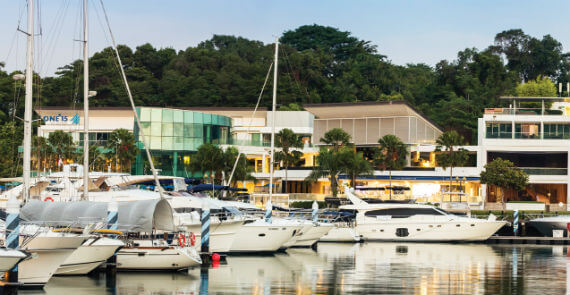 Featuring 270 berths, ONE°15 Marina Sentosa Cove, Singapore is fully accoutred to accommodate megayachts of up to 200 feet due to its natural deep water basin. The marina also provides state-of-the-art facilities for all yachting needs, such as 24-hour security, fuel docks, power supply and waste pump-out system. Non-boaters can also embrace the nautical lifestyle with ONE°15 Marina Sentosa Cove, Singapore Luxury Yachting which features the largest and most comprehensive fleet of yachts for charter and cruising in Singapore. Our yachts have hosted presidential functions, international product launches and exclusive media presentations for some of the most notable brands worldwide.
Facilities and Recreation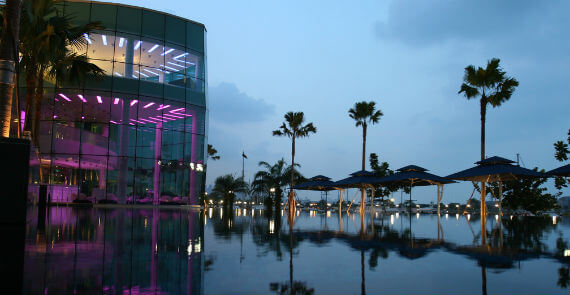 An urban retreat, the Club provides world-class facilities such as the Marina Sanctuary Spa, a well-equipped Fitness Centre with qualified instructors, Tennis Courts, the designer Infinity Pool as well as an exclusive Members' Lounge, innerCove. Apart from facilities, ONE°15 Marina Sentosa Cove, Singapore also provides a wide array of courses and workshops for Members such as swimming lessons, sea sports and boating courses, art and craft sessions, fitness programmes and various Club activities and events.
Accommodation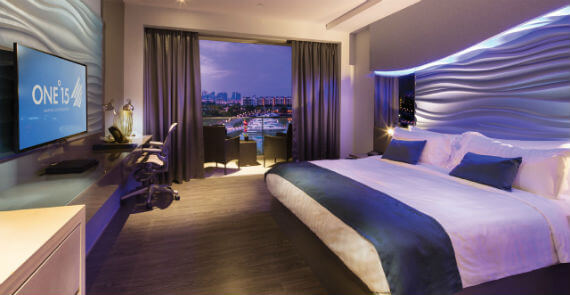 Rooms are categorised to Marina View Room, which features a panoramic view of the marina, Hill View Room, complete with a decadent bathtub beneath an overhead sunroof, and the Monte Carlo suite featuring a spacious living area and two bedrooms elegantly furnished with designer pieces.
A Feast for All Senses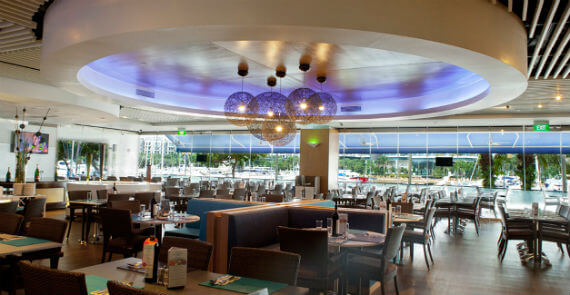 Bringing guests on an epicurean journey with our selection of bars and restaurants, ONE°15 Marina Sentosa Cove, Singapore provides some of the most delectable options for dining in Sentosa. Featuring a breathtaking view of the marina, LATITUDE Bistro has the casual yet sophisticated ambience for guests to enjoy local and continental cuisines. Acclaimed for its Teochew and Cantonese delicacies with sumptuous seafood, Crystal Jade Premium offers stellar service, congenial atmosphere and top-notch dishes. Other dining choices include Bar Nebula, Boaters' Bar, Pool Bar, and our Lobby Bar, HELIOS93, presenting an array of menus from intriguing cocktails to enticing patisseries and hot beverages.
Venue for Celebrations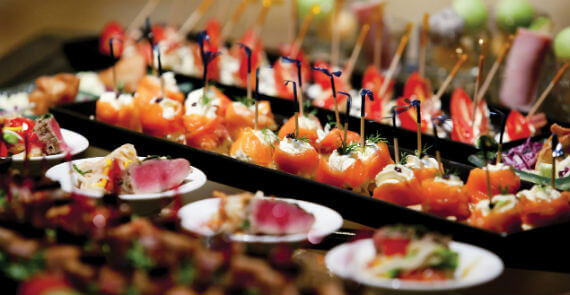 The choice setting for corporate meetings, private events, weddings and solemnisations with the best of both land and sea elements. Exuding grandeur and magnificence, the Constellation Ballrooms are pillar-less and equipped with state-of-the-art lighting and sound systems; its three separate halls can also be combined to a single, grand ballroom, accommodating up to 360 guests.
Specially constructed like a ship's hull, NOVA Room features floor-to-ceiling glass windows that offer a spectacular 180° view of the marina and is able to seat up to 40 guests. Located in the heart of the Club's marina, Boaters' Bar provides the perfect setting for you and your guests to unwind amongst some of Singapore's finest yachts.
Bar Nebula will leave your guests in awe with its sweeping view of the marina and the Infinity Pool through floor-to-ceiling windows; its furnished with a slightly futuristic touch and bathed in pleasing ambient light. Ideal for all meeting needs, the Club's Meeting Rooms promises privacy and comfort in a naturally-lit setting.
Comments
I visit One 15 Marina on quite a regular basis, especially when I am visiting friends on Sentosa. the venue really is awesome. I intend to also hire a boat in the coming weeks as a friend wants to host a party for 20 out on the water, this will be a great day and affordable. The deals are great.
We have had multiple experiences at this wonderful facility on Sentosa. The boaters Bar is a great spot to sit and catch up with a group of friends over $5 pors. Yes, that;s right $5 drinks all night long every night. It's unheard of here in Singapore but its the best deal in town and you are sitting right down on the Marina with the million dollars boats around you every where you turn. Get down here quickly. it is a wonderful sundowner spot.