Video Credit :  David Dadamo
Raise your glass to good news from U2: the band is in Singapore with its brand new international tour for 2019, this way giving punters an exclusive airing of their upcoming new album Songs of Experience! 
That's right, U2 are on a roll, having just finished The Joshua Tree Tour, which saw the superstars celebrate the album's 30-year anniversary by playing arena-sized concerts all over the world.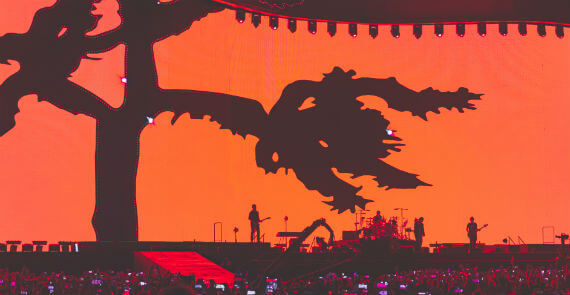 With anticipation reaching feverish heights for U2's fourteenth studio album, Songs of Experience is set to arrive in December 2017. Being a follow-up of Songs of Innocence (2014), the 13-song LP will feature previously released single tracks "The Blackout", "You're The Best Thing About Me", and "Get Out Of Your Own Way"- which features a spoken-word outro by Kendrick Lamar-, as well as unheard tracks.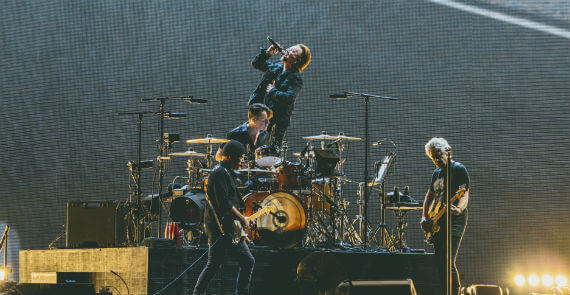 Few bands can boast of having such a vast and popular discography, with each album containing music gems such as The Joshua Tree's "With or Without You"(1987) and All That You Can't Leave Behind's "Beautiful Day" (2000). 
U2 consists of four band members, lead singer Bono, lead guitarist the Edge, bass guitarist Adam Clayton and drummer Larry Mullen Jr. The band initially started as a post-punk group but, as U2 evolved, so did their music. U2 are now famous for creating anthemic songs, laced with expressive lyrics and powerful guitar. This truly is a band that needs to be seen in concert to be truly appreciated.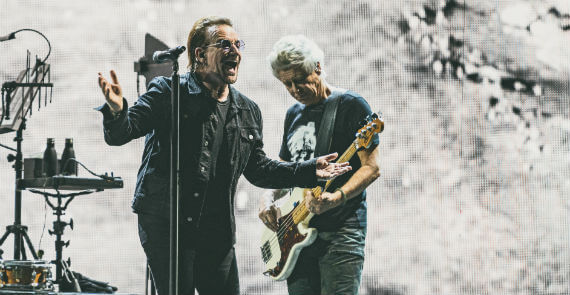 So don't hesitate and buy U2 concert tickets today at StubHub. If you want more great concert experiences, don't miss the chance to see the Foo Fighters live or the unstoppable Rolling Stones. 
U2's origin can date back to 1976 when several teenagers formed a band called 'Feedback'. The Irish rock group launched their path towards stardom after they won a live talent show in Limerick, which enabled them to record their first demo and get noticed by CBS Ireland. Since then, U2 has grown to become THE best-selling music artists of all time, they are the only ones to have won over 22 Grammy awards and to top it off, have been inducted into the Rock and Roll Hall of Fame. Moreover, Bono has become a role model for hundreds of musicians and fans. So, if you want to be part of U2's 2018-2019 tour make sure you buy tickets quickly.... in whatever sity you can see them.
Comments
Coming of Age and The Joshua Tree January 1989. I boarded a Greyhound Coach on my own for a 12-hour trip up the coast to Lismore, a country town in Australia, to spend a week of my summer break with my friend, Sarah. I was 14. Sarah was the daughter of my tennis coach. We met at her dad's tennis camp the year prior and instantly became very close friends. In Lismore, Sarah and I spent the days at the beach and hanging out at her place with her friends. Her friends smoked, drank and were already having sex. At 14, I was confident, but innocent. I remember trying to be cool, while not taking part in any of it. I held my nerve while feeling terribly anxious inside — mostly worried that my parents would not have realised that this was the holiday they had sent me on my own to! During the week, one of the mothers drove me, Sarah, her son and his friend to Dreamworld water park for a full day of rides, water slides and fun. As the sun was setting, we left the park and settled into the car for the two-hour drive back to Lismore. I sat in the front seat. Sarah and the boys were in the back. A cassette went in. It was the Joshua Tree. My memory of that car trip was singing along to the first few songs, before my friends in the back started to nod off to sleep. I remember looking behind to see them relaxed against each other, heads on shoulders. As I stared out the window at the highway — missing home, yet feeling just a little more grown up — Red Hill Mining Town came on. To this day, it remains my favourite song by U2. Joshua Tree became the soundtrack of my 14th year and my coming of age. Those memories of my 14-year old self were stirred up again at the U2 Joshua Tree concert in Singapore over the weekend. 30 years on, I was moved to tears, as I stood in the front row and heard Red Hill Mining Town again. This is my story. Red Hill Mining Town. U2 Joshua Tree Tour, Singapore Dec 2019 What about Her Story? 30 years on, I am a mother to a 14-year old daughter. What pivotal moments will form her identity, and propel her forward into the world as a strong, courageous and confident woman? U2's very moving feminist montage and message of unity and collaboration at the end of the show lit me up. It made me more certain than ever that as a woman, a mother and an entrepreneur, I need to be a great role model to my children. It was yet another sign, reinforcing that I need to forge forward with the vision I have for myself, my business and the world. My daughter is growing up in a world that is far more complicated than the one I grew up in. The challenges her generation are facing seem insurmountable. She is very anxious about the planet's sustainability and humanity's existence. I am desperately concerned. As parents, and as leaders in business and society, we need to come together and show our children that there is a new way to solve the world's most pressing challenges. I strongly believe that only collaborative action will save us. What will your story be? WRITTEN BY Miz Feiler http://40tothemax.com/coming-age-joshua-tree/ Helping you navigate towards a rich and fulfilling life built on strong personal and business relationships.
Only hearing and seeing positive feed back of this amazing show U2 held here in Singapore!
A brilliant concert full of empowered visuals, classic tunes and full throttle energy. Bono is in fine form. He brings his 40 years of performance expertise to the people of Singapore along with his boys - lead guitarist the Edge, bass guitarist Adam Clayton and drummer Larry Mullen Jr. for the first time in their career. The concert is designed to take us on a journey of discovery offering songs both old and new together with a backdrop that has been confirmed as the largest high-res LED video screen ever used in a touring show. The screen provides the most astounding vehicle to amplify a new series of haunting and evocative films shot in Death Valley and Zabriskie Point which feature in brilliant 8K resolution on a 200 x 45 ft cinematic screen behind the group in live performance. This is too much to comprehend until you see it. The screen weighs 22 tons and takes 8 hours to build. It's more than massive! A poignant moment honouring the daughter Bono's father always wanted gave a sentimental twist to the highly respected vocalist. The show also features a visual roll call of pioneering and trailblazing women which accompanies Ultra Violet - Light My Way - from 'Achtung Baby' in support of the ONE organization's ongoing 'Poverty Is Sexist' campaign. The concert this writer attended was on Sunday 1 December 2019 - World Aids Day - and again Bono's articulate underscoring of his on stage script paid tribute and respect to this who have suffered this disease with the mobile flashlights of tens of thousands of handset lighting up the national stadium. Pure magic. many who attended the show would not have been able to notice that the B stage that extends into the audience from the main stage ( where the night's show began ) is a perfect shadow of the Joshua Tree which features in the screen. An awesome experience - one not to be missed in any city across the globe where readers have an opportunity attend a U2 concert. Flawless performances - unique staging - no expense spared on this tour de force of a band that has surpassed any other bands popularity in history. Dangerously hypnotic atmosphere. Just the tonic we humans need!