What do you think about Things To Do In Singapore?
Main Video: This is the classic steakhouse concept, serving terrific value meals to guests.  As soon as you walk through the door at The Ranch Steakhouse, you'll be captivated by delectable aromas from our mouth-watering cuts of meat. Order your preferred steak and it will be cooked to perfection by our artisan chefs.
In true Singapore style, things just keep on getting hotter and hotter.
Festivals, music, fairs, street carnivals, art, all sorts of entertainment lay ahead in 2019
MUST VISIT Prudential Marina Bay Carnival until 24 March 2019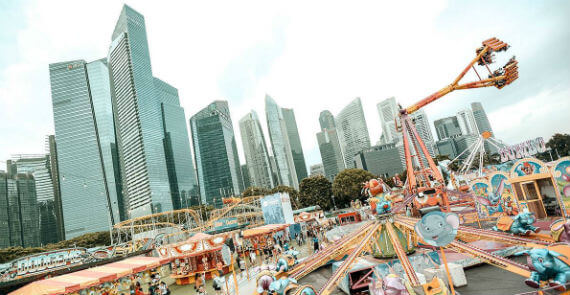 Are you ready for some fun, carnival-goers? This year, this carnival brings in thrilling rides from Europe! New thrilling rides that will introduce a whole new dimension of thrills for those who dare. Learn more here. The second edition of the Prudential Marina Bay Carnival is in Singapore, and transform the Marina waterfront into a colossal fairground filled with games, rides, awesome food, and of course, plenty of fun. This year, entry is FREE and with 40 rides to check - more than ever beforee. Through Mar 24
Thirsty Thursday 2 Hours "FREE" Free Flow at Sbagliato Kitchen & Bar Wed 23 Jan 2019 6pm-8pm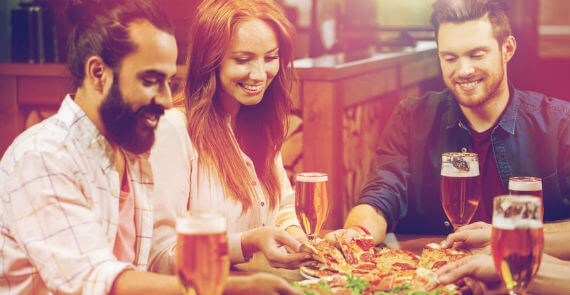 THIRSTY THURSDAY 6 PM - 8 PM There are only two reasons to drink wine. If you're thirsty, to quench it, or if you're not thirsty... to prevent thirst. 2 HOURS FREE FLOW WINES. SBAGLIATO Kitchen & Bar is an authentic and affordable Italian culinary journey in Singapore. It is a concept that combines the best Italian recipes with a Fun Dining and Fine Drinking experience. SBAGLIATO is a new venue where you can enjoy time with friends and colleagues and always feel like you are part of the family.
Gin Social - Australian Gin Spotlight Wed 23 Jan 7pm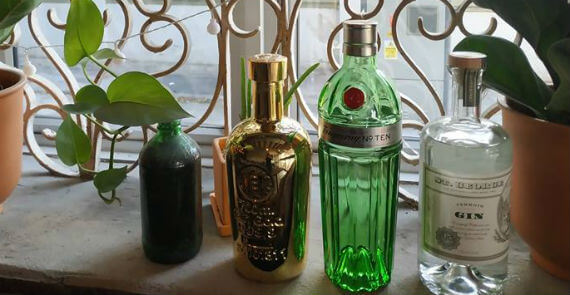 Discover 8 of Australia's finest gins paired with modern woodfired tapas in an easy-going setting. Sideways is a woodfired restaurant. They love all things fresh and flavourful, and that's why they are always looking for the next best gins. Spirit & Penance specialises in bringing the best craft Australian liqueurs to the shores of this sunny ( well sometimes...)  island. 8 Gins + Mixers + Toppings + Tapas Early bird rate: $80/person (available only for online ticket purchases. Sideways 109 Rowell Road 208033 Door price $100) Limited spots available! Secure yours HERE
The VIBE" Presents Live Music at McGettigan's Clarke Quay Wednesday 23 January 2019 8pm
Don't Miss this extraordinary Talent. Live Sessions Every Wednesday Night at McGettigan's Clarke Quay featuring a different artist every week with house band Phinneas Brown on Piano and Keys and the awesome Pablo Calzado on Drums. A great night offering $10 beers and more. It's also Ladies Night where the ladies get 4 FREE DRINKS and 25 percent off food. There is no cover charge and it's a great space to get up and have a dance if that helps you chill midweek. Featured singers each and every week. So get on down to Clarke Quay and take a load off. Write A Review
Ladies Night Free Flow Tipples at Terrace Lounge Zafferano Thursday 24 January 2019 6pm-9pm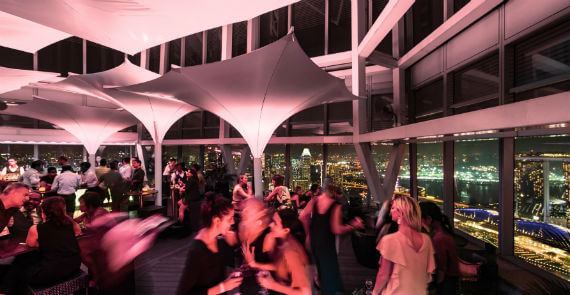 Doll up and have your pretty heels on as it is "Ladies Night Out" on Thursday night at Zafferano's vibrant new terrace lounge! The perfect time and place to chill and catch up with your girlfriends. Dance along with our resident DJ who is out to set you in the mood with classic retro music and top 40s all night long. Gather your girlfriends, it's going to be a great night out! Every Thursday at the Terrace Lounge 6pm - 9pm. Free flow of spumante, house red and white wine at just SGD42++. Book your table now to avoid any disappointment! Stylish chic dress code applies (shorts and beach footwear are not permissible).  contact and location
NINETEEN80 presents Wax & Jam Thursday 24 Jan 6:30pm-9:30pm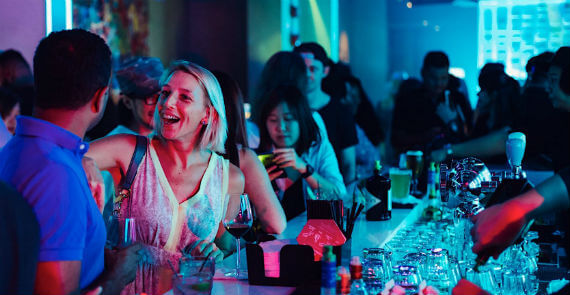 Relive the golden days of analog, and feed your soul with the vinyl grooves of selectors DJ Brendon P and DJ Joshua P. Forget bread and butter, come wax and jam! Complimentary entry all night long #NINETEEN80 opens from 5.00pm. For table reservations, please contact us at [email protected] or +65 9183 6073. NINETEEN80 is your retro arcade bar and club paying homage to all things 80s (with a cheeky hit of 90s).Think, Girls, just want to have fun...Cindi Lauper
AustCham ANZ Australia Day Ball Friday 25 January 2019 7pm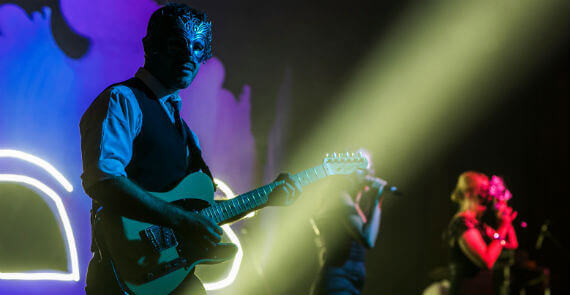 In 2019 we will be all aboard the East Orient Express to Australia Day, with a glamorous night evoking the experience of first class rail journeys through the East Orient in a bygone era.  Click here to check out the raffle prizes that you can look forward to. contact and location
The Frank Food Market @Loewen Garden's Saturday, 26 January 2018 9am-1pm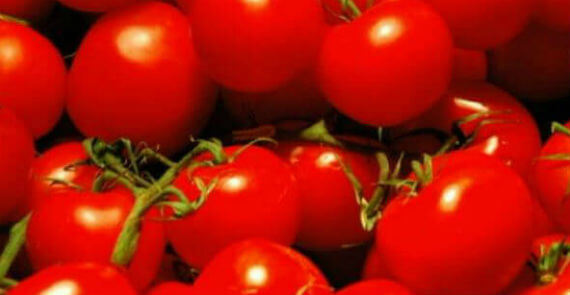 Loewen Gardens Market is a wonderful mix of organic vegetables, cheeses, breads, olive oils and jams and chutneys are available to buy. Come enjoy vendors offering gorgeous treats and while you are there, enjoy a delicious breakfast menu from the cafe or a freshly brewed cup of coffee. contact and information
Phoenix, The Australian Mentalist-Mind Reader-Magician Sat 26 Jan 2019 Capitol Theatre 6:30pm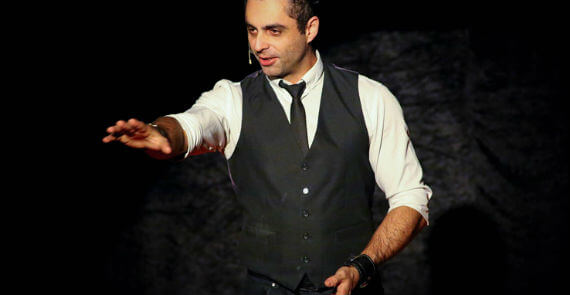 Australia's "Rock-star of mind reading,": Phoenix has received a full standing ovation from both the audience & the judges of Australia's Got Talent!! Phoenix's award winning Psyche! Show, raved as "absolutely astonishing" uses micro-expression training, psychological tricks, body language reading, & lie detection to divine an audience members thoughts, to predict & influence spectator's thoughts & abilities, create premonitions & predictions.  These incredible feats are infused with VISUAL effects, unlike most other mentalists, and an incredible water escape twist with a Spectacular Finale at the end of the show!.View Booking Options here
'Beautiful Girls' Multi-Platinum Recording Artist - Sean Kingston At BANG BANG Sat 26 Jan 2019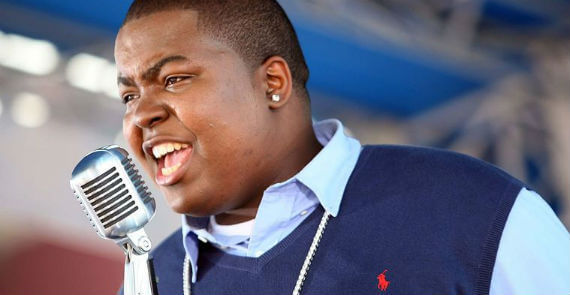 Cementing its status as one of the region's leading party destinations, the clubbers' haven kicks off the year with an international performance like no other. Pushing the boundaries of nightlife entertainment once again, BANG BANG is now bringing Jamaican-American reggae fusion singer and rapper, Sean Kingston, to Singapore on 26th  January 2019 for an exclusive performance.  With three Teen Choice awards, a MOBO award and an MTV Music Video Award in his armoury, the globally acclaimed superstar has opened the world tours for Beyoncé, Chris Brown and Justin Bieber. Now, for one night only, Sean Kingston brings his energetic showcase to the BANG BANG stage. Book Tickets Here
Shakespeare in the Garden: Twelfth Night Friday, 22 Feb 6:30pm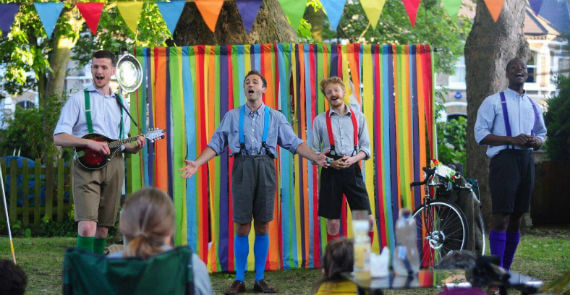 Direct from the UK & as part of their Asian tour, the world's only biking Shakespearean theatre group, the Handlebards will be back in Singapore.  Join their all-male cast for a hilarious, pared down, tongue in cheek version of 'Twelfth Night'. In usual Handlebards style, expect riotous amounts of energy, a fair old whack of chaos and a great deal of laughter. It's fast, funny and fearless. If you've never The Handlebards present the classic comedy Twelfth Night, in the garden of a beautiful black & white heritage home.   Early Bird Prices until February 1st :Student $45, Adult without wine $67, Adult with wine $77 Standard Prices:Student $55, Adult without wine $78, Adult with wine $88. Friday, 22 February, 6:30 - 10 pm. Buy Tickets Here!
Sarong Party Fri 22 Feb & Sat 23 Feb 2019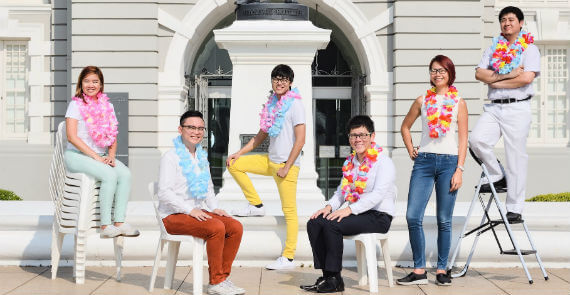 Celebrate the 200th anniversary of Singapore's founding at the Sarong Party with the MadHatter Project. Through a music performance complemented with other multi-disciplinary elements, explore what the British left behind and how Singapore has co-opted these legacies since independence. Performances held at LASALLE College of the Arts on the following dates and times Friday 22 February 2019 | 7.30pm – 9.30 pm. Saturday 23 February 2019 | 2.30pm – 4.30pm & 7.30pm – 9.30pm. Admission is free with registration. Register today atsarongparty.peatix.com/. Organised as part of The Future of Our Pasts Festival (TFOOPFest).
Singapore Urban Polo Sat 23 Feb 2019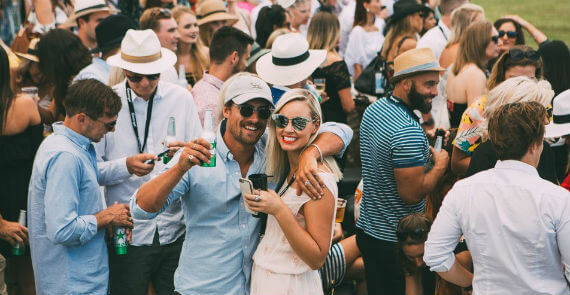 Urban Polo is ready to make its mark in Asia! Arriving in Singapore on Saturday 23 February 2019 at the infamous location of Marina Bay. Singapore Urban Polo is sure to be the "not-to-be-missed" social event of the season. After three years of sold out events in the southern hemisphere, Urban Polo is set to light up Singapore. Where DJ's and polo collide in a fusion of great music and sporting adrenaline. This modernized version of traditional polo is guaranteed to excite.
The Clairvoyants Live April 18 2019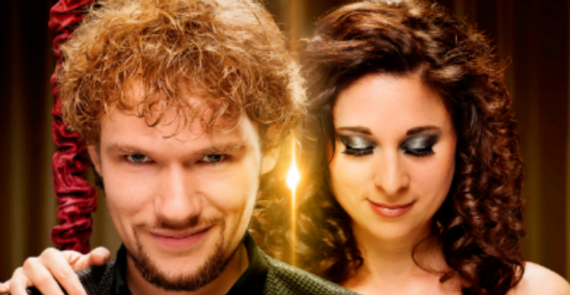 From spellbound audiences and sold-out shows across the globe, the whole world is puzzled by THE CLAIRVOYANTS! AND SINGAPORE IT'S YOUR TURN NOW. The World Champions of Mindreading, Thommy Ten and Amelie Van Tass are coming to Singapore to open up a fabulous new world of mentalism and unique illusions! SINGAPORE! get ready to experience the world of jaw-dropping Clairvoyance, mental magic masterpieces as Thommy and Amelie leave you thought- provoked, puzzled and befuddled. Their show offers SPECTACULAR & AMAZINGLY ENTERTAINING elements of modern masterpieces of trickery and unforgettable moments filled with  fun! Thommy Ten & Amélie have astounded audiences on various TV shows including NBC's 'America's Got Talent' where they became 2nd prize winners and bewitched and befuddled not only the millions of viewers at home but also the judges Heidi Klum, Mel B, Simon Cowell and Howie Mandel. Tickets Here
$5+ Happy Hour Beer, Wine and Spirits All Night at Boaters' Bar ONE°15 Marina Sentosa Cove, Singapore
DRINKS AT $5 ALL NIGHT. You know what's better than booze? A sweet deal. No gimmicks, no happy hours. Beer, house spirits, house red and white going at $5+ all night.  One degree and fifteen minutes north of the equator lies ONE°15 Marina Sentosa Cove, Singapore – your gateway to a wondrous world of unrivalled luxury. Rain or shine, come on down to Boaters' Bar for an evening of good company and fun! Located within the heart of the marina is ONE°15 Marina Sentosa Cove, Singapore 's floating bar, a breathtaking setting for small gatherings at the dockside. A favourite hangout for boaters who just want to kick back after a day on board, Boaters' Bar is the ideal setting for alfresco parties where you can soak in the action and nautical flair surrounding the marina.  Catch live music Saturday 6-9pm. Write A Review
Singapore's Only Dedicated Comedy Club The Merry Lion Nightly Shows from 6pm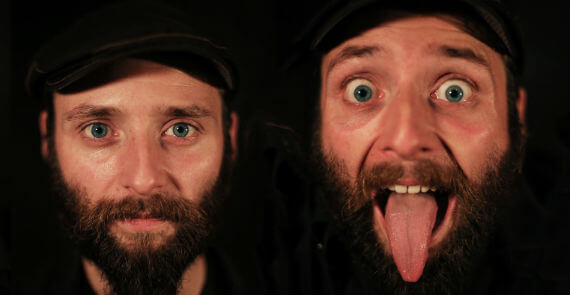 The Merry Lion is the only full-time comedy venue in Singapore. CLICK HERE TO VIEW SHOWS Amazing acts from all over the world, plus regional and local talent, come together to offer you a great show full of fun and laughs. The Merry Lion also has a full bar and food menu. BOOK NOW and roar with laughter. Every Week You Can Expect Sunday Session,  an open mic session with immediate feedback to the performers from the audience and fellow comics. $5 min spend. Monday Night Comedy  is an open mic show. 8.30pm and it's Free admission Thursday Night Comedy is brought to you by Comedy City SG. The best of the Monday Night Comedy open mic'ers plus a guest spot to close the show. $10
 
The Gin Journey Every Saturday 2pm-7pm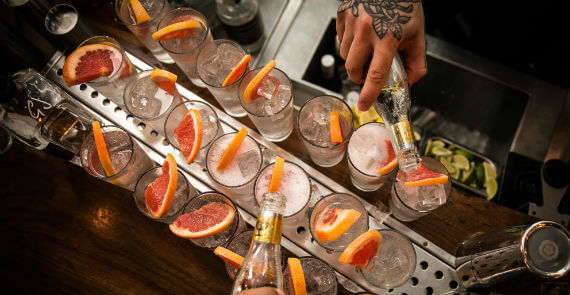 The Gin Journey was founded in London in 2013 and has made it's way to Singapore. Embark on an exploration into the juniper inspired elixir, sipping delicious cocktails and refined gins along the way. Learn about the history of gin and it's connection with Singapore from one of the Gin Journey's expert Gin Guardians. You'll be whisked around to 5 of the cities finest gin drinking establishments by a posh mini bus and most of all have a super lovely time while they take care of everything. Everyone on this soiree will quaff 5 gin cocktails, sip on 5 gins, visit 5 incredible venues, travel on one 'Gini'-bus (if you will), learn loads about gin, spirits, the drinking history of Singapore and of course have an infinate amount of fun. The hottest gin event on the planet has arrived in Singapore and they're ready to show you guys a great time. Write A Review
One-For-One Deals Town Restaurant Mon-Sat 3pm-6pm The Fullerton Singapore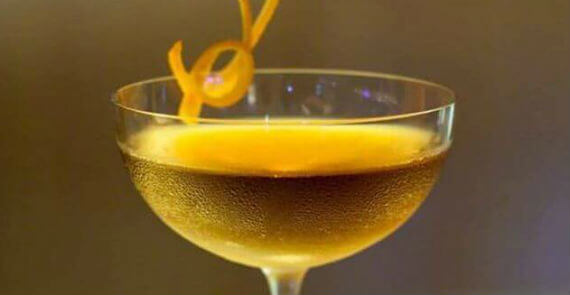 Drink while drinking in the views. Expat Choice is lifting the lid on a well-kept secret: There's a tempting range of drink deals at The Fullerton Hotels Singapore. If you have an afternoon to while away, grab a seat on the al fresco deck of Town Restaurant and enjoy the balmy breeze while you enjoy one-for-one deals on beers, spirits and wines from 3.00 p.m. to 6.00 p.m. From its cool interior designed along clean lines, with seats finished in leather. Town Restaurant is perfect for a power breakfast, casual business lunch, One-for-one deals or pre-theatre dinner. *Prices are subject to 10% service charge and prevailing government taxes. The hotel reserves the right to terminate or amend promotional details without prior notice. Write A Review
1-for-1 Tiger Beer Draught: Half Pint $15* and Full Pint $18*
1-for-1 House Pour Spirits: $17* per glass
1-for-1 House Pour Wine: $19* per glass
Post Cocktails: $15* per glass
The Ranch Steakhouse "Great Steaks, Humbly Priced!" at Clarke Quay
Are you ready for a totally new experience in dining?  How about something fresh, exciting and out of the ordinary to tempt your taste buds?  If you are a meat lover and beef connoisseur get ready for an unforgettable experience. The well-known and loved Aston's chain has opened a classic steakhouse at Clarke Quay in Downtown Singapore. It includes an exceptional dining area with an outdoor bar and seating to take advantage of the vibrant parade of passer-by's, The RANCH Steakhouse & Bar is located at The Foundry, Clarke Quay #01-15. Call in, you may just snag a table! Write A Review
Wine Club by ESQUINA Friday and Saturday Nights 10pm-Late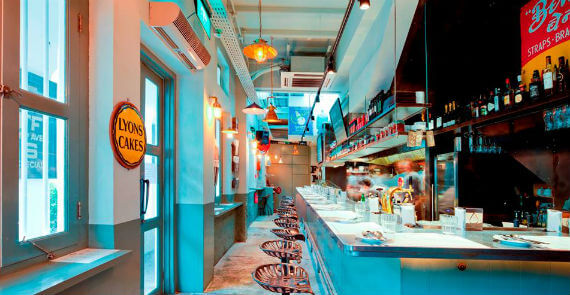 Featuring one of Singapore's most extensive wine-by-the-glass programmes from boutique producers from Spain and beyond.  Held on the second floor of ESQUINA on Friday and Saturday nights, this vino soirée is the perfect way to kickstart the weekend.  Expect a rotating weekly feature of at least 12 wines by the glass all priced at $14++ All wines are hand-selected from the best wine regions in Spain including well-loved Rioja to lesser-known but equally exciting Penedes and Rias Baixas. Head Chef Carlos Montobbio's personal favourites will also be listed under the weekly 'Chef's Choice', revealing his own recommendation for the week.  A surprise 'Wine of The Week' priced at $78++ a bottle will also be showcased, encapsulating the essence of these artisanal wines and their makers. On top of the myriad of delicious quality wines by the glass, Chef Carlos' modern Spanish bar bites menu have also been thoughtfully curated to kick off the weekend fun at ESQUINA. Write A Review
Ginett Restaurant & Wine Bar With Chef Hervé Frerard
Ginett Restaurant & Wine Bar plays host to one of Thailand's most revered chefs, French native, Hervé Frerard. Hervé is bringing his inexhaustible joie de vivre for French cooking to Singapore for the first time, and will be treating the patrons of Ginett to an exclusive menu featuring some of his most-loved signature dishes. Ginett is a contemporary restaurant and wine bar in Singapore's historic Arts District. Situated at 200 Middle Road, Ginett is a go-to destination for guests looking for a relaxing yet buzzy escape. Hearty European favourites, superb French wines from $6 a glass all day long, quick and easy set lunches and late weekend brunches, are all part of Ginett's wide-ranging offering, making it a memorable and accessible experience for everyone. Write A Review
YOU MAY ALSO LIKE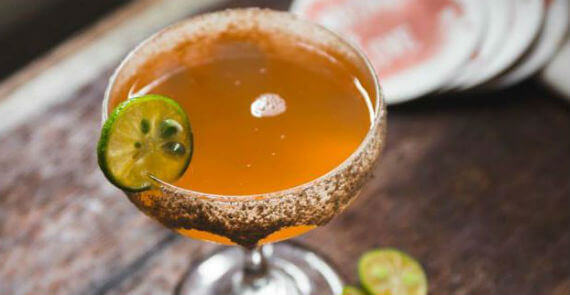 Image courtesy Nutmeg & Clove Singapore FaceBook page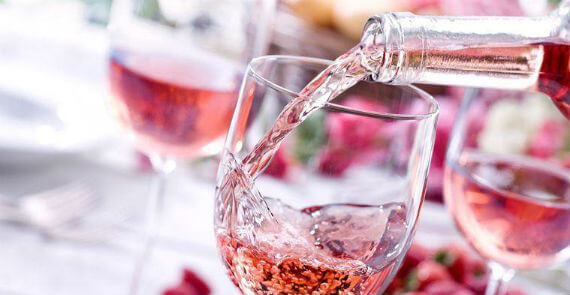 Image courtesy Pandora's Garden FaceBook page
Comments
This is a great list of stuff to consider doing in Singapore good on you Writers
This is an awesome line up of events and happenings in Singapore. Thank you team for getting some uniqueness into this list. Instead of the same old same old that we tend to see on the web..Congratulations and keep the good work up!
Fantastic! I've say 8-10 of these events and places. All highly recommended. Just great atmosphere and super fun places to be.