What do you think about Things To Do In Singapore?
Main Image: My Little Spanish Place Boat Quay Main Video East Treasure Clarke Quay produced by expat choice TV
In true "Choice Style" we keep you in touch with Things To Do that are ideally - a little left of centre...
Festivals, music, fairs, street carnivals, art, all sorts of entertainment lay ahead in this daily updated list.
The Singapore Quizmaster This Week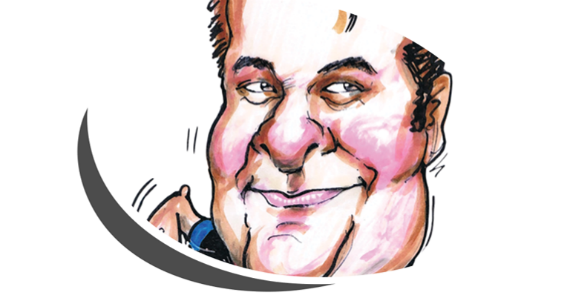 (informatuion subject to change) After a packed quiz week last week, with almost 90 teams attending quizzes, we have another 5 great quiz nights this week, all starts tomorrow at Molly Malone's, Tuesday's at The Penny Black, Wednesday join me at The Drunken Poet or Jonty at Harry's Bar (Boat Quay) all finishing Thursday at Muddy Murphy's. Check FaceBook Page Here for daily updates. Find out all the latest news, events and adventures of the "Quizmaster". For any enquires, bookings or reservations email [email protected] and he will get back to you pronto! "The Singapore Quizmaster Trivia Night, the closest modern equivalent to Lions versus Christians."...
Singapore Heritage Festival Until Sunday 7 April 2019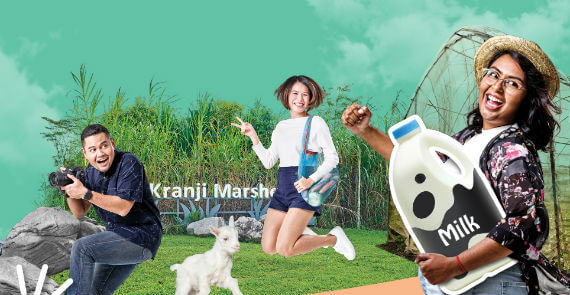 The Singapore Heritage Festival (SHF) 2019 will be a special Singapore Bicentennial edition, with themes and programmes that will explore and commemorate this important juncture in our history Various venues and timings. Visit www.heritagefestival.sg for more details This year, the festival will take place over four weekends with events and programmes centred around precincts such as Kampong Gelam and Bedok. Explore the nooks and crannies of these spaces, and uncover their lesser-known stories, along with the fascinating people behind them.Please visit www.heritagefestival.sg for the full list of SHF 2019 programmes.
Rare Opportunity to Visit Eden Hall and meet Chloë Manasseh Thursday 21 March 2019 at 10.30am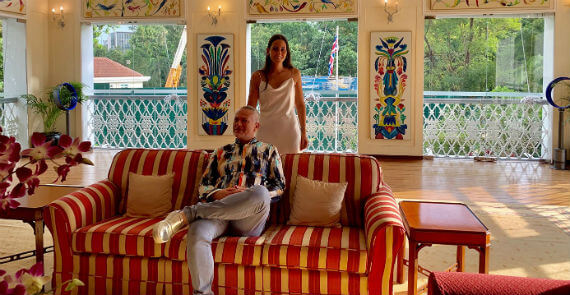 Chloë Manasseh is presenting a series of enchanting paintings at Eden Hall, the historical bungalow where her grandfather the famous architect Leonard Manasseh was born, now the residence of The British High Commissioner. Art Porters guests are welcome on the following date
Thursday 21 March 10:30pm
Tuesday 23 April 10.30am
Registration required via email to [email protected] (limited spaces available). Art Porters Gallery believes in the unique power of art in transforming lives. Rooted in the founder's personal experience with a life-changing masterpiece, the gallery's mission in sharing happiness with art was born. The gallery is housed in a charming Peranakan shophouse in one of the quaintest neighbourhoods of Singapore.
Thirsty Thursday 2 Hours "FREE" Free Flow at Sbagliato Kitchen & Bar Thursday 21 March 2019 6pm-8pm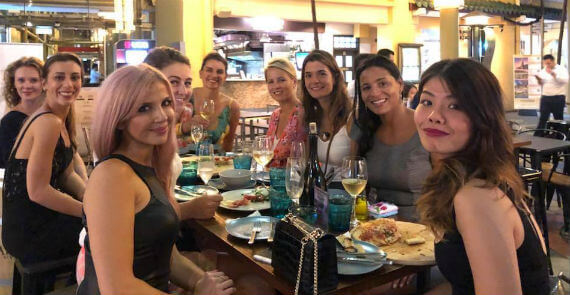 THIRSTY THURSDAY 6 PM - 8 PM There are only two reasons to drink wine. If you're thirsty, to quench it, or if you're not thirsty... to prevent thirst. 2 HOURS FREE FLOW WINES. SBAGLIATO Kitchen & Bar is an authentic and affordable Italian culinary journey in Singapore. It is a concept that combines the best Italian recipes with a Fun Dining and Fine Drinking experience. SBAGLIATO is a new venue where you can enjoy time with friends and colleagues and always feel like you are part of the family.
Trouble Brewing Beer Pop Up Park Bench Deli Thursday 21 March 5pm-9pm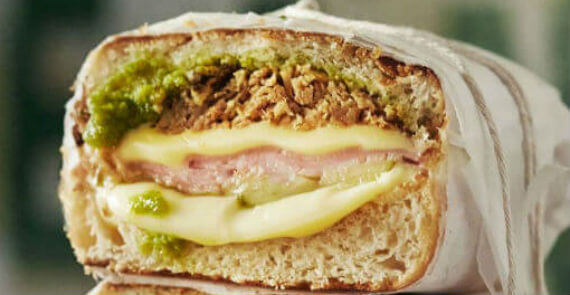 Trouble Brewing Beer Pop Up at PBD. Trouble Brewing's Craft beer and PBD's fried chicken wings this Thursday, 5PM to 9PM! SG Lager, Summer Ale, Session IPA, American Pale Ale & Pilsner Pictured: The best thing from Cuba since them cigars: the Cubano. Park Bench Deli started as a side project, back when we were fancy chefs who came home hungry after 12-hour shifts, craving simple grub done right. contact and location
Magners International Comedy Festival Thursday 21 March til Sunday 24 March 2019 Various Venues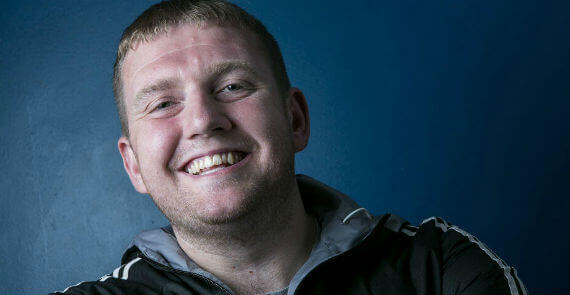 Magners International Comedy Festival returns Thursday 21 through to Sunday 24 March. Tickets MUST be purchased NOW. We have selected a few of the comedians to "get you in the mood" - Get tickets Now. These shows do sell out! 
The Merry Lion Presents: Adrian Saw - Comedy Magician Friday 22 March and Saturday 23 March 2019 (2 nights) 8pm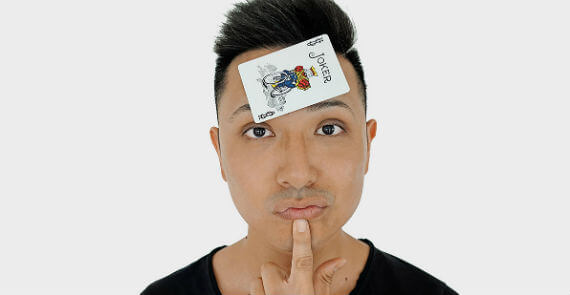 Australian comedy-magician Adrian Saw brings the laughs and the wonder from down under! Blending comedy, sleight of hand, psychology and audience participation, Adrian performs hilarious and downright impossible illusions in an intimate experience. Take a break from reality, laugh and be amazed by this extraordinary entertainer. P.S. No top hats. No rabbits. No girls being sawn in half!
The Merry Lion is an authentic comedy club right in the heart of Singapore's downtown. We pride ourselves in offering you a world-class comedy experience with a unique Singapore accent. Seats are limited in our intimate comedy setting so book fast. You will ROAR! with laughter at The Merry Lion. Lion City Headliner Series - the best of Singapore stand-up comedy. The shows will also feature a full line-up of preview and feature acts. Running time approx. 2 hours with a break More Information contact and location here
Conmigo! Feat. Musicians from Havana Social Club at Cé La Vi Sat 23 Mar 4:00 PM - 10:00 PM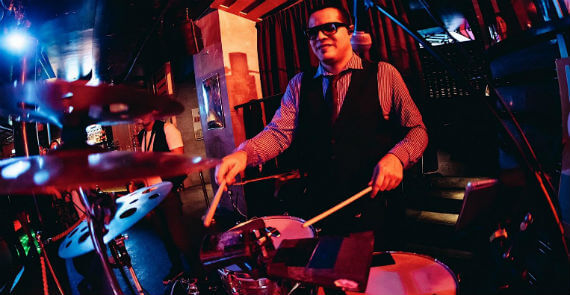 Latin House & Cuban Beats be the first 150 RSVP guests to arrive before 8 PM & receive a Havana Club pour on the house. Conmigo! - 'with me' in Spanish - celebrates Latin passion and soul with you and your Amigos! Cha-cha and salsa sways are in the air with live entertainment from CÉ LA VI Resident DJs - Ramesh K & Anand - and musicians from Havana Social Club. Havana Social Club is a tribute to the amazing Buena Vista Social Club which has been a very important impulse to Cuban music. This group consists of members from Cuba, Spain and Paraguay and shares the passion for the sound and vibrancy of the Cuban & Latin music. Set against the backdrop of the stunning Singapore skyline, CÉ LA VI presents Conmigo! Feat. Musicians from Havana Social Club at Cé La Vi Sat 23 Mar 4:00 PM - 10:00 PM. RSVP to receive a complimentary entry (by 8 pm) HERE
Havana Social Club Acoustic x 1880 Sunday 24 & 31 March 2019 8:30pm-11:30pm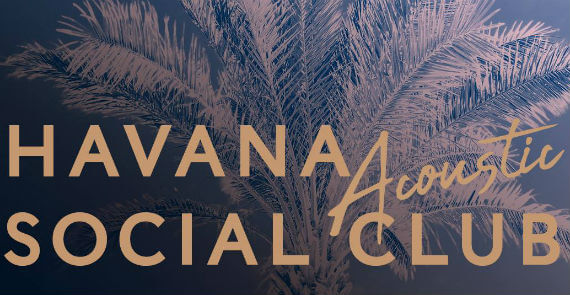 Havana Social Club's bringing the rhythms of acoustic Latin jazz to us. With musicians from Cuba, Singapore, Venezuela, and the US, they'll turn Sundays into the best nights you'll ever have. Havana Social Club Goes Acoustic Live at 1880 FaceBook details Here For guest list message [email protected]​ with number of guest and names 1880: 1 Nanson Road, Singapore 238909 Call +65 9648 1880  RSVP to get on Guest List: [email protected]​
Pop Up at Cluny Court Level 2 Mon March 25 to Wed March 27 10am-7pm Photography by Sandra Macheroux and Little Prints SG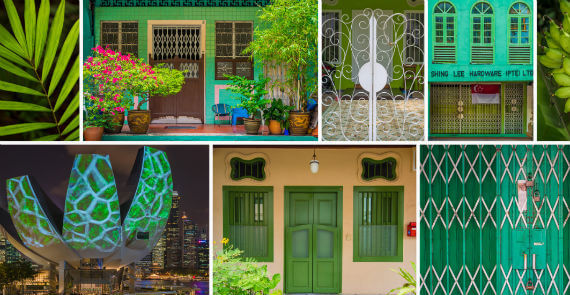 POP UP at Cluny Court Level 2 Mon March 25 - Wed March 27 - 10 am -7 pm daily. Little Prints SG and Photography by Sandra Macheroux will be exhibiting and selling their unique and affordably priced product. Photography by Sandra Macheroux is known for her vibrant images of sunny Singapore. She captures to create. Custom orders possible. Prints will be presented on canvas, metal and photographic paper. Little Prints captures your loved ones prints in a timeless piece of sterling silver to last forever. Each piece we make is lovingly crafted by hand. Cluny Court is your one-stop destination when you need to get all your shopping and gifting done all in one go. Time is of the essence....Contact and Location
Sideways Woodfired Pizzas Wed 27 March 2019 - Every Last Wednesday of The Month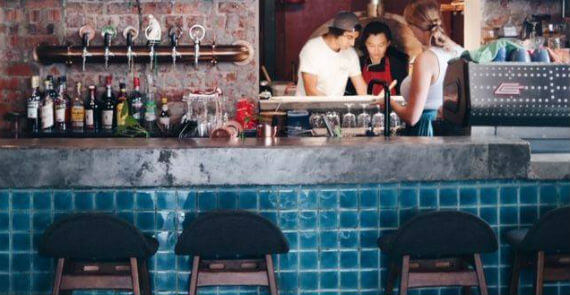 After the success of Sideways' inaugural pizza night, they decided to replicate the occasion every last Wednesday of the month. Who knows, they might even just start another restaurant that makes those deliciously crusty pizzas all day, every day.... but that's for another announcement.  We'll be serving a capsule menu of sourdough pizzas accompanied by our small plates and desserts.  Reserve your table at www.sideways.com.sg or if you need more reasons to come, check out Sideways' event on Facebook
Wooloomooloo Wednesday 27 March 2019 7-9pm Adam & Eve Night
At Wooloomooloo, no man is left behind. The humpday special has been extended to include both ladies and gents. Every Wednesday from 7pm to 9pm, all guests will enjoy free flow Laurent Perrier La Cuvee Champagne, red & white wines, as well as selected martinis, at S$58++. This offer is exclusive to the Wooloomooloo Bar.  Salud!  contact and location
Aperitivo Italiano with Noti Restaurant & Bar Wednesday 27 March 2019 7pm-9pm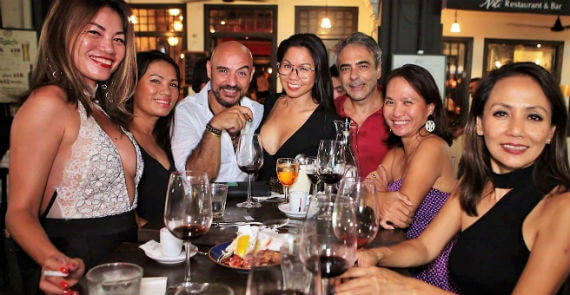 Drink, Dine and Unwind with Toni at Noti Restaurant & bar Aperitivo Italiano. Enjoy Aperitivo Drinks & Cocktails with complimentary finger food and Aperitivo style snacks. Brought up in a family of successful restaurateurs in his hometown in the south of Italy, owner and chef Toni Rossetti brings to his very own Club Street restaurant – Noti Restaurant & Bar, a taste of home, tradition and warmth of authentic Italian food from cherished family recipes and the flavors from this bountiful region. contact and location
The VIBE" Presents Live Music at McGettigan's Clarke Quay Wednesday 27 March 2019 8pm
Don't Miss this extraordinary Talent. Live Sessions Every Wednesday Night at McGettigan's Clarke Quay featuring a different artist every week with house band Phinneas Brown on Piano and Keys and the awesome Pablo Calzado on Drums. A great night offering $10 beers and more. It's also Ladies Night where the ladies get 4 FREE DRINKS and 25 percent off food. There is no cover charge and it's a great space to get up and have a dance if that helps you chill midweek. Featured singers each and every week. So get on down to Clarke Quay and take a load off. Write A Review
Earth Hour Hard Rock Cafe Singapore Sat 30 March 2019 8:30pm-9:30pm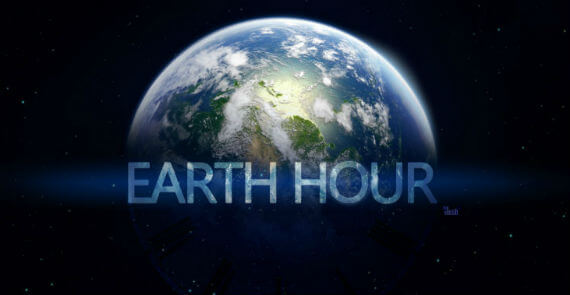 Celebrate EARTH HOUR with your partner, friends or family and have a candlelit dinner at Hard Rock Cafe Singapore. Acoustic Live with Ngak & David at 8:30pm. Let's heal the world with Earth Hour, we will be switching off the main Hard Rock Cafe Neon light along Cuscaden Road. Singapore is a bustling cosmopolitan city with diverse cultures and religions that offers a world of culinary experiences for its guests, which makes it the perfect location for a Hard Rock Cafe. more here
Kids Eat Free featuring the Sunday Roast With Marco Pierre White at The English House from Sunday 31 March 2019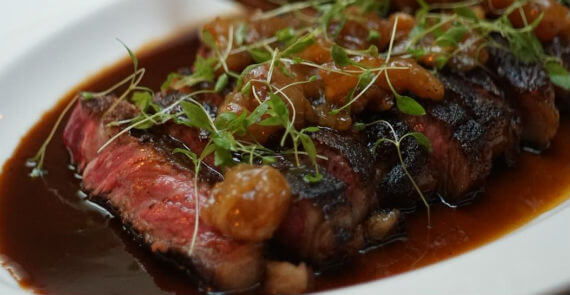 Yes, you are not seeing things - available for advanced bookings at The English House from Sunday 31 March 2019 one free children's main course with every paying adult from the set Sunday Roast (excluded A la Carte or any other promotions). We are talking delicious English fare for your kiddo's. Think Marco's baked Mac 'n' cheese or something a little more robust - the Roast free ranged Chicken or Honey roast Pork belly with all the trimmings Roast potatoes, buttered peas, Yorkshire pudding, rich gravy. Fussy eaters will delight in the Spaghetti with cherry tomatoes and fresh basil or go the whole hog with the Grilled Cumberland sausages with French fries and Buttered peas ( well...maybe leave the peas....if you think your little princess will turn her nose up to them,) Booking Details Here
3-Day Master Class with Francesco Luigi Carusi in Artisan Breads and Italian Festive Breads Making Sat 6 April - Mon 8 April 2019 9:30am-6pm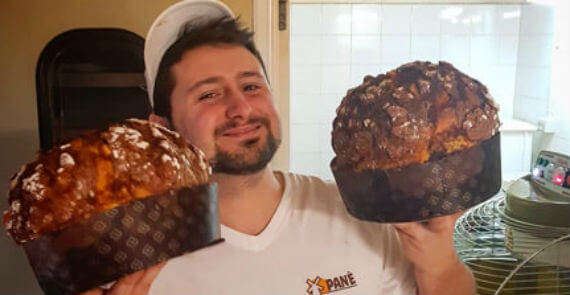 In this 3-days master class, the following topics will be covered and discussed :
Pasta Madre and Biga theory and applications 
Carusi's Method on Pasta Madre Biga
Different Pasta Madre – Milanese & Piemontese
Choosing the right ingredients to bake Panettone
Origin on different Panettone in Italy
How to design your own Panettone recipe
Highlights of Tuscany artisan breads using sourdough
...... and lots more
Pasta Madre Biga Metodo Carusi (Carusi's Method) is a soon-to-be-copyrighted method in Italy that's made from a preferment and refreshed with a complete autolyse.  It produces products that has better shelf life, better flavor and better crumbs. More Information Here
Sunday on the Hill x The Frank Food Market Sunday 7 April 3pm-10pm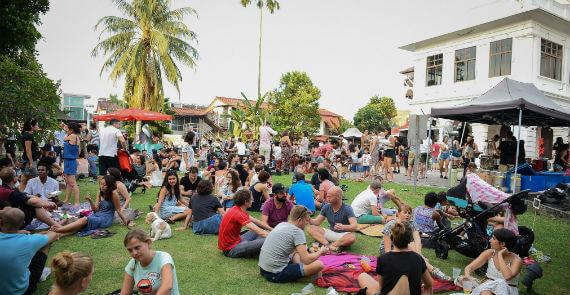 Free-entry and family-friendly (dogs welcome too!). Frank Food Market and Kult Kafe join forces for a special market edition of Sunday on the Hill. Frank Food have been running a Monthly Market at Loewen gardens, that's been operating for 8 years. With various vendors selling range of items such as Honey, Olive oils, Kids clothes, Chocolates, Wines, Pickles, Candles, Essential oils, Cupcakes, Baskets, and much more. Come join in the community supporting local producers and brands with sustainable and health conscious vendors. Food and drinks by kult kafé, Sidecar Sausages and Frank Food Company. Chilled-out daytime grooves by The Gonzo and friends. Plus! A special side-market of vintage streetwear vendors organised by Heresy. The event runs from 3pm to 10pm (the Frank Food Market will wrap up at 7:30pm). Kult Kafe stays open for drinks until midnight. contact and location
 
The Frank Food Market @ Loewen Garden's Saturday, 20 April 2019 9am-1pm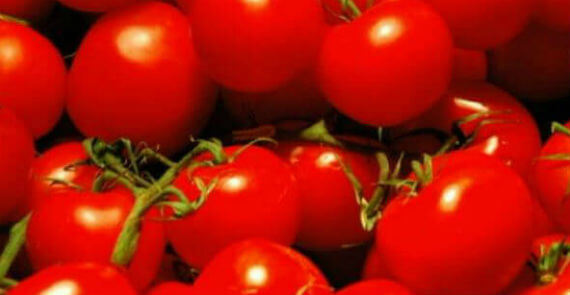 Loewen Gardens Market is a wonderful mix of organic vegetables, cheeses, breads, olive oils and jams and chutneys are available to buy. Come enjoy vendors offering gorgeous treats and while you are there, enjoy a delicious breakfast menu from the cafe or a freshly brewed cup of coffee at CarrotSticks and Cravings. contact and information
La Fiesta by El Tardeo Sun TBA April 2019 1pm-9pm $5 drinks + Food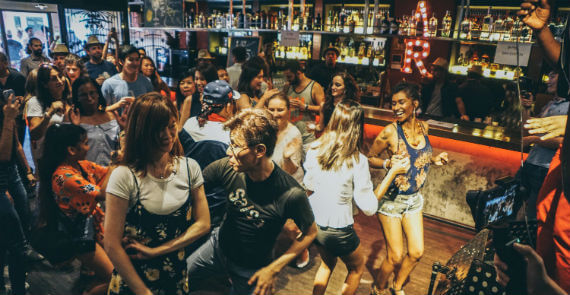 You know it's going to be another HOT party, as El Tardeo cook up THE BIGGEST PAELLA IN SINGAPORE. Party the Spanish way with amazing food, drinks, music and company. Food & Drinks from $5 - Live Latin music by Martin Reyes and band. This is a monthly event and it just keeps on getting bigger. The concept is you turn up with some cash and convert the cash into $5 tickets. Each $5 ticket entitles you to a drink or a food items. Some of the items you have to use to tickets so it ends up being a $10 serve of food or a $10 drink, either way it is an incredible bargain. The people are from all over the world with a large percentage being international expatriates. The last incarnation hit about 800 people in the restaurant and reaching right out onto Craig Road. It is an awesome event and one that I highly recommend gathering a few friends and getting down for a dance with the live band...contact and location
The Clairvoyants Live Sat, 27 Apr 2019 7PM Resorts World Sentosa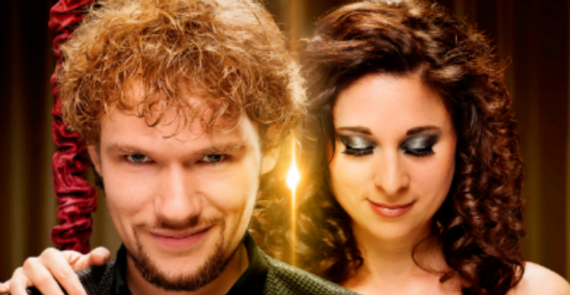 From spellbound audiences and sold-out shows across the globe, the whole world is puzzled by THE CLAIRVOYANTS! AND SINGAPORE IT'S YOUR TURN NOW. The World Champions of Mindreading, Thommy Ten and Amelie Van Tass are coming to Singapore to open up a fabulous new world of mentalism and unique illusions! SINGAPORE! get ready to experience the world of jaw-dropping Clairvoyance, mental magic masterpieces as Thommy and Amelie leave you thought- provoked, puzzled and befuddled. Their show offers SPECTACULAR & AMAZINGLY ENTERTAINING elements of modern masterpieces of trickery and unforgettable moments filled with  fun! Thommy Ten & Amélie have astounded audiences on various TV shows including NBC's 'America's Got Talent' where they became 2nd prize winners and bewitched and befuddled not only the millions of viewers at home but also the judges Heidi Klum, Mel B, Simon Cowell and Howie Mandel. Tickets Here
Jazz Evening in Benefit of Kick Sarcoma The Forgotten Cancer Fri 3 May 2019, 6:30pm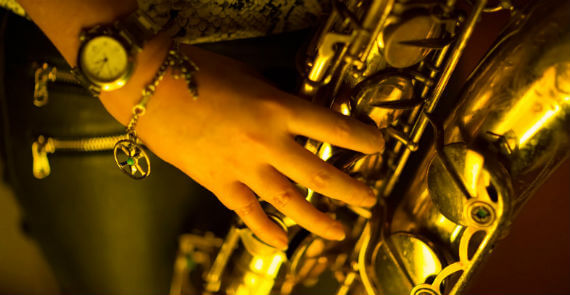 Be a part of this Jazz Evening with the Nicole Duffel Trio in the privacy of a landed property. Tickets $159 inclusive Oyster station, Hors d'oeuvre and Free Flow. You are cordially invited to an evening of jazz to help raise funds for Kick Sarcoma, a charity to support research in sarcoma. Come join us for an evening of jazz and canapes. Details can be found in the flyer attached. Funds raised will be used in Singapore to Fund children with potentially terminal sarcoma and other paediatric cancers. More information about Sarcoma here 
Purchase tickets HERE using a credit card and a receipt will be issued on line.
Aquaholic Pool Party Saturday 4 May 2019 4pm til late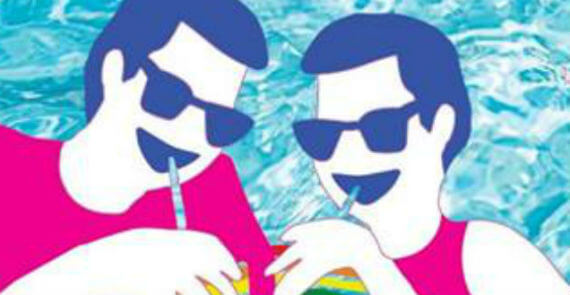 Aquaholics! Pool Party is coming with a whole lots of new sensations! Come splash with an international crowd and enjoy the good beach vibes only at the Aquaholic Pool Parties of 2019BEST TUNES by Aquaholic DJs: DJ Akito, Dj Shigeki, our official residents, and as always: one special guest bringing you new exciting tunes: ENRICO MELONI DJ BEST LIVE MUSIC PERFORMANCE #Aquadivas: stay tuned for the whole line-up. BEST PREMIUM TIPPLES BY BOTTLE: As good as usual: Beer, Spirits, Bubbly, White & Red Wine, and of course cocktails! FREE ENTRY:Always free entry, although it is better to reserve your HOT SPOT to make sure you have a place to catch your breath and your best table service: +65 6100 1102. [email protected]
Pangdemonium presents This Is What Happens To Pretty Girls from Fri 10 to Sun 26 May 2019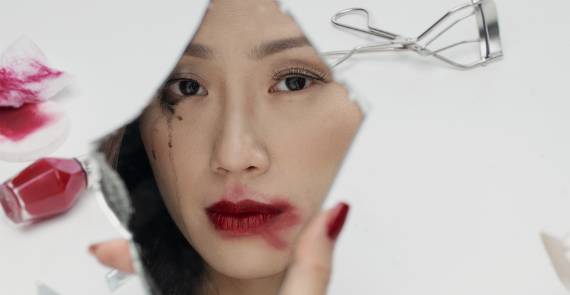 An undergrad and a lecturer begin a precarious flirtation. Two workmates go on a date that each remembers very differently. A long lost bogeyman returns to draw new blood from old scars. Eight bodies collide. Eight souls crisscross. Eight lives get entangled in a web of pain, shame and heartbreak. And the world as they each know it will never be the same again. TICKETS HERE Pangdemonium is a proudly Singaporean theatre company . With a mission to tell stories on the stage which are challenging, inspiring, relevant, accessible, and above all, of the highest artistic, entertainment and productions values, in a league with the very best of theatre internationally. TICKETS HERE
The Frank Food Market @Loewen Garden's Saturday, 18 May 2018 9am-1pm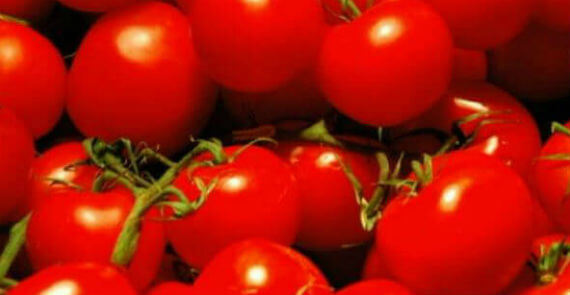 Loewen Gardens Market is a wonderful mix of organic vegetables, cheeses, breads, olive oils and jams and chutneys are available to buy. Come enjoy vendors offering gorgeous treats and while you are there, enjoy a delicious breakfast menu from the cafe or a freshly brewed cup of coffee at CarrotSticks and Cravings. contact and information
$5+ Happy Hour Beer, Wine and Spirits All Night at Boaters' Bar ONE°15 Marina Sentosa Cove, Singapore
DRINKS AT $5 ALL NIGHT. You know what's better than booze? A sweet deal. No gimmicks, no happy hours. Beer, house spirits, house red and white going at $5+ all night.  One degree and fifteen minutes north of the equator lies ONE°15 Marina Sentosa Cove, Singapore – your gateway to a wondrous world of unrivalled luxury. Rain or shine, come on down to Boaters' Bar for an evening of good company and fun! Located within the heart of the marina is ONE°15 Marina Sentosa Cove, Singapore 's floating bar, a breathtaking setting for small gatherings at the dockside. A favourite hangout for boaters who just want to kick back after a day on board, Boaters' Bar is the ideal setting for alfresco parties where you can soak in the action and nautical flair surrounding the marina.  Catch live music Saturday 6-9pm. Write A Review
Cé La Vi's Legendary Sky High Brunch Returns On DATE TBA Midday Sharp until 4pm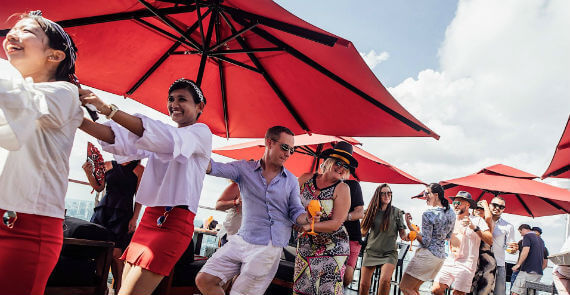 Set against the backdrop of the stunning Singapore skyline, CÉ LA VI presents the ultimate weekend party with a four-hour free flow of Veuve Cliquot Champagne. Sip on a selection of premium pours and refreshing cocktails such as Pimm's Summer Cup, Aperol Spritz , Belvedere Caipiroska and Berry Bellini while swaying to the distinctive beats and rhythms spun by resident DJs. The rooftop party isn't complete without an extensive array of contemporary Asian creations from seven dedicated stations, created by Executive Chef Joey Sergentakis. SGD 178, Pre-sales SGD 188 Door Sales (subject to availability), Pre-sale tickets are encouraged for guaranteed event entry. Inclusive of: Free Flow of Veuve Clicquot Yellow NV, cocktails, premium pour, beer, nonalcholic beverages and a lavish spread of Modern and Pan Asian delecacies.  Minimum Age: 21 years. contact and location
Singapore's Only Dedicated Comedy Club The Merry Lion Nightly Shows from 6pm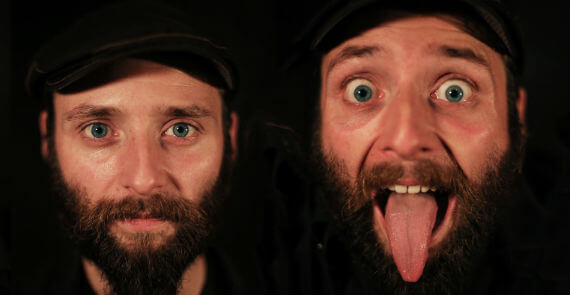 The Merry Lion is the only full-time comedy venue in Singapore. CLICK HERE TO VIEW SHOWS Amazing acts from all over the world, plus regional and local talent, come together to offer you a great show full of fun and laughs. The Merry Lion also has a full bar and food menu. BOOK NOW and roar with laughter. Every Week You Can Expect Sunday Session,  an open mic session with immediate feedback to the performers from the audience and fellow comics. $5 min spend. Monday Night Comedy  is an open mic show. 8.30pm and it's Free admission Thursday Night Comedy is brought to you by Comedy City SG. The best of the Monday Night Comedy open mic'ers plus a guest spot to close the show. $10
 
The Gin Journey Every Saturday 2pm-7pm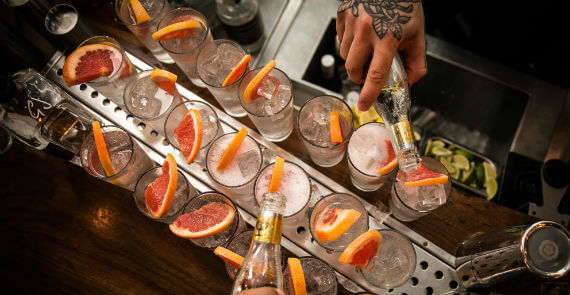 The Gin Journey was founded in London in 2013 and has made it's way to Singapore. Embark on an exploration into the juniper inspired elixir, sipping delicious cocktails and refined gins along the way. Learn about the history of gin and it's connection with Singapore from one of the Gin Journey's expert Gin Guardians. You'll be whisked around to 5 of the cities finest gin drinking establishments by a posh mini bus and most of all have a super lovely time while they take care of everything. Everyone on this soiree will quaff 5 gin cocktails, sip on 5 gins, visit 5 incredible venues, travel on one 'Gini'-bus (if you will), learn loads about gin, spirits, the drinking history of Singapore and of course have an infinate amount of fun. The hottest gin event on the planet has arrived in Singapore and they're ready to show you guys a great time. Write A Review
One-For-One Deals Town Restaurant Mon-Sat 3pm-6pm The Fullerton Singapore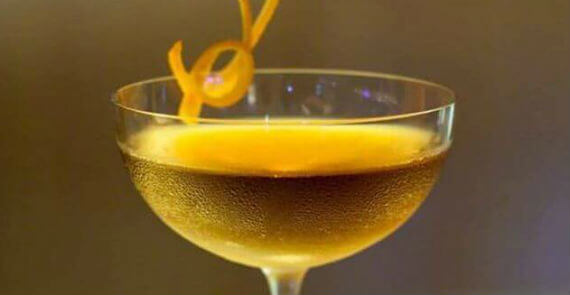 Drink while drinking in the views. Expat Choice is lifting the lid on a well-kept secret: There's a tempting range of drink deals at The Fullerton Hotels Singapore. If you have an afternoon to while away, grab a seat on the al fresco deck of Town Restaurant and enjoy the balmy breeze while you enjoy one-for-one deals on beers, spirits and wines from 3.00 p.m. to 6.00 p.m. From its cool interior designed along clean lines, with seats finished in leather. Town Restaurant is perfect for a power breakfast, casual business lunch, One-for-one deals or pre-theatre dinner. *Prices are subject to 10% service charge and prevailing government taxes. The hotel reserves the right to terminate or amend promotional details without prior notice. Write A Review
1-for-1 Tiger Beer Draught: Half Pint $15* and Full Pint $18*
1-for-1 House Pour Spirits: $17* per glass
1-for-1 House Pour Wine: $19* per glass
Post Cocktails: $15* per glass
The Ranch Steakhouse "Great Steaks, Humbly Priced!" at Clarke Quay
Are you ready for a totally new experience in dining?  How about something fresh, exciting and out of the ordinary to tempt your taste buds?  If you are a meat lover and beef connoisseur get ready for an unforgettable experience. The well-known and loved Aston's chain has opened a classic steakhouse at Clarke Quay in Downtown Singapore. It includes an exceptional dining area with an outdoor bar and seating to take advantage of the vibrant parade of passer-by's, The RANCH Steakhouse & Bar is located at The Foundry, Clarke Quay #01-15. Call in, you may just snag a table! Write A Review
Wine Club by ESQUINA Friday and Saturday Nights 10pm-Late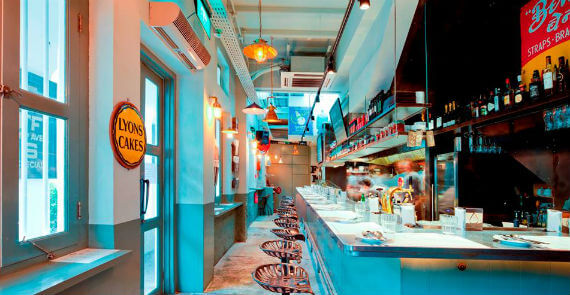 Featuring one of Singapore's most extensive wine-by-the-glass programmes from boutique producers from Spain and beyond.  Held on the second floor of ESQUINA on Friday and Saturday nights, this vino soirée is the perfect way to kickstart the weekend.  Expect a rotating weekly feature of at least 12 wines by the glass all priced at $14++ All wines are hand-selected from the best wine regions in Spain including well-loved Rioja to lesser-known but equally exciting Penedes and Rias Baixas. Head Chef Carlos Montobbio's personal favourites will also be listed under the weekly 'Chef's Choice', revealing his own recommendation for the week.  A surprise 'Wine of The Week' priced at $78++ a bottle will also be showcased, encapsulating the essence of these artisanal wines and their makers. On top of the myriad of delicious quality wines by the glass, Chef Carlos' modern Spanish bar bites menu have also been thoughtfully curated to kick off the weekend fun at ESQUINA. Write A Review
Ginett Restaurant & Wine Bar With Chef Hervé Frerard
Ginett Restaurant & Wine Bar plays host to one of Thailand's most revered chefs, French native, Hervé Frerard. Hervé is bringing his inexhaustible joie de vivre for French cooking to Singapore for the first time, and will be treating the patrons of Ginett to an exclusive menu featuring some of his most-loved signature dishes. Ginett is a contemporary restaurant and wine bar in Singapore's historic Arts District. Situated at 200 Middle Road, Ginett is a go-to destination for guests looking for a relaxing yet buzzy escape. Hearty European favourites, superb French wines from $6 a glass all day long, quick and easy set lunches and late weekend brunches, are all part of Ginett's wide-ranging offering, making it a memorable and accessible experience for everyone. Write A Review
Comments
This is a great list of stuff to consider doing in Singapore good on you Writers
This is an awesome line up of events and happenings in Singapore. Thank you team for getting some uniqueness into this list. Instead of the same old same old that we tend to see on the web..Congratulations and keep the good work up!
Fantastic! I've say 8-10 of these events and places. All highly recommended. Just great atmosphere and super fun places to be.