What do you think about Things To Do In Singapore?
Main Image: Ladies Night Wednesday 6pm-8pm Bakery and Bar
If you can't find someting to do in this list, you might as well go bury yourself in the sand on sentosa...all jokes aside!
In true Singapore style, things just keep on getting hotter and hotter. Festivals, music, fairs, street carnivals, art, all sorts of entertainment and wonderment lay ahead as the weeks move forward into the forthcoming festive seasons.
Leica Gallery : A Tale of Convergence Exhibition until 26 October 2018
For the first time, Leica Galerie Singapore, has rolled out an innovative and bold exhibition that showcases work of two photographers from completely different backgrounds. Leica Galerie Singapore is a platform for internationally acclaimed artists as well as for established and emerging local photographers to present the world as it unfolds for their Leica lenses. Aptly titled A Tale of Convergence, the entire narrative celebrates two individuals truly crossing artistic boundaries to elevate their individual approach to their passion – the art of photography. The exhibition is held at Leica Galerie Singapore at the Fullerton Hotel until Wednesday 24 October 2018. Write A Review
3-Part Writer's Workshop Starts Wednesday 24 Oct 2018 Career Resource Center for Excellence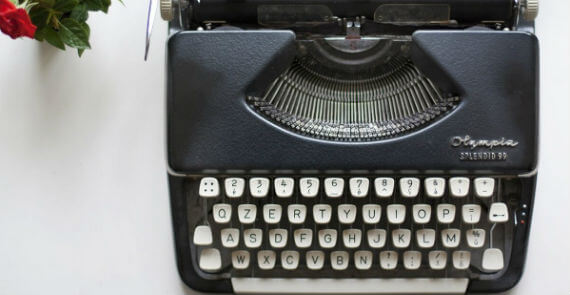 Time to Write...A 3-Part Writer's Workshop: It's been on your mind, you've been wanting to try…you know you can write but you're afraid to call yourself 'a writer.' If you are not sure about the process and want to start a routine, flex your creative muscles, even submit a piece for publication, the time is now. Led by Liz Coward, Author and Screenwriter, this short practical course will give you a creative workout, kick-start your writing routine and help you find your voice. Comprising of three sessions: October 24 2018 generating ideas and developing characters, November 5: controlling research, November 21: workshopping something you have written. You will be given writing exercises throughout and learn how to give and take constructive feedback. At the end of the course, you will be encouraged to submit a 350 word article or extract to the Singapore American newspaper for publication in the January/February 2019 edition. To provide maximum support, the course is limited to six places only.  No previous experience is required. contact and location
Direct From Las Vegas: An Evening With The Stars – The Edwards Twins Tickets from $53 Wed 24 Oct - Sun 28 Oct 2018 8pm ( 2pm Sat & Sun )
From Las Vegas The Edwards Twins look and sound like 100 different super stars. The Edwards twins are two identical twin brothers who look and sound like many famous people. They will be performing as Stevie Wonder, Ray Charles, Bette Midler, Barbra Streisand, Andrea Bocelli, and many more. Wednesday 24 October to Sunday 28 October 2018 at Resorts World Theatre. The NBC Today show says "it's one of the most extraordinary shows we have ever seen." Sonny & Cher, Rod Stewart, Elton John, Neil Diamond, Lionel Richie, Stevie Wonder, Ray Charles, Lady Gaga, Tina Turner, Tom Jones, Bette Midler, Barbra Streisand, Andrea Bocelli, and many more hosted by THE EDWARDS TWINS FROM LAS VEGAS. All live vocal.  Tickets start at $53. BOOK HERE
Ladies Night Bakery and Bar $38 Wednesday 24 October 6-8pm Free Flow Pizza + Prosecco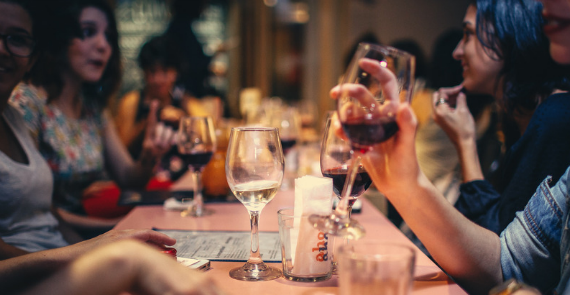 Bakery, cafe and bar all in one, serving freshly baked bread, rustic favourites and tapas from around the world, house blend coffees, salads and smoothies by day, then a 'Gin & Fizz club' every evening. Bakery, cafe and bar is located on the corner of Telok Ayer Street and Cross Street. The nearest MRT station is Telok Ayer MRT (Downtown Line). So get on down for some FIZZ after work, every day of the working week. Write A Review
Aperitivo Italiano Noti Restaurant & Bar Club Street Wednesday 24 October 7pm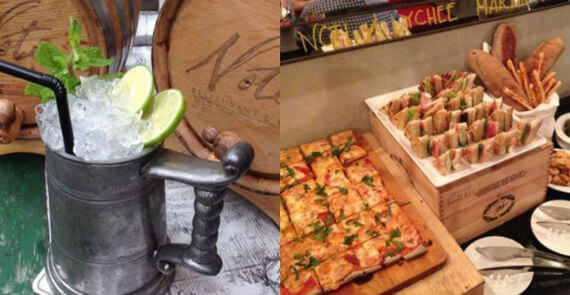 Join the Italian Community in Singapore. Drink, Dine and Unwind with Toni at Noti Restaurant & bar Aperitivo Italiano. Enjoy Aperitivo Drinks & Cocktails with complimentary finger food and Aperitivo style snacks. Brought up in a family of successful restaurateurs in his hometown in the south of Italy, owner and chef Toni Rossetti brings to his very own Club Street restaurant – Noti Restaurant & Bar, a taste of home, tradition and warmth of authentic Italian food from cherished family recipes and the flavors from this bountiful region. In a contemporary interior that exudes a trendy vibe, Toni and his team provide the guests with the consummate dining experience of good food and great hospitality that has become the signature of Noti restaurant and bar. Write A Review
The VIBE" Presents Live Music at McGettigan's Clarke Quay Wednesday 24 October 8pm
Don't Miss this extraordinary Talent. Live Sessions Every Wednesday Night at McGettigan's Clarke Quay featuring a different artist every week with house band Phinneas Brown on Piano and Keys and the awesome Pablo Calzado on Drums. A great night offering $10 beers and more. It's also Ladies Night where the ladies get 4 FREE DRINKS and 25 percent off food. There is no cover charge and it's a great space to get up and have a dance if that helps you chill midweek. Featured singers each and every week. So get on down to Clarke Quay and take a load off. Write A Review
Ladies Night at Zafferano Thursday 25 October 2018 6pm-9pm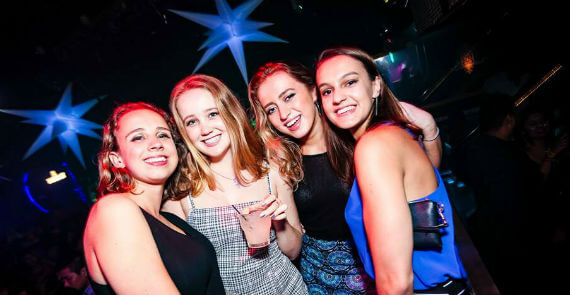 It's Ladies Night Out with free flow prosecco from 6pm to 9pm at Zafferano's Terrace Lounge every Thursday. Enjoy 3-hour free flow tipples. For just $33++, expect a wonderful time at the rooftop lounge with an amazing view of the Marina Bay skyline from level 43 of Ocean Financial Centre with your bffs. Dress code applies, don't forget to put on your dancing shoes with our resident DJ playing everlasting retro and trending hits. Write A Review
The Great Moscow Circus Thursday 25 October Limited Season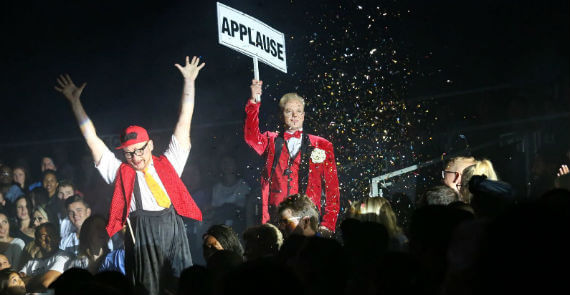 The world-famous GREAT MOSCOW CIRCUS is returning to Singapore for the first time in more than10-years with an all-new, heart pounding family spectacular – featuring over 45 Circus superstars. TICKETS THE GREAT MOSCOW CIRCUS will perform in a brand new red and white Big Top Tent, beside Marina Bay Sands from 25 October 2018 for 4 weeks only. Write A Review
Ginett's Wine Masterclass Is Back With A Twist Thurs 25 to Sat 27 October 2018 7pm
Following the success of the first instalment of Ginett's Vineyard to Table event in June, the French restaurant and wine bar are bringing their wine-and-dine series back for one epic and delicious battle between two of the world's most loved wine regions; Bordeaux and Burgundy. The five-course dinner featuring ten generous pours is priced at $95++ per person; an experience not to be missed for any wine or culinary enthusiast. contact and location
The Ultimate Hard Rock Cafe Halloween Party Friday 26 Oct 2018, 9pm 
Dress up to chill with the best costumes standing to win prizes worth up to $1000. DEAD ROCKSTAR exclusive with JIVE TALKIN' and special guest DJ DONA. Head on over to Hard Rock Cafe Singapore for a great night of fun. Cover Crage $15 ( $15 Cover Charge will be waived if you flash EXPAT CHOICE WEBSITE on your phone at the door. contact and location
Moonlight Cinema on the Lawn, Supertree Grove, Gardens By The Bay Fri 26 and Sun 27 October 2018 at 9pm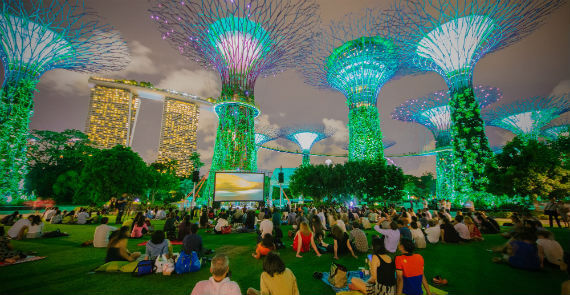 A first this year, the 29th Singapore International Film Festival (SGIFF) partners with Gardens by the Bay to host two free outdoor screenings as part of the celebration of storytelling through cinema, in the lead up to the Festival in November. The inaugural Moonlight Cinema series begins with My Girl (USA,1991) and My Girl (Thailand, 2003) – two coming-of-age films set in the time of childhood with the blossoming of first crushes. The films' soundtracks have also gained popularity and become part of the cultural fabric of their times. This is a FREE EVENT contact and location
[email protected]

Sat 27 and Sun 28 Oct 2018 from 11am Daily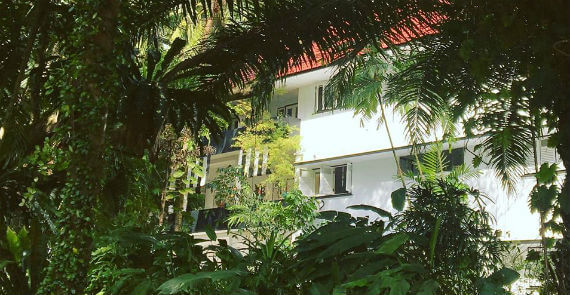 The artists of Wessex Estate will open their doors to their studios and homes for you again on the Saturday 27 and Sunday 28 October 2018. This community of artists is always evolving within this beautiful black & white neighbourhood and lots of new works will be on show and for sale. This is a wonderful event just to experience a world away from the hussle and bustle of the cityscape we know as downtown Singapore. contact and location
Creatures from the Singapore River To Invade Clarke Quay This Halloween Fri 27 to Wed 31 Oct 2018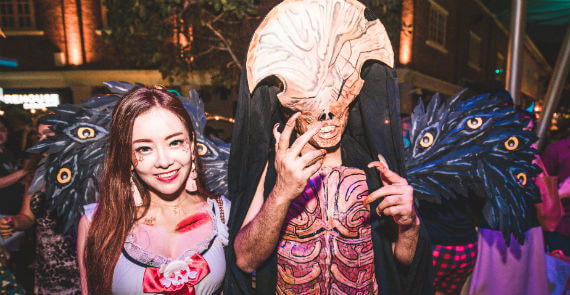 Clarke Quay Halloween 2018 Presents Tales of the River - a one-stop Halloween themed party from the  Saturday 27 October to Wednesday 31 october 2018 featuring virtual reality technology for a consummate Halloween experience. From the deep, dark waters of the Singapore River, sea creatures will rise up to haunt visitors at Clarke Quay's annual Halloween extravaganza called ​Tales of the River ​​taking place Saturday ​27 to Wednesday 31 October 2018.​​Deploying virtual reality technology for the first time at Clarke Quay; shoot, catch, save the world from zombies and monsters and win prizes as you immerse in real-world interactions. Full Event Details Here
Sip & Paint With Merchants Wine Cellar - Duxton Road Sunday 28 October 2pm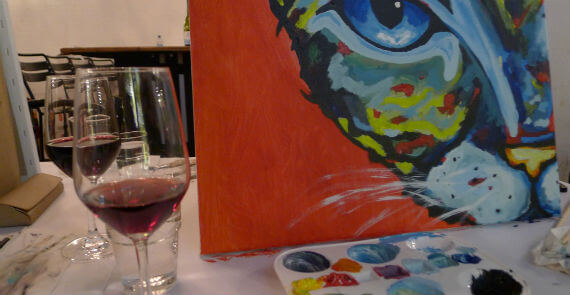 Join this Signature Sip & Paint Series at Merchants Wine Store to elevate your spirit and imagination with colour, canvas and vivacious vinos! Enjoy five different delicious, elegant wines, direct from our boutique vineyards - guaranteed to enhance your creativity at our relaxing, fun and inspiring event. Merchants welcomes everyone to kickstart their creative juices onto a canvas with a few glasses of bubbles. All art supplies are provided at this event. Guests are welcome to bring along a photo for inspiration - a beautiful sunset, a beloved pet, a blossoming flower - or unleash your abstract animal - whatever helps to uncork your creativity! So make a date with your friends, significant other or work colleagues for Merchants Sip & Paint, and raise your glass to a new and creative night out in Singapore. Write A Review
The Lokal Sunday Roast Returns 28 Oct 5:30pm, 7:30pm & 9pm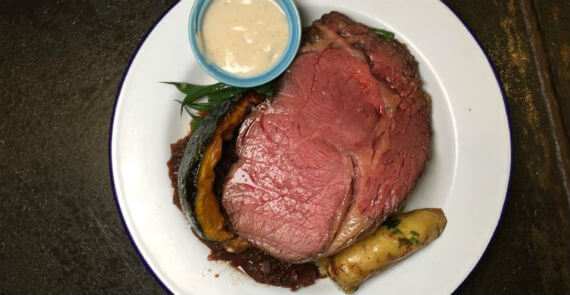 It's the return of our Sunday Roast Dinner, with Chef Darren & Max both back on deck in the kitchen. Happening on 28th October, from 5.30pm, we'll be serving a simple ala carte menu of our favourite comfort food - Roast Beef, Chicken & Pork with Yorkshire Puddings, Vegetables, Potatoes & Gravy, alongside a $10 Happy Hour Drinks Menu for beers, cocktails and wines all night long.  No better way to spend your Sunday night - bring the kids, bring your friends, bring your family! Reservations available from 5.30pm onwards. contact and location
Wine Discovery Night With The Expat Fairs November Details Soon Free Admission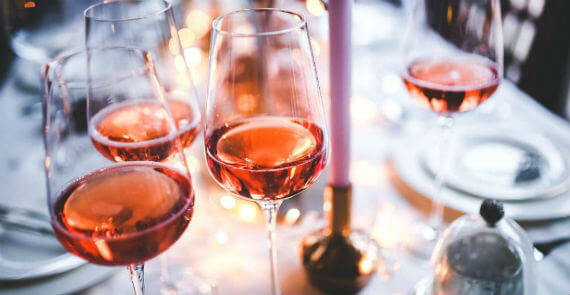 Discover new wines and revisit your old favourites on Wine Discovery Night at Winestone, Mercure Singapore on Stevens. Sample from a collection of wine merchants in a perfect venue, surprise yourself with new tastes, and have a delightful time mingling with other wine enthusiasts. BOOK HERE This Modern European restaurant, late-night bar and wine store specialises in exquisite wine selections, distinguished by the experience and knowledge of its wine ambassadors. Wine lovers and visitors enjoy free admission to Wine Discovery Night. BOOK HERE Optional snack pairings from Winestone are available at $25 per tasting, entitling you to a 25% off à la carte dinner voucher on the night, or next visit. Enjoy a discounted corkage fee when you purchase bottled wines from merchants, and drink at the venue. Write A Review
First Sunday of The Month Sunday On The Hill with kult kafé Sunday 3 November 2018 3pm-10pm  
A special dog edition of Sunday on the Hill with Tito's Handmade Vodka! Housed in a Colonial-era mansion surrounded by coconut trees and greenery, Kult Kafe is the perfect escape for a laid-back, bohemian and off-the-beaten track experience. With regular art and music events on the calendar, Kult Kafe has hosted outdoor screenings of animated films, live bands, DJs, poetry performances, samba dancers and more. Sunday is a chilled out family-friendly affair with great music, drinks deals, kids activities and BBQ. Held on the first Sunday of every month, Sunday on the Hill is a laid-back daytime get-together in the gardens of Emily Hill. < Write A Review
Music by Sideshow DJs and guests
Craft beer on draft, cocktails and more by Kult Kafé
Gourmet sausages and burgers from Sidecar Sausages
Vegetarian street food by Banyan Tamarind Foods
Free entry, kid and dog-friendly
Time: 3pm-10pm, Free entry, kid and dog-friendly. Taxi / Driving: Head up Sophia Road beside Peace Centre. Stay on the road to the top of the hill and when the road forks at St Margarets Primary School, take the left (Upper Wilkie Road). We're at the end of Upper Wilkie Road, beside Hangout Hotel.
Rock Cafe SG Quiz Night with Shaun McEwan Monday 12 November 2018 7pm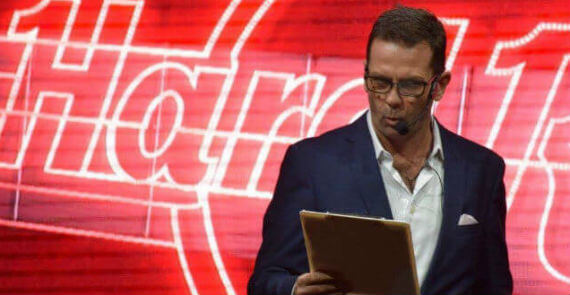 Hard Rock Quiz night is a blast. Kicks off at 7:00 PM. Whether you're coming alone, in pairs or a team, it's a fun way to meet new people or bond closer with your friends! Come along for some real good fun! Prizes up for grabs for the winners each month. Reserve your slots today! Singapore is a bustling cosmopolitan city with diverse cultures and religions that offers a world of culinary experiences for its guests, which makes it the perfect location for a Hard Rock Cafe. The two-story Hard Rock Cafe Singapore is located in the heart of this vibrant city, in its entertainment and retail epicenter. Choose from a range of mouthwatering selections on the menu, which includes American classics like the Legendary® Burger as well as a few local favorites inspired by the signature flavors of Singapore. Write A Review
Chok Yue Zan Solo Exhibition Art Porters Gallery Until 4 Nov 2018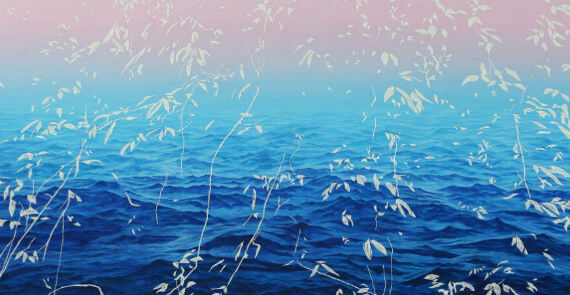 Winner of 2017 UOB Painting of the year (Malaysia) competition, Malaysian artist communicates a distinctive and joyful nostalgia with unique mixed media technique. Art Porters Gallery is delighted to present Chok Yue Zan's solo exhibition, titled Retrospect of Paradiso – an exhibition that evocatively tells the story of a lost paradise, and emphasises the importance of familial ties through 13 mixed media paintings that are grouped into four series. Write A Review
Sunday Social Market 18 November 2018 12 Midday till 10pm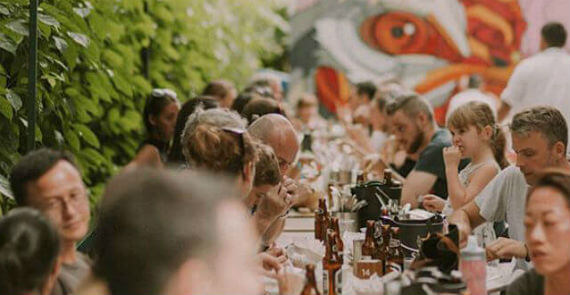 Sunday Social returns to Camp Kilo Charcoal Club for another wholesome day of music, food and shopping!  The Sunday Social Market is a passion project of DJ Zig Zach and Jade Amar, with two very different backgrounds: Music and Fashion. The idea was to create a space where people can hang out with their friends, listen to good music, eat delicious food and discover local brands and talented crafters. All the things they love in one place! Expect some good ol' House music, artisanal bakers and crafters, interior decor, fashion accessories and of course the hearty roasts from Camp Kilo Charcoal Club. contact and location
Les Petits Chanteurs de Saint Marc Children's Choir Tues 20 or Wed 21 November 2018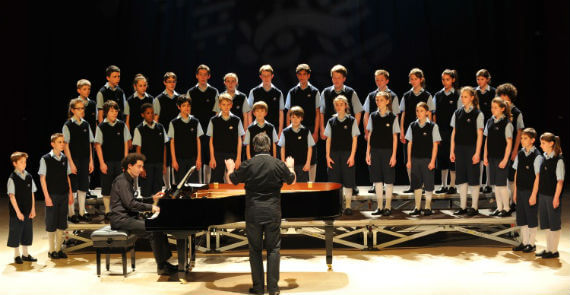 The Saint Marc Children's Choir (PCSM: Les Petits Chanteurs de Saint-Marc) from Lyon, France, is well known for performing and singing in the movie "Les Choristes". We will be presenting PCSM on November 20 and 21 at the Victoria Concert Hall. The concerts will also feature the talented young oboist – Singapore's very own Quek Jun Rui. In addition to classical songs, the choristers will present several Oscar-winning Disney songs, and seasons favourites to the Singaporean audiences. Songs include "When you wish upon a star" from Pinocchio, "Colors of the Wind" from Pocahontas, "Can you feel the love tonight" from The Lion Kingand "Let it go" from Frozen. Many of the songs will be sung in French and, while the melodies will be familiar to the audiences, the French lyrics will add a different dimension in the enjoyment of the repertoires. The songs were re-arranged with solos and beautiful harmonies to delight adults and children alike. Purchase Tickets Here
Romeo & Juliet Fri 23 Nov - Sun 25 Nov 2018 Sands Theatre at Marina Bay Sands
Shakespeare's tale of primal passion and timeless tragedy is brought to life by Prokofiev's soaring score, set in bustling Renaissance Verona and with an emotionally charged choreography that befits the world's greatest love story. From the grandeur of the masked ball to the intimacy of the lovers' balcony, this star-crossed story of duels, bitter family feuds and love that cannot be, is unmissable.  BOOK HERE
Gin 3-hour Masterclass Saturday 24 November 2018 at CIN CIN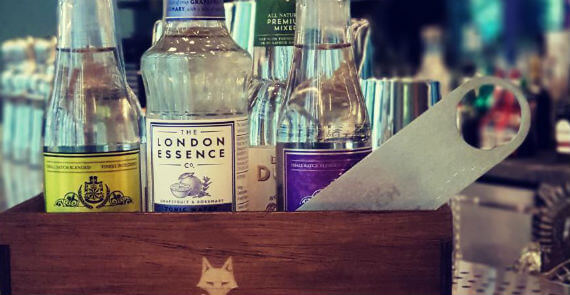 CIN CIN will be hosting a Masterclass and three-hour Gin Treasury on Sat 24 Nov 2018. Tickets for the November edition, priced at S$55 for the Masterclass only and S$99 for the Masterclass and Gin Treasury, can be purchased HERE. Attendees who want to learn more about the history of gin and its production session will start from 4 to 5pm, and discover the world of the gin distilling process, techniques and exotic botanicals. Dive into a 3-hour Gin Treasury from 5pm onwards as attendees concoct their own Gin and Tonic, with a wide array of Gin from aged gin to London dry to be paired with a range of flavoured tonic water. Write A Review
$5+ Happy Hour Beer, Wine and Spirits All Night at Boaters' Bar ONE°15 Marina
DRINKS AT $5 ALL NIGHT. You know what's better than booze? A sweet deal. No gimmicks, no happy hours. Beer, house spirits, house red and white going at $5+ all night.  One degree and fifteen minutes north of the equator lies ONE°15 Marina Club – your gateway to a wondrous world of unrivalled luxury. Rain or shine, come on down to Boaters' Bar for an evening of good company and fun! Located within the heart of the marina is ONE°15's floating bar, a breathtaking setting for small gatherings at the dockside. A favourite hangout for boaters who just want to kick back after a day on board, Boaters' Bar is the ideal setting for alfresco parties where you can soak in the action and nautical flair surrounding the marina.  Catch live music Saturday 6-9pm. Write A Review
Singapore's Only Dedicated Comedy Club The Merry Lion Nightly Shows from 6pm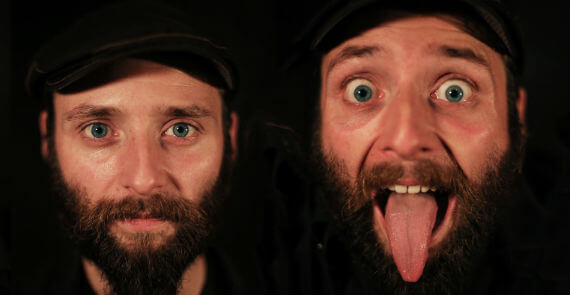 The Merry Lion is the only full-time comedy venue in Singapore. CLICK HERE TO VIEW SHOWS Amazing acts from all over the world, plus regional and local talent, come together to offer you a great show full of fun and laughs. The Merry Lion also has a full bar and food menu. BOOK NOW and roar with laughter. Every Week You Can Expect Sunday Session,  an open mic session with immediate feedback to the performers from the audience and fellow comics. $5 min spend. Monday Night Comedy  is an open mic show. 8.30pm and it's Free admission Thursday Night Comedy is brought to you by Comedy City SG. The best of the Monday Night Comedy open mic'ers plus a guest spot to close the show. $10
 
The Gin Journey Every Saturday 2pm-7pm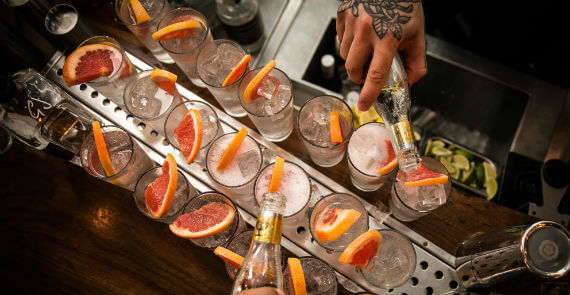 The Gin Journey was founded in London in 2013 and has made it's way to Singapore. Embark on an exploration into the juniper inspired elixir, sipping delicious cocktails and refined gins along the way. Learn about the history of gin and it's connection with Singapore from one of the Gin Journey's expert Gin Guardians. You'll be whisked around to 5 of the cities finest gin drinking establishments by a posh mini bus and most of all have a super lovely time while they take care of everything. Everyone on this soiree will quaff 5 gin cocktails, sip on 5 gins, visit 5 incredible venues, travel on one 'Gini'-bus (if you will), learn loads about gin, spirits, the drinking history of Singapore and of course have an infinate amount of fun. The hottest gin event on the planet has arrived in Singapore and they're ready to show you guys a great time. Write A Review
One-For-One Deals Town Restaurant Mon-Sat 3pm-6pm The Fullerton Singapore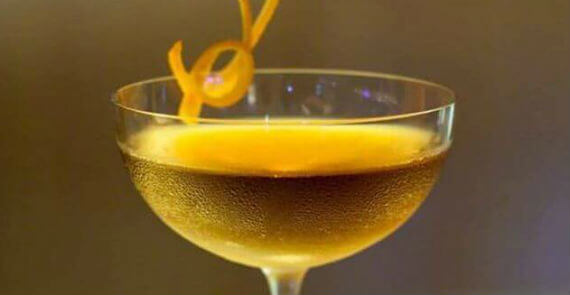 Drink while drinking in the views. Expat Choice is lifting the lid on a well-kept secret: There's a tempting range of drink deals at The Fullerton Hotels Singapore. If you have an afternoon to while away, grab a seat on the al fresco deck of Town Restaurant and enjoy the balmy breeze while you enjoy one-for-one deals on beers, spirits and wines from 3.00 p.m. to 6.00 p.m. From its cool interior designed along clean lines, with seats finished in leather. Town Restaurant is perfect for a power breakfast, casual business lunch, One-for-one deals or pre-theatre dinner. *Prices are subject to 10% service charge and prevailing government taxes. The hotel reserves the right to terminate or amend promotional details without prior notice. Write A Review
1-for-1 Tiger Beer Draught: Half Pint $15* and Full Pint $18*
1-for-1 House Pour Spirits: $17* per glass
1-for-1 House Pour Wine: $19* per glass
Post Cocktails: $15* per glass
$8 pints and your fave spirits before 8pm Mon to Sat Weekly at The Brightside Duxton Hill
Named after the Monty Python song "Always Look on The Bright Side of Life". It's a little bit silly, but let's face it, life can be jolly rotten some times, so we say bugger it, let your hair down and come laugh. Its biggest draw is the happy hour deals - $8 until 8pm for draft beers (Connor's Stout Porter and Asahi Super Dry), house wines and house pour of your favourite hard liquor. If you're more of a cocktails-person and lament that happy hours usually don't include cocktails, you'll be pleasantly surprised to find Pimms Lemonade cocktails on the menu here.  The Brightside takes its food seriously and the kitchen is helmed by Soh Wei Da who worked at Phat Cat Laundry prior to this. Bar bites include sticky chicken wings ($8-$15), spam fries ($7-$12) and seriously addictive Thai fishcakes ($8-$15). Write A Review
The Ranch Steakhouse "Great Steaks, Humbly Priced!" at Clarke Quay
Are you ready for a totally new experience in dining?  How about something fresh, exciting and out of the ordinary to tempt your taste buds?  If you are a meat lover and beef connoisseur get ready for an unforgettable experience. The well-known and loved Aston's chain has opened a classic steakhouse at Clarke Quay in Downtown Singapore. It includes an exceptional dining area with an outdoor bar and seating to take advantage of the vibrant parade of passer-by's, The RANCH Steakhouse & Bar is located at The Foundry, Clarke Quay #01-15. Call in, you may just snag a table! Write A Review
Wine Club by ESQUINA Friday and Saturday Nights 10pm-Late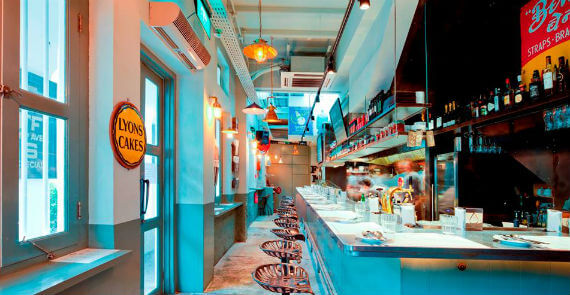 Featuring one of Singapore's most extensive wine-by-the-glass programmes from boutique producers from Spain and beyond.  Held on the second floor of ESQUINA on Friday and Saturday nights, this vino soirée is the perfect way to kickstart the weekend.  Expect a rotating weekly feature of at least 12 wines by the glass all priced at $14++ All wines are hand-selected from the best wine regions in Spain including well-loved Rioja to lesser-known but equally exciting Penedes and Rias Baixas. Head Chef Carlos Montobbio's personal favourites will also be listed under the weekly 'Chef's Choice', revealing his own recommendation for the week.  A surprise 'Wine of The Week' priced at $78++ a bottle will also be showcased, encapsulating the essence of these artisanal wines and their makers. On top of the myriad of delicious quality wines by the glass, Chef Carlos' modern Spanish bar bites menu have also been thoughtfully curated to kick off the weekend fun at ESQUINA. Write A Review
Ginett Restaurant & Wine Bar With Chef Hervé Frerard
Ginett Restaurant & Wine Bar plays host to one of Thailand's most revered chefs, French native, Hervé Frerard. Hervé is bringing his inexhaustible joie de vivre for French cooking to Singapore for the first time, and will be treating the patrons of Ginett to an exclusive menu featuring some of his most-loved signature dishes. Ginett is a contemporary restaurant and wine bar in Singapore's historic Arts District. Situated at 200 Middle Road, Ginett is a go-to destination for guests looking for a relaxing yet buzzy escape. Hearty European favourites, superb French wines from $6 a glass all day long, quick and easy set lunches and late weekend brunches, are all part of Ginett's wide-ranging offering, making it a memorable and accessible experience for everyone. Write A Review
YOU MAY ALSO LIKE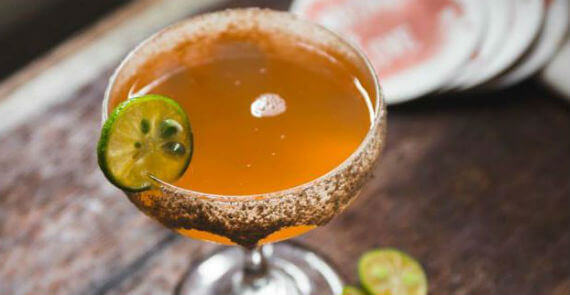 Image courtesy Nutmeg & Clove Singapore FaceBook page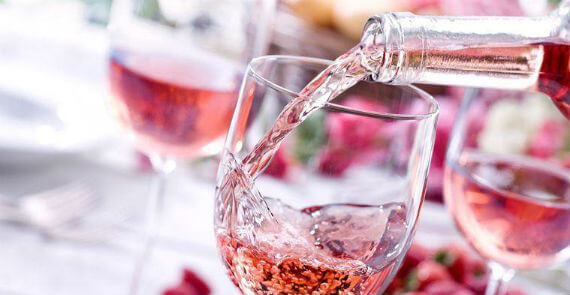 Image courtesy Pandora's Garden FaceBook page