What do you think about Risky Business on Duxton Hill Launches Happy Hour?
In the highly competitive after work bar scene here in Singapore, a true and realistic happy hour is always well received....considering the prices we pay at some of the bars around town
Risky Business is one of those bars that has you covered. This Duxton Hill neighbourhood watering hole pays tribute to Hollywood heartthrob Tom Cruise in a cheeky and fun way that will make 'Jerry McGuire' scream out, "Show me the money!"
Risky Business has introduced an awesome Happy Hour 5pm - 8pm daily with $8+ SG Lager Bottles, House Wine & Prosecco, House Spirits & Mixer and Aperol & Campari Spritz before 8PM
Loving the Signature Cocktails at Risky Business, take advantage of this 1-4-1 deal at a smooth $18+ also until 8pm daily. A beer for the boys! Asahi & Brooklyn Pints $11+ and the classic Bombay Sapphire Gin Goblets at a refreshing $11+
Feeling a bit thirsty and want to get your best bang for your buck opt for the free-flow cocktails, wine and beer session every day 5pm-8pm for $48+ starting Monday 8 April 2019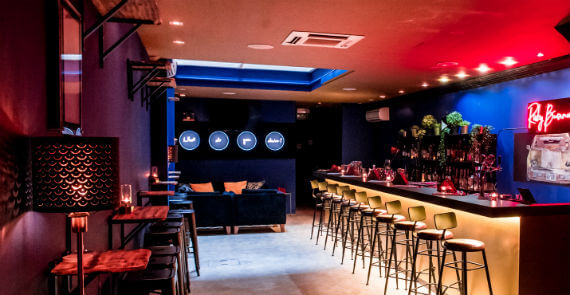 Named after the coming-of-age hit movie starring Cruise, Risky Business takes its cues from the actor's other films. The décor draws inspiration from 'Risky Business' and 'Cocktail' and is the brainchild of Jamie Gripton – easily a 'Top Gun' in the bar scene and a big Tom Cruise movie fan.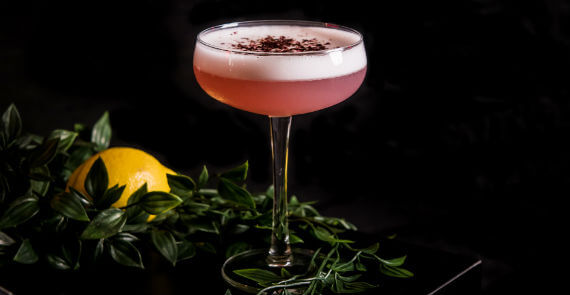 It started with Gripton watching 'Cocktail', the classic '80s movie, which inspired him get into the bar business. True enough, Gripton's love for the bar and beverage business has seen him set up Pandora's Garden, Singapore's first rosé bar at Ann Siang House. And his latest venture is located at Duxton Hill's former Brightside bar, which he also owned.  
But nowhere else is the Tom Cruise influence more evident than in the bar's signature drinks ($18+). You've Lost that Loving Feeling is a Ketel One vodka-powered Cosmopolitan that draws inspiration from the scene where 'Magnolia' co-star Julianne Moore drinks Ketel One in the movie. 
Your Ego is Writing Cheques your Body Can't Cash is another case in point. A heady pour of rum and bourbon, the cocktail is sure to receive a standing ovation like some of Cruise's critically-acclaimed hits such as 'Vanilla Sky', 'Eyes Wide Shut', or 'Born on the 4th of July'. The drink, named after the famous quote from 1985 action drama Top Gun, is inspired by the classic Old Fashioned.  
Other stars on the menu, include You Can't Handle the Vermouth inspired by the movie 'A Few Good Men' that featured a heavyweight cast of Cruise, Jack Nicholson, Demi Moore, and Kevin Bacon among others. This cocktail is a twist on the Negroni and the highlight is the napkin stamped with the words "You can't handle the Vermouth" that comes with the drink in a play on the famous quote from the movie. There's another cool connection: The movie was written by Aaron Sorkin, who penned the script on cocktail napkins while bartending in Broadway theatres. 
And if you're looking for a break from the star-studded drinking, there are nibbles and hearty fare from L'Entrecôte, the French steakhouse right next door. Nothing is 'Mission Impossible' for this Tom Cruiseloving crew. 
The bar might be dubbed Risky Business but is all set to carve a niche with its standout theme in the crowded dining enclave of Duxton Hill. Whether it's a night out with friends or a quiet drink after work, this casual, unpretentious bar promises a fun place to hangout with a playlist of 60s to 90s music and plenty of sing along tunes. 
So, don't be 'The Last Samurai' to check this new and unique entrant to the burgeoning cocktail bar scene. Happy Hour is between 5pm to 7pm - $11 Asahi Draft, 1 for 1 deal for weekly classic cocktails and a welcome shot for the fairer sex every Thursday Ladies' Night. 
Comments
Loving the Signature Cocktails at Risky Business, take advantage of this 1-4-1 deal at a smooth $18+ also until 8pm daily. A beer for the boys! Asahi & Brooklyn Pints $11+ and the classic Bombay Sapphire Gin Goblets at a refreshing $11+