The world's most famous beer festival is coming to Singapore
Celebrated since the year 1810 in Bavaria's capital of Munich, the Oktoberfest or Wies'n as it's called by locals, is probably the world's most well known beer festival.
1L beer mugs with specially brewed Oktoberfest beer, hearty food, Bavarian fashion and two fabulous bands flown in from Germany is what we can expect in Singapore. Come soak it all up "the authentic way" - only at Paulaner Bräuhaus!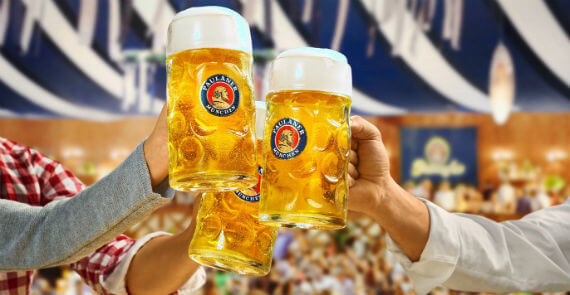 Get your Dirndl and Lederhosn on - then join the team at Paulaner Bräuhaus for a month of epic celebrations. The Oktoberfest celebrations begin Wednesday 25 September 2019 and will continue right through until Sunday 27 October 2019.
Paulaner Bräuhaus is celebrating it the Bavarian way with the best beer, best food, and original music including live bands playing authentic german music from Wednesday 25 September to Sunday 29 September thern again on Wednesday 9 October to Sunday 13 October 2019 at Singapore's one and only authentic Bavarian micro-brewery.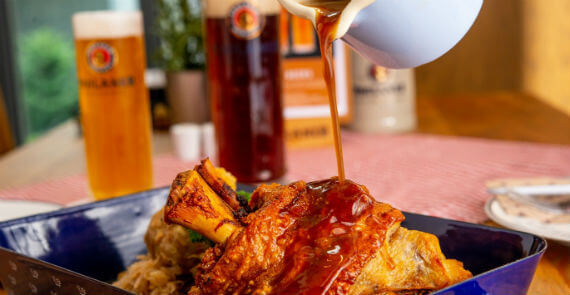 Hearty, authentic Bavarian fare is the perfect match to Paulaner Bräuhaus' rich and malty Paulaner Oktoberfest beer.
Bring your friends and tuck into Paulaner Bräuhaus specially curated three-course Bavarian sharing platters such as the Oktoberfest Starters Platter, The Classic Oktoberfest  Platter and the popular Oktoberfest Dessert Platter.
Oktoberfest Starters Platter 
Sausage Salad, Fleischpflanzerl, Black forest ham, Salami, Liver pate, Emmental cheese, "Obazda", Herb sour cream, Bavarian bread basket 
Classic Oktoberfest Platter 
Crispy pork knuckle, Golden fried chicken Schnitzel, Paulaner signature sausage, Original Oktoberfest chicken, Roasted duck, Grilled meatloaf, Sauerkraut, Grandma's potato salad, 
Red cabbage, Bread dumpling and Paulaner dark beer sauce 
Oktoberfest Dessert Platter 
"Kaiserschmarrn" (Emperor's Pancake), Bavarian cream with wheat beer, Black Forest cream  with red berries, vanilla sauce & apple sauce 
The Live bands performing throughout Oktoberfest include the "Happy Hour" - Wednesday 25 September to Sunday 29 September and the "Ems Perlen" Wednesday 9 October to Sunday 13 October 2019.
Both bands are flown in directly from Germany this year to entertain guests at Paulaner Bräuhaus 9 Raffles Boulevard, #01-01 039596
Get set to enjoy original Oktoberfest live music, traditional and modern Bavarian beats with all-time favorite Oktoberfest hits. Doors open at 6pm for these great live music parties.
What's the single most important item for a beer festival? Right – the beer!
Freshly brewed on-site, our original Paulaner Oktoberfest beer is brewed according to the traditional Oktoberfest beer recipe. Slightly stronger in percentage volume than regular beers, this brew is the color of dark honey – with a distinctively pleasant taste and aromatic notes of malt followed by a slight hint of sweetness. Early birds can purchase a beer booklet (10+2) for only $140++ 
Oktoberfest tickets at Paulaner Bräuhaus are priced at **$68++ which includes a specially curated *three-course sharing platter menu ( veg. option available)
*The three-course sharing platter menu is for a minimum of 2 persons and only available at the restaurant on Level 2 & Level 3.
**Prices are subject to 10% service charge and 7% prevailing government taxes. 
RESERVATIONS
P: +65 6883 2572 W. www.paulaner-brauhaus-singapore.com E. [email protected]​
Comments
Oktoberfest is always a good night and this is a fantastic opportunity to soak up the German beer and have a sing along. das ist gut !
Never going to miss this event! Always look forward to it each year!
I have had many Paulaner experiences and the past and loved every single one of them. The atmosphere is very German, The food is very german where you can select everything from German sausages, pork knuckle, schnitzel, salads, a also at the Sunday Brunch a great array of fresh breads, cheeses, cold meats and much, much more .... They even have a seafood selection of Oysters and Prawns and a breakfast station at the Sunday Brunch where you can order your eggs any style. The sweets are tremendous. Plenty to choose from including the classic apple strudel. We had the $88 package which included Free Flow Beers, white and red wine, juices and soft drinks. It's a good deal and the brunch session lasts for 4 hours, not 3 (11 am till 3 pm) - As the afternoon rolled on we were entertained by awesome roving singers and guitarist. They are a young duo who played all the tunes from classic Beatles to modern pop. Really very appealing. The staff are super attentive and the German outfits are brilliant. The overall experience is very family friendly but at the same time you can feel comfortable celebrating a mates birthday with a big gathering of drinkers. It is German after all so a bit of fun and laughter will always go a long way here after a few Draught Beers. Excellent Value for money. Definitely coming back again soon.