What do you think about Pasta Bar by Chef Alessandro Giustetti puts Keong Saik dining dens on their toes! ?
Main Image: Pasta Bar's Mama's Baked Pasta al Forno
Invigorating Singapore's casual Italian dining landscape, Pasta Bar by Chef Alessandro Giustetti is an intimate new alcove that embodies Italy's rich culinary history and pays homage to the country's quintessential diet staple.  
Nestled in the heart of Keong Saik road, Pasta Bar welcomes diners to enjoy real, hand-pulled pasta known across Italy as "piatto unico" or "a complete meal'', with laidback counter culture and a generous dose of heartfelt hospitality.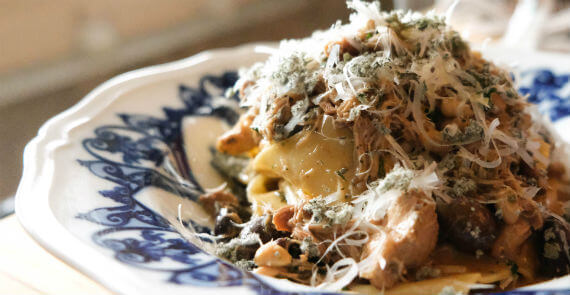 Pasta Bar's Rabbit Ragu
The restaurant is anchored around the 18-seater open kitchen bar-counter, with tables for up to just 16 additional diners available. Chef Alessandro takes the reins, serving eleven different pastas handmade from eleven individual doughs, each prepared in a unique way to create distinctive variations in bite, shape and consistency.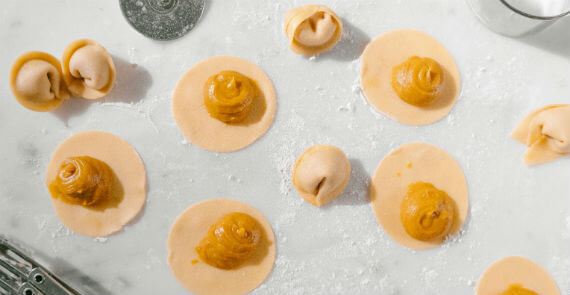 Pasta Bar's Tortelli
 
Pasta Bar's highly curated experience begins with a selection of  antipasti, including the Arrosticini - originally from the Abruzzo region, the grilled lamb skewers are served from a terracotta pot alongside rosemary infused olive oil.  The main feature, 11 different pasta dishes, are each handmade fresh in-house using specialist techniques with the principle ingredients – a selection of semolina and '00' flours, whole egg, egg yolks and water. The highly skilled preparation methods achieve varying textures, flavours and density of pasta, to produce exquisitely distinguished dishes.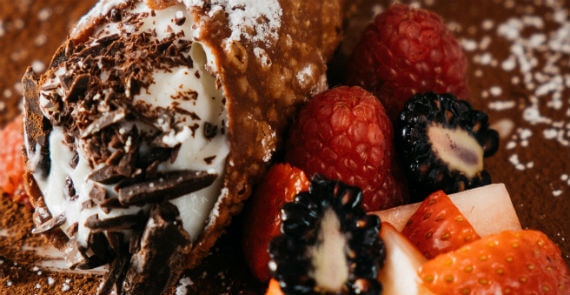 Pasta Bar's Cannolo
Going far beyond familiar favourites, Chef Alessandro channels a deep respect for Italy's impressive repertoire and complex variations of pasta, adopting some of the finest and sometimes long-forgotten native cooking traditions. Highlights include the Mama's Baked Pasta al Forno with smoked mozzarella, eggplant and prosciutto, and a melt in-the-mouth Tortelli with Pumpkin and Sage.
Lovingly made e two different types of flour, the Pappardelle, with Rabbit ragu, olive and pine nut, as well as the Tagliatelle with 24-hour beef ragu and parmigiano are other unmissable signatures, and the Lagane with chickpea, chili and spicy garlic, is a rustic, eggless rendition of pasta hailing from the Southern Italian regions.  
 
Outside of the Pasta selection, four wholesome mains change depending on seasonality, and include a classic Veal Saltimbocca – served with sage, prosciutto and burnt mashed potato, and a Pork Rib Terrine with gorgonzola, roasted potato and onion.  For dessert, the indulgent Fried Nutella with raspberry compote and the Sicilian Cannolo with sheep's milk ricotta and chocolate chip immerse diners into Italy's street food culture.
Guests can relax late into the evening with artisanal Italian wine list or a selection of classic cocktails, including a Truffle Old Fashioned and The Last Caffè - a butter vodka, espresso and chocolate bitters concoction accompanied by an amaretti biscuit.  
 
'I'm passionate about cooking the different types of pasta in the way they were each originally intended.  Guests of Pasta Bar will discover a completely new way of appreciating the iconic dish and its nuances through the unique ways in which it is served.  My menu truly appreciates the art and culture of pasta, and my diners will leave with a full stomach and a smile on their faces!" says Chef Alessandro, Pasta Bar's Executive Chef.   
Chef Alessandro was born and raised in Genova to a family with an authentic culinary heritage, and trained alongside Michelin talents to master his chef specialism. Chef Alessandro first forayed out of Italy in 2014, when he moved to Singapore with little knowledge of the English language – a skill he has perfected whilst working at highly acclaimed establishments, including Garibaldi. Now, he tells his endearing Italian tale for the first time to diners through Pasta Bar, inviting them to come and create memories of their own over a bowl of pasta. contact and location
Comments
Nothing better then a delicious pasta and by the people who know. Fantastic!