What do you think about Mishell Leong: 2018 Botanical Series: An ode to my Hometown?
The Inspiration behind this series
Mishell Leong is a self-taught artist who is based in Singapore. She grew up in Malaysia, in a suburb town called Subang Jaya – surrounded by beautiful palm trees, luscious banana plants and magnificent Bougainvillea trees.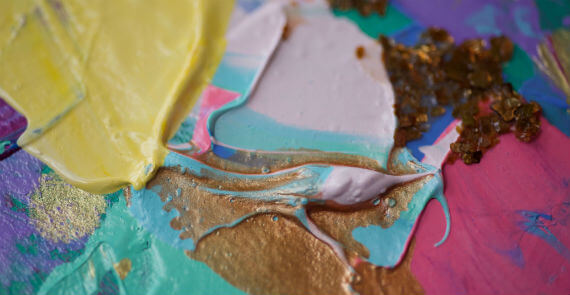 She seeks to evoke the nostalgia of her childhood and imprints from her daily walk to and home from school…skipping along the broken stoned path with tufts of uncut grass, jumping over puddles, stopping to observe a dragonfly or a flower… these are fond memories that she only realised started to serve her now as she enters into her fourth decade of life.
Each painting in this series is an expression of emotion and these memories - languid evenings spent playing "masak-masak" (cookery) in the gardens behind her home under the magical pink and purple sunset sky.
This year, Mishell has dug deep into her soul and come up with a completely new collection that is a mix of expressionist, contemporary as well as abstract pieces.
Her biggest piece, titled  "The Path Home", is filled with layers and layers of textures and amazing combination of colours that will most likely blow your mind and heart when you see it in real life.
About Mishell the Artist
Mishell's artist journey started approximately six years ago, when she was called to paint a recurring dream. Since then, she has been commissioned to create paintings for many children and families around the world including London, New York, Vienna, Switzerland and Singapore.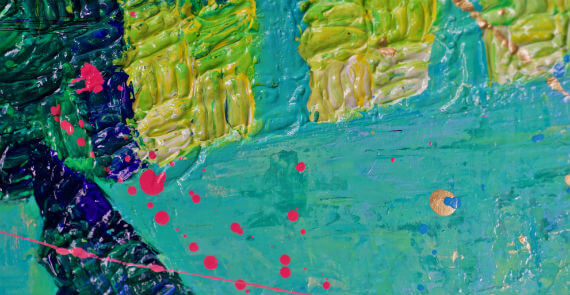 Mishell loves using various mediums, from oil paint to acrylic and watercolour. She enjoys using different mediums to evoke different emotions. For more information on Mishell's work, visit her website on www.milcbymishell.com or for her sensual art collection www.mishellleong.com
Social Media: You can also follow Mishell on facebook (www.facebook.com/milcbymishell) or hang out with her on Instagram where she actively shares her behind-the-scenes and her daily life as a mum of three and professional artist.
Instagram: www.instagram.com/milcbymishell or www.instagram.com/mishellleongart
"Where is the Bee?"
Mishell loves hiding little bees in her bigger paintings – which is something that has now become part of her signature thing. Her young and adult collectors love looking for the bees that she hides all over her often very-detailed paintings.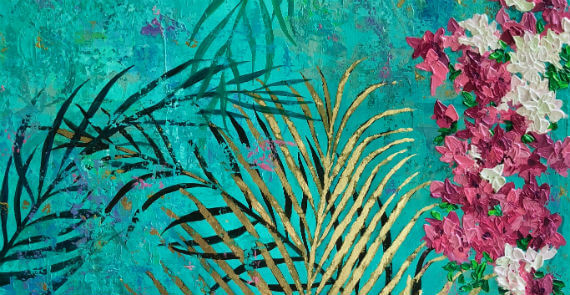 Mishell chose to champion the bee because of the important role it plays in the environment and for the survival of our planet.
Find Mishell Leong's Artwork at The Frame Society booth
If you like happy, vibrant colours and textures, you will like Mishell Leong's paintings. She will be exhibiting alongside two other international artists under The Frame Society's gallery booth at the upcoming Affordable Art Fair Singapore (November 16-18).
More about the Affordable Art Fair Singapore 2018
The Affordable Art Fair, the leading showcase for affordable contemporary art, returns from 16 – 18 November 2018. All set to turn the city pink for its ninth Autumn Edition, the fair will be offering a fresh plethora of local, regional and international talents featuring 80 galleries.
To be held at the F1 Pit Building, the Affordable Art Fair will showcase a wide range of contemporary art all priced between $100 to $15,000 with 75% of the art offered at under $7,500.
Offering hands on advice, and educational guidance to all newbie art lovers as well as established art collectors; the Affordable Art Fair is defined by making art accessible and as welcoming as possible, and ensuring that everyone can fall in love with art.
Every $1 from the Arty-Licious Evening tickets sold will go towards the President's Challenge.
RELATED LINKS
Comments
Amazing art work and quite interesting colours and textures. Goes to a good cause.
Mishell is quite the inspiration. She has delighted art lovers for years with her bold strokes and luscious imagery. The colour combinations used are always vibrant and confronting. Excellent works of art for large rooms and just as appropriate for smaller rooms that need articulation. She is a warm hearted person and has all the time in the word to talk with you and discuss her vision and inspiration. I wish Mishell all the best at this next incarnation of Affordable Art Fair in Singapore