What do you think about It's A Christmas Dessert Wonderland & Feast At House Of Mu?
House  of  MU  presents  a  dessert  wonderland  &  feast at  their  first  Christmas. Pastry  Chef Pang  Ji  Shuang,  the  man  behind  the restaurant's  iconic  dessert  platter,  has  taken  his  craft  up  a  notch  with  festive  sweets,  from Chendol  Log  Cake,  MU  Chocolate&  Amaretto  Cherries Log  Cake,  Brandied  Fruit cake to  assorted  Christmas  cookies and  macaroons.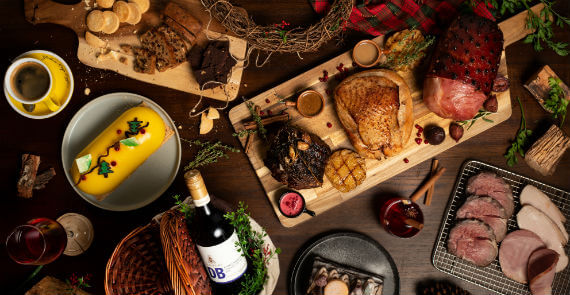 Chef Tyrrell  Joon  will  also  be  whipping  up  a  festive  feast  that  shows  off  a  medley  of  Josper-grilled  meats.  To  spread  the  festive  cheer,  the  team  has  also  introduced  the  Festive  MU  Hamper,  packed  with  the  restaurant's  well-loved  favourites.  Dessert  Wonderland  Chef  Pang's  Chendol  Log  Cake  ($48)  is  a  combination  of  western  traditions  and Asian  flavours.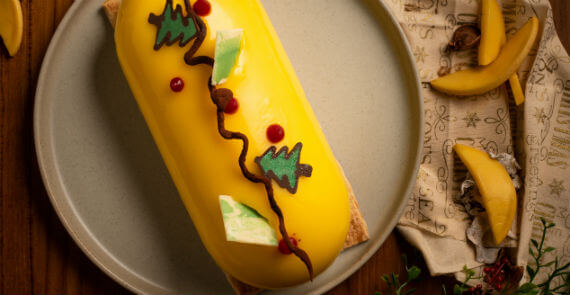 Inspired  by  chendol,  the  iconic  local  dessert in  Singapore  and  Malaysia,  the  Yule  cake  boasts  a  chendol  jelly-pudding made  from  mung  bean  flour  and  pandan  leaves in  the  centre  of  the  cake.  It  is  complemented  with  a  base  of  mango  mousse  and  finished  with  passionfruit  glaze.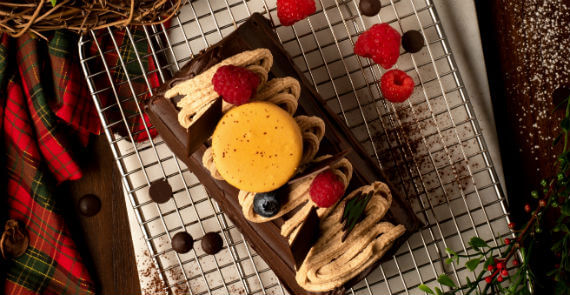 Those  seeking  the  more  traditional  yule  log  cakes  will  find  it  in  the  MU Chocolate  &  Amaretto  Cherries  Log  Cake  ($39).  The  filling  is  a bitter sweet  Belgian  dark  chocolate,  homemade  caramel  sauce and  layers  of cherries  that  have  been  pre-soaked  in  Amaretto  Italian  liqueur and  infused with  flavours  of  sweet,  nutty  almond. 
The  cake  is  then  covered  in  a  dark  chocolate  ganache  and  topped  with  almond  puree  icing.  Lastly,  chef  has  created  his  own  molasses  using  palm  sugar  that  gives  his  Brandied  Fruit  Cake  richer  and  more  intense  flavours,  mixed  with  dried  fruits  such  as  orange  peel,  raisins  and  cherries. 
The  fruitcake  also  comes  with  an assortment  of  Christmas  cookies,  including  Brownie  Biscotti–thinly  sliced  chocolate  brownies  that  are  baked  twice  till  dry  and  crispy;  and  Sable  Butter  Cookies with  added  cinnamon  and  nutmeg  for  a  traditional  festive  treat.
Festive  MU  Hamper  For  the  first  time, House  of  MU  is  also  introducing their  Festive  Hamper  ($268+) that  will  make  an  ideal  Christmas  gift  for  corporate  clients,  friends  and  families.  Suitable  for  4-5  pax,  the  hamper  includes  a  platter  of  Josper-grilled,  succulent meats  of  turkey  breast  (450g),  honey  baked  ham  (350g),  Black  Angus  ribeye  (800g);  a  choice  of  chef  Pang's  Chendol  Log  Cake  (800g),  MU Chocolate  and  Amaretto  Cherries  log  cake  (500g)  or  brandied  fruit  cake  (650g)  with  assorted  Xmas  cookies; and  a  bottle  of  Montes  Limited  Pinot  Noir  or  De-Bartoli  Family  Selection  Cabernet  Sauvignon that  have  been  specially  selected  to  pair  with  the  meats  and  dessert. 
Available  until  23  Dec,  order  before  15  Nov  to  enjoy  a  20%  early  bird  discount. 
Festive  Set  Menu  To  complete  your  Christmas  experience,  head  chef  Tyrell  Joon has  designed  a  3-course  menu  ($88per  pax,  min  2  pax)  that  includes  House  of  MU's  signature  dishes  and  Josper-grilled  meats. For  starters,  choose  from chef's  Linguine  Vongole;  Truffle  Cream  Risotto  with  Pan-Seared Crayfish;  or  a  hearty  Cream  of  Pumpkin  Soup  with  Freshly  Baked  Bread. 
The  main course is  the  stuff of  every  carnivore's  dream.  Just  for  Christmas,  chef  Joon  has  whipped  up  the  X-MU-S  Platter,  an  enormous  offering of  6  Josper-grilled  meats  and  seafood  such  as  prime  ribeye,  lamb  rump,  turkey  breast,  honey  glazed  ham,  smoked  sausages  and  pork  tenderloin and  tiger  prawns,  served  alongside  roasted  baby  potatoes,  cranberry  and  black  pepper  sauce.   
End  your  meal  on  a  sweet  note  with  a  slice  of  either chef  Pang's  Christmas  log  cake  or  brandied  fruitcake.  The  festive  set  menu  is  available  from  1  Dec  2018  to  31  Jan  2019 
House  of  MU  is a  homely  and  casual  restaurant  and  bar  that  presents  comfort  European  food  along  with  a  well-curated  list  of  gins  and  fine  wines.  It  is  also  a  lifestyle  furniture  store  fully  furnished  with  collectible  Burmese  teak  furniture. contact and location
Comments
The House Of Mu is an eclectic place - a combination of a furniture store and restaurant. Sort of a case of have your dinner and get the collectable Burmese teak dining table (or sofa) to go. The menu, by ex Les Amis and Iggy's Chef Tyrell Joon, is solid Asian Christmas fare. He's designed a 3-course menu ($88per pax, min 2 people) that includes House of MU's signature dishes and Josper-grilled meats. For starters, choose from chef's Linguine Vongole; Truffle Cream Risotto with Pan-Seared Crayfish; or a solid Cream of Pumpkin Soup with Freshly Baked Bread. The main course is the stuff of every carnivore's dream. Just for Christmas, chef Joon has whipped up the X-MU-S Platter, an enormous offering of 6 Josper-grilled meats and seafood such as prime ribeye, lamb rump, turkey breast, honey glazed ham, smoked sausages and pork tenderloin and tiger prawns, served alongside roasted baby potatoes, cranberry and black pepper sauce. Finish up the meal on a high with a slice of either chef Pang's Christmas log cake or brandied fruitcake. The festive set menu is available from 1 Dec 2018 to 31 Jan 2019. We also loved the classic Christmas soundtrack... it could have just done with plum pudding and brandy butter
House of Mu have come up with a swell take home ( or office ) buffet, all you need in the way of food, to celebrate your Christmas. the spread is generous. House of MU is introducing their Festive Hamper ($268+) that will make an ideal Christmas gift for corporate clients, friends and families. Suitable for 4-5 pax,
This is just out of this world! So looking forward to going to this. Great event and at an awesome time of year for Christmas celebrations.