Many readers are familiar with my work and read my articles regularly on Expat Choice. I've been coaching and training corporate individuals and groups since 2002.
Having started this work in Sydney, Australia, I moved to Singapore 12 years ago and continued developing course work and building relationships across the APAC Region.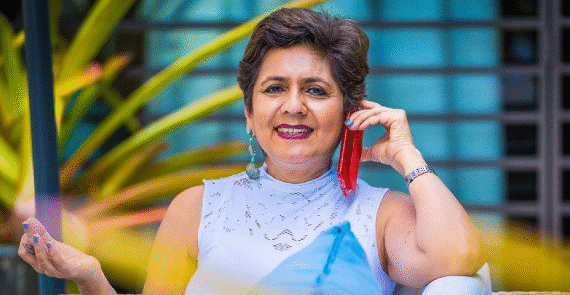 Image Credit: Your coach and instructor Sylvia Fernandes
When COVID-19 hit the world in late 2019 unexpectedly, it left many in a head-space of worry and anxiety. I hurried into action and designed this course to equip people with buffers and models for the landscape they were facing and will continue to face in the post-COVID19 lockdown era.
I felt the pain people were going through. It is raw and can be avoided with guidance and direction. I have the proven models and formulas to eradicate negativity out of the system.
So I designed a program specifically with you in mind!
The Series A program Get Ready For The New Normal – Self Tools to De-stress, Build Resilience and Stay Focused consists of two modules focusing on helping you gain clarity and build resilience. Whether as an individual, team member or leader you are uncertain of the way forward, this will help you move into a positive personal and/or professional future.
Module 1: Release Stress, Build Resilience
Module 2: Improve Focus, Gain Mindfulness
With my experience in applying the technology of Neuro Linguistic Programming (NLP), I help clients achieve work-life balance and mental health, teaching people how to self-manage.
The NLP toolbox is a model to accelerated learning. Easily applied and fun to apply, program participants learn how to make change effectively and help others in the future too.
We all know uncertainty is here for the long term. So it is even more fundamental to learn how to make decisions well and guide your internal compass accordingly.
To create adaptable, resilient and efficient people, this program allows me to impart proven change models that work via your five senses - sight, sound, smell, taste and touch.
Some of the program objectives to hit the spot include:
Identify the source of stress and eradicate it for better work-life balance to feel good and live life with happiness
Use simple techniques to make better and faster decisions with greater certainty to save time
Create a focused and resilient state-of-mind for work and life contexts when crises arise
Produce consistent results to stay on track with personal objectives to achieve consistently even in volatile times
I am also serious about having fun! With fun we relax and allow ourselves to receive new knowledge. The best part about doing online courses is you can relax in the comfort of the space you choose, which makes learning fun and engaging - all at the same time.
There are 2 sessions coming up on the 27 June and 29 June 2020. I look forward to seeing you on the program.
If you resonate with what I have said register on this link and join me to discover how to make change effectively and to help others in the future too.
Stay well….
Comments
Sylvia is a qualified Neuro Linguistic Programming (NLP) Master Trainer who trained with the co-founders of NLP. ​In 2002 she started as a Behavioural Change Specialist in Sydney and is now based in Singapore. She has worked with many organisations in implementing immediate positive change to achieve long-term optimal results. ​Her specialisation covers consulting, training, coaching and facilitation, with a proven track record of blue chip clients. Her understanding of corporate needs and cross-cultural issues come from having worked in large organisations across the Asia Pacific Region, which include Maybank, Commonwealth Bank of Australia,
[email protected]
, Cap Gemini Ernst & Young Consulting, IBM Global Services Australia, Peoplesoft. ​Sylvia is featured often in mainstream media – TV, radio and press, such as: 938LIVE Radio, Mediacorp, Channel News Asia, BFM 89.9 Radio, business station, Malaysia, NST, Her World, The Edge and Malaysia Business Times, Singapore. ​Most recently Sylvia has added to her repertoire of accomplishments. She published her self-help book 'Bye Bye Black Cat – Turn Your Luck Around' which is aimed at helping people in organizations tap into their full potential.