What do you think about Expat Choice Events?
Welcome to Expat Choice Events . We have selected event partners from across the region. We cut through the clutter and share unusual and unexpected events with you on a regular basis. This is the page where awesomeness happens - for you, your friends, your international visitors and your family.
Twelfth Night — Shakespeare in a Garden Friday 22 Feb 2019 Evening
This theatre event features the Handlebards theatre troupe performing their comical take of this classic play in the gorgeous garden of a black & white house, under the stars, with wine too.
JOIN SPW SINGAPORE PRO WRESTLING BOILING POINT FRI 22 FEB 2019 7:30PM SHARP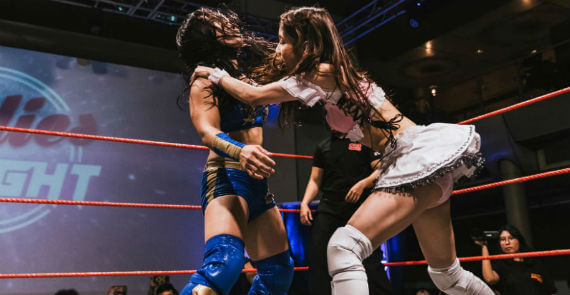 Read Full Article Here SPW presents its first LIVE event of 2019, SPW Boiling Point! Hosted at our spiritual home ground of Toa Payoh's Singapore Federation of Chinese Clans Association, this is going to be an exciting regional spectacular to kick off our pro wrestling calendar for 2019. Defending Southeast Asian Champion, Ivan Lokomotiv Markov, will make his SPW return to defend his championship against the best Singapore has to offer! Last seen in the region at One Night in Bangkok, Lokomotiv narrowly escaped with his belt when The Statement almost helped Trexxus to a win in Thailand. What would both Onslaught members do with Lokomotiv returning with the prestigious red belt? Tickets are going at $50/$30, so book your seats early to avoid disappointment. contact and location
Indian Night in a Heritage House Friday 22 March 2019 Evening
22 March, 2019 (Friday evening)
This cultural evening held at an atmospheric colonial-era house on Mt. Emily — home to the Kult Kafe bar and community arts space — features drinks, Indian snacks and an Indian-style dance performance by a local performing arts school.
Jazz Evening in the Garden of a Black & White House Sat 13 April 2019 Evening
13 April, 2019 (Saturday evening)
One of Jane's SG Tours' most popular evenings, enjoy live jazz music, delicious wine and the ambience of a lovely garden of a colonial-era black & white house.
Screening of Ken Kwek's new play "This Is What Happens to Pretty Girls" May 2019 Dates TBC
10-26 May, 2019 (Exact date to be announced, 23?)
This special theatre event will include a screening of Kwek's new play, which is based on the #MeToo movement and is part of Pangdemonium's 2019 line-up. Kwek is one of Singapore's most talented and respected film makers.
Film Evening at the Historic Shaw Studios Saturday 15 Jun 2019 Evening
15 June, 2019 (Saturday evening)
Mingle with wine at the 1940s-era Shaw Studios, where many films were shot and produced during Singapore's golden age of film in the 1950s and 60s. After a short talk and viewing of vintage movie clips, move on to the Vagabond Hotel for a screening of a film written/directed by a notable Singaporean film maker.
Comments
Now this is a good idea. Seeing some upper coming events in the near and distant future. Helps me plan for what I want to see and attend. Fantastic idea.