What do you think about ESQUINA Relives The Spirit of Sharing This Festive Season With This Gorgeous Menu at $98 per person?
ESQUINA celebrates this festive season with a menu designed to invoke the spirit of sharing.
Guests can look forward to a specially curated selection of new dishes and old favorites, with each dish bearing Head Chef Carlos Montobbio's culinary innovation in a "sharing-style" menu.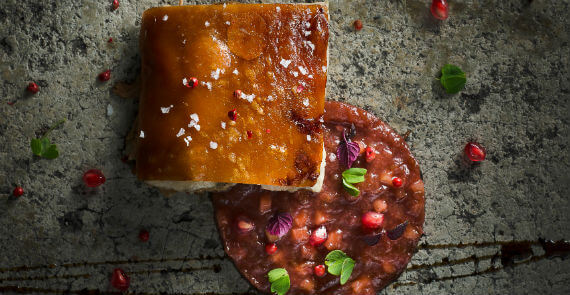 Spanish Suckling Pig Rhubarb and Apple Chutney Mulled Wine Jus
 
First up is the Uni Sandwich. Small in size, the sandwich comprises of ingredients like Hokkaido sea urchin and oscietra caviar, with the addition of burrata giving it a creamy bite. Next is the Festive Croqueta, a dish that features roasted poulard, along with confit onion, and black truffle.  
 
A new introduction is the Wagyu Beef "Roast". Featuring a braised piece of Westholme Wagyu beef, the meat-heavy dish is balanced out by parsnips, and winter black truffle. 
 
Flavours are then taken to the next level with the Potato and Truffle Gratin (see main picture). Decadent, lightly browned potato is perfumed with the essence of truffle, and topped with organic egg yolk, ibérico ham, and winter black truffle.   
 
Other items to look out for include the Tsarskaya Oyster, Roasted Cauliflower, Suckling Pig, and George Bank Scallops, all regular favourites at ESQUINA.  
 
Lastly, end your feast with a selection of classy desserts. Savour Chef Carlos' rendition of Beer Ice Cream, a treat that involves banana cake glazed with warm caramel sauce, and Homemade Whisky Cream. 
 
ESQUINA's festive menu is priced at $98++ per person. 
Comments
Esquina you have done it again AND a good price. The food presentation, taste and all that goes into it is 5 stars. Amazing staff, friendly and professional.