What do you think about Creatures from the Singapore River To Invade Clarke Quay This Halloween?
Video Credit: Insider TV
Clarke Quay Halloween 2018 Presents Tales of the River - a one-stop Halloween themed party from the  Saturday 27 October to Wednesday 31 october 2018 featuring virtual reality technology for a consummate Halloween experience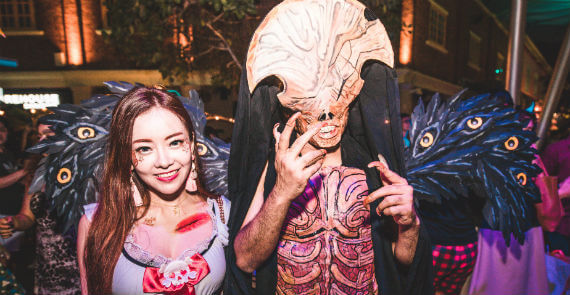 From the deep, dark waters of the Singapore River, sea creatures will rise up to haunt visitors at Clarke Quay's annual Halloween extravaganza called ​Tales of the River ​​taking place Saturday ​27 to Wednesday 31 October 2018.​​Deploying virtual reality technology for the first time at Clarke Quay; shoot, catch, save the world from zombies and monsters and win prizes as you immerse in real-world interactions.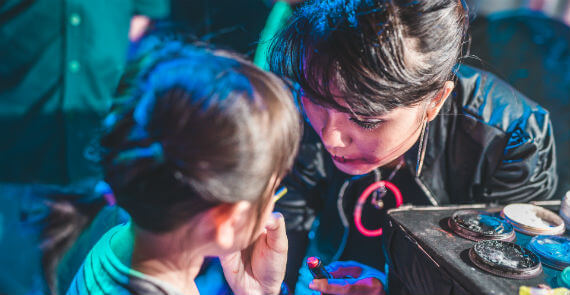 Tales of the River will see Clarke Quay transformed into a watery underworld. Featuring decor designed to spook the living daylights out of visitors, come dressed in your Halloween best and ride the terrifying waves of the Undead Boatmen Cavern, Mermaids' Den, Monsters of the Sea and Loch Ness Lake.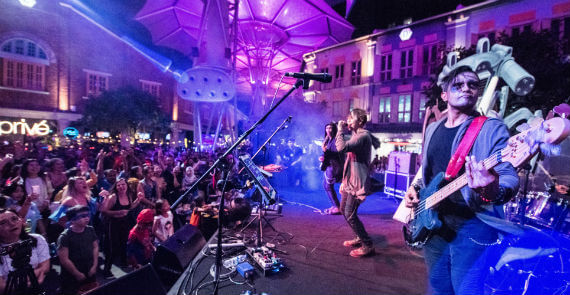 An exciting first, visitors can take part in Tales of the River's virtual reality Zombie Mania Shoot-Out Challenge featuring not one but two spooky VR plays -​SpookyNight, a free cartoon style VR shooter game filled with cute goblins, zombies and monsters, for all ages, or ​The BrookHaven Experiment ​​where for 200STAR$ or $20 on a same-day receipt, players get to use weapons and tools to survive and fight off zombies and creatures dead set on destroying the world. The top 10 finalists of ​The Brook Haven Experiment ​​VR challenge will then battle it out for the final play in apocalyptic mode on Wednesday 31 of October where they stand to win up to $3,000 worth of prizes such as PS4 Pro 1TB, Nintendo Switch, Razer Headset and vouchers.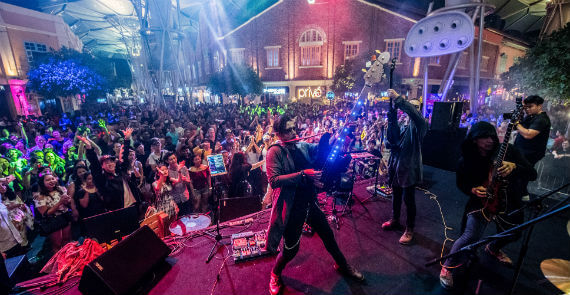 When night falls and the creatures emerge on Saturday 27 October, Clarke Quay's Fountain Square will metamorph into a scream-worthy hive of activities, highlights of the freaky opening party include music by O.K Ready!, stage games, "Best-Dressed Contest" with plenty of prizes to give away. Tales of the River will also feature kid-friendly daytime activities such as monster doll making and painting workshops on the weekend of Saturday 27 and Sunday 28 October, noon to 6pm.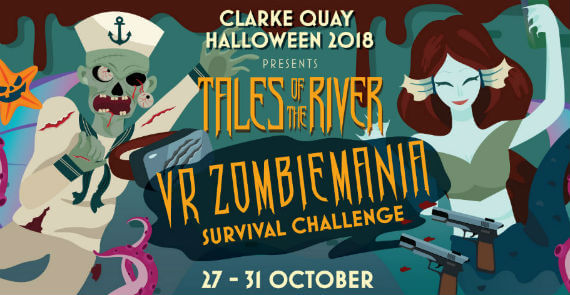 Many epic Halloween themed parties will concurrently take place in numerous party venues around Clarke Quay such as Zouk, PONG Clarke Quay, Level Up, Attica and more. Be sure to save the date, come dressed in your freakiest best and make Clarke Quay your one-stop Halloween party central.
Clarke Quay is a unique conserved historical landmark located along the iconic Singapore River. ​It is withinbwalking distance of the Clarke Quay and Fort Canning MRT Station, making it well accessible by publicbtransportation. Today, Clarke Quay has been boldly restored and refurbished into five beautiful waterfront godowns under a climate controlled canopy illuminated by coloured lighting, creating a modern and cosmopolitan ambience amidst the tradition and history. Owned by CapitaLand Mall Trust and managed by CapitaLand Retail, Clarke Quay plays host to more than 60 restaurants, bars, and entertainment outlets.  
Day and night, you can savour a mix of international cuisines at the array of established dining concepts offering a gastronomic experience for all occasions. When the sun goes down, you don't have to look far to discover some of the city's trendiest nightspots and widest selection of bars with live bands. Experience wine, dine and good times only at Clarke Quay.