Getting a good serving of eggs or opting for one of the 100s of items on these 9 menus is what you will be after once the hangover starts to set in on Saturday or Sunday morning.
Get yourself your fill and get right back on the track at one of these highly respected and expat-community-supported cafes and/or restaurants.
BREAKFAST & BRUNCH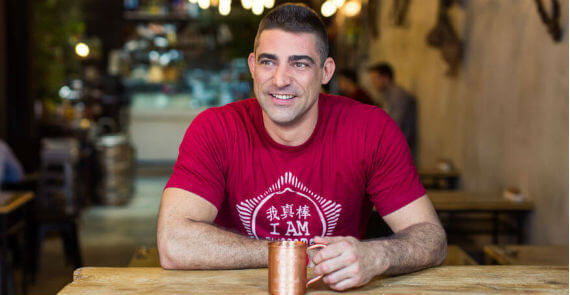 Click the Image to access Location and contact details
Amazing place to grab a quick breakfast, brunch, lunch or dinner in the CBD. Stepping in to My Awesome Café takes you away from work life, the polished surfaces in the CBD. The salads are generous, and the lasagna delicious and hearty. Wine and Beer flow aplenty.  The road to My Awesome Café did not only start with the renovation of a historical shophouse. It started way before, with the decision to take a leap of faith.  For Franck, the founder - a consummate F&B expert, it was a challenge to be on his own. But a challenge he doesn't face alone. He inspires everyone in his team to serve awesomeness, as he does, all the time. My Awesome Café is a business, as much as it is a playground, a school, a home. In their own little way, they hope to share with you the familial spirit that puts a smile on your faces that keeps us going everyday. read more...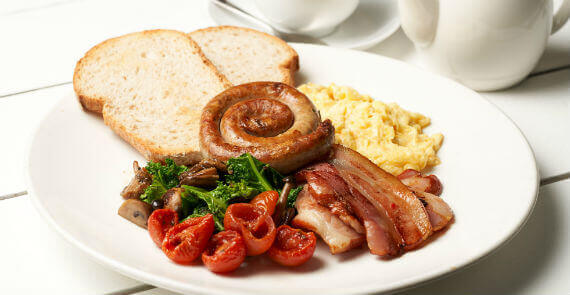 Nestled right on Siloso Beach lies Coastes, an alfresco dining restaurant looking out to the majestic view of beach, sea and ships (believe it or not)! A place to chill and feel the jazzy tunes seep into your body. Coastes, Singapore's popular beachfront bar and restaurant in Sentosa, elevates the beach dining experience with a newly-curated à la carte brunch menu. But that is not all, they have also introduced an option for free-flow cava and wine on weekends at an additional $45++, placing it on the map as one of the most affordable weekend brunch venues on the island. read more...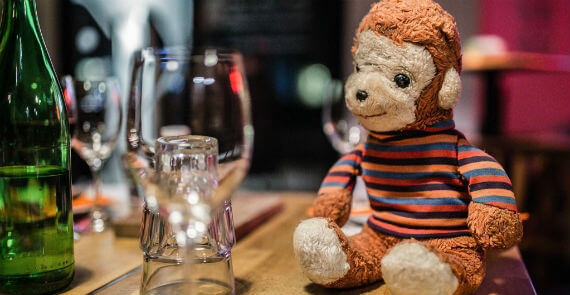 Click the Image to access Location and contact details
jimmy monkey café & jimmy monkey too are arguably Singapore's hippiest coffee destination brought to you by Michael Ryan. Nestled amongst lush greenery and set in an old conservation army barracks, it has a chilled-out ambience and decor that has no equal. Experience your espresso made by Singapore's very first Slaye espresso machine! Taste your coffee again. For the first time. jimmy monkey provides food that is both hearty and rustic, yet not so simple that you can whip it up yourself at home. Indulge in a delicious brunch or all-day dining with home made dips and toasted focaccias, tasty pastas and all-time favourites such as fish-and-chips and bangers and mash. read more...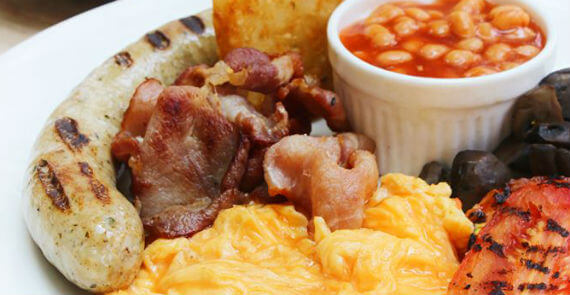 Click the Image to access Location and contact details
Still a huge crowd pleaser! Dine in for the The Ashes Breakfast pictured $22++ - with pork sausage, bacon, scrambled eggs, hash brown, Roma tomato, mushroom, baked beans and toast! Available weekdays until 11:30am and weekends until 5pm. Whether it's a special occasion, an opportunity for family & friends to catch up, or a pleasant start to a lazy weekend day, Breakfast or a weekend Brunch is a meal for relaxation and good company. Join Boomarang for their award winning breakfast menu daily. Boomarang is a café, bar & bistro located in 2 Singapore locations which proudly serves fresh, authentic Australian cuisine while celebrating her charming culture. Located by the scenic Singapore River at Robertson Quay and also strategically placed near the CBD at Boat Quay, Boomarang offers a relaxing ambience for all-day dining & entertainment. Open Daily from 7am until late. Get the weekly Boomarang Sports Bible to your email inbox. A weekly comprehensive guide to live sport in Singapore! read more...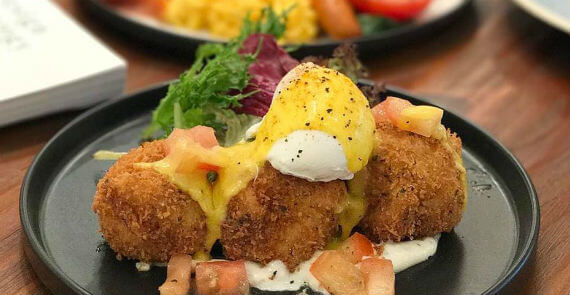 Click the Image to access Location and contact details
You'll just have to visit this fab find to get the full experience. It's great. Highly recommended. Ask for the Killer Mac & Cheese! Crispy bacon mac & cheese balls with homemade salsa, aioli sauce and a perfect poached egg. Located at the foot of Mt Faber, the junction of Wishart & Morse Road. Serving coffee, all-day Brunch and many more great dishes....read more...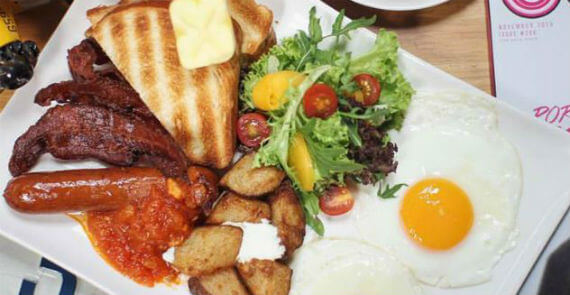 Click the Image to access Location and contact details
Wheeler's Cafe is a bicycle café nestled in the heart of Balestier, with an industrial warehouse setting that will get your cameras snapping away. Bicycle lovers can cycle here with ease using the park connector and order a cuppa while they rest and admire the range of bicycles and accessories offered. Non-bicycle lovers are definitely not forgotten. With a passionate team of chefs and barista working to satisfy your tastebuds, be sure you're hungrey when you visit here. A huge seating capacity that caters to both small and big gatherings, with a choice of indoor or alfresco, is definitely a plus. read more...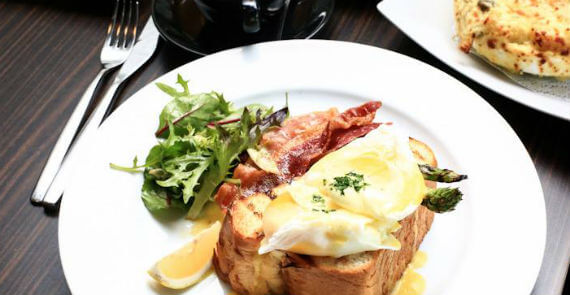 Click the Image to access Location and contact details
This is a gem! Situated amidst the lush greenery of Bukit Timah, Little Diner is a place of respite from the hustle and bustle of everyday life. Make no mistake,  they are not a fine dining establishment, serving haute cuisine on small plates. Instead serve hearty food that feed the hungry and invigorate the weary. Brunch: 11:00am-3:30pm, Saturdays, Sundays & Public Holidays. Last orders for all meal services are 1 hour before the kitchen closes. Try out the The Italian Benedict priced at S$19.50 which consists of Parma Ham Slices, Roasted Red Bell Peppers, Sautéed Mushrooms, Poached Eggs & Hollandaise Sauce on Toasted Brioche. Side of Baby Green Salad. OMG Delicious! read more...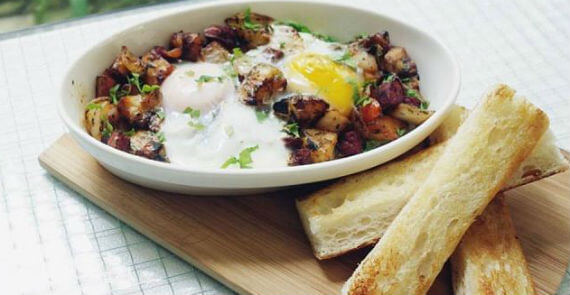 Click the Image to access Location and contact details
It's pretty difficult to find a decent Egg Benedict in town for a good price, but this hits all the right places. The dishes at Skyve Wine Bistro are well though-out and lovingly prepared, and the lovely space is a haven for both skyvers and busy bees who need a break. If hearty dishes and a lazy, laid-back dining experience are what you are looking for, then Skyve, trues to its name, delivers on all counts.read more...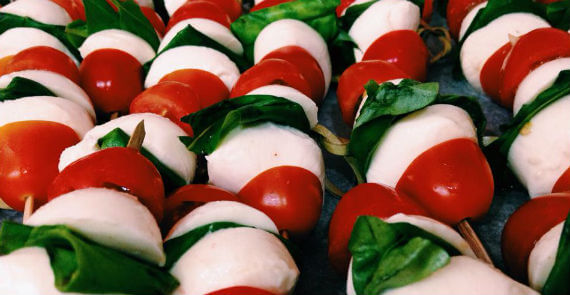 Click the Image to access Location and contact details
Savour freshly baked scones, French toast or eggs with a latte or cappuccino for breakfast. Baking is done daily to ensure perfection in every bite!. Nestled in the jungle away from the bustle of city life you will find Carrotsticks and Cravings at Loewen Gardens. This gem of a cafe in Singapore is a must visit destination. From healthy cooking at the cafe to a lively monthly Saturday farmers' market that showcases organic produce and much more, Carrotsticks and Cravings has something for everyone. Enjoy private events at Carrotsticks and Cravings, and experience their personalized menu creations designed around healthy, fresh produce. The Carrotsticks and Cravings chefs are passionate about their craft, which you can taste in every bite. contact details and location
Comments
I have also eaten at all of these cafes and each one has it's own unique take on food and service. The atmosphere is all about good dining experiences at this selection. I really do enjoy the relaxed atmosphere at Merchants on Duxton road for a Breakfast from time to time. There are so many options on the menu there. Congratulations to all on this list. although by no means exhaustive it give us a good selection to make a quick decision and go eat....