What do you think about Best Hotel Buffets for Indulgent Dining?
Main Image Credit: JW Marriott Hotel Singapore South Beach
To find a hotel restaurant that can do a buffet justice is to discover a real masterpiece in the art of cooking.
Singapore's love for eating (and drinking) is well-celebrated at International hotel buffets across the city. We've taken the leg work out of the process of selecting your next indulgent food affair and hunted down some of the best hotel-based buffets that allow you to dig deep to indulge, when it comes to all things - indulgent feasting. No dieting allowed here.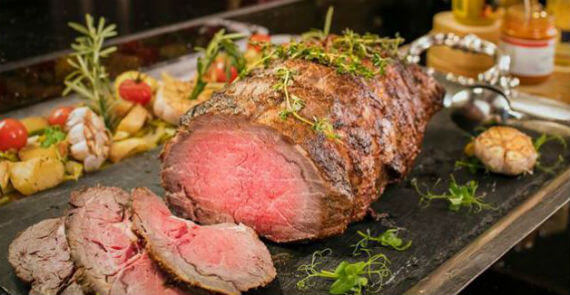 Featuring signature highlights from the restaurant's three culinary theatres, take your pick at Ash & Elm from a selection of cheeses and house-cured meats from the Charcuterie & Cheese Room, freshly-baked flat breads from the Wood-Fired Oven and unlimited servings of small plate delights from the Charcoal Grill. Add a touch of bubbly to your weekend with Bubbles & Brunch at Ash & Elm. What's more, partake in hearty roasts and glorious seafood. The experience is further elevated with unlimited servings of the classic British cocktail Pimm's Cup, Taittinger Brut Champagne and house wines, among a selection of beverages. SG$138++ per adult, inclusive of unlimited Taittinger Brut Champagne, house wines, Bloody Mary cocktails, soft drinks, juices, coffee and tea. Sunday 12-3pm contact and location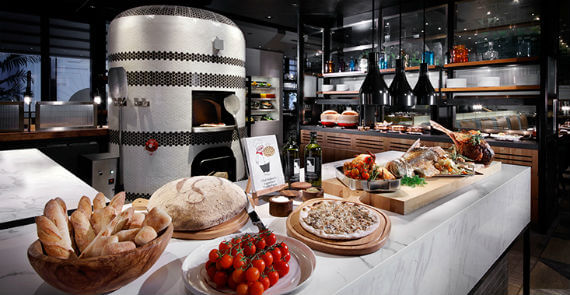 Open throughout the day and boasting live cooking experiences for breakfast, lunch and dinner, Beach Road Kitchen includes a tantalizing buffet. From carefully curated canapés to endless exquisitely plated desserts, priding themselves on using the freshest regional produce and high quality ingredients, JW Marriott Singapore South Beach, proudly present an exciting showcase of hospitality through their passion for food. Visit exciting dining hot spots where the chefs and bartenders on show serve up tantalising meals daily. contact and location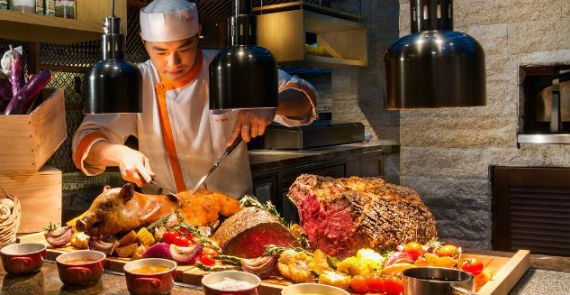 Edge's Sunday Champagne Brunch experience awaits with a refreshed selection of gourmet items and a vibrant Kids' Dessert Corner and balloon sculpting area. Featuring seven interactive live food theatres with 16 stations of signature premium delights, surround your dining experience with a myriad of International delicacies complemented with unlimited Veuve Clicquot Champagne, Botanical Gin Cocktails and uplifting live music. Every Sunday, 12:00pm to 3:30pm  SGD208 per adult* (unlimited Veuve Clicquot Rosé Champagne) SGD188 per adult* (unlimited Veuve Clicquot Brut Yellow Label Champagne) SGD128 per adult, SGD64 per child (six to 11 years old), includes unlimited fresh juices, soft drinks, coffee and tea contact and location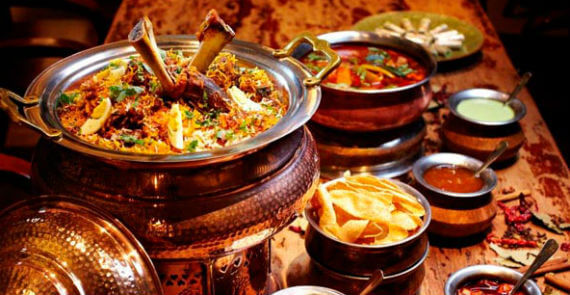 This isn't your typical hotel buffet - tables are filled with local families and tourists alike. Taste cuisine from Chinese, Indian and Malay food that make up Singaporean cuisine. Explore Hainanese chicken rice, laksa, satay, beef rendang, nasi goreng, tandoori chicken, roti prata many more. StraitsKitchen at Grand Hyatt Hotel is one of Singapore's top Halal buffet restaurants. Its dining room boasts a contemporary market place setting that adds charm to an extensive menu celebrating the best of local delights consisting of approximately 50 main dishes and 20 dessert items for you to enjoy a true Singaporean cuisine. Buffet lunch: *SG$52++ (adult) and SG$28++ (child) or the popular Buffet dinner: SG$62++ (adult), SG$35++ (child) * correct at time of publishing contact and location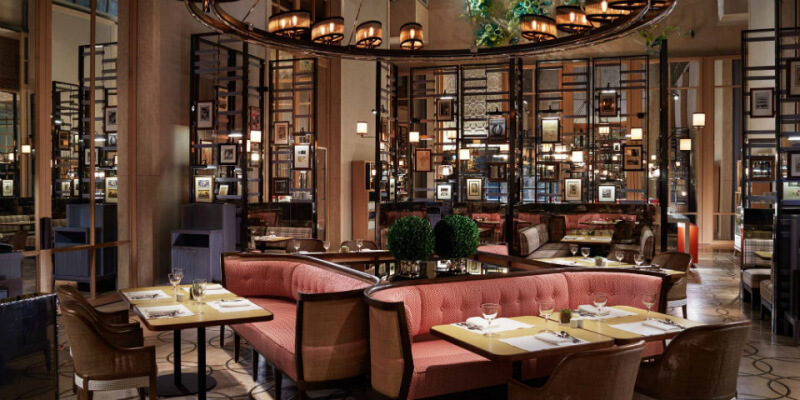 Colony has got to be one of our favourites. This gorgeous experience offers buffet and a la carte menus for breakfast, lunch and dinner, a heritage Afternoon Tea, as well as a Vintage Champagne Brunch on Sunday. Colony offers a mouthwatering spread of Chinese, Indonesian, Indian, Malaysian, Western and local dishes. The weekly Vintage Champagne Brunch includes unlimited Moët & Chandon Grand Vintage Blanc 2006, Moët & Chandon Grand Vintage Rosé 2004, house pour red/white wines, selected handcrafted cocktails and draft beers too. SG$192++ Sunday 12-3:30pm contact and location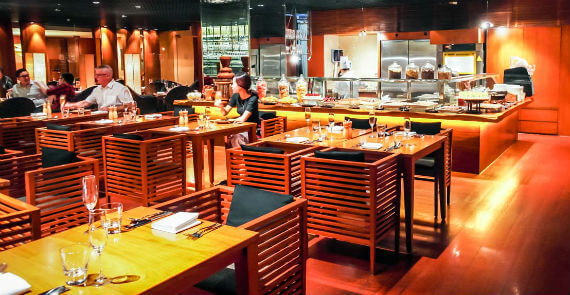 Start your brunching at this contemporary and stylish 400-seat gastro-heaven, the Mezza9 at Grand Hyatt Hotel. It offers 9 different dining experiences – from Japanese, Thai, Chinese and Western cuisines – each of which can be savoured seated in any part of the restaurant. Indulge your palette from all the show kitchens; choose mouth-watering delicacies from the grill, the wok, the sushi-sashimi bar, the deli, the steam basket, the martini bar, and the patisserie counter. This extravagant Sunday buffet lives up to its claim of serving 'high-quality food using environmentally-friendly practices' along with free flowing Perrier Jouët Grand Brut champagne. Quite the recipe for a sumptuous Sunday. Sunday: 12:00 p.m.–3:00 p.m. (last pour at 2:45 p.m.) SG$118++ per adult, inclusive of fruits juices, soft drinks, coffee/tea (non-alcoholic) For an additional SG$40++ per person, adults can enjoy free-flowing Perrier- Jouët Grand Brut Champagne, certified sustainable red and white wines, selection of martinis, 9 hand-crafted gin and tonics, and Tiger beer. contact and location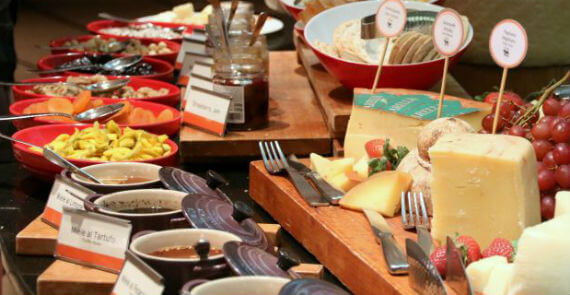 Basilico at the Regent Hotel has long been a favourite with Singaporeans looking for authentic Italian fare. Its well-priced and great quality buffet is hot property, especially on weekends. Foodies get drawn in by the extravagant spread of cold cuts, classic Italian antipasti, varieties of fresh cheeses and of course, the lavish mains. There is also a – wait for it – separate room for cheeses with a selection of about 40 regional farm cheeses from around Italy. The mains, with mouth-watering items like Roasted Wagyu Beef Rump with Truffle Mustard, Roasted Sea Bass with Fennel as well as pizzas and pastas, is followed by a delectable selection of desserts and gelato. Ready to dig in? Take your pick of free-flow prosecco, wines and beers, free-flow champagne, wines and beers or indulge in the free-flow sommelier-selected wines or premium champagnes such as Duval Leroy Blanc de Blanc Grand Cru 2006, exclusively available in Singapore at Basilico, Sunday 12-3pm SG$178 per adult with free-flow champagne, wines and beers contact and location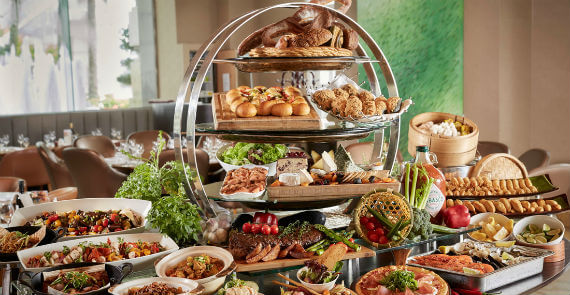 With impeccable service and one of the most generous buffet spreads in town, it's no wonder that brunch at Town Restaurant in the Fullerton Hotel is such a popular affair. Start your culinary adventure at the Japanese counter, which is brimming with fresh sashimi, sushi, and tempura. The seafood ice bar is equally decadent, with everything from luscious snow crab and scallops to tasty mussels. If you're a breakfast fiend, let yourself be tempted by the eggs benedict and berry pancakes; but if you're in more of a lunch mood, the roasted duck or champagne risotto should do the trick. Prepare to be awestruck by the Fullerton's exquisite selection of desserts, which boasts a chocolate fountain as its centrepiece. Just remember: it's a marathon, not a sprint, so pace yourself while your lap up free flow of house pour champagne. Sunday 12-3:30pm (last pour 3pm) $168 per adult with free flowing Veuve Clicquot  and house red and white wines. contact and location
Comments
[url=http://theprettyguineapig.com/amoxicillin/]Amoxicillin Online[/url] <a href="http://theprettyguineapig.com/amoxicillin/">Amoxicillin</a> http://theprettyguineapig.com/amoxicillin/
Which one has the best cheese spread