Video Credit : Anant Tyagi Chef Jeremy Gillon offers a brief introduction to Restaurant JAG.
Austrian Wine Week returns for its 4th chapter with 4 Unique Dining Experiences at 4 Venues over 4 nights, Monday 18 November until Friday 22 November 2019. Bookings Essential!
Join 3 International Winemakers, one Austrian Spirit Producer and 3 award-winning Chefs for this highly recognised annual event, Austrian Wine Week 2019.
DAY ONE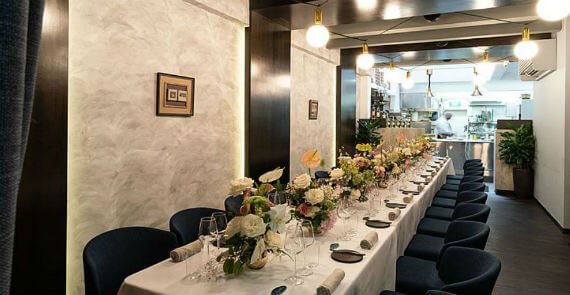 Meet Winemaker Gregor Skoff (Winery Zahel), chefs Jeremy Gillon (Fra), Stephan Zoisl (Aut) and members of the Austrian Community in Singapore at the Austrian Wine Week 2019 Long-Table Kick-Off Dinner on Monday 18 November 7PM-10PM, hosted by Michelin Star Restaurant JAG at 76 Duxton Road.
Chefs Jeremy Gillon (Restaurant JAG) and Stephan Zoisl (Chef's Table by Chef Stephan) get to unleash their fine dining creativity incorporating years of culinary experience at this 4 hands collaboration culminating in a 6-course dinner. (SGD 188++)
This limited seating event will continue with an after dinner "meet and greet" with the winemaker, Gregor Skoff (Winery Zahel), to allow you to continue to enjoy superb Austrian Wines. For the spirited at heart, Austrian distilled Leopold Organic Sloe Gin will available at the after party presented by Klaus Leopold (Aut).

DAY TWO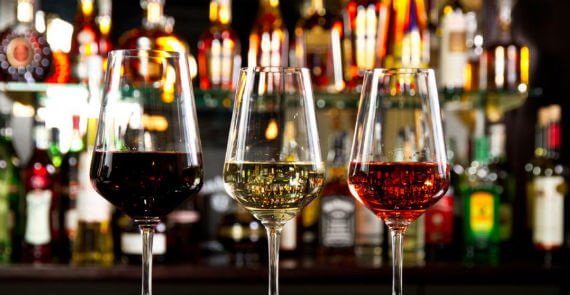 Image credit : Venuerific
Things get social on Tuesday 19 November when Austrian Wine Week 2019 guests attend a three-hour, wine tasting event at Wine Universe located at 9 Raffles Boulevard, Millenia Walk from 7PM-10PM.
Savour crusty Austrian raclette cheese bread prepared by Austrian National, Claus Schwarzmann's team at Wine Universe and meet 3 visiting International winemakers - Johannes Gebeshuber (Winery Gebeshuber), Thomas Schabl (Winery Gross) and Gregor Skoff (Winery Zahel), who will guide you through the specially curated collection of Austrian Wines.
Gain an insight into wines from 3 different regions of Austria offering indigenous grape varietals at this interactive, social event. In addition, guest will have the opportunity to meet Klaus Leopold (Aut), the brand owner of Leopold Organic Sloe Gin and the brainchild of the Austrian Wine Week 2019. (SGD 88++). Limited tickets available.

DAY THREE
Video Credit: Insider TV
On Thursday 21 November, 7PM-10PM, LeVel33's recently refurbished dining room is the sky-high venue selected to host the penultimate wine pairing event at Austrian Wine Week 2019.
As the event name suggests, Wine Pairing Dinner With A View – guests will have the opportunity to experience a specially created 4-course menu prepared by Executive Chef Archan (LeVel33) while basking in the splendour of the very best views in town.
Wine-pairing will be presented by visiting Austrian Winemakers Johannes Gebeshuber (Winery Gebeshuber) and Thomas Schabl (Winery Gross). Guests will be introduced to 6 signature Austrian boutique wines throughout the wine pairing dinner. Seating is limited. (SGD 138++)

DAY FOUR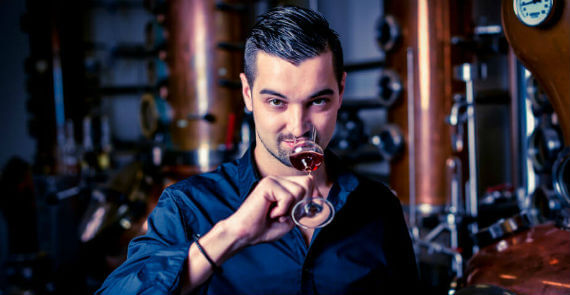 Austrian Wine Week 2019 culminates in a celebration of 100-years of Austrian hospitality at Leopold Gastrobar, 96 Tanjong Pagar Road on Friday 22 November 7PM-10PM. Experience over 50 labels of wines by the glass together with Leopold's popular cold cuts prepared by chef owner Klaus Leopold. 
Guests will indulge in a wine tasting of 40 different Austrian wines with Thomas Schabl (Winery Gross) who will personally showcase his wines throughout the evening, together with delicious Austrian canapés, finger food and Leopold signature ham and cheese platters. (SGD 98++)

Austrian Wine Week has delighted capacity attendance in Singapore since its inception in 2016.  Don't miss Austrian Wine Week in 2019.  Booking essential. Limited Tickets Available. Join one or more events at Austrian Wine Week. Book Now to avoid disappointment.
Prost!
Comments
Stepping into Restaurant JAG I felt special. It was small with a maximum capacity of 26 guests. An open kitchen concept which gave me the feeling of transparency, seeing co-owner cum chef Jeremy Gillon do his magic. I was there to savour the taste of two Michelin star chefs' creations. Chef Jeremy and Chef Richard Toix of Jardin Des Sens, Ho Chi Minh (Vietnam's only 3- Michelin star chef restaurant) were about to create a six-course wine-paired degustation meal for us. I was glad to see a predominantly seafood menu, especially when there were so many courses. Priced at $298++ and available for only two nights, I felt it was a very good deal. Portions were bigger than expected and every course had an exceptional combination of flavours coupled with stunning wines from Savoie. Planet Jupiter the giver of gifts and luck was definitely on my side! Canapes were served: three varieties of candied salmon, cauliflower round with seaweed and a potato ball. All of these were served on a wooden box created by Vincent Gillion, France. With no cutlery in sight we thought it fit to use our fingers and it turned out to be so finger licking good. Quite evident in the six-course dinner was the philosophy of both chefs as they churned out fresh dishes, blaring out the importance of seasonality and provenance of ingredient. I had the opportunity to sniff the herbs used in each course as they were explained by the ever so friendly staff. The next course Amuse Bouche was totally yummy. It had a bed of French de puy lentils and crunchy bits in a smoked mille foam. I devoured this with a bit of sourdough baguette and the three varieties of butter spread out on a wooden plank. What an indulgence! Every course at Restaurant JAG was a treat to the senses as I visually appreciated the presentation and attention to detail that both chefs had so artistically put together. The next course sat on a green tomato tart almost, with coucou flower and apricot joined in a medley. So fresh and tasty I felt like the produce had just been picked from the garden behind. What a difference it makes to serve top quality produce. I have to say the carpaccio of prawns served with caviar and a mustard ice cream was my favourite dish of the night. The carpaccio had three different prawns from Thailand, New Zealand and Singapore. Put together in the shape of a ruler, it was so delicious, I can't even describe it. The flavours of each type of prawn were evident and so cleverly coupled with the mustard ice-cream which I thought was an ingenious invention. I was starting to feel full and looking at the portions served, felt that I might not make it through everything on my plate in the upcoming dishes. Delving into the octopus, escargot and ribbon potimarron the seafood was grilled to perfection. With a jus poured into the center this was again a feast for my taste buds. By this time I had washed down four lovely white wines which progressed from bubbly to heavier whites. All so well paired with dishes served. It was time to shift to pinot noir, one of my favoured wine varieties which blends well for the hot and humid Singapore weather I live in. Always safe with a pinot I say! It was a culinary journey alright! French seabass that melted in my mouth, mushroom sabayon that was divine, brown onion and a rasher of bacon. Totally mischievous to say the least, I went for the bacon first. It was just too compelling! A much needed reprieve I was served a very tart sorbet which did its job of cleansing my palette. By this time I was unfortunately almost at maximum capacity. So when the free-range Challans duck arrived, beautifully paired with wild asparagus, I had one of the gorgeous portion and decided to walk away from the remaining portion. Paired with a full-bodied red I thought it was appropriate for this gamey yet delicious meat. The pre-dessert of pineapple with star anise flavours in a creamy sauce was such a refresher from the fullness of the whole night. Light and cheery, I would readily order a dessert like this again. It almost created a new compartment in my stomach to allow for the dessert that was coming. Last but not least the grand finale arrived. The symphony of rice tinged with a vanilla bean flavour I had never experienced before. The clean vanilla accent lifted this rice dish as did the thin rice wafers that sat on the cream-like texture. This was certainly a treat in all ways. From the ambience that lent itself to an intimate setting, the personal touch of both chefs coming out to meet their guests through the night and an exceptionally curated menu, it was certainly a night to remember. While it is a fine dining restaurant, I was taken on a tour of the level above which houses The Lounge Bar. This is Singapore's only French craft cocktail bar. Snacks are served here and I found, this Bar attracts a good crowd in the evenings. Restaurant JAG draws a different crowd at lunch, with many regulars within the Duxton area and Business types from the financial district which is conveniently located quite close by. Do your best to pop in or better still make a reservation and savour some of their dishes anytime you are in the Duxton area. You might just consider booking in for a wine-paired degustation experience. I'm sure you will find the experience well worth it!
Wine Universe offers a treasury of wine from all over the world. Located in a corner of Millenia Walk in Singapore, this restaurant glassy exterior with its sidewalk alfresco lounge invites guests to step into its dynamic space incorporating a restaurant, a wine bar and retail-cellar. Paired with a menu featuring contemporary Swiss cuisine, the food and wines presented enhance each other, elevating guests' culinary experience to a new level. Prepare yourself for a modern and elegant dinner party with friends and family at Wine Universe. The stunning interior design and delectable food will surely make your party a night to remember! Austrian Wine Week 2019 is delighted to be presenting one of the 4 signature events of the week with Wine Universe BOOK NOW : http://leopold.sg/aww19-new/
LeVeL33, the world's highest urban craft-brewery - housed within a newly refurbished restaurant/dining room - is a concept which presents an unparalleled dining experience complete with one of the best views of Singapore's Marina Bay and city skyline. BOOK NOW http://leopold.sg/aww19-new/ Contemporary design is evoked with the use of wood textures and earth tones here; the wonderfully integrated interiors of the craft-brewery reconcile aesthetics, form and functionality in this elevated space. BOOK NOW http://leopold.sg/aww19-new/ The kitchen is headed by Executive Chef Archan, who brings with her international experience mixed with home grown Singaporean influences, brings together both old world and contemporary flavours. BOOK NOW http://leopold.sg/aww19-new/ The LeVeL33 menu features a modern interpretation of European classics with a twist. Earmarked to be the highlight of the Austrian Wine Week events, book early to avoid disappointment. BOOK NOW http://leopold.sg/aww19-new/ Residing in the penthouse of Asia's best business address, the Marina Bay Financial Centre (MBFC), LeVeL33 is the epitome of urban penthouse dining. BOOK NOW http://leopold.sg/aww19-new/