Image Credit: Sophia Kang Business Times
Video Credit: Regent Singapore
Welcome to our continuing series Bar Mavericks where we get up close and personal with some of the industry's shining stars responsible for the ongoing transformation of the bar scene across Asia.
Join Chris Marshall as he goes in for a no-holds-barred discussion with Sophia Kang, Head Bartender at Manhattan located at Regent Singapore.
Sophia Kang, born and raised in Incheon Korea, set foot in our tropical garden city in 2013. The then 23-year-old was first introduced to the bar scene as Manhattan's pioneer floor staff, but her curiosity and genuine interest about mixology grew over time; with great determination she was never once deterred even though she had had no prior knowledge of the beverage industry. So, what is it Sophia enjoys most about working at Manhattan?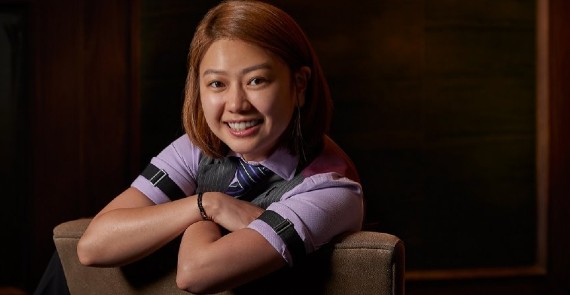 "I enjoy talking and listening to discover new things. As Head Bartender at Manhattan I meet and interact with many people from different backgrounds and cultures. Through conversation I learn from each one of them and this allows me and my team to offer a personalised experience while we interact with guests."
With encouragement from her mentor, former Manhattan Head Bartender Cedric Mendoza, she took the opportunity to train when there was a growing need to assimilate the bar and service team. She made the shift from floor to bar in 2015, where she received bartending training from the experienced bar team for a year. She was officially appointed as a Bartender in 2016, and subsequently promoted to Senior Bartender in 2018.
Video Credit: Regent Singapore Manhattan Head Bartender - Sophia Kang making the crowd's favourite, New York Sour
When discussing essential qualities to be successful in hospitality Sophia shares, "Positivity is the key to achieving your goals and allows you to excel in your role. When I first joined the hospitality industry, I felt I didn't have enough encouragement to excel. Over time I learned to understand how the power of positivity influenced my attitude towards my work and my colleagues. A positive mind allows us all to work harmoniously, whatever obstacle or challenge we encounter."
In April 2019, Sophia took over from Cedric Mendoza as the second Head Bartender since Manhattan's inception, and currently the bar's first and only female bartender. Pushing creative boundaries to further challenge herself, she participated in several regional competitions, including SpeedRack Asia 2017 and Gin Jubilee 2018, as well as numerous guest shifts at renowned bars around the world. She has also created a successful barrel-aged rendition of the Aviation cocktail, which remains a crowd favourite on Manhattan's rickhouse menu.
Sophia is responsible for new menu development and the spirits collection for the bar. She also manages Manhattan's signature American Whiskey Embassy programme, alongside Assistant Bar Manager Gabriel Carlos, to further drive advocacy and appreciation of fine American Whiskies.
When she is not coming up with new concoctions and shaking things up behind the bar, Sophia enjoys travelling – whenever she can again, watching movies and hunting down new food and drink spots in Singapore. Her favourite drink is a good old-fashioned Whiskey Sour – simple, sophisticated, and with an edgy sharpness – an apt reflection of her personality.
Sophia shares her most noteworthy achievement to date is the trust she has been given from both management and her team. This trust has encouraged Sophia to excel in whatever the task at hand be it front of house or back of house. "I appreciate all the support and recognition I have been given and understand I have an obligation to lead by example."
Chris Marshall is a well-known cocktail aficionado on the Singapore and Southeast Asia bar scene, and partner at Distilled LLP, an independent, Singapore-based brand development agency representing spirit brands both locally and regionally.
Comments
The award-winning Manhattan at the Regent Singapore is noted as a leading light in the cocktail bar scene in Singapore, many readers may not know it has its own leading lady running the show - in the form of head bartender, Ms Sophia Kang. The 27-year-old South Korean native, who moved to Singapore in 2012, was part of Manhattan's opening team back in 2014 as a member of the floor staff. She then asked to be trained as a bartender and worked her way up to senior bartender in 2018, and eventually the prestigious position of head bartender as of April 2019. She took over from Filipino Cedric Mendoza, who now heads Four Seasons Hotel Sydney's Grain Bar.