Hero Image: Panoramic view of the Oia village under puffy clouds, Santorini island, Greece. Hero Video: The Art Institutes
Why stick to chicken nuggets and hamburgers when you can bring a tasty, culturally diverse experience to your kitchen?
Every culture offers unique dishes that are sure to satisfy the taste buds. Even picky eaters may be able to find foods they love with the numerous options available. 
Greece

Every inch of Greece is dazzling, from hauntingly beautiful beaches to expansive mountain forests. A portion of Greece includes 1,400 islands situated in the cool, deep Ionian and Aegean seas; they are visited by many European Cruise lines each year. The eastern part of the country is thick with oranges, olives, dates, almonds, pomegranates, figs, grapes, and rice.
There are alpine lakes, steaming volcanoes, yawning gorges, stretching wetlands, and flourishing wildflowers. Its cheerful inhabitants can be seen in ancient cities, along twisting scenic roads, and in whitewashed churches topped with blue domes. 
Greek food draws influence from traditions in the East and West. Yogurt, rice, sweets made from nuts, honey, and sesame seeds come from the Persians. Invading Romans brought pasta and sauces. Arabians inspired Greeks to introduce new spices such as cumin, cinnamon, allspice, and cloves into their diets.
Vegetables were well-loved by the ancient Greeks: asparagus, fennel, cucumbers, chickpeas and celery, were commonly incorporated into meals. Some dishes derived from ancient Greece still exist today, such as dolmades (stuffed grape leaves). Archestratus, a citizen of ancient Greece, is thought to have written the first cookbook in 350 B.C.E.
Gyros are a very popular Greek food you may want to consider bringing to your kitchen. They traditionally consist of lamb, pork or chicken, sliced thin and served on a pita, rolled up with tzatziki sauce, tomatoes, onions and fried potatoes. You can make substitutions if you prefer, such as using beef or turkey, to tailor the recipe to your dietary needs.
Toss together tomatoes, red onion, cucumber, green pepper, black olives, feta cheese, red wine vinegar, olive oil, oregano, and sea salt to make a traditional Greek salad. Settle down in a lounge chair on the patio and enjoy a healthy Greek-style meal in the gentle sunlight. 
Thailand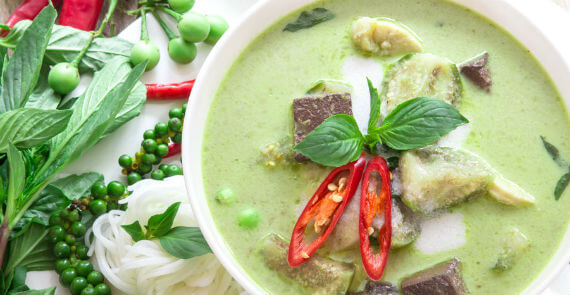 All across Thailand, thousands of intricate temples stretch toward the sky, reflective mirror-ponds and lush topiary sprawled at their feet. Many wonders can be found in Thailand: blushing sakura blossoms, multi-tiered gushing waterfalls, swollen rivers, hulking mountains, golden Buddhas, and pristine beaches. 
Markets on the streets are filled with mouth-watering aromas as vendors pedal cheap but delicious food. Shell out a small sum of money for some moo ping (grilled pork skewers), a fresh Green Chicken curry prepared with creamy coconut milk (pictured), the (Popular Thai food called Gaeng Keow Wan Gai), a fresh pa pia sod (spring rolls), or kai jeow (a fluffy omelet served with rice, fish sauce, and chili sauce).
Dive into some stir-fried pad see ew - a mildly spicy dish with an edge of sweetness consisting of rice noodles, eggs, Chinese broccoli or cabbage, and dark soy sauce. Or enjoy a dessert dish; some popular Thai desserts are mango sticky rice and fried bananas. 
Thai food is a careful balancing of disparate flavors, with special attention to spice and an emphasis on aroma--every element fusing together for one harmonious finish, like the clatter of cymbals and drums, and the furious singing of violins, before the conductor brings an epic end to a symphony.
Thai chef Mom Luang Sirichalerm Svasti, or McDang for short, characterizes Thai food as demonstrating "intricacy, attention to detail, texture, color, taste, and the use of ingredients with medicinal benefits, as well as good flavor." 
Ireland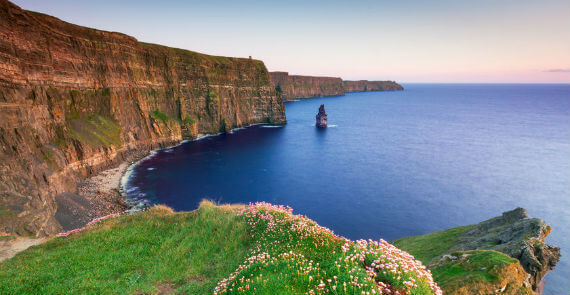 Cliffs of Moher Ireland
Stern and portentous castles, craggy sea cliffs, rosehips, the rocky isles of islands, medieval ruins of churches, lush green grasses, wild strawberries, gaping rivers, nettles, dandelions, and natural swimming pools are staples of Ireland geography.
The Southwest region of Ireland is arguably the most beautiful; home to famous sites such as Blarney Castle, Muckross House and the Ring of Kerry, and abounding with mountains, valleys, lakes, and rivers. The central lowlands are a mosaic of flat rolling plains interspersed with bogs, loughs and rivers, mossy hills, and imposing mountains.
Along the Atlantic coast lie the four-hundred foot Cliffs of Moher, which many know as the Cliffs of Insanity from The Princess Bride movie. The north has many dramatic and breathtaking hallmarks such as lakes adrift with tufted duck, great crested grebe, and mute swan; the Majestic Mournes, a magical mountain range from which C.S. Lewis drew inspiration for The Chronicles of Narnia; wide, meandering floodplains in lowlands, fens, wet woodlands, disappearing lakes set in limestone, and reedbeds; golden plovers, hen harriers, red grouse, curlew, skylark, wintering Greenland white-fronted geese, and Irish hare.
Irish food is resplendent fare known for quality and freshness of ingredients, as well as simplicity. Most cooking is done with only salt and pepper--no other herbs, spices, sauces, or gravies. Salmon, scallops, lobster, mussels, and oysters are popular in Ireland.
The Irish also frequently consume beef, lamb, and pork, which can be made into a traditional Irish stew. Representative Irish dishes include, boxty (potato pancake), coddle (sausage, bacon, and potato), colcannon (mashed potato, kale or cabbage, and butter), and soda farl (flatbreads and cakes). Supplement a meal of mutton, or of hearty bread, with a pint of ale, beer, or whiskey. Mix coffee and whiskey and top it with whipped cream to make a famous Irish coffee. 
Get Cooking 
Find cookbooks, online recipes, cooking shows, or even youtube videos to learn how to make all kinds of food from around the world. You're sure to find your new favorite meal, learn new methods of preparing food, and level up your cooking skills. Don't be afraid to bring a new kind of spice to your kitchen. Expand your horizons and get ready for the joy of discovery!
About the Hero Video: The Art Institutes: Chef Rick Panzera, culinary faculty member from The Art Institute of Pittsburgh, prepared six international food recipes that you can easily make to give your dinner guests a quick trip around the world. Learn how to make spring rolls, brigadeiro, fresh salsa, cheeseburger sliders, hummus, and blini. Visit their website to learn more about our culinary arts programs: https://www.artinstitutes.edu/areasof...
Comments