Main Image: Pan Pacific Beach Road, Singapore evening outdoor swimming
Whether you are after a short term, mid-term or even daily, or an in-between home accommodation solution, friends visiting that need their own private space, or possibly emergency accommodation for some reason or another, these serviced apartments will allow you the best in living while enjoying the affordable lux life in Singapore. We have compiled this list so you can make a decision without hesitation and in-confidence. There is something for everyone here. 
ST Residences Serviced Apartments Singapore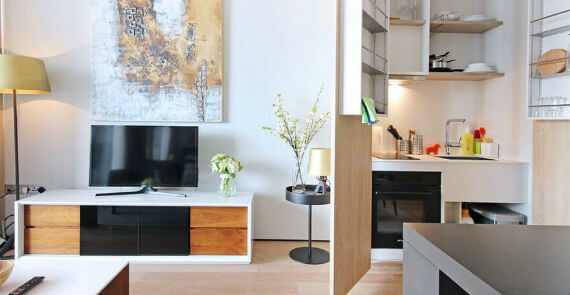 ST Residences styles chic fully-furnished apartments without the serviced apartment mark-up. They offer competitive pricing and pay-per-month flexibility. Having came to Singapore, as foreign professionals (now Singapore citizens), the founders wanted something that was comfortable, ready to stay and were also willing to pay a reasonable premium. This is how ST Residences began. Currently, they are servicing satisfied clients that range from individuals to large corporations like Airbus, Uber, Rio Tinto, Ernst & Young and Universities. Prices from $3,000 per month. You will find some appealing offers here.
Wilby Residences Central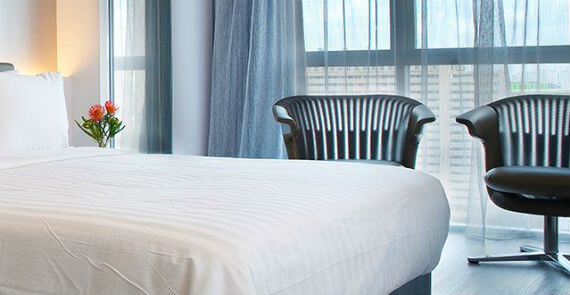 Designed for your comfort, Wilby Residences offer a span of 318 serviced apartment units in Singapore. Wilby Estate International boasts of well-founded experience in serviced apartment management for 35 years and counting. Wilby Residences became the first serviced residence in Singapore to offer PURE Certified allergy-friendly apartments. On weekdays, you can enjoy a complimentary daily continental breakfast. When the day is done, wind down at the sauna or order room service direct! From $4,000 a month, also a minimum stay of 7 nights is required.
Pan Pacific Serviced Suites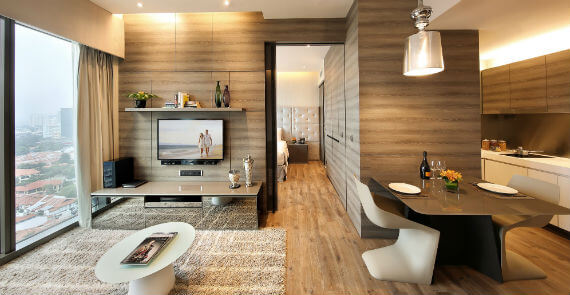 Main Images: Pan Pacific Beach Road
Pan Pacific Serviced Suites are available at two convenient location:
Pan Pacific Serviced Suites Beach Road +65 6678 8888
Nestled in the heart of the vibrant Arab Street enclave is Pan Pacific Serviced Suites Beach Road, Singapore. Decked out in tasteful furnishing, each one-bedroom and two-bedroom suite has a fully-equipped kitchenette and a washer/dryer. Enjoy a refreshing stay here with easy access to cultural, business and leisure spots. From $250 per night with a minimum stay of 2 nights. panpacific.com/en/serviced-suites/singapore/beach-road
Pan Pacific Serviced Suites Orchard +65 6884 5222
A stay at Pan Pacific Serviced Suites Orchard, Singapore combines luxurious living in an excellent location – with the city's prime shopping stretch and popular sights just minutes away. Each contemporary and fully-furnished apartment comes with a cosy living space whcih includes an awesome home theatre system and complimentary Wi-Fi. When you choose to here, you'll fill up on a hearty and made-to-order breakfast at the Pacific Lounge. Prices from $300 per night with a minimum stay of 7 nights panpacific.com/en/serviced-suites/singapore/orchard
Treetops Executive Residences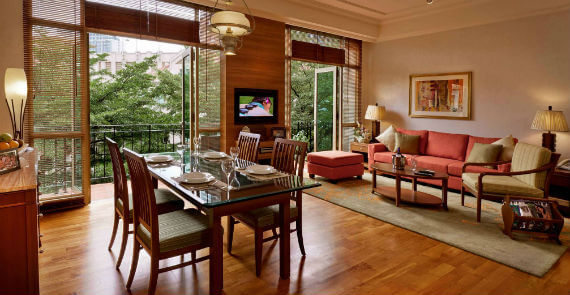 Treetops Executive Residences is an award winning eco-luxury serviced apartment nestled amidst lush tropical foliage. All guests can enjoy a complimentary daily breakfast (even on weekends), as well as high-speed Wi-Fi and a fully equipped kitchenette in all apartments. For optimum comfort, Treetops provides guests with a wide range of facilities and services that take care of daily business and recreational needs. Treetops also includes additional 'green' features within its premises to inculcate healthier and more sustainable living practices. Room Rates start at $280 per night for a superior one-bedroom with a minimum stay of 6 nights.
Oakwood Premier OUE Singapore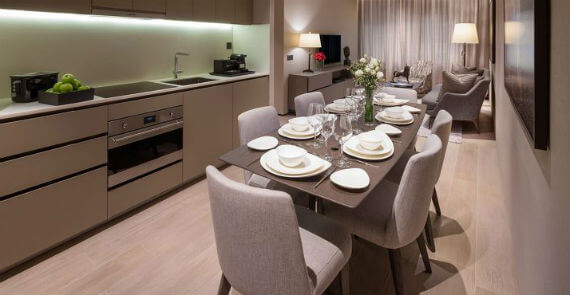 Located in the heart of Singapore's vibrant Central Business District, Oakwood Premier OUE Singapore is a 268-unit serviced apartment offering a selection of the best in luxury living, style and design to cater to the needs of discerning international business and leisure travelers. Blending urban style with nature-inspired elements, the elegantly furnished and well-appointed studio, one- and two bedroom apartments are designed to give sophisticated international travelers a relaxing home, with all the luxuries of a hotel.e-inspired elements to create an intimate oasis for international travelers. Priced from $428 per night, this luxe contemporary setting teamed with a stylish color palette carries through the interiors of all 268 serviced residences.
Frasers Hospitality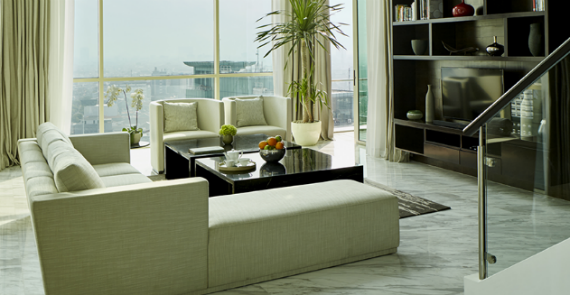 Frasers Hospitality  is a global hospitality operator with Gold-Standard serviced, hotel residences and boutique lifestyle hotels across Europe, Middle East, Africa, North Asia, Southeast Asia and Australia. Since their inception in 1998, we have grown from an initial 412 residences in Singapore to more than 21,000 keys worldwide. They aim to anticipate and exceed customers' evolving expectations through continuous innovation and intuitive service to deliver memorable experiences.
Various Central Locations:
Fraser Suites Singapore: 491A River Valley Road from $320* for a one-bedroom deluxe, minimum stay: 6 nights
Fraser Place Robertson Walk: 11 Unity Street from $350* for a one-bedroom deluxe, minimum stay: 6 nights
Fraser Residence Singapore: 2 Mount Elizabeth Link from $4,800* per month for a one-bedroom, minimum stay: 3 months
Fraser Residence Orchard: 31 Paterson Road from $260* for a studio deluxe, minimum stay: 6 nights
* All rates are subject to changes without prior notice and subject to Goods and Service tax.
Comments
This place is super sophisticated and modern. Just awesome and truly feels like you are on holidays.