Image Credit: Sea Five Camps Bay Facebook Page
Serenading in Cape Town's lush beauty is just what we need for a vacation or staycation and to do it right, a gorgeous, boutique hotel is a must to complete the exotic experience.
Prepare to be super-indulgent and feel pampered as you step into a world of luxury complete with excellent service, elegant suites, picturesque views and an ambience you wouldn't want to leave. Expat Choice Cape Town brings you our readers top recommendations for a comfortable stay in this beautiful South African City.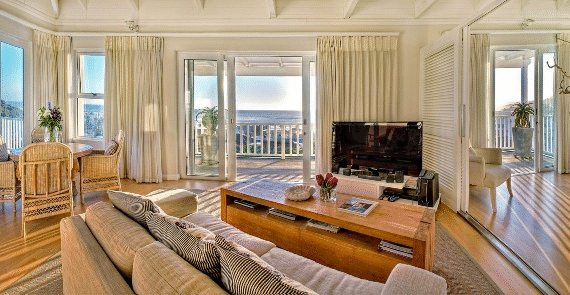 Image Credit: Sea Five Camps Bay Facebook Page
Stay in a beautiful villa and enjoy the services and amenities of a luxury hotel at Sea Five Boutique Hotel. Offering spacious rooms with warm, white hues and incredible views of the mountain, the ocean or the garden, this hotel will make you feel right at home. Located a stone's throw away from the beach, popular restaurants and bars, the hotel itself offers a serene atmosphere and a hearty breakfast with freshly baked treats. So, whether you'd like to spend your day sightseeing or lounging by the pool with a cocktail in hand, the polite staff is at your service.
INFORMATION
A. 5 Central Dr, Camps Bay, Cape Town, 8040, South Africa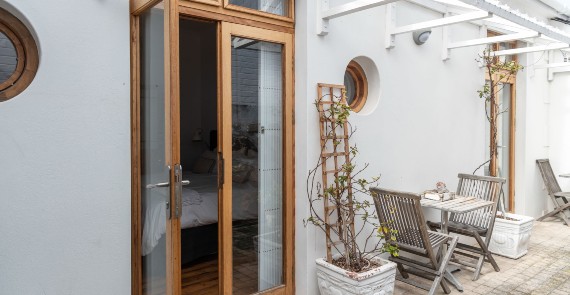 Chartfield Guesthouse evokes the spirit of a time when everything was done with a little more style and a lot more attention to detail. It is a haven created to whisk you away from all the cares of the world, the moment you step inside this grand old house, which has been standing over 120 years overlooking the picturesque Kalk Bay Harbour. Now lovingly restored, Chartfield Guesthouse is nestled in this quaint seaside village, where the pace and charm is reminiscent of a bygone era while every modern convenience is provided for.
INFORMATION
A. 30 Gatesville Road Kalk Bay 7975 Cape Town
S. www.facebook.com/chartfieldguesthouse/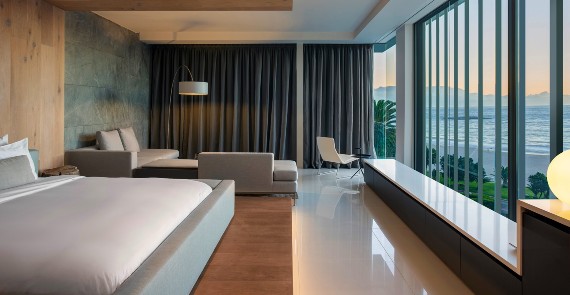 Image Credit: POD Camps Bay Facebook Page
Serene, elegant and comfortable, Pod lends a chic vibe with its woody interiors and breath-taking sea views. Wake up to a splendid view of Cape Town's pristine beauty in one of their luxurious rooms and complete your morning with a wholesome, delicious buffet breakfast. If you want to stay in you can watch a movie with popcorn and the works, sweat it out in the gym, order a takeaway, or enjoy cocktails on the pool patio.
INFORMATION
A. 3 Argyle St, Camps Bay, Cape Town, 8005, South Africa
S. www.facebook.com/podcampsbay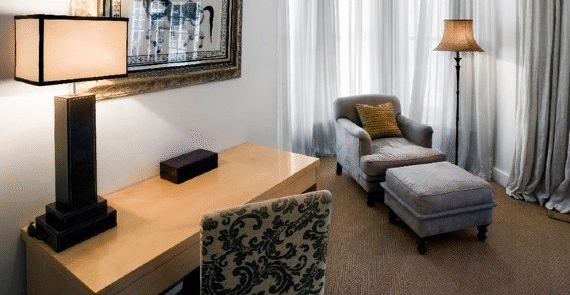 Image Credit: MORE Family Collection Facebook Page
Plush is an understatement when it comes to the luxurious rooms at Cape Cadogan; combined with the prompt and polite service by the staff makes you feel right at home. The property is a Victorian-style villa turned into a boutique hotel giving you superior amenities like a private plunge pool, fireplace and a spa facility to make your stay memorable. Their breakfasts deserve a rave review and are something to look forward to before you head out to explore the scenic views of the city.
INFORMATION
A. 5 Upper Union St, Gardens, Cape Town, 8001, South Africa
W. www.more.co.za/capecadogan/
S. www.facebook.com/morefamilycollect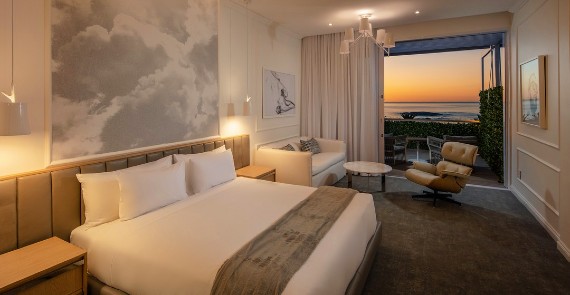 Image Credit: The Marly Hotel Facebook Page
Originally built for Louis XIV and his family, The Marly will mesmerize you with its milky white interiors complementing the pristine blue of the ocean beautifully, a breath-taking view of which can be enjoyed from their rooftop pool bar and lounge, Baptiste. Staying here means dedicating a minimum of one day to enjoy the luxurious property right from your room, the restaurants to the rejuvenating spa, perfect for calming your senses after you've been on a safari.
INFORMATION
A. 201 Victoria Rd, Camps Bay, Cape Town, 8005, South Africa
S. www.facebook.com/themarlycampsb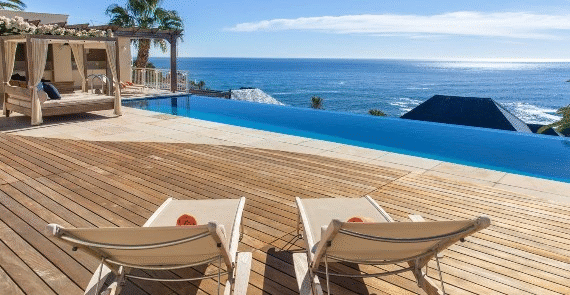 Image Credit: Compass House Boutique Hotel Facebook Page
Your own little paradise with a stunning view of the ocean beyond an infinity pool awaits you at Compass House. Each of their rooms offers this amazing view and after a day spent exploring the city, come back for a complimentary sundowner and canapes at the spa and watch the sunset with your partner. The on-call chef makes food so delicious; it'll make your taste buds sing. Be ready to get surprised with treats and snacks by the poolside by their excellent staff who will do everything in their capacity to make your stay memorable.
INFORMATION
A. 154 Kloof Rd, Bantry Bay, Cape Town, 8005, South Africa
S. www.facebook.com/CompassHouseCa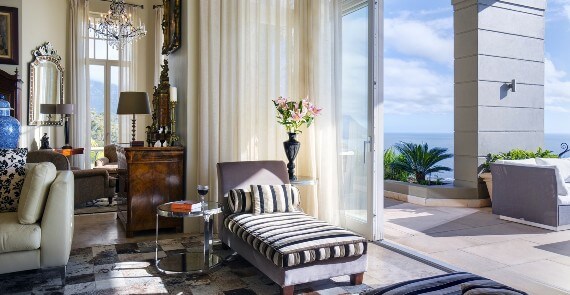 Image Credit: 21 Nettleton Facebook Page
Welcome to the mansion life by booking a luxurious room at 21 Nettleton and experience gorgeous vistas from either the balconies, the terraced garden as you lay back on a comfy chair, or the private decks. Get a soothing massage amidst nature complete with a trickling waterfall or enjoy a romantic evening watching the sunset, relishing cocktails and canapes. The Steinway Suite at this hotel is ideal for those who like reading as it offers a private library and a grand piano along with luxuries like spacious terrace with pristine views of the ocean.
INFORMATION
A. 19 - 23 Nettleton Rd, Clifton, Cape Town, 8005, South Africa
S. www.facebook.com/21NettletonCapeTo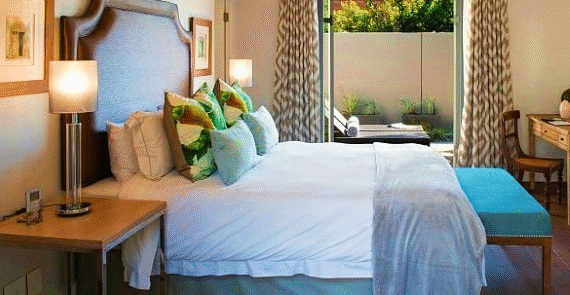 Image Credit: Four Rosmead Facebook Page
Perfect for a romantic vacation, Four Rosmead is close to all the happening spots of Cape Town and located at the slopes of Table Mountain, lending serenity and peace to your stay. Lounge in your private garden, balcony or courtyard or take a dip in the heated pool. Relish a wholesome breakfast ranging from continental to an English breakfast as well as plenty of vegetarian specials. Surrounded by a gorgeous garden, this villa will make it hard for you to step out, but if you do, ask the friendly managers for recommendations and make the most of your trip.
INFORMATION
A. 4 Rosmead Ave, Gardens, Cape Town, 8001, South Africa
S. www.facebook.com/FourRosmead/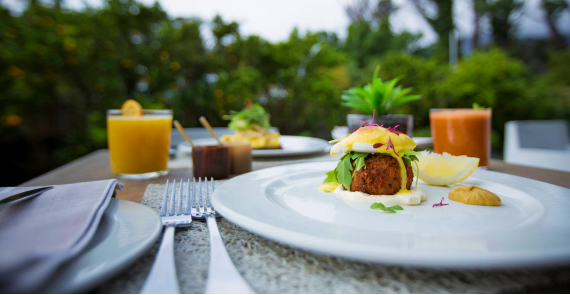 Image Credit: Kensington Place Facebook Page
Perfect for couples, Kensington Place has comfy, spacious rooms, and we recommend the ones upstairs for a gorgeous view of the greens, the mountain and the city landscape from the balcony. Close to the happening restaurants, bars and sights of Cape Town, this hotel offers complete attention to your needs. You'll love relishing a meal along with a magnificent wine in their gorgeous garden and whether you choose to lounge by the pool or go sightseeing, you'll sure to fall in love with the stay.
INFORMATION
A. 38 Kensington Cres, Higgovale Gardens, Cape Town, 8001, South Africa
S. www.facebook.com/Kensington-Place-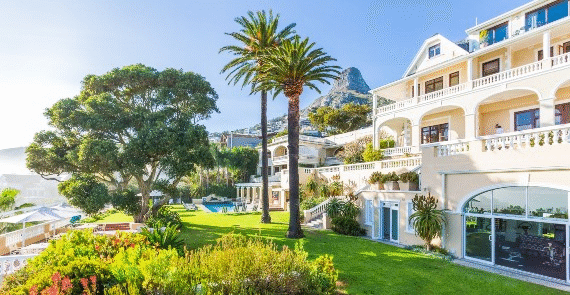 Image Credit: Ellerman House Facebook Page
While in Cape Town live like royals in a palatial hotel, Ellerman House, an original Edwardian mansion housing an art gallery, terraced garden, a magnificent pool and sundeck, a dining area and a bar offering lip smacking food and cocktails potent enough to blow your mind. Enjoy your holiday going on a safari and exploring everything the city has to offer; but do spend some time to enjoy the tranquil ambience and excellent service at this gorgeous mansion.
INFORMATION
A. 180 Kloof Rd, Bantry Bay, Cape Town, 8005, South Africa