What do you think about Bringing Classic Dining Experience To The Modern World At Raffles Singapore?
With the reopening of Raffles Singapore almost ready to be unveiled for the world, refreshing signature dining experiences will return to the hotel incorporating subtle tributes to the hotel's 130-year-old history and heritage.
Raffles Singapore is in their final phase of their careful and sensitive restoration and will remained fully closed until the reopening, which is planned in the first quarter of 2019. While guests wait for the beginning of a new day at Raffles, a sneak peak of their new dining experiences have arrived, but also some signature dining experiences that have become synonymous with the hotel to make their reintroduction. There's something for everyone when Raffles Singapore reopens.
The Tiffin Room has been a part of Raffles Singapore's history since 1892 and till this day, has continued to celebrate the heritage and flavours of North India with the resident Indian Chef. The restaurant offers an evocative dining journey across the North Indian palate, from Rajasthan to Punjab to Lucknow through a refreshed semi-buffet lunch and ala carte dinner. Authentic specialties served in the eponymous tiffin boxes are prepared with perfectly balanced spices, paired with classic Indian brews and beverages. The restaurant will also present an interactive dining experience with tableside service by chefs, complete with freshly ground spices to elevate the experience.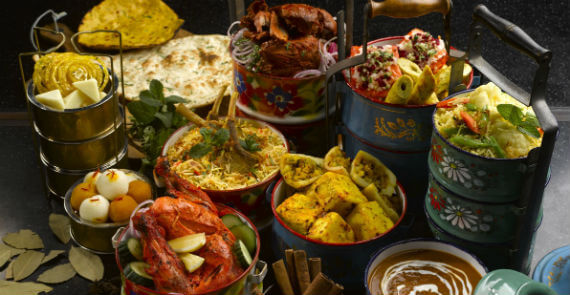 The resident Indian Chef at Tiffin Room will give guests a host of wonderful flavours for all of Singapore to enjoy.
The Long Bar - which is now open to the public - continues to be the heritage bar for visitors of Singapore to enjoy the most iconic cocktail of the city with plantation-inspired décor that has been refreshed and the famous Long Bar counter restored.
The well-known Raffles Afternoon Tea experience will be served at a new location, the iconic Grand Lobby of the Raffles Singapore. As the hotel's greatest traditions, the truly unique and refined Afternoon Tea will be in the newly restored lobby with a distinct sense of heritage. The Raffles Afternoon Tea is perfect for sophisticated and elegant celebrations, serving classic sandwiches, home-bakes scones and cakes as well as seasonal indulgences, all accompanied by a curated collection of exquisite teas and Champagnes.
Expanding itself to a full bar with bespoke craft cocktails, wines and spirits, the Writers Bar will be decked in luxuriously appointed furnishings, lovely curated mementos and books, and referencing the literary legacy of Raffles. The bar will be a sophisticated and serene refuge kept exclusive to residents and restaurant patrons – keeping this a place for discreet elegance and intimate conversations.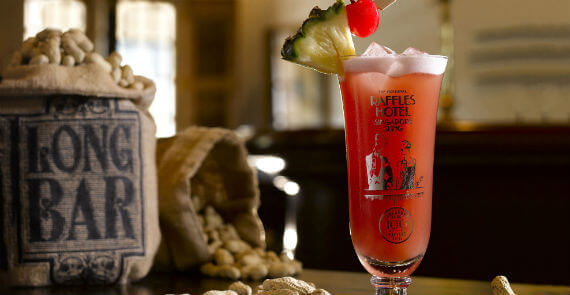 Enjoy the day and take a sip of the Singapore Sling at the Long Bar in Raffles Singapore.
Raffles Courtyard is the city's social space in a lushly landscaped alfesco venue at the Raffles Arcade. Exuding a garden style and welcoming vibe, this friendly bar and lounge is open all day, offering guests a garden respite in a concrete jungle, complete with refreshing shared summer drinks and a selection of Southeast Asian small plates, including authentic Singaporean delights.
Raffle's new takeaway café, Ah Teng's Café, is names after a famous local baker who used to own a shop in the neighbourhood back in the 1900s. Guests of Raffles and anyone who comes this way can be greeted with freshly made cold beverages, a selection of premium coffee, tea and homemade bakery, pastries and artisanal ice-creams for takeaway.
The update of these signature dining experiences will being a breath of fresh air, along with some new dining concepts from celebrity chefs, that will have everyone flocking to Raffles Singapore when they reopen next year. Check back in for more updates and get ready for Singapore's culinary landscape to be elevated with an all-in-one gastronomic journey for guests and visitors alike at Raffles Singapore.
This article was originally published on eatvacation.com
Comments
Really looking forward to this. Such amazing ambiance and atmosphere. The history and vibe at this amazing hotel is awesome. Looking forward to the 'new' opeing soon.