Hero Image: Karma Beach threesixtyguides.com Video Credit: OMNIA Dayclub Bali
Why wait until the sun goes down? Bali has some of the best day clubs on the planet.
Soar above the cliffs, dive into endless summer and celebrate island life, south west Bali has some of the world's best beach clubs and we've chosen our top ten. From the glamorous to the hidden gems, the gravity-defying to the classic chic. Sampling exotic cocktails, diving into vast blue pools and indulging in some of the island's best bites is thirsty work indeed, and hopefully you'll have as much fun as we did.
Cliff side: Omnia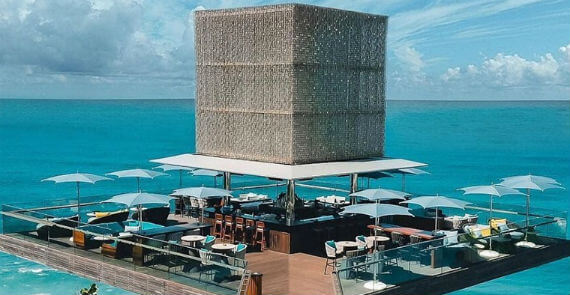 Image Credit: Omnia Bali Facebook Page
With a calendar overflowing with renowned international artists, Omnia has fast earned its place as Bali's first super club, bringing a glittering nightclub ethos to this dazzling day club. Perched dramatically on the white craggy cliffs that overlook an endlessly blue horizon, Omnia plays to the beat.Whether you are dancing among the VIP cabanas, catching the sun on a daybed or cooling off in the spectacular infinity pools, there is something for everyone at Omnia. With three bars, exclusive VIP cabanas, the iconic 'cube' bar and DJ-driven soundtracks, this dramatic cliff top pool club takes partying to a whole new level. Both Swim-up Saturdays and Phoenix Sundays at Omnia have become staple weekend must-dos as the venue marries serious beats with fabulous food such as fresh seafood platters, heavenly Japanese-inspired dishes and beach club dishes to create the perfect recipe for a music-fuelled all-day party. Keep your cool upstairs at Sake no Hana where contemporary dining takes its inspiration from Japan.
Need to know: Free Entry. 21+ years and over only. Reservations recommended. Minimum spend applies for day beds and VIP cabanas. Shuttle buses to venue available. World-class dining at Sake no Hana. Signature cocktails from IDR 150k.
A: Jl Belimbing Sari, Banjar Tambiyak Desa, Uluwatu | P: +62 361 8482 150 | E: [email protected]
Open daily 11am – 10:30pm
Cliff side: Karma Beach Club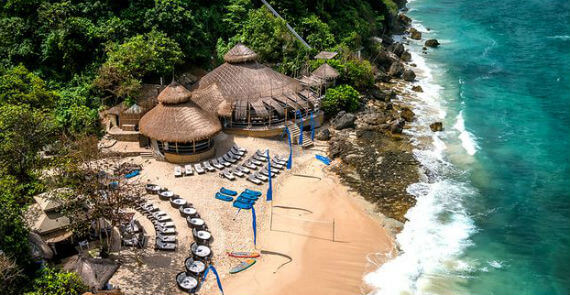 Image Credit: Karma Beach Club Facebook Page
A trip to Karma Beach Club begins with breathtaking views of the cerulean Indian Ocean as you dramatically descend 85-meters down the face of a limestone cliff on a private inclinator. Bird's eye views of the crystal clear waters populated with coral reefs and aquatic life are enough to get any avid beach lover's heart pumping. Energised by music, food and the astounding location, Karma days can stretch into evenings. Karma has an ethos of balance, so slip into the ocean spa for a signature massage, book a yoga or tai chi session in the open air bale or get active on a stand-up paddle-board or a sea kayak and venture a little further.  The chic Mykonos-inspired beach club is a seamless blend of rustic charm and exclusive living. Here, music is a hot drawcard with regular pop-up performances headlined by international acts with some chart-topping surprises, to delight guests and regulars.
Need to know: Well-stocked oyster bar and wood-fire pizzas. Water-sports equipment for rental. Regular entertainment events.
A: Karma Kandara Resort, Jl Villa Kandara, Banjar Wijaya Kusuma, Ungasan | P: +62 361 848 2222 | E: [email protected]
 Open daily 9am – 10pm
Cliff side: Ulu Cliffhouse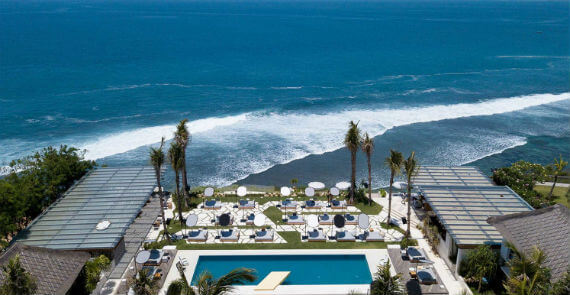 Image Credit: Ulu Cliffhouse Facebook Page
Ulu Cliffhouse was designed for fun and it's almost impossible to resist the song of Bali's most iconic waves as they roll relentlessly towards the cliffs below. This magical cliff top oasis enjoys panoramic ocean views as well as private access to a secret beach below. Born from a collaboration of cool creatives, it combines a love of music, good food, entertaining, surfing and chilling out, with an amazing location. The first thing you want to do when you arrive is throw off your shoes, order a cold beer or a frosty rose and let the breeze carry any worldly worries away. With a glistening 25 metre-pool, a stairway down to the rocks, spaces to dine, chill out, dance and party, it is not surprising that both the Bukit surf crowd and visiting globetrotters have made Ulu Cliffhouse their regular watering hole.
Need to know: On-site surfboard shaper, spa and boutique. Half-off Friday nights. Signature cocktails from IDR 150k. No entrance fee, lounging facilities with minimum spend.
A: Jl Labuan Sait No. 315, Padang-Padang | P: +62 81 338 812 502 | E: [email protected]
Open daily 11am – 10pm
By the sea: Ku De Ta
Video Credit: KU DE TA
She might be 20 years old but Ku De Ta has never lost her sparkle, or her love for partying. Rated among the best food destinations on the island for everything from breakfast to lunch, all day grazing, casual dinner or elegant degustation menus, the main kitchen keeps it delicious and real while upstairs, Mejekawi gives us romance and world-class dining. Then there is the bar, where an ever-evolving cocktail list keeps us coming back. With an in-house music director who can read a crowd better than most we show up time and again for the magic, the sunsets, for special occasions and for long, hot days by the beach. It's hard to beat.
Need to know: Free entry. Family friendly. Sunset. Brunches. Dress up or keep it cool. Head upstairs for amazing degustation menus at Mejekawi. Curated music, legendary parties and headlining music.
A: Jl Kayu Aya No. 9, Seminyak | P: +62 361 736 969 | E: [email protected]
Open daily 8am – 2am
By the sea: Tropicola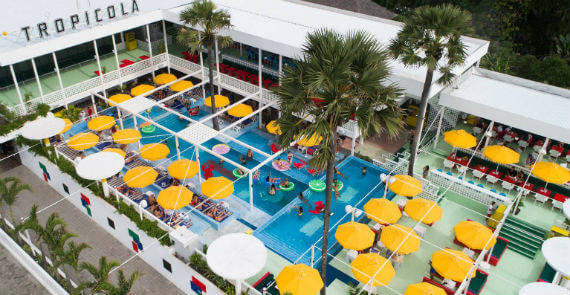 If Motel Mexicola is the urban dream, overflowing with colour, art, music and bottomless margaritas, Tropicola is straight out of Hollywood, mingled with retro Miami tossed with a Bondi Beach kind of feeling. Decked out over multi levels, painted in gleaming white, fashioned in primary colours; red, blue and yellow. At the heart of Tropicola is its central pool, lined with blue and white day beds. Behind this iconic menu is culinary adventurer, Steven Skelly, whose love of seafood is legendary. Tropicola's menu has progressed into a seaside grazing affair with a focus on seafood, wood-fired grills, breezy classics like hot dogs and burgers and fresh, flavourful dishes in bite-sized portions. 'This place must have existed in another time and in another place', rings true as the venue conjures up nostalgic salty memories of summers past and present. The shoreline at Batu Belig just got a lot brighter and there is more to come promises this shiny, new venue.
Need to know: Innovative cocktail concoctions such as jackfruit coladas and arak martinis. Complimentary sunset drinks available daily. Play all day. Book for sunset and stay for the dinner menu. Long lunches recommended.
A: Jl Pantai Batu Belig No.5, Seminyak | P: +62 361 9343636 | E: [email protected].
Open daily 11am – 12am
By the sea: Potato Head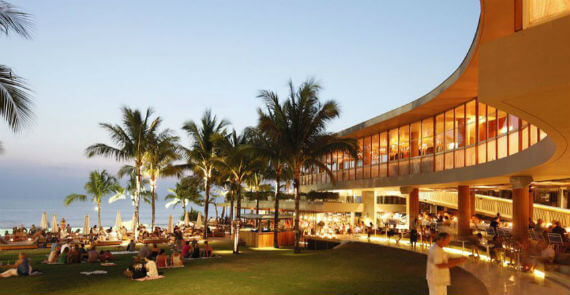 Image Credit: The Luxury Bali
Design-driven and a hive of interesting activities, Potato Head sits on the same stretch of beach as Tropicola and gives us a whole other vibe that is unusual, quirky, big and endlessly fascinating. Laid out over two levels, facing the ocean, with a sparkling pool as its centrepiece, Potato Head drives a distinctly Indonesian beat. From world-class parties to cultural events this sprawling beach club has become an entertainment precinct that offers something for everyone. From its lofty Indonesian restaurant, Kaum, at the top to its Balinese seafood grill, Ijen, a bistro menu and a busy wood-fired pizzeria, Potato Head puts it out there for everyone to enjoy.
Need to know: Free entry. Minimum spend applies on day beds. Ocean-side pool for sunset viewing. Check the party schedule for regular events. Innovative cultural and music events calendar.
A: Jl Petitenget No 51B, Seminyak | P: +62 361 473 7979 | E: [email protected]
Open daily 10am – 2am
By the sea: Mano Beach House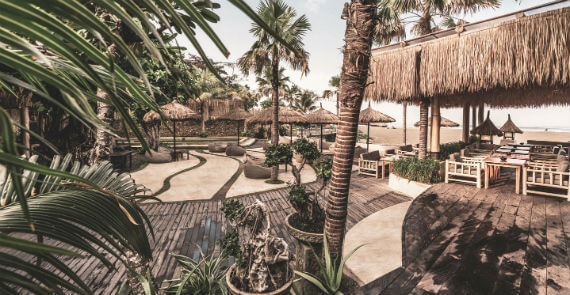 Image Credit: Mano Beach House Facebook Page
When it comes to the art of chilling out, Mano has this one made in the shade. Carving out it's own unique niche on the shores of Petitenget beach, Mano shows that size doesn't matter. The redesign of Mano has created a picture-perfect beach bar and restaurant that incorporates tribal influences and the best of Balinese design. Open to the beach, with a shaded pool, the pretty pool deck is dotted with straw umbrellas, beanbags and sun lounges. A covered terrace is the perfect chill out spot for casual meals and sunset sessions. The vibrant, modern menu offers healthy beach club classics, stylish Indonesian food, fabulous super salads, delicious grills and an all-day breakfast. Mano's curated soundtrack plays perfectly in this intimate venue. Nightly happy hours from 7pm, Friday night groove sessions and regular entertainment, puts Mano on our top beach clubs list.
Need to know: Free entry, day beds on first come basis. Start the day with breakfast for Rp100,000. Sunset sessions with cool tunes. All day menu and classic cocktails are a highlight. Oh, and the view.
A: Jl. Pantai Pura Petitenget, Seminyak | P: +62 361 473 0874 | E: [email protected]
Open daily 8am – 11pm
By the sea: COMO Beach Club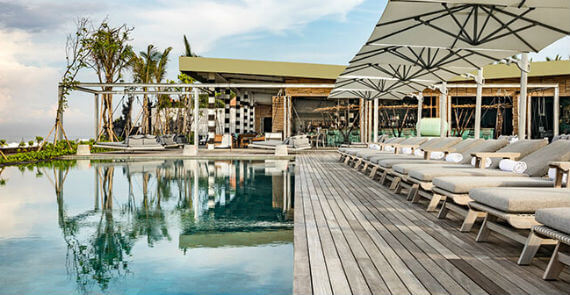 Image Credit: Chope
Serving a generous dose of luxe while staying true to the surfing culture ingrained in the Northern Canggu beaches, COMO Beach Club is a self-proclaimed modernised 'surf shack' that also encompasses a restaurant and a lagoon pool. COMO Uma Canggu was a long time coming but it makes a splash on this formerly laid back stretch of beach. As part of the hotel, COMO Beach Club gives guests first priority but there's space to play and the airy restaurant is well worth a visit. Sitting directly on the beachfront, COMO Beach Club puts a little dazzle into the Echo Beach mix of sun, surf and sunsets.
Need to know: Savour wood fire OX grills imported directly from London. Family-friendly with children minding services. Signature cocktails from IDR 160k. Minimum spend applies at IDR 500k++ pp.
A: Jl Pantai Batu Mejan, Echo Beach, Canggu | P: +62 361 302 2228 | E: [email protected]
Open daily 7am- 11pm
By the sea: La Brisa
Video Credit: Unstoppable Family
Ensconced on the coast of Echo Beach is La Brisa, which fittingly is Spanish for 'sea breeze'. It is safe to say there is no place quite like this coastal bar and Spanish-inspired seafood restaurant. Inspiration has been drawn from a beautiful pairing of all things nautical with an eco-sustainable twist. La Brisa is built from the reclaimed wood from old fishing boats, prompting you to wonder how an adaptation of 'Castaway' could look so chic. Images gleaned from Hemmingway's 'Old Man and The Sea' appear randomly in various mediums, creating a kind of oceanic wonderland. Gaze at the surf as you settle into colourful bean bags, choose a seat at the ocean-swept bar or head upstairs to enjoy the views, as you make the 'tough' choice of selecting a local seafood dish freshly caught earlier that day. As part of the La Familia group that includes La Laguna, La Favela and La Plancha, these guys know how to party, but the quiet times are equally good.
Need to know: Signature cocktails from IDR 130k. regular party schedule. No minimum spend.
A: Jl Pantai Batu Mejan Gg. La Brisa, Echo Beach, Canggu | P: +62 81 139 466 66 | E: [email protected]
Open daily 10am – 1am
By the sea: Finns Beach Club/ Finns VIP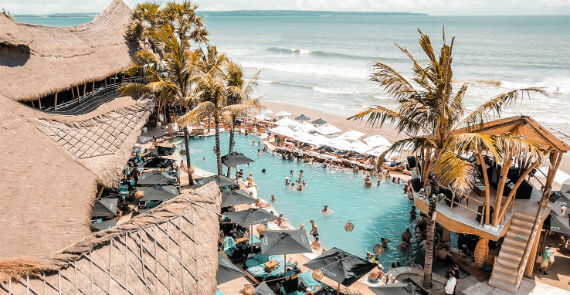 Black and white are these two sister venues on the beach in the hipster capital of Berawa. Finns Beach Club, FBC, is massively popular from early morning surf breaks followed by breakfast to spectacular sunsets to music-filled nights. A host of bars and restaurants provide sustenance for the hungry and thirsty guests who line the day beds and fill the pool. Finns is all about having fun, no pretensions. Adjoining Finns is the new Finns VIP and it is as glamorous as FBC is young and energised. With a beautiful pool, surrounded by crisp white daybeds, a manicured lawn perfect for a picnic, a breezy restaurant, rooftop vodka bar, a champagne lounge, an in-house spa and VIP sunbeds along the beachfront, Finns VIP is grown up and gorgeous. The restaurant offers a sophisticated and healthy approach to beach club classics. Think oysters and champagne, crisp, fresh salads, seafood, grills and French-inspired grazing packages on the endlessly green lawn.
Need to know: Free entry with a minimum spend for single day beds starting at Rp 500,000. Finns VIP is also free entry with minimum spend for single day beds starting at Rp 750,000. Enjoy grazing on the lawn. Exclusive sunsets at Finns VIP. Check in to the Penthouse for the full rock star experience. Pre book up to 24 hours ahead to be guaranteed a day bed.
A: Jl Pantai Berawa, Canggu | P: +62 361 844 6327 | E: [email protected]
Open daily 9am – 11pm
Source: This article was originally published on www.threesixtyguides.com and republished with permission
Comments
Amazing Omnia! We got there at 2pm and booked a large cabana with food tab and stayed for the stunning light show and sunset till 8pm. Bonus dancing and music with so many wonderful people. Staff were truly amazing and the views go forever. Obviously this is the best day club in the whole of Bali. The service was super professional. It's quite expensive that's the only downturn. But you pay for what you get and the view is out of this world... I will be back without a doubt...can't wait actually
What are people saying about this selection on Social media? Brittney Teasdale recommends Tropicola on facebook: Awesome venue - owner and staff are super friendly and accommodating! Food and cocktails were great and plenty of day beds to hire which is all redeemable on food and drinks! Hatice Nuhana reviewed OMNIA Bali on Facebook: AMAZING!Highly recommend to come here while in Bali! The staff, food, drinks & atmosphere is beyond perfection! Also recommend booking a day bed or couches by the pool, the service you receive is totally worth it! Between 6 people we spent more than a few hundreds dollars but trust me it was money well spent with no regrets! Can't wait to go back & do it all again! Thank you Omnia for having us, will definitely be back again Nelly Ellis reviewed Tropicola on Facebook: A Wonderful Beachside venue, good for families or later in day you can just party, all being right on the beach. But if you don't like the big surf just sit in the beautiful pool drinking cocktails and champagne. While all enjoying the great food.