"Absolutely helpful for families on air with young kids. A Must read!"  Levend Arisoy, TURKISH Airlines General Manager Singapore
Flying with or around kids can be either easy going or an absolute nightmare. There are some things you can do to have a flight in your favour.​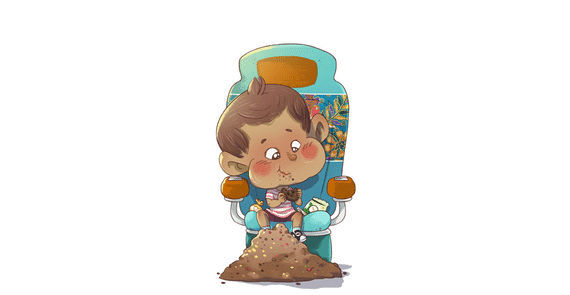 Wonderful animations from my book
Twelve years of parenting and flying around the globe with my four boys are humbly presented to you to help you make the best of your flying experience, whether you fly with your own children or find yourself surrounded by someone else's kids on board.
Have you ever taken a flight with a crying baby who just wouldn't fall asleep, feeling the other passengers wishing you would both miraculously disappear?

Maybe you have landed looking like you just came out of a washing machine after flying with your kids, as one of them had diarrhea the whole flight?

Have you ever pretended your 18 month-old baby was only 9 kg (19 lbs.) just to get the desired baby bassinet, regardless of all the safety recommendations?

Raise your hand if you ever thought "What have I done to deserve this kids on my flight???"

Nod your head if you have ever had to sit the whole flight on a wet seat because your precious toddler peed in theirs and wanted to swap with you for a dry one?
If any of these scenarios ring a bell or come close, this guide book is for you!
Yours with gratitude,
Dana
P.S. By purchasing this book, you are part of a bigger global cause! 10% of  this book's profits are donated to support less fortunate children, providing them with their basic needs of shelter, food and education.
Learn more about her work and consider purchasing Fight or flight? The survival guide for flying with kids...by Dana Bachar Grossman at www.danastipsforparents.com
Comments
Thank you dear John and Expat Choice for this fantastic platform and way to reach and share my experience with this big audience! its a bless! And just first tip to set the right tone for your family travels: Tip #1 Go mental...in a good way (set expectations) Across ages, it's great to share and involve the kids in preparation for the trip. Start off by simply asking them what they are looking forward to, what they are worried about or thinking of. Then, share the plan moving forward. Share what you all are packing, where you will be staying, etc. My boys were worried we would have nowhere to stay in a foreign country. Remind them that their friends, school and pets are all fine while they are away. It may sound funny but even babies would appreciate a bit of preparation before the trip. They are very sensitive and feel your energy strongly. You can simply tell them what the plan is or whisper in their ear while they are asleep that a trip is coming soon, and you will be with them as always.
I'm definitely not a mum but I am definitely a dad - and a dad who has sat in that wet seat you mention in your post - such a real story to tell. Best I get this book of yours - at the very least it will be a great gift for a new parent travelling this crazy world we live in - happy expat living