What do you think about From a Single Steak Kiosk in 2005, Singapore Welcomes The Ranch Steakhouse at Clarke Quay?
Decades ago, Chef Owner Aston Soon worked at Ponderosa, an American steak and salad restaurant. He started off as a waiter and eventually worked through various positions in the restaurant.
It was when Aston was designated the role of broiler cook that his passion for good hearty steak developed.
In 2005, Aston opened the first ASTONS providing quality meals at value for money prices. From its humble beginning as a single kiosk to its current position as a local steakhouse leader, ASTONS Specialities now welcomes its guests at more than 17 locations across the island state of Singapore and with franchised stores in Myanmar and Malaysia.
The quest in bringing the best beef and creating a unique dining experience for guests is what makes up Astons latest venture, The RANCH Steakhouse. It's not just the outstanding quality of meat that makes The RANCH Steakhouse so successful and already acclaimed, but add in the restaurant's country style décor and rustic ambience and you have the complete dining experience.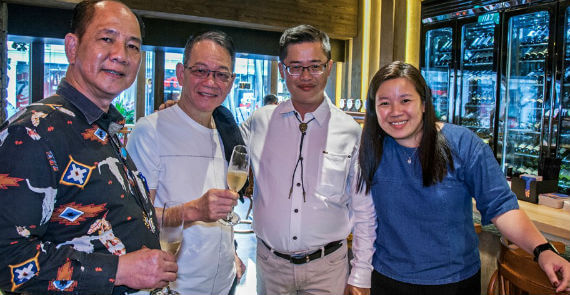 Aston Soon Second to the right
The RANCH Steakhouse Chefs select a variety of beef from different continent to satisfy guests. From New Zealand, grass fed free range Angus of strong Scottish bloodline. Australia, award-winning grain fed Angus with a minimum of 200 days' special diet consisting of wheat, barley and sorghum. Japan, wagyu which was raised in Hokkaido's rich nature, high- quality feed and loving care which makes the quality of the beef a luxury.
From the United States, The RANCH Steakhouse use only USDA Prime beef, dry-aged in store in special dry-aging coolers where a complex process incorporates an intricate and delicate balance of time (30-35 days), temperature, air circulation and humidity. Over time, as the beef ages openly, exposed to the elements inside the cooler, the beef's enzymes break down and tenderize the meat, giving it a uniquely intense savory and sweet flavor as well as ensuring utmost tenderness in every bite.
Comments
This is a real Singaporean success story - congratulations Mr Soon for your commitment and diligence - you have certainly built an empire
These guys are amazing! Glad to have shared this opening night with you!