John Gordon, Founder of Expat Choice and lover of all things gastronomic visits Internationally acclaimed Dutch chef, author and photographer, Elsa Van Der Nests' beautifully eclectic home to discover what has become an Instagram hit, attracting a cult-like following; Elsa Culinary Masterclass, one of the most sought-after day time things "to-do" in Singapore during this period of limited socialising.
Elsa van der Nest was born in South Africa where her culinary career began. Today she is an award-winning restaurateur, consultant and author and a respected culinary personality who has worked with many luminaries and celebrities in the highly competitive world of food. She has also been appointed to cater or privately cook for individuals, charitable organizations and corporations around the world including Nelson Mandela, The Queen Mother, Golfing legend Ernie Els, luxury & lifestyle brands and the recent film set of Crazy Rich Asians.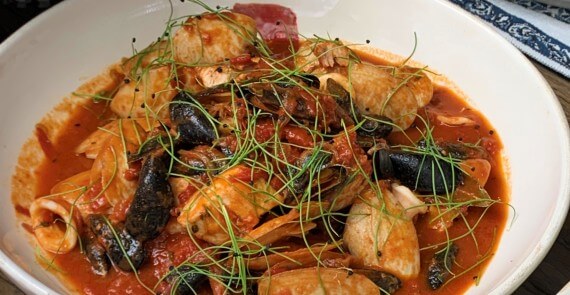 Seafood Casserole
In 1985 having graduated with a Silwood Grande Diplome Le Cordon Bleu with First Class Honours and subsequently in 1990 trained under the mentorship of Raymond Blanc at his world renowned two star Michelin kitchen at Le Manoir Aux Quat'Saisons and was the first female chef to have worked in Raymond Blanc's brigade, Elsa found herself in high demand.
In what can only be described as an prolific opus of gastronomic exploration, chef Elsa van der Nest conducted bi-annual culinary tours between 1993 and 2017 visiting countries such as France, Italy, Australia, Thailand, Hong Kong, Italy, Singapore, South Africa, Indonesia and England which gave her the opportunity to study and collaborate with resident chefs on new culinary trends and techniques.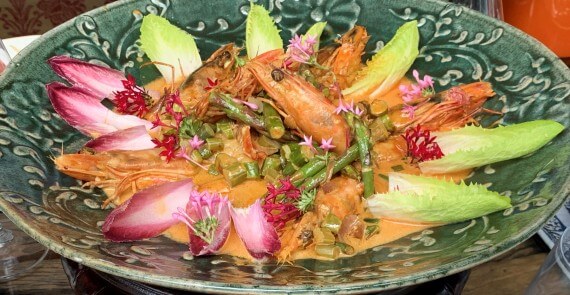 Pan Fried Prawns with Asparagus & Brandy Sauce
Her visits include Gordon Ramsay's at Gordon Ramsay, Le Manoir aux Quats Saisons, the Blue Elephant Thai Cookery School, Bangkok and a week in the kitchen of the flagship of the Rosewood Group of Hotels, The Dharmawangsa Hotel in Jakarta.
Founded in 1997, Elsa Van der Nest Culinary Academy, Cape Town, South Africa provided a full-time professional culinary course with the objective of producing graduates with the knowledge and skills required to operate their own restaurants or work within the food industry. The Academy was accredited with the South African Government.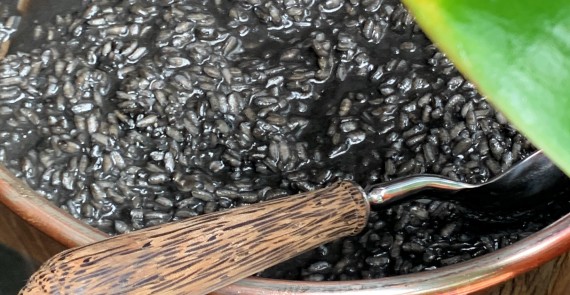 Sqid Ink Risotto
All this while continuing her consulting work in various countries providing food, culinary, nutrition and restaurant expertise to various restaurants, food festival organisers, cookery schools, culinary establishments, food suppliers, supermarkets, the South African Gourmet Food Festival, the Woolworths supermarket food committee and the South African National Rugby team.
Publications followed which include, Feast of Flavours from the French Kitchen, Marshall Cavendish Asia (2006) and Feast of Flavours from the Italian Kitchen, Marshall Cavendish Asia (2005). These two classically inspired culinary guides on French and Italian cuisine were conceived with the Asian market in mind. Bespoke recipes are infused with originality and insight in traditional dishes such as cheese soufflé, chicken liver pâté, Coq Au Vin, pork loin and ricotta cheesecake tart.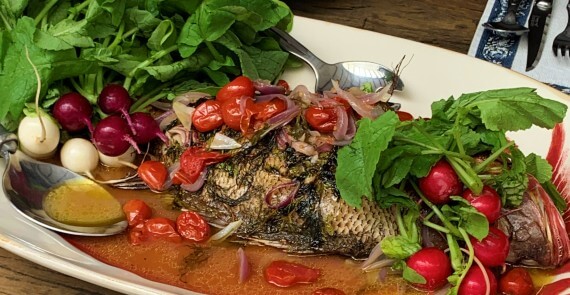 Baked Snapper Italian Style
Then, in 2018 came Elsa & Company, Elsa Culinary Singapore a bespoke catering, culinary, restaurant and hospitality consultancy working with a swag of luxe brands including Rolls Royce, Mercedes, Ferrari, Jo Malone London, Diane Von Furstenberg, French Movie Festival Singapore, Art Plural, UBS Bank, Porsche, Kate Spade, La Perla, Louis Vuitton, Saint Laurent, Cartier, Rolex, Lamborghini, The Italian Embassy, South African Embassy, many Private Events.
Not only is cooking her passion, photography comes high in the list. Culinary master and internationally renowned chef Elsa van der Nest spent 6 years travelling through the Serengeti in Tanzania capturing the essence with her camera of life and death in this extraordinary ecosystem. Her daring foray into photography marked the beginning of a lifelong odyssey to comprehend and document what it means to exist and survive in the Serengeti.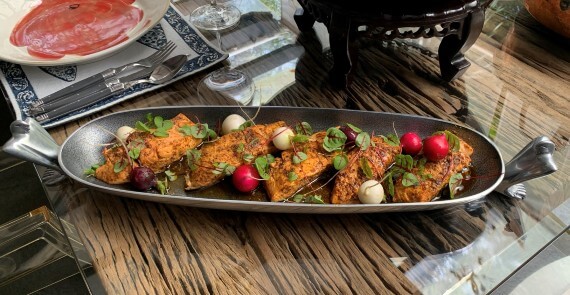 Pan Fried Salmon Trout with Harissa & Rose Essence
Expat Choice is delighted to announce Elsa Culinary private and exclusive cooking masterclasses now being conducted in the enchanting home of Singapore's internationally acclaimed chef Elsa Van Der Nest, which includes demonstration, lunch and a glass of SoulSister gin.
Due to the unforeseen circumstances surrounding the current pandemic which has taken the world by storm, Elsa swings open her doors to small pre-booked groups of up to 5 participants for a gastronomic experience including tricks of the trade, storytelling, hands on food preparation and insights into all of her unique and inspired step-by-step recipes, which each participant gets to take home. Then the moment of truth, a leisurely lunch of the Masterclasses creations served by the Elsa herself in her beautiful dining enclave.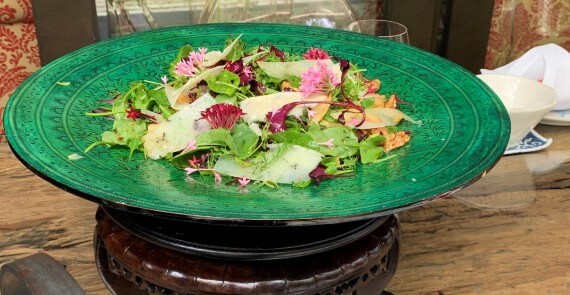 Spinich & Herb Salad with Pomegranate Moasses Dressing
Masterclass themes include;
A Touch of Spice; Slow Cooked Lamb Shanks with Moroccan Flavours Couscous with Preserved Lemon, Charred Peaches & Mint Sweet Roasted Tomatoes with Herbed Saffron Labneh and Thyme, Roasted Apricots with Cardamom Honey and Orange, and the Baked Salmon with Sumac, Z'atar seasoning, Chili oil & Fennel.
All About Poultry; Spring Chickens with Mushrooms, Caraway, Vodka and Cream, Roast Chicken with Gin & Orange, Classic Caesar Salad with Anchovy dressing, Chicken Casserole with Sweet Paprika and Chickpeas and Thai Style Quail Salad with Mango Salsa.
Roasted Meats; back by popular demand. Pot Roasted Shoulder of Lamb with Sage, Roast Pork with Pears and Parsnips, Marinated Fillet in Miso with Ponzo dressing, Milanese Veal Chops with Salsa Verde Potato Gratin, Dauphine Style and a Spinach Salad with Sheep's Milk Cheese & Walnuts.
Simply French Cuisine; Traditional Fish Soup from Marseilles with Rouille Sauce (Soupe de Poissons), Traditional French Seafood Stock, Classic Quiche Lorraine, Salad Niçoises with freshly seared Tuna, Roast Duck with Orange & Caramel Sauce and Poached Asparagus with Hollandaise Sauce.
Middle Eastern Cuisine; Barley Soup with Lamb shanks & Turmeric, Veal Kofte with Walnuts and Pomegranate Salad. B'stilla (Based on Traditional Pigeon Pie, substituted with Chicken), Roasted Beetroot Salad with Sumac and Caraway Seeds and Apricots filled with Tahini, Orange and Cream.
Thanksgiving & Turkey; Spiced Juicy Roast Turkey (Turkey marinated in Brine overnight), Roasted Pumpkin wedges with a rich Dill and Sour Cream dressing Cranberry and Ginger Sauce, Crispy Pancetta, French beans & Asparagus Salad with freshly squeezed Orange & Honey dressing, Beetroot & Orange Relish and a Caramelised Red Cabbage with Duck Confit
Simply Italian Cuisine; Squid Ink Pasta with Chili, Saffron & Prawns Tagliatelle with Spinach and Pancetta... (similar to Carbonara, eggless), Roasted Red Capsicum with Cherry Tomatoes & Anchovy, Organic Chicken Casserole with Swiss Chard (A classic dish from Padua) and the Portobello Mushrooms with Parmesan & Oreganum Stuffing
Masterclasses can be designed for a special occasion or requested for private events, corporate event or team building. For enquiries about customised class and private events contact Elsa Van Der Nest at [email protected] and Like Elsa Culinary on Facebook and Instagram
INFORMATION
Booking Enquiries: [email protected]
Facebook: https://www.facebook.com/elsaculinary 
Comments
Elsa van der Nest was born in South Africa where her culinary career began. Today she is an award-winning restaurateur, consultant and author and a respected culinary personality who has worked with many luminaries and celebrities in the highly competitive world of food.
Elsa Van Der Nest is a talented dynamo in the food world and is a hugely successful international consultant and educator. Her company based in Singapore, Elsa Culinary, specialists in hospitality, consulting, private events and masterclasses. Her Masterclasses are extraordinary, built on years of knowledge, travel and being mentored by some of the best names in Cooking. Masterclasses are exclusive and are conducted on a regular basis. All Masterclasses are customization so you may want a special occasion to be marked by coming together with friends to celebrate a Milestone over one of Elsa's Masterclasses culminating in a delicious lunch served by chef Elsa herself. A truly delightful experience, one I will never forget. Highly recommended as a Luxe solution to creating a memorable event for family, friends, colleagues. This is something out of the box, a rare and unique local experience in Singapore.