Video Credit : Blue Tree Phuket
There was great excitement in the Phuket parenting community in 2019 as the newest water park - Blue Tree Phuket - was launched.
A fabulous, world-class and slightly crazy place, it has become a weekend destination for local families, and a regular birthday party venue.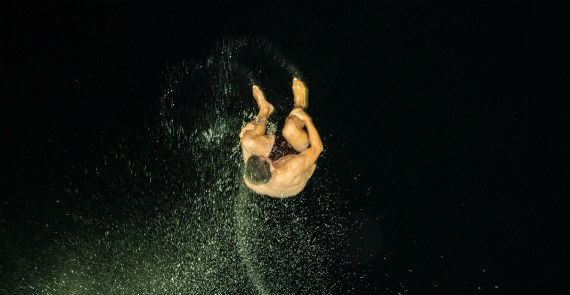 Blue Tree Phuket is enormous, with mega slides, a climbing wall over the water, zipline over the pool, platforms to jump off and new activities keep opening every week it seems. I mean there's an artificial ice rink – in Phuket!!! Oh and recent additions include Ninja Warrior, trapeze, and parkour too.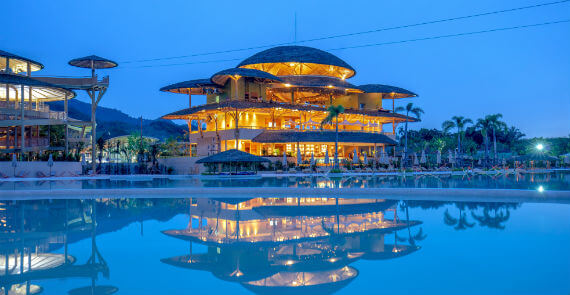 I recommend checking out the Website and social media for the latest new activities, or events happening. Here's links to Facebook, Twitter and Instagram to get started. We're off to the Farmers Market today and very much looking forward to that.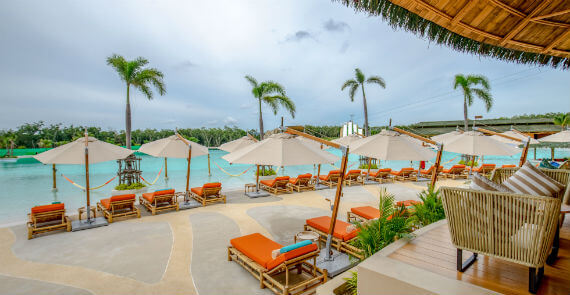 My boys tried all of the slides on our first visit, experiencing their first mega body slams and well, they haven't been too keen to get back on the slides since. I do recommend listening to the advice of staff operating the slides about the best position for the least painful result. For me, my water slide days are long since over.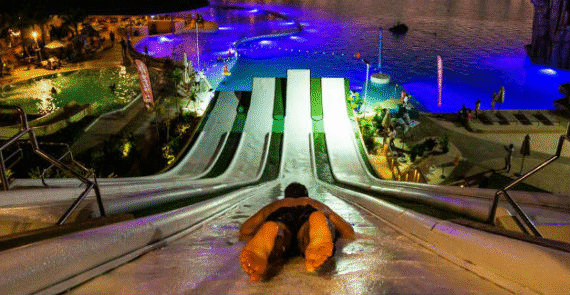 Outside of the lagoon at Blue Tree Phuket, you can shop (so many great shops, with a focus on sustainability too), eat in the restaurants or from food trucks (there's a great little Greek food truck worth checking out), listen to live music and just hang out with your loved ones on warm tropical evenings.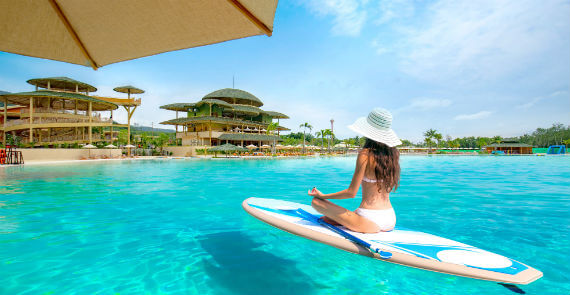 For those living here and going regularly, it's worth signing up for membership – which provides great value. For visitors, small kids (under 90cm) are free, and it goes all the way up to 950 Baht ( approx SG$40 ) for adults, but there are credits towards food in the mix too. I've heard some express that it is very expensive for a family day out, but if you go for the whole day and make the most of it, the value is there.
Blue Tree Phuket is also a perfect destination in the low season, when the seas are crazy. The pool is massive, so plenty of space for everyone to relax and have fun.
The quality of food and drinks is outstanding, with a focus on healthy eating. Definitely something on the menu for everyone and you can't bring outside food or drinks in, although we always take our own water. I absolutely insist on that because I refuse to buy bottled water – glass, plastic or otherwise.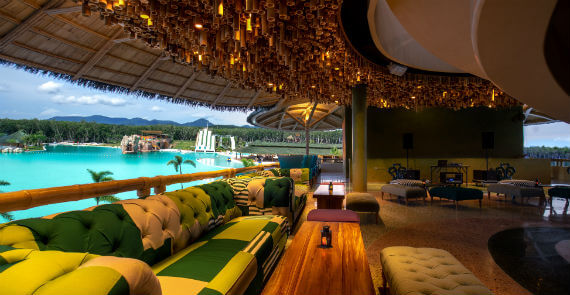 One of the things that has impressed me the most is the focus on sustainability. No plastic in sight, paper straws, and more. There has been some pushback about opening a new waterpark with a second year of drought in Phuket, but I do think Blue Tree Phuket has made a commitment to sustainability and it's refreshing to see. In many ways, big changes have been happening across Phuket from a sustainability perspective, which has been heartening to see. I was thrilled to see Bluetree start on the right foot here.
Something I have been really impressed with are the high levels of safety. Highly trained safety staff are everywhere around the lagoon, and this means parents can relax knowing someone has eyes on their children. This is important, because once you're there, the chances of seeing your kids is challenging. My kids don't like the safety side as much as me though, as the safety team don't put up with any nonsense. Sorry boys, best behave.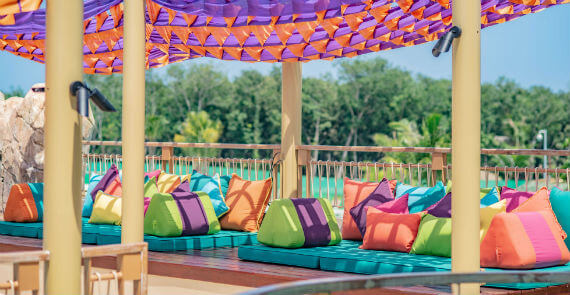 I think my favorite part of going there is the people watching opportunities. All sorts turn up at Bluetree, and nothing is off limits in regard to beach wear, so expect some sites! It's also attracting some global stars – think reality TV types – so that adds another dimension to your day if you're around when they show up. Influencers are in abundance too, capturing their moments at Blue Tree Phuket. Don't be scared to photo or video bomb.
There are plentiful eating options poolside, but once outside the lagoon, there is a massive shopping, restaurant, food truck and stage area. At this stage, there are many places yet to be filled, but it's worth a wander through, or grab something from the food trucks and sit in the amphitheatre to hear live music. Again, check out Blue Tree Phuket website or social media for what is going on when you visit. It's definitely becoming a day and night destination in Phuket.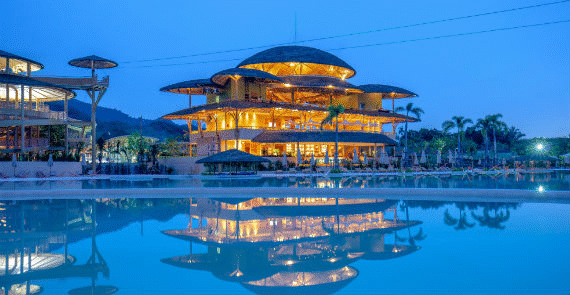 Blue Tree Phuket is in Cherngtalay and it really couldn't be in a better place for access across the Island – but especially for those living in the middle and Northern end. Heck it's only 25 minutes from Phuket Town. Although if you're staying South of Patong, it's a bit more of a hike to get too, but if you make a day out of it, worth it.
All in all, it's been a great addition to the Phuket family scene. We are heading there regularly to catch up with friends, attend birthday parties or farewells, and it's great to get the kids out and active on weekends. There's also lots of beds and lounges for naps, if you're in need.
Check it out next time you're visiting Phuket.
A. 2 Srisoonthorn Rd. Thalang, Phuket, Thailand 83110
Comments
Blue Tree Phuket is enormous, with mega slides, a climbing wall over the water, zipline over the pool, platforms to jump off and new activities keep opening every week it seems. I mean there's an artificial ice rink – in Phuket!!! Oh and recent additions include Ninja Warrior, trapeze, and parkour too.
The Tree House Beach Lounge located on the first floor beside the Blue Tree Lagoon is a spacious haven for light meals while enjoying uninterrupted views of the stunning lagoon. Paddleboard right up to the lagoon edge near the Tree House Beach Lounge if you want. This beach lounge features healthy food full of vitality. Sushi, salads, juices, smoothies as well as a bar, comfortable couches and decking with tables to choose from while enjoying great lagoon side vistas with your meal or drink.
The vast, crystal Blue Tree Lagoon is Phuket's first man-made, eco-friendly, freshwater lagoon tailor made for every type of enjoyable water activity…and a lot more besides. Hurtle down the Slip N Fly and slide off one of the four different sized ramps meters into the air and into the lagoon. Zipline on a steel cable across the water, safety harness and helmet on. Jump off one of the two cliff diving points and drop 5 or 10 meters into the lagoon. Become a Ninja Warrior on the Ninja Warrior thirty-two stage obstacle course or a dream Olympic ice skater on the Unreal Ice Rink. Become a real-life Gladiator on the Water Gladiator Platform right in the middle of the lagoon. Live out your fantasies. And that is just for starters. For the less adventurous there is beach volleyball, zorb, football zorb, paddle boarding, or even just swim and relax in the hammocks on the lagoon edge.