Video Credit : FoodStops
Barcelona-born Chef Carlos Montobbio leads the Esquina kitchen with his artfully crafted contemporary interpretations of Spanish flavours. In true style, Chef Carlos introduces a number of new and exciting dishes to his already well-established menu selection.
For an exclusive two night only affair, ESQUINA presents a four-hands culinary journey featuring guest chef Juanjo Carrillo from 1 Michelin-starred Barrafina Dean Street (London). Happening on 14 & 15 November 2018, journey through Spain as Chef Carrillo collaborates with Chef Carlos Montobbio of ESQUINA to produce a beautifully inspired nine-course menu exploring the best of modern Spanish cuisine.
Barcelona-born Juanjo Carrillo has 24 years of culinary experience having worked all over the world including Spain, Hong Kong, Australia and the United Kingdom. In Spain, he has spent time in the kitchens of luxury Hotel Claris in Barcelona, as well as the 2 Michelin-starred Mugaritz Restaurant in San Sebastian. 
He also held the role of Head Chef and Owner of Restaurante Folquer in Barcelona, which was awarded the Michelin Guide Bib Gourmand in its first year under his stewardship. He then moved to Hong Kong where he spent three years as an Executive Chef for the Bird Kingdom Group, which includes the restaurant Rustico, Alzina Spanish Asador, Cadenza and Umai Japanese restaurant as part of the group's portfolio. In July 2017, Chef Juanjo became Head Chef of One Michelin-starred restaurant Barrafina Dean Street in London. 
Expect an extraordinary evening of Spanish delights from these Barcelona-born chefs; from an authentic Iberico Pork "Presa" with aubergine, mojo verde and pistachio by Chef Carrillo delighting meat lovers, to the Atlantic Black Cod with Nai ban "a la Donostiarra", ibérico ham and Jerusalem artichoke by Chef Montobbio, which sees him elevating classic Spanish flavours with this contemporary rendition. 
Sherry aficionados should opt for the sherry-pairing experience; revealing a stellar selection from Gonzalez Byass - one of Spain's most well-known sherry bodegas - including the Alfonso Oloroso and Nectar PX in perfect synergy with the four-hands dinner menu. For those who love their vino, wines from boutique producers from acclaimed regions including Spain, Portugal and Italy grace the menu as well. 
The four-hands culinary journey presented by ESQUINA in collaboration with Chef Juanjo Carrillo of Barrafina Dean Street (London) is priced at $128++ per person for the nine-course dinner only; $168++ for dinner with sherry pairing (optional); and $198++ for dinner with wine pairing (optional). 
For bookings and/or enquiries, call 6222 1616 or visit HERE
So, how did it all begin?
At 30, the Celler de Can Roca alum has already accumulated close to fifteen years of culinary experience. His strong appreciation for quality ingredients and his determination to bring joy through his cooking drives him to innovate. This enables him to express his creativity through unique culinary creations that are designed to be shared.
As Head Chef of Esquina, Carlos has developed the restaurant as a leading establishment for cuisine based on Spanish and Catalan flavours inspired by his heritage and personal culinary memories. He translates these personal inspirations into contemporary produce-driven dishes through a mix of traditional and modern techniques, showcasing an attention to detail and often experimenting with an element of visual play in the presentation of his dishes.
Curious about cooking since the age of five, Carlos has always enjoyed cooking alongside his mother for his family and friends. Growing up with this routine, he gradually developed a passion for cooking that would eventually see his enrolment into the renowned Hoffman culinary school in Barcelona. Prior to his graduation, the young and talented Carlos tested and developed his skills at the Michelin-starred Hoffman Restaurant as a student chef.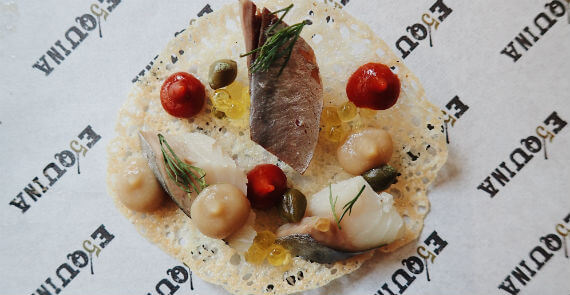 Image: New to the menu Smoked Mackerel "Escalivada", Corn Tuile
Carlos has never stopped pursuing the path of cooking and has always sought learning opportunities for him to hone his skills as a chef. In addition, he has worked in a prolific number of restaurants alongside celebrated chefs, including the Roca brothers from the 3 Michelin starred and recurring #1 on the prestigious World's 50 Best Restaurants list, Celler de Can Roca (Spain), and Chef Hilario Arbelaitz from 2 Michelin-starred restaurant, Zuberoa (Spain).
As a testament of his commitment to his craft, Carlos earned the position of Sous Chef at the Michelin-starred Cine Sentits (Spain) just four months into the job. To further establish himself in the dining scene, he continued to assist with daily operations and the development of new dishes for three years before landing his first head chef role in Singapore.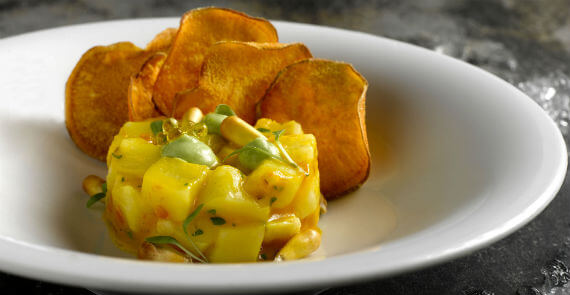 Image: New to the menu Patagonian Toothfish Ceviche, Rhubarb Jus, Sweet Potato Chips, Corn Salt
Prior to taking over the kitchen at ESQUINA and leading the restaurant to inclusions in the G Restaurant Awards of Excellence for 2016 and 2017, Carlos led the culinary team at Anti:dote bar in Singapore. During his stint, his critically acclaimed Asian-inspired tapas menu quickly earned him the reputation for having a creative flair, as well as a finalist nomination for the Rising Chef of the Year award by WGS Awards of Excellence.
It has been close to five years since Carlos ventured out of Spain and it is his mission to showcase the versatility and wonders of Spanish cuisine. "It's always thrilling for me to create something different for diners and I enjoy observing their reactions. Singapore has been more than welcoming towards my cooking and I will continue to do my best to introduce Spanish and Catalan flavours to diners in Singapore at ESQUINA," says Carlos.
Established in December 2011, ESQUINA continues to be in the forefront of the local Spanish food scene in Singapore. The modern restaurant, spearheaded by Barcelona-born Head Chef Carlos Montobbio, specialises in contemporary cuisine showcasing Spanish and Catalan flavours.
Located at the corner of Jiak Chuan Street, the two-storey space is aptly named ESQUINA ("the corner" in Spanish). Offering two distinct experiences, ESQUINA boasts an overall design with both rustic and modern industrial cues that evokes a sense of being in the heart of Spain with its buzzing atmosphere and vibrant setting. The ground floor features an open-kitchen concept and communal seating that encourages interaction and allows guests to watch the chefs in action. Sophisticated and refined, the second floor is designed to create an intimate setting perfect for group bookings and private parties.
The Evolution of Spanish Cuisine, by Carlos Montobbio
ESQUINA takes pride in staying ahead of the dining scene in Singapore, and they have the perfect chef for it. With Chef Carlos' curiosity for new flavours and techniques, guests can always expect exciting offerings on the menu. The word "evolution" is the guiding principle of his culinary philosophy, and his contemporary take on Spanish and Catalan food that is crafted with refined and quality produce, completes the dining experience at ESQUINA.
"I love experimenting with flavours and ingredients, and Singapore is the perfect city to do that. With access to some of the best ingredients from around the world and an audience that is equally curious, we aim to showcase Spanish dining like you have never seen before," says Chef Carlos. His passion for fresh and quality ingredients is evident on the menu, which features a medley of flavours, inspired by his fond memories and experiences of Spain.
Defying the Mainstays of Spanish Cuisine
The menu at ESQUINA is themed into five curated sections based on origins and dining categories – Snacks, Soil, Sea, Land and Desserts. Handcrafted from premium ingredients imported mainly from Spain and also from Japan and Australia, the recently refreshed menu presents signatures such as the Grilled Spanish Octopus ($28++). pictured below
This dish, inspired by the traditional Galician treatment, features a succulent chunk of sous vide then charred tentacle accompanied with grilled corn sauce, chimichurri and an additional touch of chorizo oil. Other noteworthy additions include the gloriously decadent Potato and Truffle "Gratin" ($20++), served with burnt onion sauce, organic egg yolk, Iberico ham, pictured below and the Braised Saltbush Lamb ($28++), a play on textures of couscous and charred eggplant miso, with mojo picón for added spice.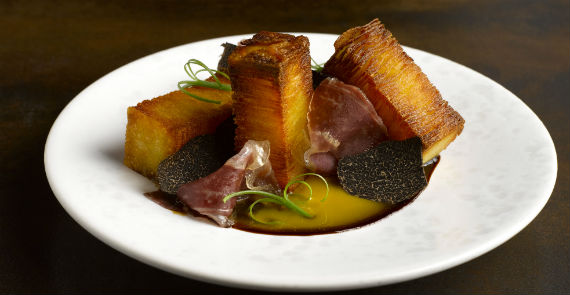 Esquina is open for lunch and for dinner. The small upstairs private room is perfect for 4 or 6 people. Ask on booking if it is available for your small group. Esquina delights on every level. The flavours are simple to detect yet complex in their execution. The combinations delight the palate and will continue elevate diners' expectations with artful flair and skilful enthusiasm.
Chef Carlos is a delight to observe in the kitchen as he orchestras his loyal and entrusting culinary team. Having chalked up over six years of serving the residents and visitors to Singapore, this is a must visit foodie experience ideal for a set lunch solution close to town – a night out with your significant other, or a sure bet for a first date. There is activity in the open kitchen aplenty with Chef Carlos articulating with final touches every plate that leaves the bench – you will never be lost for words discussing the artful preparation of the dishes.
The Tasting Room at ESQUINA
Combining Chef Carlos' passion for culinary innovation and desire to interact with fans of ESQUINA, The Tasting Room at ESQUINA is a unique experience that offers customers the opportunity to collaborate in the creation of new dishes.
An exclusive affair, guests will be served a menu of dishes from Chef Carlos' "Little Black Book of Experiments". Besides being the first to sample experimental creations by the culinary team, they will also be able to provide feedback and share ideas on how they would like the dishes to be tweaked, creating personal experiences that may well end up on the menu. The Tasting Room at ESQUINA currently by-invite-only, with a limited number of seats available for booking. The event happens once every month on a Tuesday.
Comments
Run by Barcelona-born Head Chef Carlos Montobbio, Esquina is a charming homage to the vibrant tapas bars found in Spain. Their $34 Uni & Lobster paella (with saffron aioli & sugar snap peas) is not only aesthetically appealing but lip-smackingly delicious. Head Chef Carlos Montobbio has trained in 3 Michelin-starred restaurants before joining Esquina; a fact that is evidenced in the divine dishes he serves up to customers' delight.
A delightful experience. Perfect for a set lunch or a dinner with your better half. The new menu item flavors are simple to detect yet complex in their execution. The combinations delight the palate and will continue to elevate diners' expectations with Chef Carlos' artful flair and skillful enthusiasm. Brilliant job team. I absolutely enjoyed every mouthful.