The Masons Table has opened the doors of the Masonic Lodge to the general public. Months of intensive preparation has created a classic, yet contemporary lunch and dinner venue that is destined to become a home away from home for residents, and visitors to Singapore.
Set in a luxurious environment, this unique venue is ideal for both social as well as corporate gatherings. The Masons Table founders are proud to finally announce the arrival of this unique brasserie in Singapore, welcoming all to enjoy the pleasures of a Burgundian lifestyle.
Located in the heart of the CBD in the City Hall and Fort Canning precinct, in relaxed and historical surroundings, The Masons Table serves modern European food, coupled with an extensive wine list. Housed in the historic Masonic Hall, part of the Singapore Heritage walk, guests can enjoy the historic grandeur of the building whilst the intimate and classic design lends itself perfectly for business and casual lunches, dinners and events in a luxurious yet comfortable and convenient setting.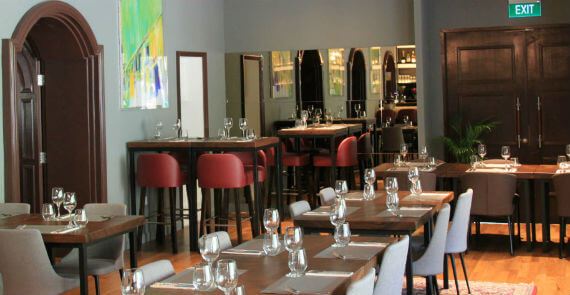 Surrounded by your friends you can enjoy a delicious meal in a casual yet upscale and relaxed environment. The Masons Table is where you can socialize and entertain or simply have the time for yourself while dining, as a daily to weekly must-do. 
The Masons Table can seat 180 guests and cater to groups of up to 250 people for cocktails. The Masons Table chefs ensure serving only the best quality produce to meet the demands of the crowd working in the CBD area who require a trendy venue to dine with their peers and bosses, deserving only the best, the freshest and most honest food available.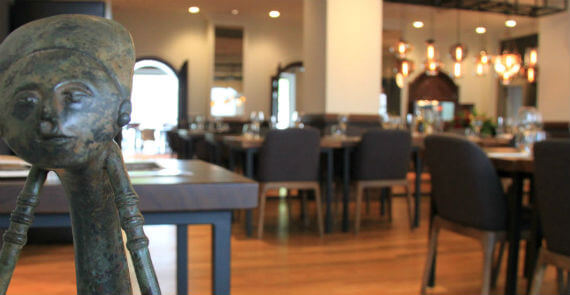 From social occasions to corporate functions, the in-house event planners are available to assist you when preparing for an event. The space has two rooms and a classic standing bar. Also, The Masons Table can be partitioned or opened up to form a big hall.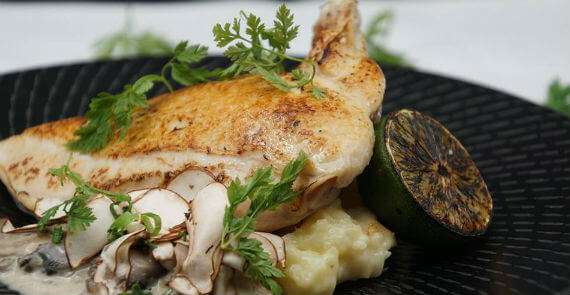 Torched chicken breast potato gratin mushroom cream sauce
The set lunch specials change weekly allowing the kitchen to serve freshly picked ingredients and offer you a varied experience with every visit. For events The Masons Table can also custom tailor menus to your requirements. For vegetarian and other dietary preferences and needs, The Masons Table culinary team will always create something special for you and your guests' dietary requirements.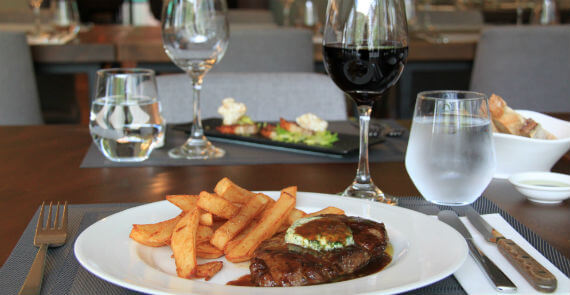 Steak Frites cafe de Paris butter
To whet your appetite, a dinner consisting of a sumptuous signature starter: foie gras, braised pear, pink peppercorn gastrique, followed by a classic duck leg confit, potato sarladaises, citrus salad, completed by a sweet crème brulee, with an always crispy caramelized top, making this a meal you will remember and come back for more. For quick snacks at the bar, guests are invited to share a charcuterie platter, or tuck into a selection of pizzas or the popular fiery honey Siracha tossed chicken wings.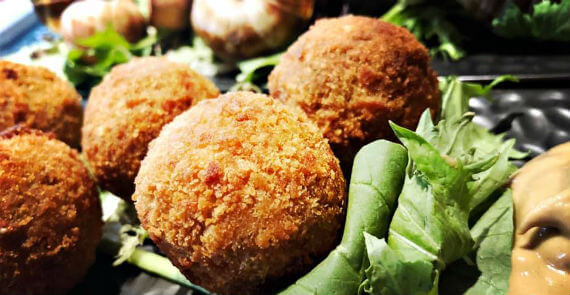 The Masons Table Bitterballen Starter
Chef Ng Chen Khai says "I cook and create with the team, affordable, approachable yet heart-warming dishes as if I am cooking for my own friends and family. I create that sense of dining at your home away from home and have drawn up a menu of favourite dishes."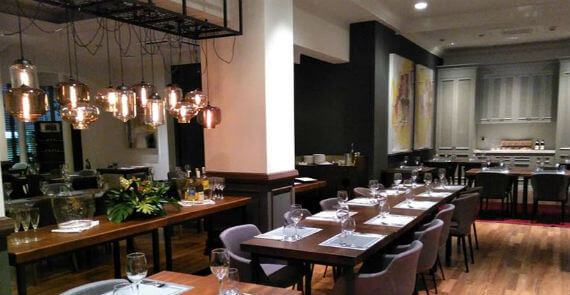 The Masons Table offer a wide selection of artisanal wines from vineyards across renowned wine producing countries like France, Italy, Australia, New Zealand, and as far away as Argentina. Selected with great care, based on decades of experience, networking and searching for the best food to wine combination, The Masons Table team has developed an extensive high quality yet affordable wine collection, and they are eager to share with you.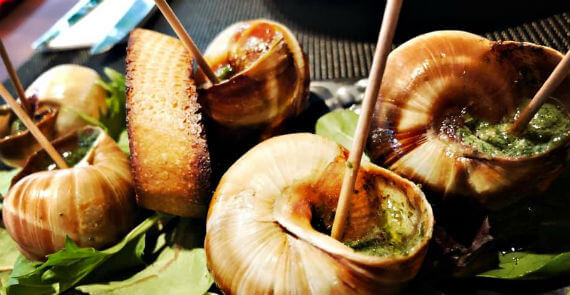 The Masons Table Escargots garlic butter
General manager, David Bregere says: "The combination of our heritage and our eclectic cooking you will simply not be able to find anywhere else in Singapore. Our unique style welcomes all and has our customers come back again and again."
The Masons Table has brought together a dream team, one that cooks with brotherly love, strength and truth. David Bregere simply loves restaurants; he visits them, enjoys them and manages them. After a stint in sales, he discovered the food & beverage industry and got hooked.  After a sojourn across the world (from being a barista in London to assistant F&B manager in a 5-star hotel in Bora Bora), David found his way to Singapore in 2011. 
After managing Saint Pierre restaurant, David joined the Victus Group in 2016.
Malaysian-born Chef Ng Chen Khai graduated with a diploma in Culinary Arts from SHATEC here in Singapore, and has spent his career honing his trade and sharing his passion for cooking with some of Singapore's most renowned Chefs, Jimmy Chok and Justin Quek.  Having risen up the ranks, Chef Khai most recently lead the team at the acclaimed Lavo Italian Restaurant and Bar on the roof of Marina Bay Sand and joined the Victus Group in 2018. 
The Masons Table is open Monday to Friday from 11:30am with last dinner orders at 9.45pm, the bar remains open til late; Saturday the restaurant opens at 3pm til late and is closed on Sundays.
Daily set lunch starts at only S$28++ for two courses and S$32++ for three courses; a la carte starters are priced from $14 ++  mains from $24++ and desserts from $10++.  The Masons Table opens its doors for functions, events and weddings during non-operational hours if required. 
To book, please contact us via email: [email protected] or call +65 9127 5030. 
You can find us at The Masons Table, Masonic Club, 23A Coleman Street 179806, next to Fort Canning, the Central Fire Station and the Registry of Marriages. 
For more details, visit The Masons Table HERE