Main Image Credit: Marco Pierre White at The English House, where the walls are covered with photos by the iconic 1960s British photographer Terry O'Neill. Photo credit: Franz Navarete
Read Expat Choice Reviews Here  Book A Table Here
The fêted English celebrity chef discusses what diners really want on a night out and how his new Singapore restaurant and hotel aims to deliver it.
Whenever you choose to do something in life, you have to think about size.Doing something on a small scale is not me – I like the large. I also like townhouses. So rather than being inside a conventional hotel, The English House is a traditional shophouse.
Singapore is one of the gastronomic capitals of the world. It has great food. And if you think about the dining culture, it's very good. People here like to dine out.
Whenever you open a restaurant, it's always about refinement. It's always difficult. It doesn't matter how many restaurants you open in your life, they're always going to have their teething problems. They take time to grow. If you come back in a year's time, it'll be a very different restaurant. We've got a lot more things coming.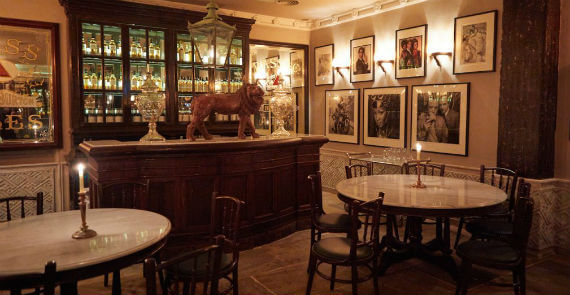 It's important to create a restaurant that is not a special occasion venue because we don't want to dress up every night we go out. It can't always be formal. You have to break it down. So you can come [to The English House] for a romantic dinner or you can come to entertain your clients; it's sufficiently casual to come with a friend for dinner.
I can't imagine doing anything worse [than opening a fine dining restaurant].Just look at the last 12 months. Did Robuchon close down? Did Restaurant André close down? Is every fine dining restaurant full every night of the week? No.
I believe that everyone wants value. Whether you go to a Michelin-starred restaurant or one without. The reality is, when you go out, you go out to enjoy yourself and have fun with your friends and loved ones.
Food in Singapore is delicious. I like to eat at Eat First on East Coast Road and also at Asia Grand. They produce better food than the Michelin-starred restaurants I've been to. And that's not being controversial. It might not have the sophistication of the service or the environment, but it's about what's on the plate.
I used to want recognition........read more here
Source: This article was originally published at www.silverkris.com
SEE ALSO: There's Never a "Right Time" for Rosé
Comments
Marco Pierre White's New Restaurant The English House Looks Like A Mini Raffles Hotel The furniture, doormen and even sacks of peanuts here all pay tribute to Marco Pierre White's fave hotel in Singapore — before he opened his own, that is. ou're likely to do a double take as soon you stroll into The English House (left in pic), a restaurant serving, well, English comfort food. The property, which also houses an 18-room boutique hotel that's slated to open in 2019, occupies two conservation shophouses at the corner of Mohamed Sultan Road. One of the houses used to host '90s nightspot Madam Wong's. The English House's entrance is almost engulfed in tropical foliage, which brush gently against your shoulders as you squeeze past the doorway. Short of painting the colonial structure completely white instead of grey and cream, there's a definite sense that the building was inspired by the architecture and style of the iconic Raffles Hotel (right in pic). Down to the handsome uniformed doormen who actually used to work at the said hotel. Marco once told us he always checks into the Raffles during his frequent visits to Singapore as he "likes its garden".