There's an adventure to be had at Maison Ikkoku  in Singapore with all-day dining of a bespoke nature from organic buckwheat, gluten-free galettes and crepe suzettes, to brunch and lunch items, creative omekase evening dinners, European-Inspired Maki Rolls and of course, our all-time favorite, bespoke cocktails made to your liking.
Ethan Leslie Leong, eminent Head Mixologist, Executive Chef and C.E.O of Maison Ikkoku, continues to shake up the food scene in Singapore with his delicious creations.
The consecutive Best Cocktail Bar Winner & Gallery Restaurant in Singapore has crafted a niche in offering its diners a fabulous edomae experience. Every dish prepared is a medley of flavors and texture combined, using only the freshest and most premium ingredients.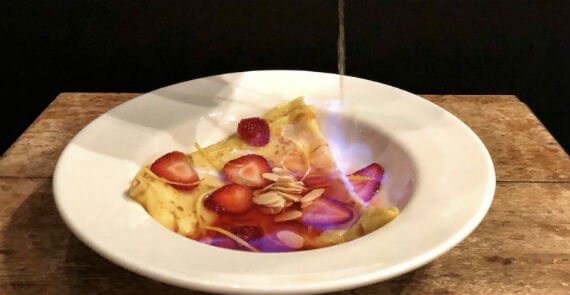 The weekend brunch menu at The Gallery has become so popular it is now available All-Day, Every-Day which showcases a wide array of freshly made organic buckwheat, gluten-free galettes and crepe suzettes to suit every diners' palates. During this affair, diners get intrigued by a stunning first-hand view right before your eyes, of thess delights being made Live at the Crepe Station.
, 
Tuck into the ingenious and inventive fusion of both European and Asian creations like Foie Gras Oolala, Chicken up, and the Signature Crepes Suzette where you will be instantly blown away by the tableside performance, flambé. Whether you are a fan of sweet, savoury food or an alcohol lover, there is definitely something for everyone!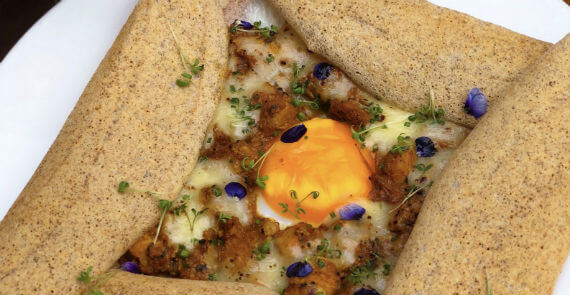 For those who love pairing your meal ( no matter the time of day )  with good tipple, prepared to get wow-ed by the bespoke cocktails and award-winning coffee and drinks selection. Awarded the Best Cocktail Bar Winner, Maison Ikkoku specializes in curating culinary-inspired cocktails using various techniques of Heat, Ice and Smoke. Mixologists of the day and night will mix up everything to your liking.
Maison Ikkoku also provides an extensive menu for brunch and lunch and for diners in the night. The Night Gallery has one of the most unique European-Inspired Maki anyone can find at restaurants, such as The Signature M.I.Tartare, one of the best Tuna Tartare ever tasted, accompanied with buttery brioche toasts, freshly chopped red onions with the right amount of spiciness that is really something that has not been tasted before. Completely out of this world!
The only taco you very will need is the Tacos Ebi. Hand battered and freshly cooked succulent crispy Tiger Prawn Tempura on a bed of kimchi slaw, sushi rice wrapped with crunchy taco finished with Japanese mayonnaise and seaweed. Nobody should miss this "Taco-tunity"!
This is a celebration in your mouth! This Vienna Maki with perfectly cooked Wagyu Beef and creamy mashed potatoes with nutmeg is a gratifyingly delicious every bit of it, and so many more to enjoy.
Everyone's talking about. Maison Ikkoku's Signature Lobster Linguine using the heavenly sweet Asian Rock Lobster cooked in this rich, creamy luscious 72 hours slow cooked lobster broth with the right balance of sweet, tangy and spicy flavour on the palate. 1 is never enough.
There's always something for everyone at Maison Ikkoku! With it's delicate and buttery texture, this Oven Baked Miso Cod simply melts in your mouth. Moist, Tender and Crazy Delicious Cod Fish baked to its perfection, taste so refined, elegant and beautiful! Love at first bite.
Lamb never tasted this good before! Never ever! We can't get enough of this Rack of Lamb. The outstanding flavor of honey and black pepper sauce with tender finger-licking rack of lamb. I could eat this all day, everyday – all of which are crowd-pleaser amongst diners.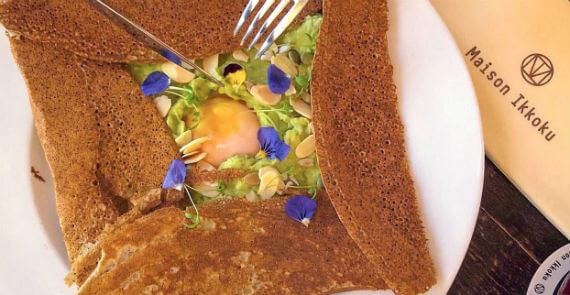 In addition to the popular Flambé Crepes Menu, Maison Ikkoku is now offering the 4 & 6 Course Creative Dinner Omekase for anyone who'd like to pamper themselves with an excellent selection of Chef creations. It takes you from one stunning course to another, which within seconds, diners will get transported to the undeniably rich seas of Japan – it's that mouth-watering.
Stepping into The Gallery at Level 1, you will be greeted by a smoothing and inviting ambience, with Jazz tunes piped in, it's a charming place to unwind at any time of the day. Using combinations of Railway Sleepers, Copper, Edison Filament and Red Velvet, gracing the walls is a collection by Belgium Artist, Nasrine H. Chaoui a.
Artist Nazz, who works on wood and canvas with mixed media such as markers, oil, paint, knife, sticks, crayon, and acrylic. This restaurant combines the contemporary aspect with a fiercely modern style, it's unlike anywhere else in Singapore, which put it right into the Have-To-Visit List.
Celebrating 9 years of service to thousands of visiotrs, Maison must be put back on your list of places to go or moreso to return to.
Comments
Maison Ikkoku has made there selections an all-day every-day affair. From organic buckwheat, gluten-free galettes and crepe suzettes, to brunch and lunch items, creative omekase evening dinners, European-Inspired Maki Rolls and of course, our all-time favorite, bespoke cocktails made to your liking.
The Signature Crepes Suzette is just delicious. The top notch preparation and the service comes first and then you get to taste the multi-layered Crepe Suzette treat from its devine strawberry base to its whiskey infused treakle. This is a perfect weekend affair. Ethan Leong has done it again, brining excellent in food preparation, service and ultimate delivery of excellent menu items consisting of organic buckwheat, gluten-free galettes and crepe suzettes to suit every diners' palates - to his awesome restaurant and bar - Maison Ikkoku