We have it on good authority that popular Live Music Venue Blu Jaz have their Entertainment license renewed.
Congratulations to the proprietors - Let the music begin.....This is a cool little bar and eatery just off Haji Lane. Singapore loves Blu Jaz....it's a must visit.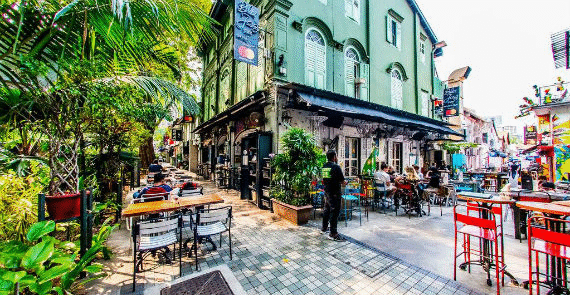 Food is fresh and tasty and the staff are super friendly with prompt service.
Blu Jaz Café started as a 16 seater Burger joint at No.71 Dunlop Street in Little India in 2004. Next to it The Inn crowd, a popular backpacker's hostel.
And a stones throw away Prince of Wales, an Aussie pub cum backpackers. Blu Jaz moved to their current location at No. 11 Bali Lane in Kampong Glam in 2006 and has been entertaining hundreds of thousands of visitors for the last 14 years.
In between, Blu Jaz has grown into a popular hot spot for live entertainment, bursting with great vibes, music, visual arts and people.
Blu Jaz's rapid growth has been made possible by the support of loyal guests and their dedicated team of kitchen, bar, service, housekeeping, sound and marketing personnel as well as local and international talented musicians, djs and artists.
Hopefully the popular Saturday afternoon Blu Jaz line-up will resume their popular live jazz sessions. This was an excellent way to spend the afternoon, just hanging out with friends, throwing back a few beers and grazing on some great pub food was a fabulous day out. Bring it on.
Blu Jaz is a place where you can get to experience amazing Bands, Comedy Shows, Dj Nights, Jam Session, Open Mic, Poetry Salm, Business talks with affordable food and lots of drinks.
In short it's a hub of entertainment in Singapore.
Comments
I went to the New Orleans mardi gras night on Saturday. Place was packed. People were dancing and having a grand old time. I'm so thrilled that we can catch live bands there again!
If you're going to see a band, a singer, or a DJ, whatever you're going to a music event for, just know that it's something you can't compare in your digital life. These events, that are done so creatively are made for audience. Live audience. Yes, tours, social media posts and comments, appearances are vital to a musician no matter their level of popularity, some of the best shows come from newcomers. I have seen dozens of performances at Blu Jaz over the years that have been brilliant to say the least/ These performances are vital for us, as the fans and lovers of music and entertainment. When going to a show, especially at Blu Jaz, we get to hear everything from the artist. Their explanation behind the song, sometimes why they wrote it, what it means to them, and in turn what it means to us. Because of all of this, live music is so much better than the music we listen to through our earbuds. Yes, without the songs on our phones, we wouldn't know about our favorite artists, but thanks to live music, we get to feel the artists too. So next time there is live music playing "anywhere", take the time to go and see them, because you definitely won't regret it.