Tucked away in the lush foliage of the Ginger Garden, Halia at Singapore Botanic Gardens was established in 2001 and has become an icon in the hearts and minds of Singaporeans.
Just minutes away from downtown Singapore, the restaurant is a popular choice for romantic dinners and get-togethers with friends and families. In June 2017, Halia at Singapore Botanic Gardens was officially Halal-certified by MUIS, bringing about a rebranding of the restaurant to showcase their signature modern European cuisine with Asian influences to a wider audience.
This deliciously affordable menu provides a robust selection of meat and vegetable items, seasoned condiments and mouth-watering bread cooked to perfection.
Now an inclusive dining destination for the masses, the restaurant has also revitalized its all day ala carte menu with spectacular new dishes. A communal menu for groups of four to six has also been launched.
Since its opening in 2001 at the iconic Singapore Botanic Gardens, Halia has served over a million customers with its signature modern European cuisine with Asian influences. The restaurant, whose name is synonymous with its location in the Ginger Garden - the word 'Halia' is a Malay word for ginger – has also gone on to amass an impressive number of accolades.
An Inclusive Dining Destination Within The Gardens
In accordance with the stipulated guidelines set by MUIS, the restaurant now showcases dishes made using ingredients that are sourced only from Halal certified suppliers. With this certification, Halia will become a more inclusive dining destination for a myriad of visitors. "While the signature taste of Halia remains the same, we are also excited to welcome our new guests to come and experience the charm of dining within a garden at Halia," says Esther Wee, Managing Director of Halia.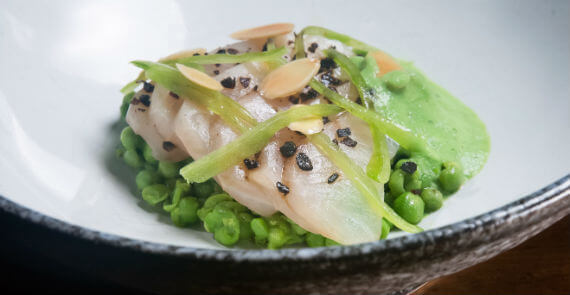 To celebrate the Halal certification, Executive Chef Ciaran Armstrong, who has been with Halia for over seven years, has introduced additions to the menu.
Under the "Light" section, start with the Lightly Smoked Kingfish ($17++), served with smoked crushed pea, lemon dressing, salted black beans, almond flakes and lemongrass oil. The dish comes with a side of chilled cucumber and ginger shooter mixed with yogurt.
For an "In Between" dish, try the Charred Caesar Salad ($12++), served with black garlic aioli, romaine lettuce, pickled cucumber, croutons, beef bacon and shaved parmesan. The unassuming salad is given an intense punch of flavour derived from the black garlic, made by preserving white garlic for a month.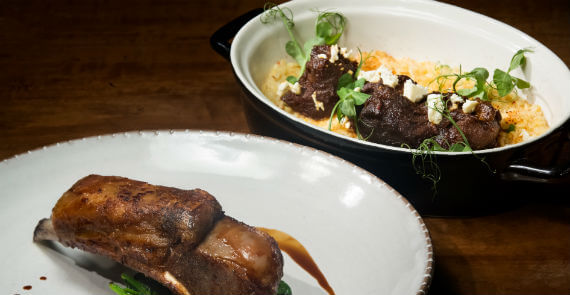 Moving on to the "Large" plates, the Lamb Rack & Braised Spice Islands Marinade Rump Stew ($46++) is an option perfect for sharing. This stand-out dish comes in two parts: the first is a sticky braised lamb rump stew served with a variety of spices, bulgur wheat and feta cheese; the second is a tender rack of lamb with baby spinach and thyme jus.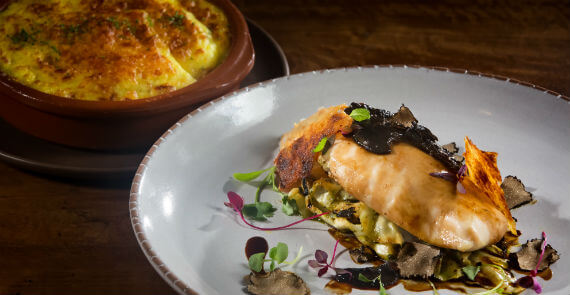 Another tantalising main dish is the Slow Cooked Tender Chicken Breast and Braised Minced Leg Potato Gratin ($29++), served with wok-hei cabbage with coriander olive oil dressing and mushroom sauce.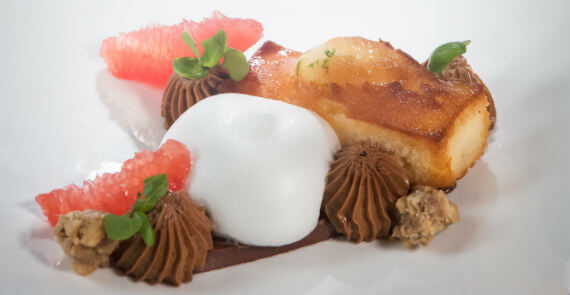 There are also additions to the "Sweet" section, starting with the Yuzu Gateaux ($13++) – yuzu infused cake, intense chocolate yuzu ganache, lait caramel mousse and yuzu foam. Alternatively, try the Fig Tart ($11++), a saccharine treat that comes with yogurt mousseline, speculoos, caramelised fig and turmeric foam.
Halia's classic dessert, The Ginger Garden ($14++), has also been given a reimagined appearance. Served with orange blossom vanilla mouuse, galangal poached apples, blood orange coulis and ginger flower sorbet, the dessert is topped with an edible butterfly motif – a reflection of the floral and fauna that surrounds the restaurant.
Aside from the updated ala carte menu, diners can opt for a communal dining format, where they can feast on selected signature dishes in groups of four or six, for only $180++ and $270++ respectively.
"Staying true to Halia's commitment of providing modern European cuisine with Asian influences, these new dishes will continue to excite customers' visual and taste palate," shares Chef Ciaran.
Breakfast and Brunch menu
There is also the weekday easy breakfast at Halia. This is a true Singapore find. Start with a selection of toast such as sourdough, baguette, brioche & focaccia with Halia's pineapple ginger jam, homemade kaya & honeycomb butter ($12++) or the popular Home-baked muffin, Choice of: Blueberry & white chocolate chip Banana & dark chocolate chip ($4++). 
Eggs are served any style, Poached, fried, scrambled or omelet with grilled sourdough, cherry tomatoes & mesclun salad. ($12++) or opt for the Smashed avocado on toasted sourdough, Tomato, ginger flower, feta cheese & fresh chilli, this comes in two sizes ($12/$22++) or something more robust, Braised wagyu masala beef, Coconut pandan rice, fried egg, spiced nuts, pickled cucumber & ginger flower sambal ($22++)
Sweet tooth I hear! go for the Organic chia seed porridge, Strawberry & mango smoothie, fresh fruits, dried papaya, kiwi ($13++) or the Super food granola Greek yogurt, poached blueberries, kiwi & honey ($12++)
It gets better.
Halia has introduced a special Brunch menu for the weekend which is an even combination of the breakfast menu along with and all-day dining menu. Light starters include Heirloom tomato salad, Smoked capsicum hummus, spiced hazelnuts, pickled ginger, feta cheese, breakfast radish ($14.5++) and the Lemongrass & ginger prawn salad, Fresh mango and tomato salsa, glass noodle & ginger flower dressing ($16++).
For a more brunch-like experience try the 62.5° poached egg, Toasted English muffin, sautéed spinach, smoked capsicum salsa, herb butter sauce ($22++) or the House smoked salmon pasta "risotto" Pignolina pasta, petit pois, capers, poached egg, parmesan cream ($26++) or The Halia Breakfast, eggs any style, roast vine ripe tomato, button mushroom, twice-cooked kipfler potato, chicken & olive sausage, toasted sourdough ($24++), then cleanse your experience with a Ginger Spice, All Things Nice, Coconut mousse, compressed pineapple, dehydrated coconut flesh ($9++)
All in all, Halia has a full day dining experience waiting for you, no matter what time of the day you feel like grazing. Enjoy strolling through these wonderful gardens, but be sure to head to Halia to top off your day!
Comments
Amazing and delicious and so glad it's close to us. This deliciously affordable menu provides a robust selection of meat and vegetable items, seasoned condiments and mouth-watering bread cooked to perfection.
This Father's Day, treat your childhood hero to a sumptuous spread of mouthwatering local dishes at The Halia. Celebrating Dads at The Singapore Lunch Buffet Experience (Sunday 16 June 2019, 11:30am - 2:30pm) At The Singapore Lunch Buffet Experience, feast on over 15 local delights and familiar favourites such as Hainanese Chicken Rice, Traditional Nyonya Laksa, DIY Ice-Kacang and many more. To sweeten the deal, valid exclusively on Father's Day (16 June 2019), a kid dines free with every paying adult! Look out for exciting guest vendors* including Mariah's Jemput-Jemput and Provision's Jungle Bar as we celebrate local home-grown entrepreneurs, artisans and craftsman at the Singapore Lunch Buffet Experience. As Dad soaks in the convivial atmosphere, little ones can busy themselves at the "Make-a-Card for Daddy" activity corner by creating a heartwarming memento to commemorate this day. Price: • Adult: $30++ • Child: $15++ (Between 6–12 years old. Kids 5 and below dine free) Special Notes: · For reservations, please contact +65 8128 0581 or email
[email protected]