Roll up your sleeves and get creative. From Furoshiki (fabric wrapping), typesetting, pottery-making to screen-printing, there's bound to be something for everyone. Get hands on at these workshops in Singapore!
Typesetting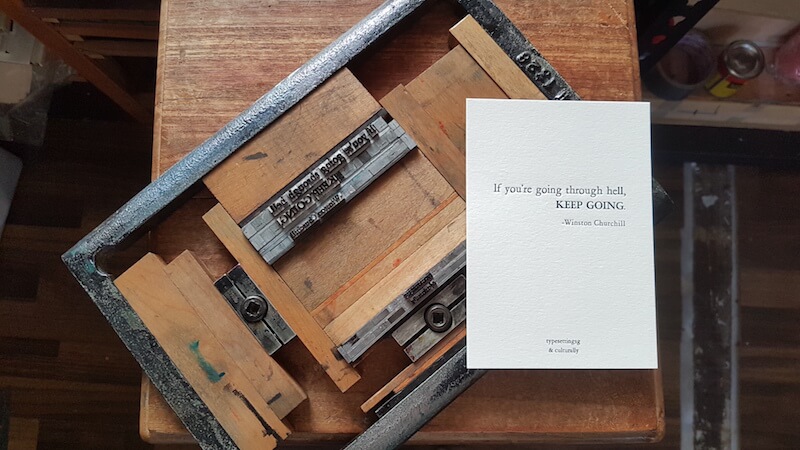 Typesetting is the making of block-printed text by grouping "sorts" (pieces of type representing a letter or symbol) and ordering them in an intelligible manner, before inking it and pressing pieces of paper against it. While it is now somewhat considered a lost art, there is an artisan here who wants to speak up for typesetting!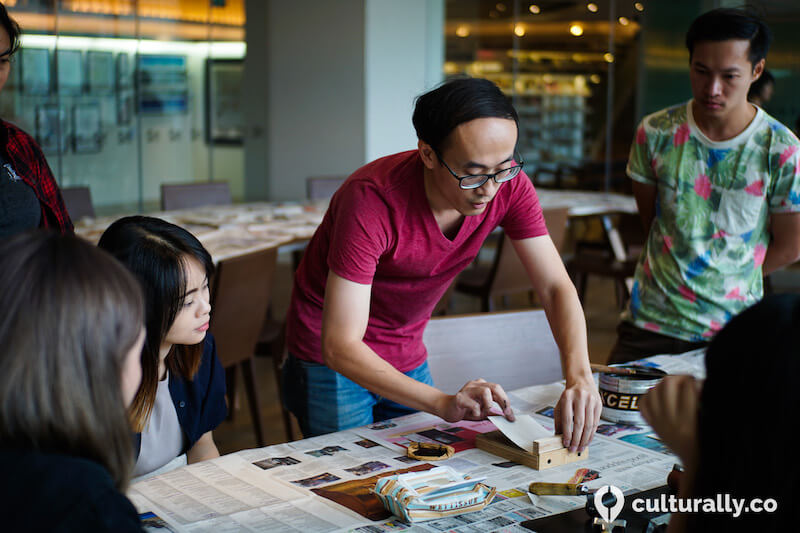 YY is a self-taught printer and founded Typesettingsg as a personal project. Aimed at preserving and promoting traditional letterpress in Singapore, his studio in Golden Mile Complex now serves as an educational hub. At YY's workshop, you will broaden your perspectives and gain an appreciation for this traditional art. What's more – you get to bring home 15 personalized cards that you can share with your friends and family! Make your booking here!
Screenprinting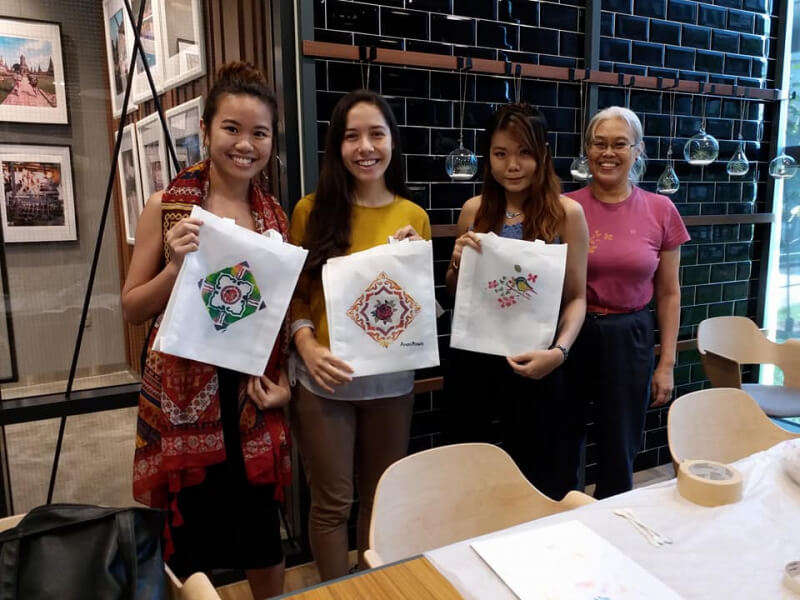 Learn the fun and magical process of screen printing! In this workshop with Eve, you will use Peranakan tile designs to create your very own unique fabric artwork. From using wooden screen frames and mounting a stencil, to mixing various types of fabric paints in order to achieve a unique shade, learn the different aspects of the screen printing process!
By the end of the day, you will learn about the history behind our unique Peranakan designs, and how to produce your own screen prints at home. Best of all, walk away with two art pieces to boot! Find out when's the next open class.
Batik Painting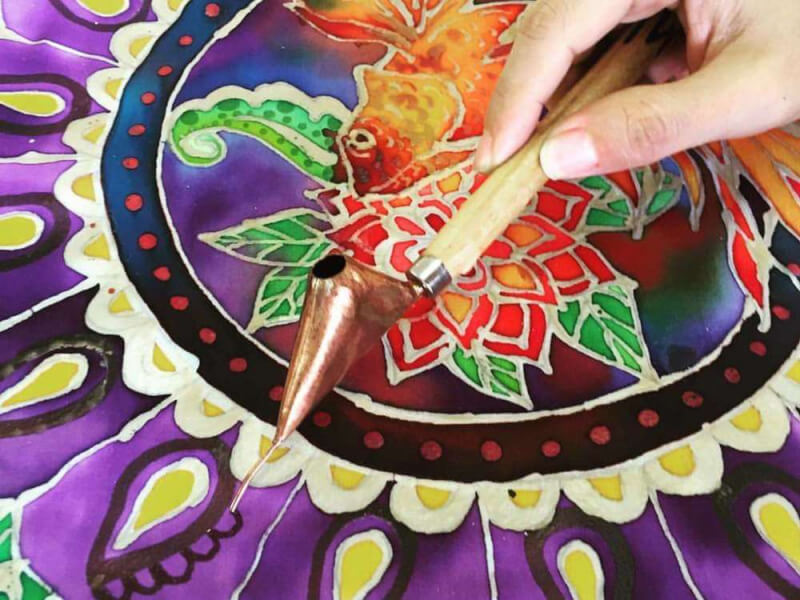 A wax-resist dyeing technique from Indonesia, come together to learn the history behind this traditional art and how to use tools like the tjanting to create your own unique artwork. Don't worry about your level of artistic skill – none is required! Everyone gets to bring home their creations at the end of the day.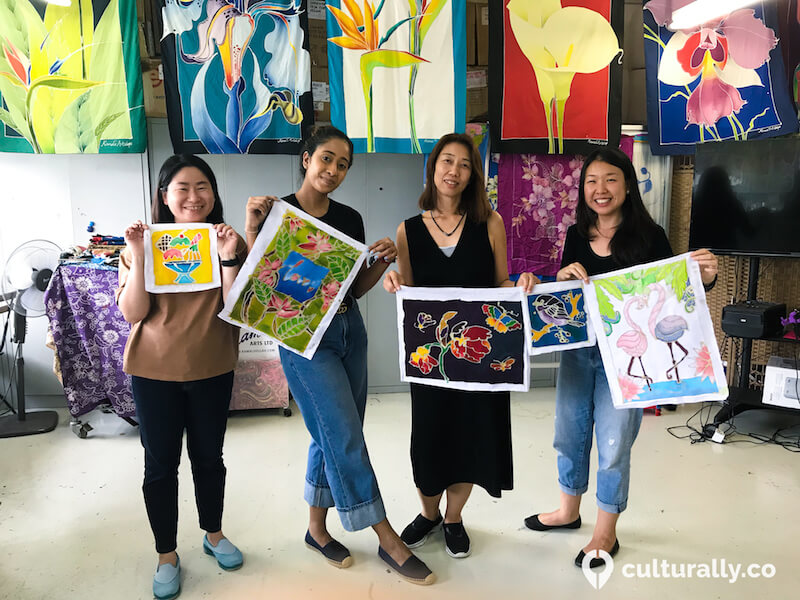 Coming with a team? You can also opt for a community batik day, where everyone will work on a big piece of canvas together that can later be framed in the office! It's a great way to let your team members unwind, bond and express their creativity. Find out more here!
Pottery-making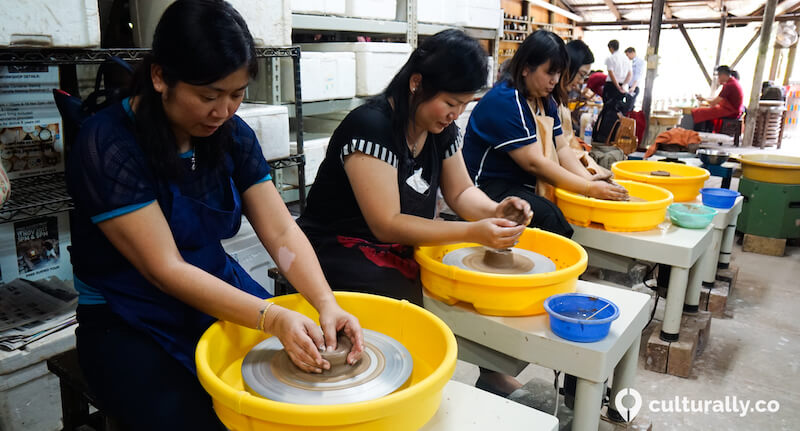 Ceramic arts is currently undergoing a revival, and Thow Kwang is at the forefront of it. Now serving as an educational platform, they have workshops to educate younger generations on the beauty of ceramic arts and wood-firing. Thow Kwang also opens up their kiln as a platform for local and international artists to pursue their pottery interests, and hold events from time-to-time!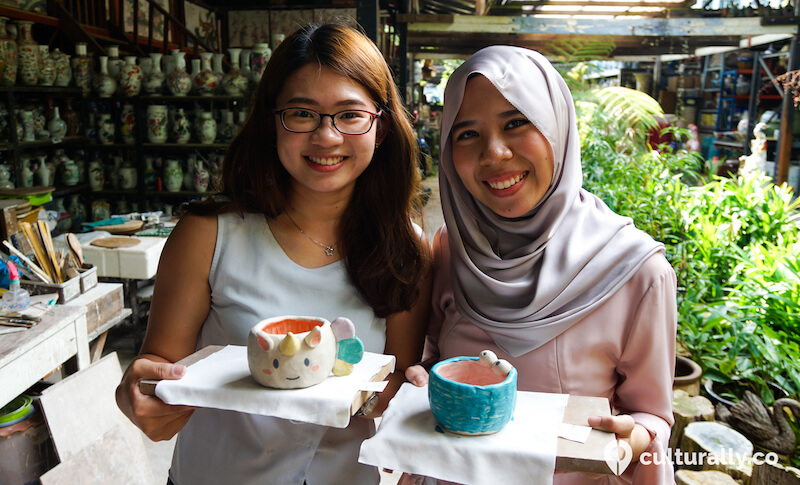 For a few hours in Lorong Tawas, you will learn the history of dragon kilns, how the kiln is fired up, different techniques of shaping clay and ways of glazing your artwork! Become an artist make creative decisions on the shape, size, textures and colours of your unique pieces! Sign up for this interactive and hands-on workshop now!
Furoshiki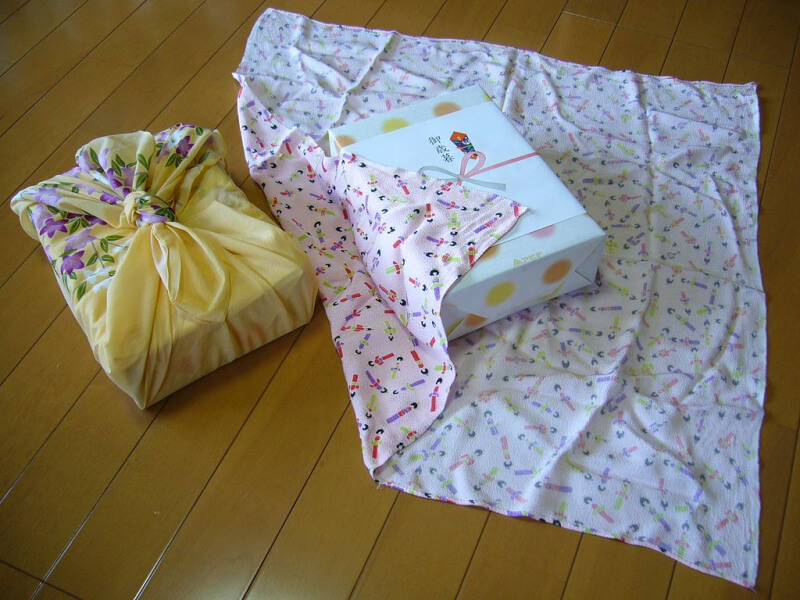 Furoshiki is the Japanese traditional method of using a piece of cloth to wrap, carry or store items. It embraces the philosophy of eco-friendly living by reducing the use of wrapping paper and plastic bags. Literally translating to "bath spread", the materials are usually made of silk, cotton, nylon or rayon.
In this workshop, you will not only get to learn about the different types and folding methods of Furoshiki, but you'll also get tips on how to create your own customized prints through screen printing. Located in Telok Ayer, this workshop is perfect for those who'd like to try to be more environmentally friendly! Find out when's the next class!
Culturally is a social booking platform for cultural and creative experiences in Asia. They want you to meet local artisans, understand and experience their crafts, not just as a spectator, but as a participant! Check out what they have to offer.
Comments
How amazingly creative are these workshops?! Roll up your sleeves and get creative.
Culturally shows all the passionate ones just where to find the new adventures that will challenge you to grow, bringing you to a whole new world. Expect to meet travelers from all over the world, passionate musicians and artisans, and local heartlands people all ready to take the leap. Be a part of our culture rally. We all deserve the opportunity to learn about one another. https://www.culturally.co/