What do you think about Festive Dining with Caffé B's delightful 2018 Christmas Menu ?
The Japanese-Italian Restaurant Rolls Out Four-Course Menu at just $69++ per person from 18 to 25 December 2018
Indulge in festive flavours at Caffé B this holiday season. Located in a carefully restored heritage building on Club Street, a holiday dinner with family and friends will be packed with charm, elegance, excellent food, exceptional wine and warm service. 
A stunning four-course menu priced at just $69++ per person, dinner with family and friends will be one to rejoice all that the festive seasons represents. Available from 18 to 25 December the menu can be enjoyed with a wine pairing optional at an additional $26++ per person. 
Created by Executive Chef Masanao Saito, the menu offers a unique take on Italian cusine with Japanese influences. The curated menu showcases his favourite creations which combine the finesse of Japanese flavours and the comforts of Italian cuisine.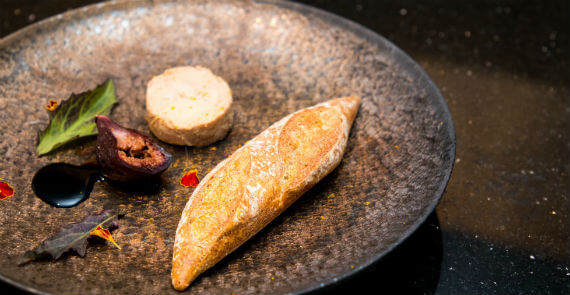 The menu kicks off with a Yuzu marinated Foie Gras Terrine (pictured above) served with Black Fig and Okinawan Spinach drizzled with aged Balsamic.   The luxurious  antipasto is followed by fragrant and creamy Porcini Risotto with Maitake and Shiitake Mushroom.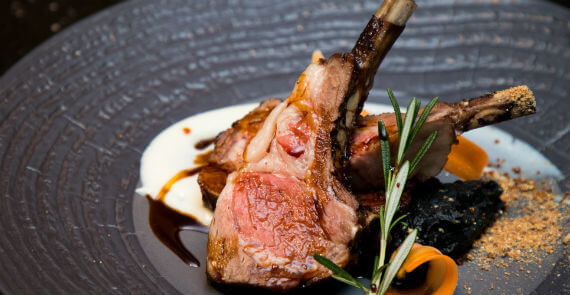 Lamb Rack with Cauliflower Puree
Two mains are available for diners consisting of either the delectable Lamb Rack with Cauliflower Purée and Rosemary and Eggplant Caviar or Black Cod on Cauliflower purée with sauce of Cioppino and drizzle of dill oil.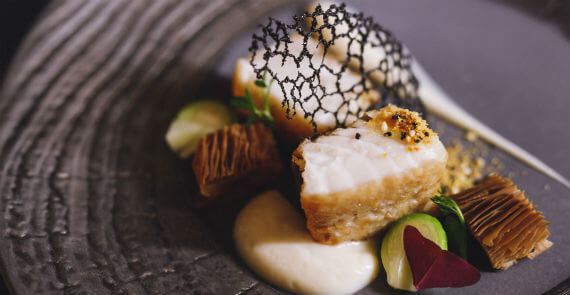 Black Cod on Cauliflower purée with sauce of Cioppino and drizzle of dill oil
A sweet treat and a sumptuous end to the meal is the Glass Montebianco with Chestnuts sprinkled with fluffy Chocolate and white Chocolate powder. Christmas is coming and it's time to make a few solid plans with your work collegues and friends. Get in early and make your bookings with Caffe B located on the top side of Club Street. contact and location
POPULAR READS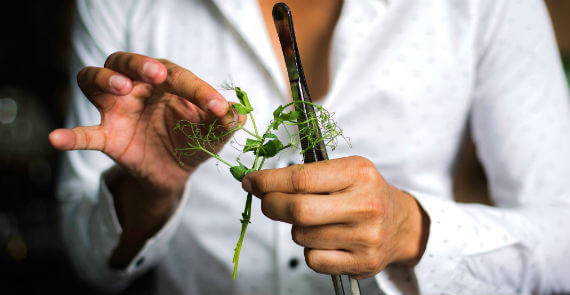 Main Image: Appletini by Caffe B The Japanese- Italian Restaurant and Bar Caffé B has recently ... what all the fuss is about at the beautifully articulated  Caffe B     Category:  Eat & Drink Things To ...
Comments
Highly impressed by Cafe b. We were looking fir a Christmas menu for work and also I mentioned this to many other companies. Thanks for sharing such a lovely article and video to follow it up.
This looks like a great menu.
I turned up to the new Caffe B outlet last Tuesday night and found a cool new bar environment serving up refreshingly gorgeous cocktails at a reasonable price. This is more your upmarket experience so expect to pay $22 ++ and above for a decent cocktail here. And they are just that. Articulate, well thought through and made with dedication with the utmost attention to details by the head barman Michael. A wonderful experience thank you team. And this Christmas menu is perfect for our company Christmas celebration. Thank you for the menu this year. It is delicious!