Nestled right on Siloso Beach lies Coastes, an alfresco dining restaurant looking out to the majestic view of beach, sea and ships (believe it or not)!
A place to chill and feel the jazzy tunes seep into your body. It took all of two minutes to get me into chill mode.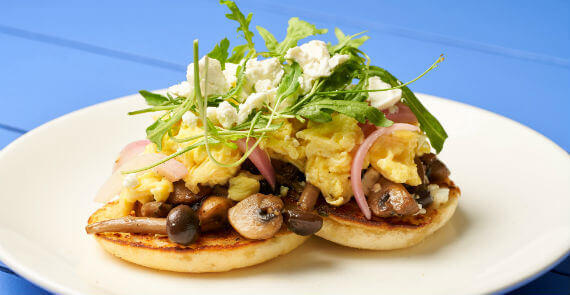 Coastes Forest Mushrooms with Scrambled Egg and Feta Cheese
I had just stepped off the Express train from Vivocity which runs every four minutes to Sentosa. A true convenience for visitors who train or bus in to Vivocity with the option of returning on the cable car. The journey itself offers a fun adventure especially if you have kids in tow. As I got off the train there was the option of jumping on a tram down to Siloso Beach or a five minute walk to Coastes.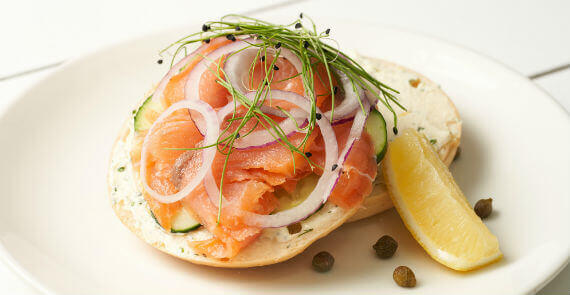 Coastes Fresh Bagel with Smoked Salmon
I was at Coastes to check out the new brunch menu. For 11am on a weekday, it was pretty well frequented. Families with kids, to roam and play unguarded, while mums took time out with friends. A nice way to keep kids busy.  I noticed a sign that said "Keep Our Beach Clean – A free coffee for a bucket of litter cleaned up from the beach" What a great way to encourage civic consciousness! Go Coastes...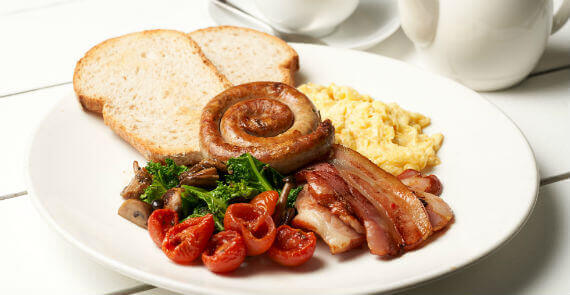 Coastes Breakfast
Back to the food. I scoured the menu for some brunchy treats and decided on Homemade Granola with Greek Yoghurt & Fresh Summer Berries. Cool, smooth and fresh, the posture of this dish complemented the balmy weather. Great for those who prefer an uncooked meal on a hot day and it cost all of $12.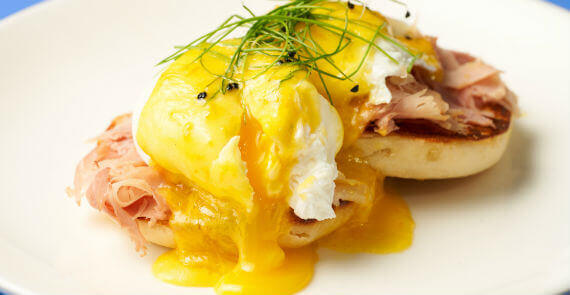 Eggs Benedict
I then opted to continue with Coastes Eggs Benedict. Interestingly the two poached eggs were served on an English muffin stacked with loads of shaved honey-baked ham but with a twist of orange-infused Hollandaise sauce. It's the orange that gave this otherwise rich and heavy sauce a light touch. Delicious and totally hit the spot as a full meal for the day. Only priced at $18 – what a steal I thought.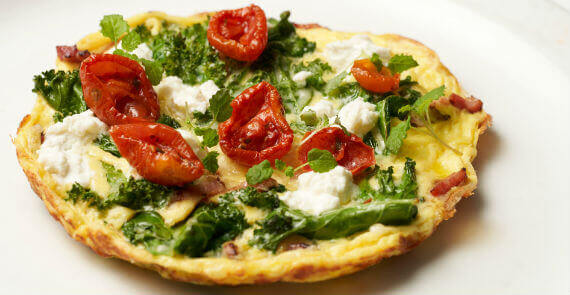 Bacon Kale Fritata
Moving gears into the Coastes Bacon Kale Frittata which had a generous portion of bacon, kale, ricotta cheese and sun-dried tomatoes, this was moist and well prepared. The frittata was so tasty, not as high or deep as some frittatas can be and again, although enough for even someone with a big appetite. Your $16 spend is well worth every dime.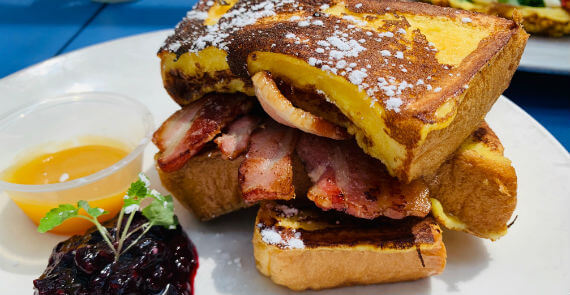 Coastes French Toast with Bacon and home made preserves
To close off I decided to have the French Toast which was served with maple butter, thick cut bacon and home-made fruit jam. A total dive into naughty is what this is. I had the savoury first then the sweet to end. My favourite dish of the day and I feel the clincher was the maple butter – not too sweet like syrup usually is and blended with the rich undertones of butter. For a modest $16 this is certainly a must have!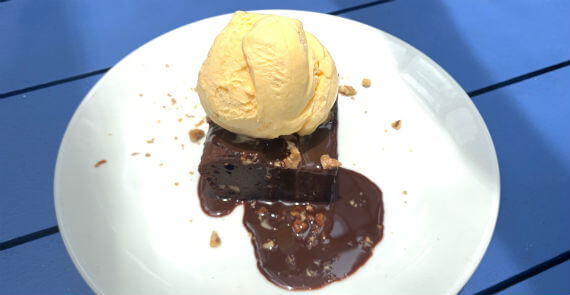 Coastes Salted Caramel Brownie
I forgot to add that all of this went down really well with the stunning rose which was served chilled. So pleasant on the palette, I would highly recommend you try this drop. It's a perfect brunch accompaniment and of course there is a sweeter drop of Riesling available for those who like something not so dry. 
To end the afternoon brunch at Coastes I decided on the salted caramel brownie, totally decadent to say the least. Served with a huge scoop of vanilla ice cream and packed with walnuts I had to surrender after a few mouthfuls. This huge brownie is meant for a few people to share as it is rich and gooey mixed with salted caramel sauce. I think you get the gist and all for $14. This is a definite end to a superb brunch treat and one I would highly recommend. 
It was 1pm by the time I left Coastes and the entire landscape had changed. Coastes was 80% full brimming with all types of people. There were some who were working on their laptops as wifi is available and free.
Others who came down for a spot of lunch. And others who just basked on beach chairs (which cost $22 all day and seats 3 people) in their swimmers, dipping in and out of the water. 
A beautiful way to enjoy the beach with everything you need at hand. I hope you'll think of going down on a day when you are wondering "what shall I do this Sunday or mid-week for that matter...?" The answer is obvious. Rock on down to Coastes for a bit of chill.
If you'd like to create financial freedom and a lifestyle that affords flexibility like I have, you are welcome to connect me here
Comments
Anywhere outdoor where I can enjoy some sun and have a scenic view to behold is my favourite place. Nothing beats having a glass of beer in one hand while taking a chill-siesta at one of the wonderful beach bar in Sentosa, away from the concrete jungle and stifling, towering buildings. This is a place great for weeknights and weekends to meet friends or a date. Think about the romantic settings.
There are so many reasons to spend a day on the beach all serviced by #coastes on Siloso Beach Sentosa. 1. Grab a double beach bed for just $22 all day and get two iced teas as a gesture of goodwill. Bring along your towels and enjoy a day with an umbrella above, sea view in front and much cleaner water to cool off than the East Coast parkway 2. Order brunch, lunch or snacks at the cashier and they'll deliver your meal right to where you are seated on the beach, but these seats are popular so I advise to get to Coastes by 10am latest on a weekend to get your spot secured - weekdays are generally ok and much quieter than weekends. 3. Fill a bucket with rubbish from the beach and you get a free coffee or iced tea - compliments of Coastes 4. The Price of menu items are well lower than expected for such an atmospheric beach location. The most expensive item on the Coastes Menu is a huge burger at $26 but an Eggs Benedict is just $18 and the serving is literally twice as big as you Would expect to get - almost too much for one guests. It's best to order 2 or 3 dishes and share the love. 5. Who needs co-working space and be stuck in an air/con office. Wifi is offered free at Coastes so why not try an open air, walk life balance approached to being productive