Delicious and decadent lunch and dinner menus for a romantic meal together.
Let little romantic gestures, like spending time to eat together, shine this Valentine's Day. Fat Cow brings the Japanese "Wabi-Sabi" concept – the art of finding beauty in things modest, simple and humble – into the celebration of love. From 9 to 19 February 2019, the award-winning modern Japanese restaurant by Refinery Concepts presents two three-course donburi lunch menus, With Love ($118++) and Be Mine ($138++), and a 6-course dinner menu, Be My Valentine ($198++), exclusively available for a limited period.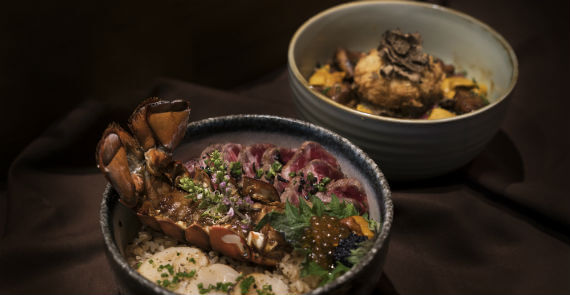 Valentine Donburi
Bring your love into the light of day with a romantic lunch date.  Fat Cow serves up two three-course lunch sets with a choice between two Valentine Donburi. Relax in the intimate setting as you chat over a delightfully smooth Seafood Chawanmushi and Tomato Tosazu Jelly Salad for a start.
The Valentine Donburi, the highlight of the lunch sets, feature the tender Miyazaki beef striploin, Japan's highest quality beef. The striploin is complemented by foie gras, a crunchy truffle croquette, creamy uni and shio kombu in the With Love set, with a harmonious balance of the finest flavours.
Those who prefer a stronger umami flavour will delight in the Valentine Donburi in the Be Mine set, as the beef is served with lobster mentai, beautifully seared scallops, uni, caviar and ikura. Round up the satisfying meal with a Honeycomb Ice Cream, a dessert with a delicate crunch tucked into the smooth base.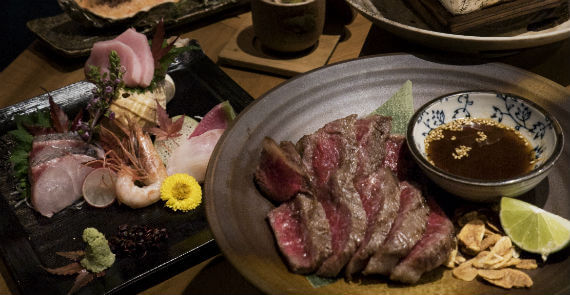 Fat Cow's Be My Valentine dinner set 
Surprise your loved ones with a simply decadent feast in Fat Cow's six-course Be My Valentine menu.  Go slow and start on a subtly sweet note with the Sashimi Moriawase that includes a quartet of toro, amaebi, tai and shima-aji. The Kyofu Kinoko Yuzu an soup adds comforting warmth to hearts and bellies while refreshing the palates.
Let the purity of food speak of your affections for each other as Fat Cow's culinary artistry draws out the best of each ingredient through specific cooking techniques or complementary flavours. The Kani Miso Kora Yaki, butter snow crab cooked with shimeji mushrooms, is grilled over the flame, transforming into a comforting and creamy delicacy.
The oceanic flavours continue with the Oyster Ginza Yaki, fresh oysters baked with a special Ginza sauce. The star of the meal, Wagyu Miyazaki Beef Striploin Sumibiyaki is grilled to tender smoky perfection over charcoal. Finally, conclude the meal with the Seasonal Fruit & Chocolate Ice Cream, bringing a refreshing touch to the food of love.  
To make a reservation to experience Fat Cow's V-Day Menu, please visit HERE or call +65 6735 0308.
For more information on Fat Cow, please visit HERE
Comments