Drawing inspiration from the travels taken by Bar Manager Michele Mariotti and his team in 2019 pre-covid of MO BAR at Mandarin Oriental, Singapore the group partnered with a local expert to explore the markets and meet with purveyors to discover herbs, spices and ingredients that are unique to the location.
Learning from their host, the team then created innovative cocktails for a pop-up event in each city to celebrate the local culture and flavours they enjoyed during their visit. Now reflecting on their adventures over the last year, a menu is curated to pay homage to each city they've visited.
The list consists of 16 drinks, including four non-alcoholic options, ensuring a beverage to appeal to every type of guest. Beginning with a star map showcasing the collection, the menu allows guests to understand various qualities such as alcohol content, flavour and style before delving into the finer details of each drink.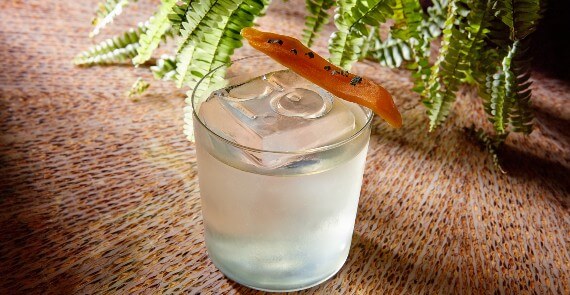 Image Credit: The Oriental MO BAR at Mandarin Oriental, Singapore
Those with a keen eye can search for artwork throughout the menu inspired by each of the collaborators – from symbols of the bars to the more cryptic illustrations telling stories from the host bartenders.
Highlights from the drink menu include the Silk Market, a temperance cocktail with Mandarin cordial, fermented honey and corn (SGD 12). The drink is served in a unique vessel made of preserved cloth from pineapple fibre, bringing back a local tradition the team learned about during their time in Shanghai at the beginning of their journey.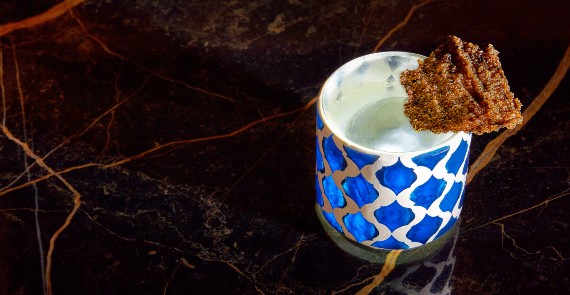 Image Credit Lantern MO BAR at Mandarin Oriental, Singapore
For a more savoury treat, travel to Seoul with the Old Friend (SGD 14) comprised of BBQ kimchi, alcohol-free soju and seaweed. For all non-alcoholic drinks, a version with alcohol is also available upon request.
Moving into the spirit-infused portion of the menu, the T And T (SGD 22) was inspired by Michele's guest shift in Hong Kong where he worked alongside Jay Khan of COA. With a tequila base – a nod to COA's agave-centric concept – the drink utilises lemon verbena and fig, two of the ingredients the team worked with after visiting a farm in the north of Hong Kong.
Travelling to Vietnam, the Harvest Queen (SGD 24) features Agricole Rhum from South of Hanoi combined with apple and guava in a shaken, fruity tipple. Onwards to Thailand, the Chiang Mai-inspired Expedition (SGD 24) celebrates coffee plantations of the region with green coffee, grapefruit and vermouth. Adding a personal touch to the drink, each will be served in a handmade ceramic mug crafted by one of MO BAR's team member who can tell the story of the experience.
The food menu sees an update as well, adding new creations such as Jiaozi, Shanghai dumplings with Kurobuta pork and minced prawn (SGD 22), the Gyu-Katsu Sando with breaded Wagyu beef and bulldog sauce (SGD 32) and the Lobster Roll with Boston lobster on a brioche bun with chive and radish.
For vegetarian dishes, guests may opt for the Rice Rolls featuring vegetables in Vietnamese rice paper with sweet chilli sauce (SGD 16) or the plant-based variation of the MO BAR Burger with an Impossible Burger patty accompanied by cheddar and lettuce and a side of potato wedges (SGD 32).
The hotel's popular afternoon tea is also served daily, featuring artisan pastries and a myriad of accompanying local delights, with the personalised service for which Mandarin Oriental is renowned. Prices are subject to 10% service charge and 7% government tax. For further information, log on to www.mandarinoriental/singapore. Reservations can be made by emailing [email protected] or calling +65 6885 3500
Comments
Oysters & Champagne (Every Wednesday, 6pm – 9pm) The iconic Oysters and Champagne promotion features a dozen freshly shucked oysters and a 90-minute free-flow R de Ruinart Champagne and a selection of cocktails at $78++ per pax. Guests can choose to pair the oysters with champagne or selected signature cocktails from MO BAR's current Volume 2 menu, which draws inspiration from Southeast Asia with curated drinks inspired by the region. Gin & Seafood (Every Friday 6pm – 9pm) Guests are in for a treat every Friday evening, with two refreshing glasses of Gin and Tonic, paired with the indulgent seafood appetisers of fresh lobsters, snow crabs and prawns at $48++ per pax. Guests can choose from MO BAR's Asian gin selection such as Four Pillars, Paper Lantern and Roku Gin, accompanied by an assortment of East Imperial tonics.