Hero Video + Image: The English House: Expat Choice TV
Let's get the ball rolling on some of the best recommendations for a Sunday Roast in Singapore.
We would like to start the list with one of our favorites - Flutes. This is an unbiased recommendation, I personally love this room, the environment and above all, the food and the service. This list we are about to create - together - is to allow residents of Singapore and visitors to have qualified access to the best Sunday Roasts across the Island. Any establishment can be nominated and they will be listed here below - with your recommendation.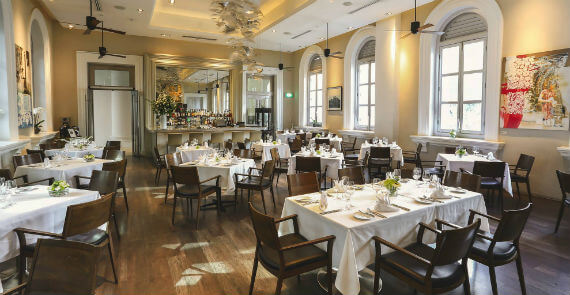 Like the image? Click to find out more
Flutes is a desirable location for weekday lunch and dinner but what excites our tastebuds is the Saturday, Sunday and Public Holiday brunch solution they offer. Even better on a Sunday they offer a delicious Sunday Roast of the day, but bookings are essential and often times private events take place over the weekend, so ensure the Sunday you wish to book is available to avoid disappointment. This is a premium location and the food is 10 out of 10. Mix up your Sunday Roast with Sunday brunch items so all on your table will be satisfied. Add the free flow selection such as Tenuta Ca'Vescovo Prosecco $60 or Perrier Jouet Grand Brut $90 and you are guaranteed a memorable occassion. menu Here. Full Contact and Location Details Here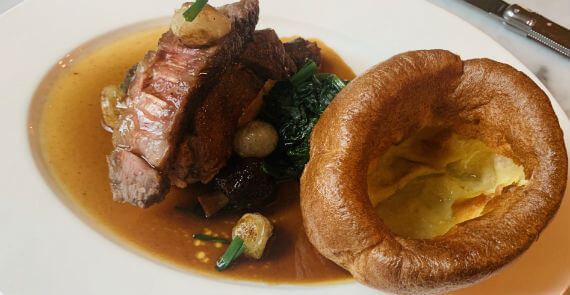 Walking into The English House, the three-week-old restaurant by British celebrity chef Marco Pierre White in Mohamed Sultan Road, you feel like you have entered a world where old England and Singapore merge. Located in two adjoining houses that date to colonial times, the original structures of the conserved buildings have been maintained. Wall design features were restored and, in parts where they have fallen beyond repair, replicated and aged so well that you have to look hard to see which is original and which isn't. Sunday Lunch is setrved 12 midday to 3pm. contact and location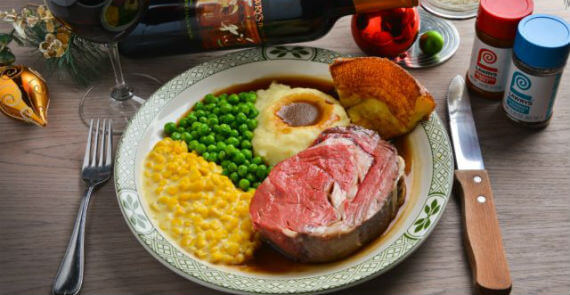 Lawry's has a vast menu with all kinds of different dishes, along with their signature prime rib — there is New Zealand King Salmon, Miso Cod with Roasted Mushrooms, Truffle Rosemary Crusted Lamb, Costa Brava Baby Back Pork Robs and Baked Spring Chicken to choose from.  Lawry's is one of the first international steakhouses from the USA to set up shop in Singapore almost 20 years ago. The waitresses are even dressed in outfits straight out of Beverly Hills in the 1920s and the decor is quaintly similar. contact and locaion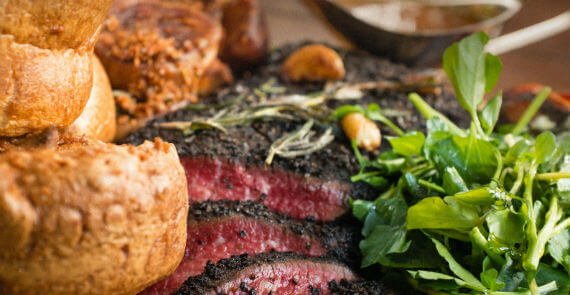 Like the image? Click to find out more
Oxwell & Co is a modern public house and dining rooms with a cool rooftop bar in the centre of Singapore's Chinatown Ann Siang Hill and Club Street. Quintessentially British Roasts are available on Sunday and the dining room is the perfect setting for a get together with family and friends. The Oxwell experience is made up of the 4000 sq ft space presenting each floor as a destination in its own right: the bar for refreshing tipples on the first floor the rustic yet elegant dining room on the second floor; and a private function room on the third floor that is reminiscent of a drawing room complete with eccentric British touches. menu Here. Full Contact and Location Details Here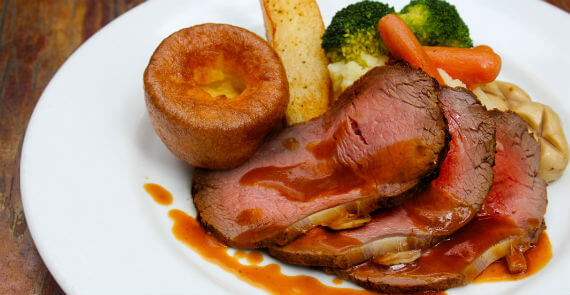 Like the image? Click to find out more
It is testimony to the strength of the Irish Pub concept that Muddy Murphy's is one of the oldest traditional pubs in Singapore. Weekends are a treat as Muddy's serves up one of Singapore's best-known Sunday Roast, between 11.30 a.m. and 4 p.m. Delicious slow roasted, hand carved Prime beef smothered in home-made gravy served together with creamy mash, daily vegetables and Yokshire pudding. The success of "Muddy's" is driven by having achieved that delicate balance between tuning in to the needs of local and foreign clientele whilst retaining an essentially Irish atmosphere. In addition to a wide selection of premium wines and spirits, Muddy's serves up 7 international beers on tap including Kilkenny™ (a creamy red ale) and Draught Guinness® (Ireland's most famous of beers). The menu includes traditional, hearty pub grub such as Beef and Guinness Pie and Irish Stew. menu Here. Full Contact and Location Details Here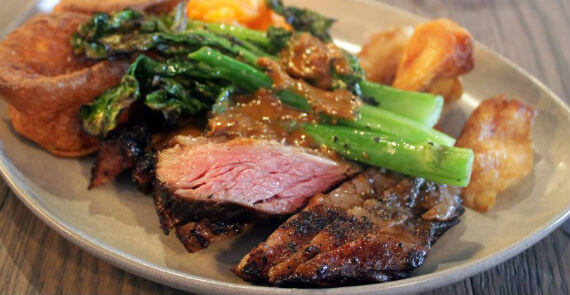 Like the image? Click to find out more image credit, Rubbish Eat Rubbish Grow
You can indulge in the Butcher Boy Crispy Pork Belly, Bacon & Cheese Burger, Japanese Tender Valley Rib Eye, United States Grain Beef Short Rib, Crispy Fish Skin and even the Duck Banh Mi to name a few. The Sunday Roast is served with Roast Potatoes, Yorkshire pudding, Asian Greens and Black Pepper Gravy. Butcher Boy Singapore is a contemporary style Asian Grill brought to you by the team at Cure Singapore. Knut Randhem, the award-winning head bartender has concocted Asian-inspired cocktail options such as the Smoking Carriage Cocktail - Dictador 20 rum, salted caramel syrup, bitters and orange, and the Butcher Boy Negroni - barrel-aged rum, white whisky and plum grenadine,  a hands-up-in-the-air fave. menu Here. Full Contact and Location Details Here
The Trenchard Arms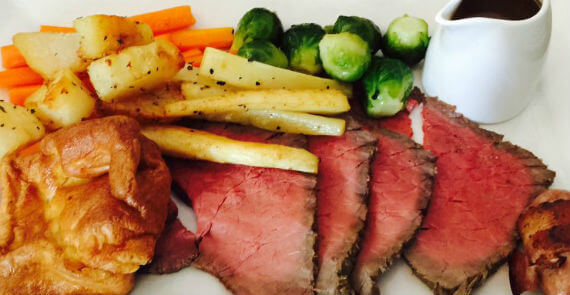 Like the image? Click to find out more
Simply put one of the best Sunday roasts you will find in Singapore. Try the roast pork with crackling, it comes with cauliflower cheese, broccoli, carrots, roast potatoes and a Yorkshire pudding. The food is totally delicious. You might even go for the roast chicken which is also delicious. This Roast will keep you going all day. The setting of Rabbit Carrot Gun ( who's kitchen services the The Trenchard Arms ) is great too. In an old converted shop house, with seating all around outside a stones throw for Katong I12. Plenty of parking is available just across the road. Also, keep in mind to arrive early or order in advance as the roasts sell out fast. menu Here. (Rabbit Carrot Gun ) Full Contact and Location Details Here
Little Island Brewing Co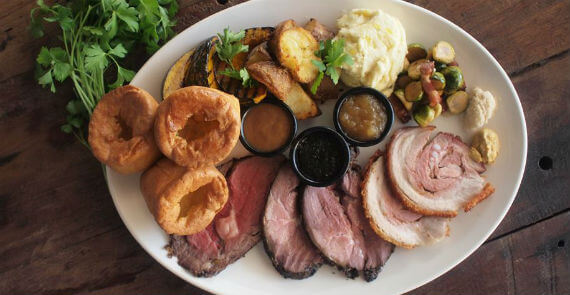 Like the image? Click to find out more
Based in coastal Changi Village, Little Island Brewing Co (LIBC) crafts beer that is authentic, down to earth and delicious and houses the micro-brewery, bar, kitchen, restaurant and alfresco area. Serving up our Sunday Roast from 12 to 3pm. Enjoy top-notch slow-cooked roasted meat that will elevate the dining experience to another level - the beer belly pork is marinated in coffee, chilli and cumin and is served with salsa verde, while the 15-hour smoked beef brisket comes with Memphis slaw, horseradish dressing and chimichurri sauce. Or try the fish 'n' chips - beer-battered sea bass fresh from the kelong and fries with tartar sauce and citrus salt. Contact and Location Details Here
Comments
Sunday Roast is a no brainer. I being Australian love a Sunday Roast. We were brought up on Sunday Roast, usually lamb, but in Singapore the cost of Lamb is almost prohibitive although you can find this selection at a few places across the Island. I'm off to The English House today to check out their Sunday Roast. Looking forward to some delicious food. Watch this space. I will be definitely reporting my findings here shortly.
The Trenchard Arms passed the Sunday Roast test with flying colours. I would have liked a little more pork but the overall meal was excellent. The venue was packed to the rafters and what looked like at least three seating throughout the 2.5 hours we enjoyed being there. Attached to the Rabbit Carrot Gun kitchen and owners, guests can choose to sit indoors or out. Well work a booking. And you must book in advance and even order your preferred type of roast being Pork or Beef, before you arrive as well...as they do sell out on the day...
My mouth is salivating just looking through this list. It reminds me of how I can't wait for Christmas...The Turkey, Ham, Pork, and all the trimmings...including pudding and then we can look forward to Sunday Roast each and every weekend for a whole year ahead...