What do you think about Best Oysters In Singapore?
Hero Video: Thursday Oyster Nights at Gaston Burgundy Bistro & Wine Bar
It is known that oysters can positively impact heart health in a variety of ways, but primarily, the high levels of omega-3 fatty acids versus omega-6 fatty acids are what impact the cholesterol so greatly.
So, we put this healthy option in to the spotlight here at Expat Choice because we want each and ever one of you to be exactly that - healthy, while living and working away from your home countries.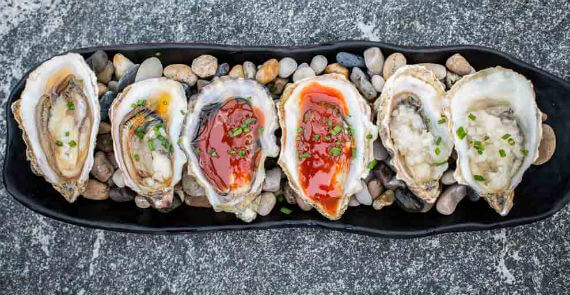 Located on the open-air rooftop of a refurbished heritage shophouse of 80 Boat Quay, Southbridge showcases the sexiest 360° view of the city, which spans from the historic Parliament House, across the Singapore River, to the iconic Marina Bay Sands and Clarke Quay skyline. Southbridge serves up modern cocktails and bubblies to go with the real headliner of the space – the impressive oyster and seafood bar. Dig into some fresh oysters at $24 for half a dozen ($20 during happy hour from 5pm-8pm daily). 
Sea Farmers @ Ubin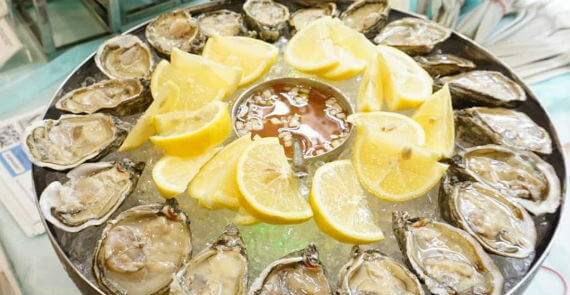 Sea Farmers @ Ubin is Singapore's own oyster. They specialize in growing premium Pacific oysters.  Every farmer knows that a lot of TLC goes in to growing anything. Therefore, they take great care in cultivating the oysters. Adopting an off-bottom culture, each and every oyster is individually attended to on a daily basis. Oysters represent one of the most nutrient packed foods with the lowest calories versus the volume of serving size. This means that people trying to lose weight can keep their body packed with the nutrients it needs, without adding too much weight on their frame. Oyster Online Store Here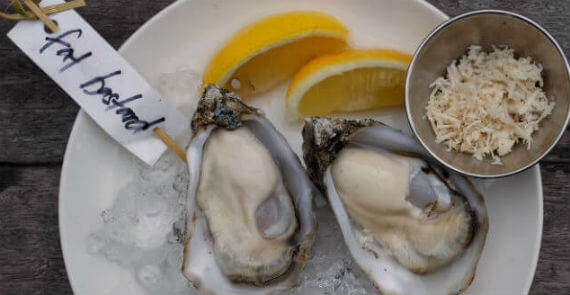 It all started with one trip to the Hama Hama oyster farm in the Pacific Northwest. With hands dipped in the coldest estuary of the region, shucking live oysters in waist-deep waters, eating them fresh...one holiday experience turned into inspiration for this breezy Seattle-style concept. At Humpback, expect the freshest offerings from sea, land, and garden, with ever-evolving flavours to sample as the seasons change.
And not to forget the Humpback Sunday Brunch features these little beauties. hama hama, hood canal, washington, usa 3 ea. clean, crisp flavours with a sweet cucumber finish. blue pool, hood canal, washington, usa 3 ea. deep cup, crisp and bright flavours with more body and an earthy sweet finish of a carrot. kennedy creek, south puget sound, washington, usa 3 ea. bag-to-beach grown, fluted shells, rich and notes of cantaloupe and the fat bastard, samish bay, washington, usa 3 ea. firm flesh, deep cup and clean taste of cucumber. Salivating yet?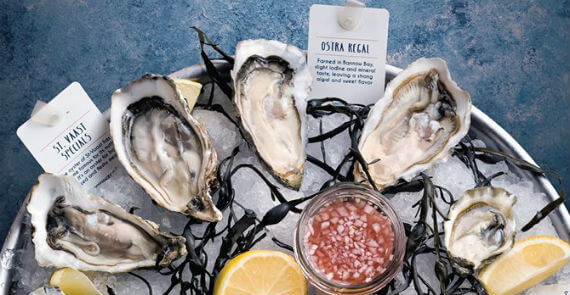 Located in the lovely vicinity of the One Degree 15 marina, is Greenwood Fish Market. Overlooking the beautiful yachts and tranquil waterfront housing, it features a refreshing ambience with a new menu to match. Greenwood Fish Market has taken pride in delighting customers through our culinary craft and seasonal menus. they import and retail exotic cold water seafood from all over the globe, including fresh oysters, swordfish, Boston lobsters, Dungeness crabs and more. Whether you choose to enjoy these seafood in the restaurant or to purchase them from their retail section, be assured that quality is their utmost priority. Moreover, with shipments that vary from week to week, you'll be spoilt for choice!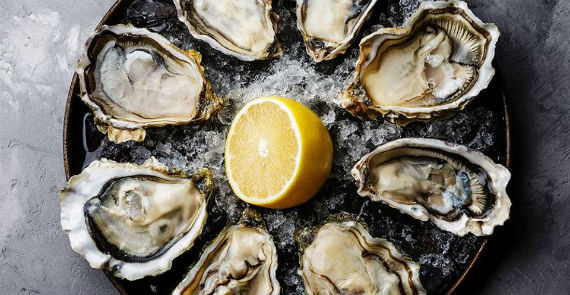 READ FULL ARTICLE HERE We just love this Thursday Oyster Night deal...
$20++ for 6 oyster
Purchase a bottle of wine at minimum $100++ and receive complimentary 6 oysters
Purchase a bottle of wine at minimum $150++ and receive complimentary 12 oysters
Deeply rooted in the Burgundian heritage, embrace classic homemade specialties from the region including Jambon Persillé, Truite a l'Aligotéand Éclair au Cassis at Gaston Burgundy Bistro & Wine Bar. With dishes crafted with the utmost respect for tradition, enjoy the freshest, seasonal ingredients sourced directly from artisanal producers at Gaston. A meal isn't really fulfilled without aglass of wine - look forward to an extensive selection of quality, great value wines of close to 350 labels from France and beyond.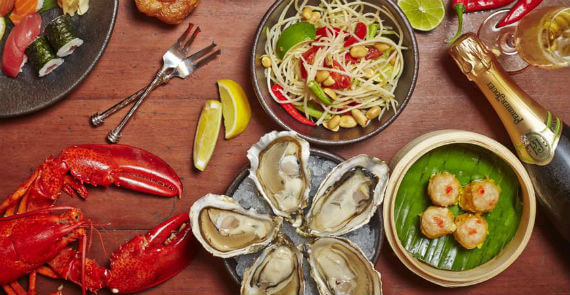 mezza9 located in the Grand Hyatt is the place to celebrate your Sundays with friends and families over free-flowing Perrier Jouët Grand Brut champagne, premium red and white wines, beers, mojitos with freshly-prepared international fare. Enjoy hearty selections from the grill including a weekly changing selection of spit-roasted meats, slow-roasted leg of lamb, a bountiful selection of fresh, certified sustainable seafood alongside a lush selection of Maine lobsters, Scottish brown crabs, Spencer Gulf king prawns and Pacific oysters for everybody's indulgence. 
Soak in the lively atmosphere of this dynamic restaurant as you enjoy nine different dining experiences all in one venue. This Oysterlicious brunch starts on the dot of 12 Midday and concludes at 3:00 PM, every Sunday. Prepare to pay S$108++ per adult, inclusive of fruits juices, soft drinks, coffee/tea (non-alcoholic), S$54++ per child (ages 3 to 12 years old). For an additional S$40++ per person, adults can enjoy free-flowing Perrier- Jouët Grand Brut Champagne, certified sustainable red and white wines, 9 hand-crafted gin and tonics, 9 signature martinis and Tiger beer or commit to an additional S$60++ per person and adults can enjoy free-flowing Perrier-Jouet Blason Rosé Champagne, certified sustainable red and white wines, 9 hand-crafted gin and tonics, 9 signature martinis and Tiger beer.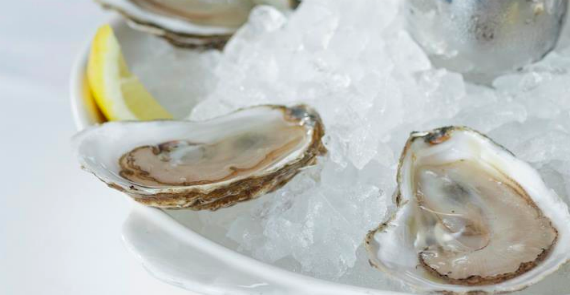 An inspired dining concept that fuses the old with the new, Luke's revives perennial classics of yesteryear in a stylishly modern, contemporary setting with a personal touch. Created to showcase produce from ranchers, fishermen, and farmers who toil our land and sea to provide the best possible, Luke's commitment to sustainable sources fulfills the credo of "We only serve what is at its best. No compromises. Everyday." Oysters are a plenty here. All Luke's seafood is sourced directly from my contacts along the Eastern Seaboard of America. The oysters in particular come from my trusted sources whom they visit each year.
These are the very best oysters the world has to offer. half dozen 48, full dozen 96. The Oyster Board Selection consists of WELLFLEET Massachusetts fresh & crisp with a balanced sweetness. KATAMA BAY Massachusetts good brininess & crisp. ONSET Massachusetts mildly briny with a sweet finish, BEAU SOLEIL Prince Edward Island small & pleasantly briny with a sweet finish. The SHAMROCK Prince Edward Island mildly briny & plump with a sweet finish and the deliciously gorgeous SAVAGE BLONDE Prince Edward Island plump, fresh & crisp with a seaweed finish. Divine!
Enjoy the taste sensation
Comments
There are $1 oysters at the Japanese restaurant located at The Link hotel in Tiong Bahru.
You missed out Singapore's own oyster farm, Sea Farmers @ Ubin! Check them out here www.seafarmers.sg
Great article, I have been to nearly all of these places and I am always impressed with the high standard and quality of oysters here in Singapore.