What do you think about ATLAS conjures up a fabulous set lunch to end 2018 in style?
ATLAS Executive Chef Daniele Sperindio has conjured up a fabulous set lunch to end 2018 on a high note.
ATLAS is on the the ground floor of one of Singapore iconic art-deco Parkview Square a few minutes walk from Bugis.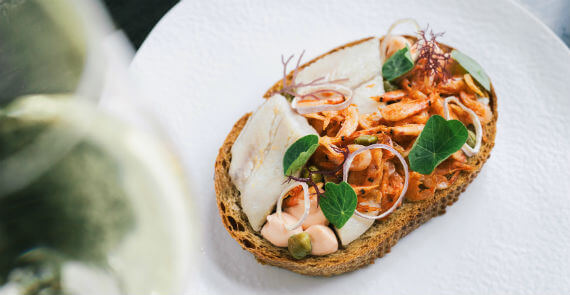 Smørrebrød Rye Bread
Kick off the set lunch with the smørrebrød rye bread with pickled herring, baby prawns and salmon mayo. This cherished Danish open-faced sandwich features a toasted rye bread, topped with pickled herring and sweet baby prawns. 
Head Sommelier Lucas prescribes a glass of Juliusspital Wurzburger Riesling Troken 2014 from Germany to further heighten the dish.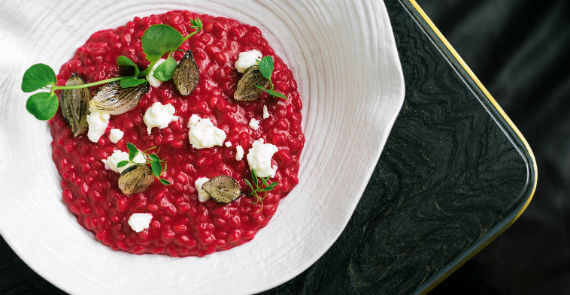 Barley Beetroot Risotto
Chef Daniele then has concocted a barley beetroot "risotto", topped with charred onions, berry vinegar and shoots. Served with feta cheese, berry balsamic vinegar, charred pickled pearl onion and pea tendrils, this creamy dish showcases Chef Daniele's Italian roots, allowing the fresh ingredients to shine. 
The Sommelier also suggests a glass of Bernhard Huber Pinot Noir 2014 also from Germany, with its red cherry, red currant and blueberry notes with hints of sweet spices to accompany the dish without ever doing it.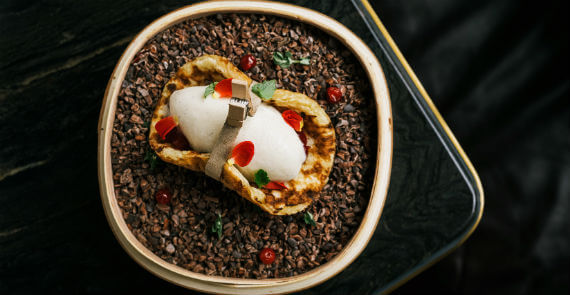 Nordic pancakes
Top this all off with Nordic pancakes with honey-thyme ice cream, lingonberries and fennel is one of the ways to conclude this lunch set. Fennel tops cooked in sugar, raspberry and black pepper coulis and honey-thyme ice cream is delicately wrapped in an oven-baked pancake, decorated with lingonberries. 
To further bolster the dessert, the Sommelier proposes a glass of Zilliken Rausch Riesling Auslese 2016 from Mosel, Germany with notes of ripe grapefruit, blood orange, honeydew and white tea with a dark slate minerality.
By then you will need to lie on the couch at the office - or throw it all on the fire and go to their marvellous bar.
From a sophisticated business lunch to a restful respite from the hustle and bustle of Singapore, the ATLAS Executive Lunch offers a choice between two or three courses and a wine pairing option developed by the Sommelier for those looking to for a little pampering. 
The executive lunch menu is available from 12.00pm to 2.30pm, Monday to Friday. Prices start from a very reasonable SGD38 for a choice of two courses or SGD48 for the full three-course meal. 
The set lunch can be further elevated with specially curated wine pairings which are available for an additional SGD24 for two courses or SGD30 for three.
ATLAS is at Parkview Square, 600 North Bridge Road, Singapore 188778
Comments
Can never go wrong at Atlas, let alone them setting up a lunch to end 2018! Fantastic!