We may not be able to travel across the Causeway just yet with border restrictions in place, although we want to remind you of this gem. Nestled in Johor's outback, Rider's Resort is the perfect getaway.
Enjoy an ensemble of activities for all ages. After a whole day of adventure, come home to one of the 25 rooms and indulge in a hearty well-deserved meal from the Riders Resort kitchen, serving international and local delights. Then wake afresh to enjoy an a la carte styled breakfast of local and European flavours prepared fresh to order.
Riders Resort is a big home with many rooms, a bar, big kitchen, a beautiful garden and a stable with well-kept horses. Many expats have known Riders Lodge (the previous name) over the past number of decade as a favourite place to visit with family, just a short drive from Singapore although, overtime the property did become a little rundown and needed some tender loving care to bring it back to its glory days. Guests fell at home at Riders Resort welcomed, comfortable, and relaxed - in a place they can dress down and chill.
The new owners of Riders Resort, who acquired the property in 2019 have invested time and money focusing on the infrastructure behind the day to day maintenance of this cherished building to make this home away from home, cleaner, more comfy environment. Baths have been removed, so all rooms now have a shower. Water is clear and clean with double filtering throughout the property. Regular training and up-skilling of the Riders Resort legendary staff is an ongoing project, to bring you - their welcomed guests - back closer to nature and be in the company of happier, healthier horses.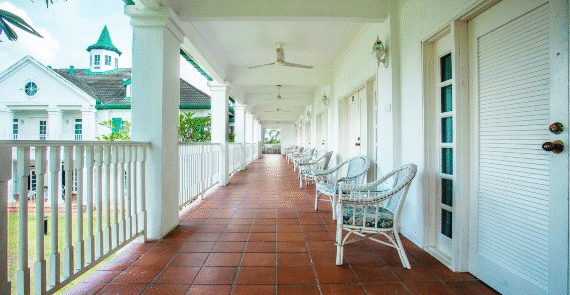 The Riders Resort stables offer horseback riding, riding lessons and trail rides. The Resort also facilitate riding camps, children's camps, honey moons, wedding photos, team building camps, corporate retreats and so much more.
There are three types of rooms available at Riders Resort. The Manor Suite is the largest, with a capacity of up to 6 guest. Then comes the large Manor Deluxe Room which has a capacity of up to 4 guests and the Veranda Rooms are our most economical rooms, with a capacity of 3 guest. All rooms are fully furnished with modern bathrooms, WIFI, safe box, dressing table, luggage rack and sufficient space for riding and golfing gear. Not to forget, all rooms are non-smoking.
Children get to enjoy more outdoor activities and nature while at Riders. So, instead of being glued to a television, traditional activities for childrens' entertaiment have been implemented, such as the pure enjoyment of a swing under the tree.  Lots of outdoor games including basketball, badminton, football and many Malaysian games such as chong kat are available. Parents love this unique experience for their children, as kids tend to watch TV at home, so it is fit at Riders Resort, it's back to nature.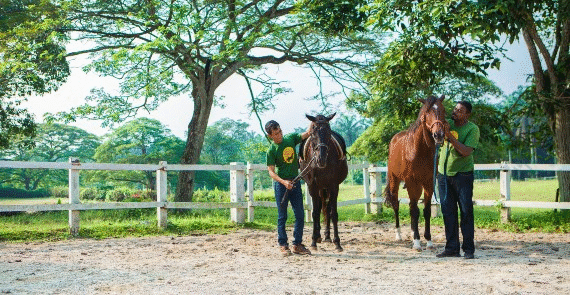 The premise and manor were built in 1999 with the vision of creating a truly unique experience in Malaysia, bringing together classic colonial aesthetics with a passion for horses and horse riding. The owners designed a resort that truly invokes freedom, lifts the spirits and lets you ease your mind.
Over the 20 years the team has been working and refining services, meriting numerous awards over the years on platforms such as Expat Choice and TripAdvisor. The staff are well trained and highly experienced, and sure to provide you with the utmost care and safety throughout your stay at Riders Resort, whether you are on your first lesson or a seasoned rider.
Riders Resort school camp programme has also been modified to be more horse specific. It's a full programme on horse management and riding. At the end of their two day stay, children will have acquire knowledge on Horses and how to care for these beautiful and intelligent creatures.
Similarly,  Horse riding camps are designed to be horse specific as well. The Riders Resort mission is to see children Empowered with more Confidence. Enriched with better Social Skills all while Enhancing cognitive abilities.
Interested in learning to horse ride? Riding a horse can be an amazing experience for anyone, especially for kids. Riders Resort offer horse riding lessons all year round. All horses are people friendly and you can rest assured, your riding needs are delivered in a safe environment with safe horses at Riders Resort.
INFORMATION
A. Lot 1302, 81000 Sedenak, Malaysia Inside the Legends Golf and Country Resort