Alexander Knight is not your typical foodie. He is a formidable presence in the expat community in Singapore and has been so for over 20 years.
His reach encompasses award-winning publishing, entrepreneurial mentorship to property advisory and investment for expats. He is a family man and a well-educated Englishman that has plenty to say on numerous subjects. Expat Choice welcomes Alex as a guest reviewer on a wide variety of segments in the expatriate space.
13% Gastro Wine @ Telok Ayer Street
There is something about wine bars in the CBD that can make them a hit or a miss. Sometimes they are overbearing or they can be hugely overpriced and characterless. Fortunately the guys at 13% Gastro Wine @ Telok Ayer Street have found a sweet spot.  Hidden in plain sight, this fabulous little wine bar and restaurant is one of Singapore's cutest. Located on the second floor of a shop house opposite Telok Ayer Park it is ideal for an after work rendezvous or assignation.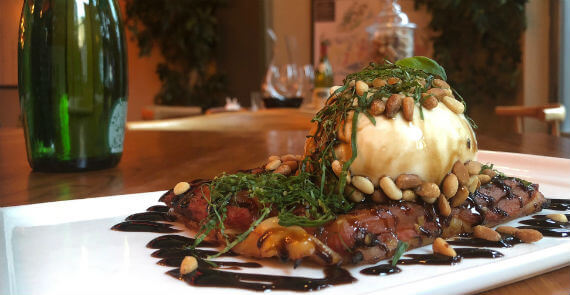 Louis Demeure, the guy who runs the 13% Gastro Wine @ Telok Ayer Street outlet of the burgeoning 13% Gastro Wine group, is charming and ebullient. He walked us through the dishes served that evening and kicked off with the house '13% Champagne' from southeastern Champagne Region in France. Then the food started arriving: we started with a very moorish warm, fluffy and crispy cheese puff pastry called Gougere with a roasted garlic tomato dip.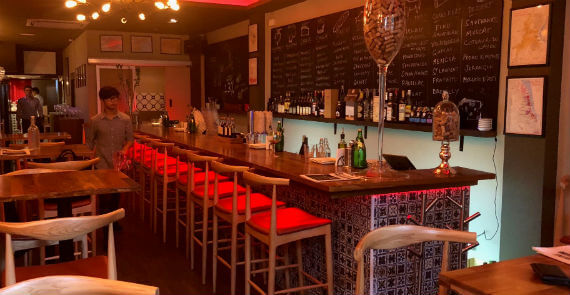 This was followed by a Tomato - which was actually a confit of tomatoes, roasted pine nuts, Burrata cheese, basil and a balsamic reduction. Beautifully served with an Instant Blanc, Domaine Berthier wine. This Tomato was pretty big - all these dishes are for two.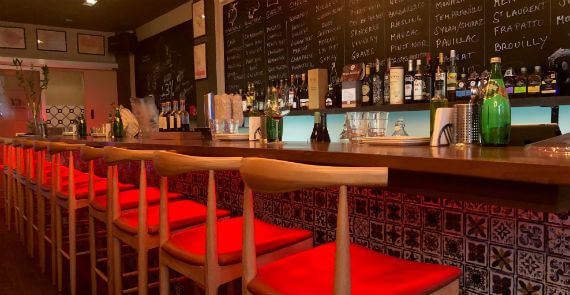 An amazing octopus then arrived on cue - all the way from Malaga in Spain. This was grilled, having been marinated with fresh herbs and paprika first. It looked scary, but was really good. The chefs - toiling away in their open plan kitchen at the back - are tip-top. The cheese platter finished up the evening. It was an amazing selection of both cow and goat cheeses with was accompanied by a fabulous Chiroubles, Domaine Piron from Beaujolais. 13% Gastro Wine @ Telok Ayer Street is well worth a visit. There is a wide selection of maps of the wine regions of France on the walls, so it's worth taking your time. Call the boss first and ask him to decant a bottle or two before you arrive. contact and location
THE SAMPAN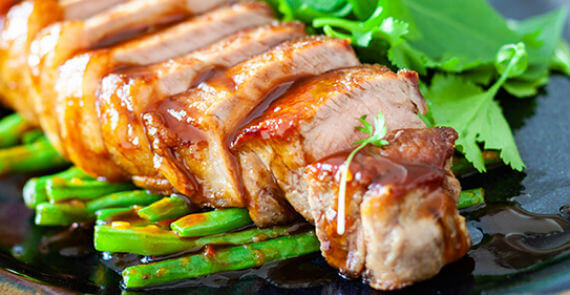 The latest dining destination, located in the heart of Boat Quay. The SAMPAN pays homage to the history of the Singapore River with a unique Pan-Asian cuisine and an eclectic range of beverages.
Breathing new life into a national icon, The SAMPAN delivers fresh and bright flavours of Asia in its vibrant menu, with both indoor dining option and alfresco dining by the picturesque waterfront. This three-storey Restaurant & Bar offers the perfect mix of a lively atmosphere and an intimate setting – ideal for any occasion. contact and location
New Boat Quay bar and restaurant, The Sampan, takes its name from the flat bottomed Chinese wooden boats of the type used before containerisation took hold in the 1960s. Boat Quay was the first port in Singapore to have offices, warehouses, godowns and jetties built along its banks in 1823 and The Sampan prides itself on explaining and being part of the history of Singapore River and Singapore's early days. 
The Sampan recently had its grand opening with the longest and loudest (!) Lion and Dragon dances this reporter has ever experienced in 12 years of living in Singapore. Fortunately, the dancing and music was accompanied by some spectacular bar bites - with Vietnamese type slider/sandwiches and mini-chop like concoctions being the most moorish.
Their mixologists came up with some interesting takes on highball and negroni cocktails - but I am delighted to report that Aspall Suffolk cider is on draft! This is one of England's oldest cider makers who have been libating English folk for longer than Boat Quay has been around - well worth having a pint or three. 
There is a private bar at the top of the building and a full sit down restaurant on level 2 - we will report on the food there once we have reviewed it. Watch this space! Peroni is also on draft - so this new bar has gone to my number one spot for after work drinks along Boat Quay. Get dropped off at the Elgin Bridge end and it's a short walk.
LAVO Brunch at Marina Bay Sands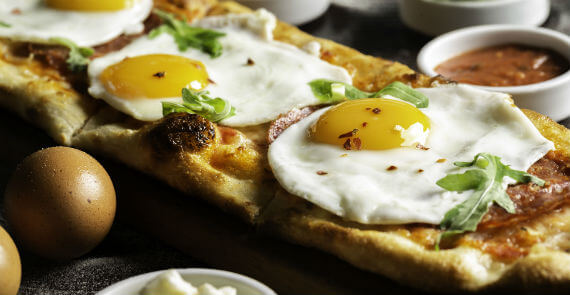 The Marina Bay Sands is frequently viewed as that icon out by the bay that will end up costing you an arm and a leg for a pizza and a beer. When it opened in 2010, at S$8 billion it was the world's most expensive standalone casino property - so they needed to make their money back!
In the eight years that have passed, a plethora of restaurants and bars have come and gone - anyone remember Ku De Ta? - and the top of the building has been really very hit and miss with F&B outlets. LAVO changes this and - with its unique position at the  'stern' of the ship, it is one of the best spots at the MBS.
The food is superb Italian/American style fare - try the one pound meatball (S$38) made with fresh ground Imperial Wagyu, veal and Italian sausage. The spinach and artichoke pizza with mozzarella, roasted garlic, black olives and mushrooms (S$30) is unusually shaped but very tasty.
I commented that beetroot isn't on the menu much in Singapore (to find it the same day elsewhere) and the roasted beet goat cheese, citrus, toasted almond, sun dried tomato vinaigrette (S$24) was excellent and extremely healthy.
There are oysters and clams to kick off with, as well as shrimp and lobster cocktails. The wine list is pretty reasonable - providing the perfect setting for a dreamy afternoon of pleasure looking the never tiring vistas of Singapore and the straits. Rating 7.75/8 < more here
The Greenwood Fish Market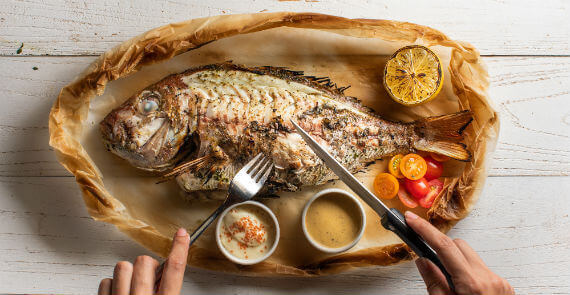 The Greenwood Fish Market @ Dempsey Hill is the latest addition to the burgeoning Greenwood Fish Market empire of European style fish restaurants. Set in a cavernous space at the back of Dempsey Hill, the ambience gives you the impression that you could be at an exclusive spot near the Mediterranean (although as we're in the tropics, I would avoid issuing next to the window as they sun is pretty relentless!) 
The staff are extremely friendly and helpful - and are all familiar with the menus and can offer recommendations, but this really is the kind of place that you go all in and order the Cold Seafood Platter for 4, a bottle or two of the Guy Saget Pouilly Fume, followed by a whole Dory that is cooked to perfection. The apple crumble for desert is epic - it reminded this reviewer of his grandmother's spectacular crumbles from the last century. The fish and chips is worth a shot too, should you be so inclined, but salmon and chips did seem a bit of peculiar choice. I am told by one of my companions at the lunch that the burgers are simply 'Die Die Must Try!' 
The Greenwood Fish Market @ Dempsey Hill is perfect for romantic dinners overlooking the forest - and for boisterous lunches with the family. It may be a bit tricky to find, but once there it's well worth the effort. Rating 7.25/8 < more here
Rizu Singapore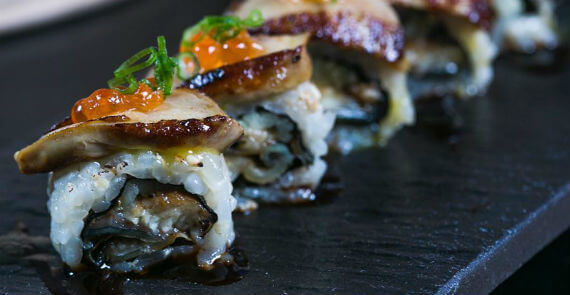 Restaurants come and go in Singapore, Rizu is the latest addition to the Duxton Hill scene. It replaces the unexceptional - apart from the cost - Club 39.  Rizu is an excellent and cosy replacement with space for about 30 covers and tables for al fresco dining. The place is understated, but perfectly decorated - it could be from a modern Japanese movie set. The staff are accommodating, especially as I had my five-yaer-old son along as companion for the degustation sitting. It was lots for me, my son, Philip, valiantly ploughed through as much of it as he could. We both loved it overall and this is a great addition to the local scene.
The degustation menu was mostly epic. Eight courses of the best that chef could offer. The Japanese, like your English reporter, are massive fans of salmon roe. Having stuffed myself with black caviar - ahem - in the 90s in Russia, I now prefer the little pink eggs. We were presented with an epic set of food that could be considered one of the best Japanese dinners I have ever had in Singapore. 
I would avoid the ikedukuri – live seafood sashimi - I think there are certain sea creatures that are in need of cooking or just avoiding altogether - lobster is essentially a giant sea bug, bottom feeder and abalone is just a really odd texture cooked or uncooked. I will be sticking to slightly less adventurous tuna and salmon sashimi in future. 
The Nigiri sushi was much more up our street and the tuna, salmon and mackerel were fabulous.  Foie gras is a bold addition to the rolls - and eel with foie gras was something really special. The wagyu and black cod samplers were also fabulous. The rice bowls were eclectic and felt a bit just like a little too much - as it's essentially just deconstructed sushi from earlier courses. All in all, it's definitely worth a trial - it's a solid, quiet contemporary place to relax after a hard day's work. Rating 8/8 < more here
What to join the ranks of guest reviewer? reach us at [email protected]
Yellow Pot: Yet Another New Take On Chinese Cuisine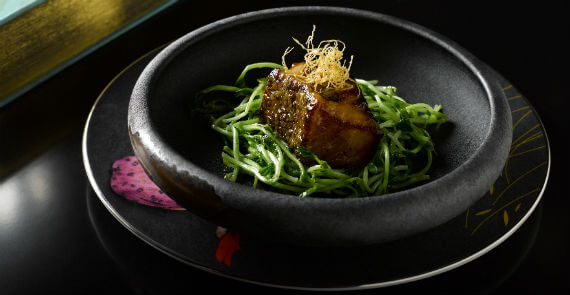 Baked Sea Bass
Yellow Pot, located at the swish new hotel Six Senses Duxton, is a classic 'Chinese food, re-engineered with organic and sustainable ingredients' kind of place. The food is good to a point, but the reality is that, despite the fabulous decor and chic setting, it's just another contemporary take on traditional Chinese cuisine.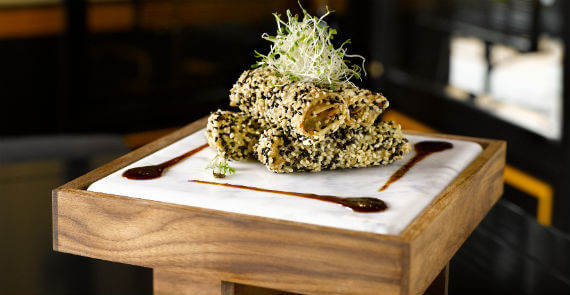 Braised Duck Spring Roll
The terms luxury and sustainability aren't usually two words that one finds in the same sentence, however, set in a row of beautifully restored shophouses in Singapore's Duxton enclave, in the Tanjong Pagar area, the Yellow Pot satisfies nearly all senses and pulls off the schtick. 
Once inside, designer Anouska Hempel has conjured up a cosy, luxurious space with contrasting blacks, golds and yellows - lots of cushions, nooks and crannys. It's all strangely reminiscent of a Shanghai Tan outlet. The degustation menu served was a solid mix of dishes that Chef Sebastian Goh had plainly put his heart into. 
The chilled organic vine-ripened tomatoes in a "Li Hing" plum infusion (S$8++) was melt in the mouth - the plum fusion more or less cancelled out the taste of the single tomato though. This was followed by seared pork cheek, with cumin, chili, mango (S$12++), then a really excellent hot & sour soup with wood ear mushrooms, bean curd and Sichuan chili oil (S$12++).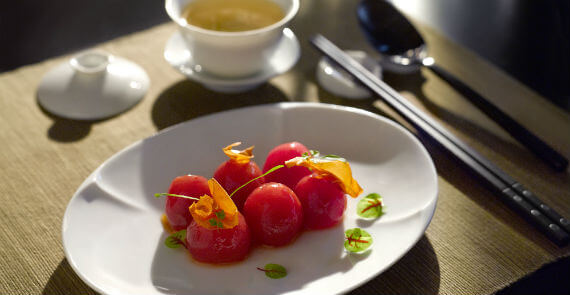 Chilled Organic Vine-ripened Tomatoes
The roasted duck with fermented bean curd marinade (S$32++ for half a bird) was sadly quite dry; the wok-seared organic grass-fed beef tenderloin with himalayan salt (a new one to me!), crushed tellicherry peppercorns, honey, crispy garlic (S$36++) was beautifully cooked. 
This was followed by a forgettable braised Malaysian white cabbage (S$12++), followed by the an uneventful steamed Kühlbarra barramundi with scallion-ginger pesto (S$22++), however the braised sweet & sour eggplant (S$14++) was a real crowd pleaser.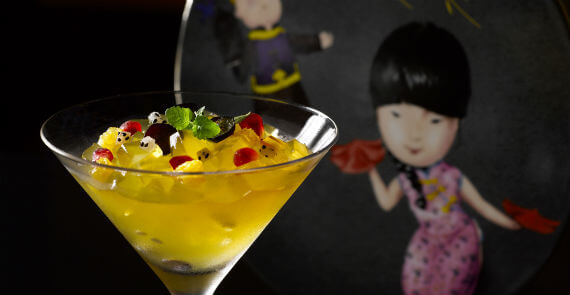 Lemongrass & Calamansi Jelly
Avoid the lemongrass & calamansi Jelly (S$8++) as I'm quite sure there is a superior version in the food court across the road. Rating 6/8 < More Here
What to join the ranks of guest reviewer? reach us at [email protected]
Jade's Dim Sum Treasures at the Fullerton Hotel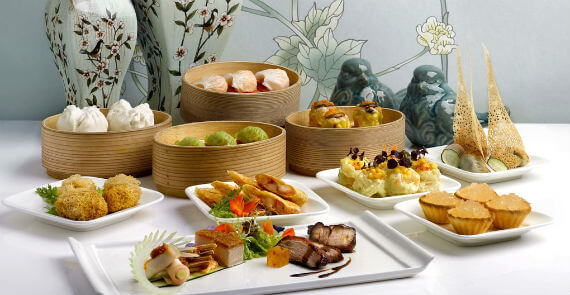 There is nothing else in Singapore quite like the anticipation of dim sum, except when it is at one of the world's most iconic hotels, in a restaurant that is straight out of a movie.
The expectation produces an adrenaline rush and increases one's hunger - and that was fortunate as this was one of the best lunches of 2018 — nay, ever! The amazingly sumptuous dining room at the Jade's Dim Sum Treasures at the Fullerton Hotel greets you with a feeling that you are that lucky kid who has been given the keys to the candy shop.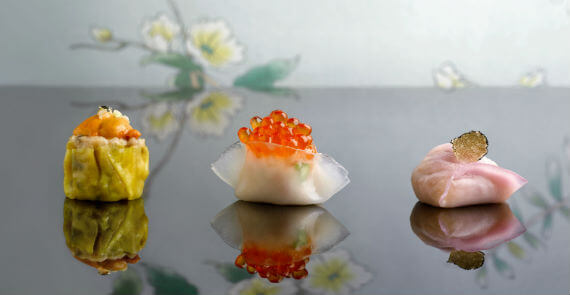 The decoration is simply like nowhere else - with hand painted wall coverings and luxurious ornaments peppered around the high vaulted space. Having been ushered into a delightful private room, the flow of exquisite Chinese teas started flowing, followed shortly by one of the most extensive tasting sessions of all time. It's literally all good - no, great!
Order everything and be sure that you don't eat for at least 24 hours before lunch. The people at the Fullerton are some of the best trained in the world and this Singapore National Monument marks 2018 as its 90th anniversary, so make sure that you get there to see all the various events that are taking place (after your sumptuous lunch, of course).
They are also hosting Singapore's inaugural Fullerton Concours d'Elegance from June 29 to July 1, which will include the largest ever display of cars owned by the Sultan of Johor - is there any COE to pay? Rating 8/8 < more here
What to join the ranks of guest reviewer? reach us at [email protected]
Two Chefs Bar Mexican & Italian Holland Village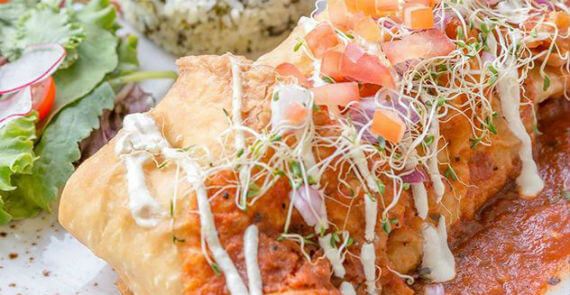 Having created and run the eclectic concept of serving two cuisines from one kitchen for over two years in Sentosa - they were awarded the 2018 Certificate of Excellence from TripAdvisor for the consistently high ratings and great reviews, Two Chefs Bar Mexican & Italian recently opened their latest venue in trendy, expat central Holland Village.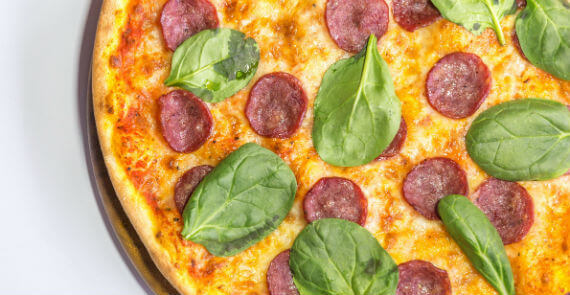 Holland V has long been a foodie mecca and this latest addition to the village serves family favourites such as Pepperoni & Cheese pizza (beautifully prepared with mozzarella, pepperoni and baby spinach - ample for two adults) at $24 and Northern Mexican Chicken Fajitas (the sizzling pan is a real crowd pleaser) at $22 and Cheesy Tacos (being improved by one of the chefs - they were a little soggy) at $20.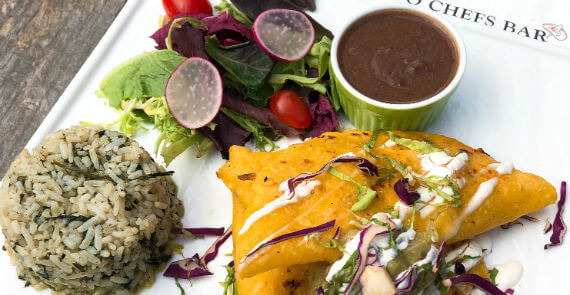 It's a fun, casual dining restaurant to eat, drink and be merry, in addition to an ample sized indoor seating area, the outdoor area caters for those who like to dine al fresco as the Italians say or al aire libre as the Mexicans do.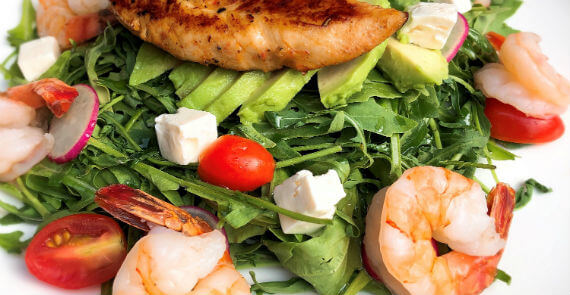 The lovely people at Two Chefs Bar Mexican & Italian run a full bar, have some great all day offers on their drink prices and are running a promo for our fabulous readers:
Mention code "Expat Choice Two Chefs Bar HV" when ordering, Two Chefs Bar Mexican & Italian will give you a 10% discount on your total food bill. Terms and Conditions: Valid only at Two Chefs Bar Holland Village. Valid till 31 August 2018. Only one discount/code applicable (discounts and codes cannot be combined). Buen provecho and buon appetito!Rating 5.75/8  < more here
What to join the ranks of guest reviewer? reach us at [email protected]
Lawry's The Prime Rib Singapore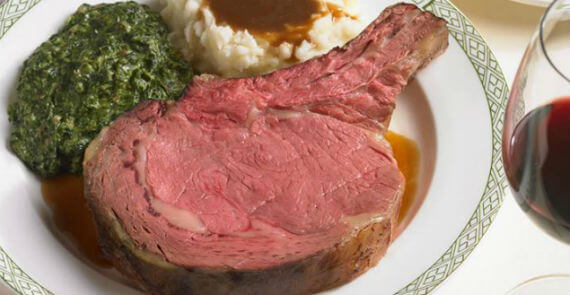 For those with a hankering for old school prime rib, Lawry's on Orchard Road, is celebrating its 19th anniversary. Having opened in the halcyon days of the last millennium and Y2K (remember that?!) it is one of the first international steakhouses from the USA to set up shop in Singapore. The waitresses are even dressed in outfits straight out of Beverly Hills in the 1920s and the decor is quaintly similar.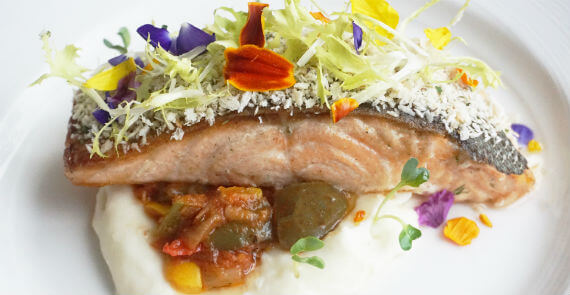 Lawry's has a vast menu with all kinds of different dishes, along with their signature prime rib — there is New Zealand King Salmon, Miso Cod with Roasted Mushrooms, Truffle Rosemary Crusted Lamb, Costa Brava Baby Back Pork Robs and Baked Spring Chicken to choose from - but, sadly, the carvery seems no longer a central part of the set up.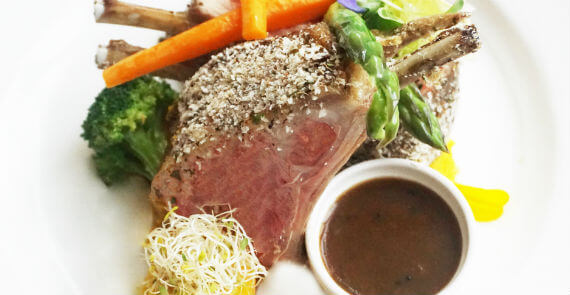 The effusive and charming staff served up a grandiose anniversary tasting menu consisting of a curious appetiser blend of gyoza, scallops and foie gras.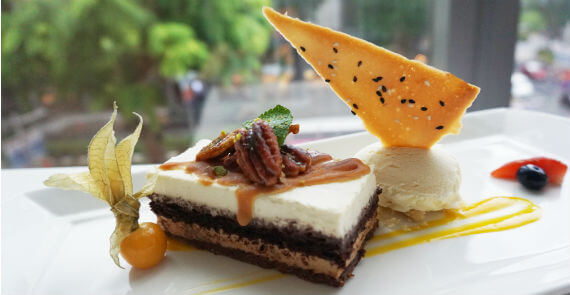 This was followed by beef with Yorkshire pud, then salmon and lamb plated up together and then a selection of deserts. Lawry's are also providing a set - so those of you who want to transport their dad's back to their first millennium, this is the place. Rating 6.25/8 < more here
What to join the ranks of guest reviewer? Reach us at [email protected]
Comments
I'm really like reading your reviews Alex. You seem authentic and too the point. You also have a wit which is awesome
This looks amazing!! Can't wait to try, thanks for sharing this!
Loving reading these ditties - it's good - no it's more than good it's great - to have some honest opinion when it comes to dining out in Singapore. Some of these online - and off line magazines just say everything is great - and it's certainly not - thank you Alexander