What makes Plank Sourdough Pizza's taste so good? It is in their pizza bases which are made with the same long, slow fermentation process as used in the production of their famous Baker & Cook sourdough bread.
Enjoy "darn good sourdough pizza" by Global Baker Dean Brettschneider at home. Serving at outlets across Singapore since its launch in 2015, Plank Sourdough Pizza is proud to unveil its retail range of halal-certified frozen pizzas.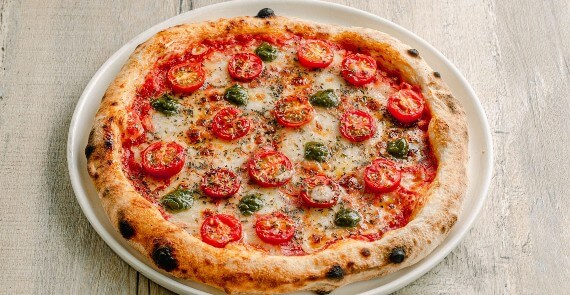 Image: Plank Sourdough Queen Margherita Pizza
Plank's hand-stretched frozen sourdough pizzas are now available at 26 FairPrice Finest outlets island-wide. Plank Sourdough Pizza is different. If you are a lover of thick crust, oily, cheese-laden pizzas, preservatives, improvers and frozen ingredients…do not buy Plank.
Plank Sourdough Pizza pride themselves on serving clean, freshly made, hand-stretched, sourdough pizza bases topped with interesting, quality ingredients… and a sprinkle of personality of course! As with anything that is of handcrafted quality, this is not a quick process – good food takes time.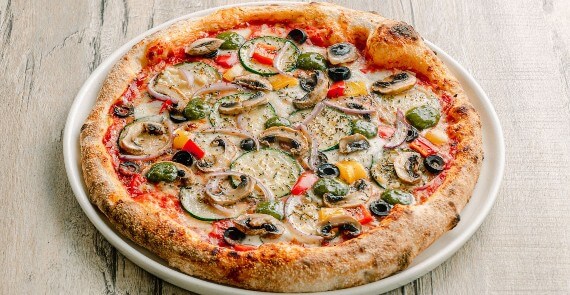 Image: Plank Sourdough Supreme Veggies Pizza
Fans of the Plank's famous sourdough pizzas can now look forward to four mouth-watering options; Beefy Pepperoni, Queen Margherita, Spicy Hawaiian and Supreme Veggies – a variety of flavours specially-created for discerning grocery shoppers.
Plank Sourdough Pizza bases are prepared the traditional way by pressing and stretching (no rolling pins here!). Using only the best quality and carefully selected ingredients Plank top their pizzas with a variety of cooked, fresh and cured ingredients.
No greasy cheddar or dried oregano here, Plank use only fresh balls of mozzarella and garden picked herbs.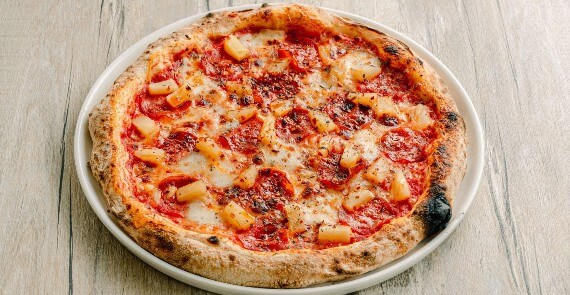 Image: Plank Sourdough Spicy Hawaiian Pizza
Plank's perfect pizzas with a delicious, smoky crust wouldn't be possible if Global Baker Dean Brettschneider had not gone on a quest for the best oven for his sourdough pizzas. His journey brought him to Florence, Italy, where he met with the Valoriani family — a fifth generation-owned manufacturer of artisanal bread ovens.
Each (25cm) sourdough pizza is priced at $14.90 and for two of the pizza options in the range, Global Baker Dean Brettschneider has conjured up a unique sachet of oil infused with chilli or truffle, adding zing to the baked pizzas.
Visit Plank Sourdough Pizza In store at these locations
Comments
Plank Sourdough Pizza pride themselves on serving clean, freshly made, hand-stretched, sourdough pizza bases topped with interesting, quality ingredients.
Being someone who would never imagine buying a frozen pizza from a supermarket, I decided to find out what the rave was about. The two pizzas I selected came with plastic packets of truffle oil and a chilli sauce which sounded like a new experience. I had dined at Plank before and many friends often raved about their pizzas. This supermarket product has obviously been researched at length to re-produce the best quality frozen product, akin to what is served in their restaurants. What a great idea if this was good? Shoppers could throw a few pizzas in their basket which could be a filler for the kids ( although this is an adult pizza no doubt ) or a meal for unexpected guests at dinner. Reading the instructions on the back of the box it would only take 12 minutes from freezer to pre-heated oven on 220F. How impressive! Having never bought a frozen pizza in my life I decided to follow instructions to the tee. Thank goodness for that! Interesting that I would ordinarily put the pizza on a tray but this required me to place it on the oven rack instead. As the oven timer sounded I noticed the pizza base was brown and it was ready to be taken out. Couldn't wait to try this! Not only did it look gourmet it smelt great too. But wait! The oils had to be poured over the pizza first. Packed in a small sealed plastic packet the truffle oil that came with the Supreme Veggies pizza and chilli sauce that came with the Spicy Hawaiian pizza, instructions were to place the packets in hot water and pour over the pizzas once the frozen oils became liquid. Ok all set to go. I took my first bite into the pizza and found the crunchy sourdough base really delicious. The pizza was stunning. I would never know that it was a frozen product bought from the supermarket at $14.90. What a deal! The oils made a huge difference. They added a lift to the pizzas! An added bonus was that the pizzas are halal too. That means Plank created these to be completely inclusive and took into account everyone with food preferences including vegetarians. How divine! Available only at the 26 FairPrice Finest Outlets I thought these would provide a good backstop for a lazy night out of the kitchen. The idea of having a few boxes of pizza in my freezer sounded like a plan. You might want to consider doing just that too!