It is that time of year when we scramble to find the best dumplings in town. The Dragon Boat Festival has started and will carry on till the Thursday 25 June 2020
Wan Hao Chinese Restaurant at Singapore Marriott Tang Plaza known for their fine array of expertly crafted dumplings, are once again churning out these popular favourites.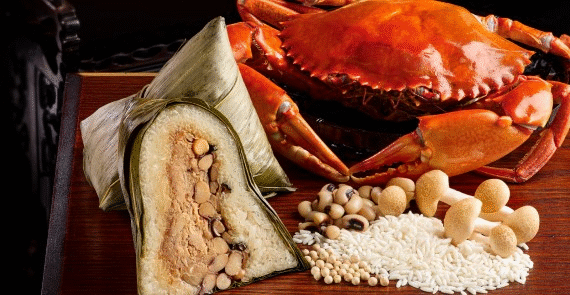 Images : Abalone & Conpoy Chicken & White Pepper Crab
Going beyond the classic Signature Pork and Salted Egg Rice Dumpling, Wan Hao has created new treasures like the 10-Head Abalone & Conpoy Chicken variety.
Unwrapping the lotus leaf is part of the experience when eating a dumpling. The fragrance in itself lends an anticipation to what is to come. With smooth textures, the steamed rice was so deliciously steamed with very balanced consistency of filling.
Why so flavoursome you might ask?  Filled with chicken, abalone, conpoy, Chinese sausage and chestnuts how could it not be? Just the 10-head abalone  is cooked for 3 hours in superior stock. So one can imagine what else goes on behind the scenes to get these old-school favourites out the door.
Making its debut is the nutrient-packed Wild Mushroom 5-Grain Vegetarian Rice Dumpling (S$14) that packs a punch of varying textures and flavours with every mouthful. Rich in dietary fibre, nutrients and vitamins, this healthy interpretation of the well-loved rice dumpling scores high on the taste scale too.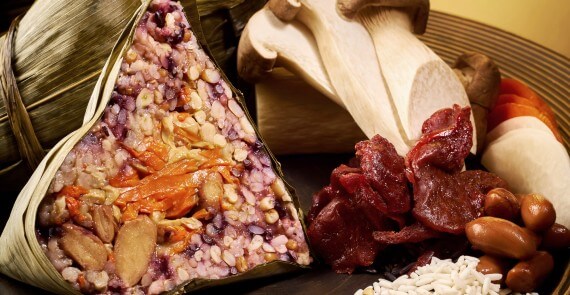 Wild Mushroom 5-Grain Vegetarian Rice Dumpling
The leaves swaddle a dazzling variety of fillings: black truffle, cordyceps flower, king mushrooms, married with vegetarian bak kwah, black fungus, turnip, carrot, braised peanuts and cabbage, and a medley of grains including brown rice, sorghum rice, oats, barley and pearl rice. In this East meets West creation, each parcel is elevated with the fragrant notes of black truffle.
Much to my surprise the Wild Mushroom 5-Grain Vegetarian Dumpling was rich in taste and dietary fibre. Packing a punch with fillings like black truffle this was really delicious.
Cooked right through in flavoursome stock, I loved the texture that this medley of grains produced.
Another newbie on the block which turned out to be my favourite was the White Pepper Crab Dumpling. The peppery flavour came right through the stringy texture of crab. For a reasonable $18 I thought it would make for a great meal if you are a crab lover.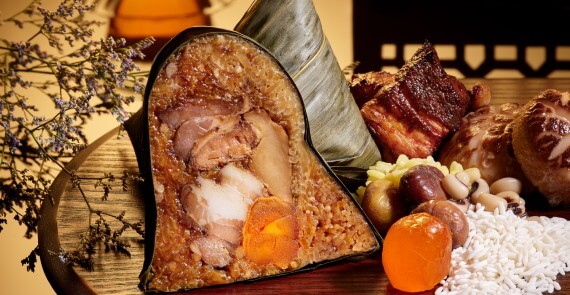 Signature Pork & Salted Egg Rice Dumpling
A timeless favourite back by popular demand to satisfy rice dumpling purists, the traditional Signature Pork & Salted Egg Rice Dumpling (S$14) hits all the right spots. This fragrant parcel harbours succulent premium pork – immersed in chef's secret marinade, perfectly salted egg yolk, mushrooms, black beans and chestnuts enrobed by flavour-packed, soft glutinous rice.
Part of the fun at dumpling time I guess is sharing these treasures with loved ones. Wan Hao's special delivery pack arrives in a grand red designed box fit for these luscious bundles to be packed in.
Purchase a box of 4 handcrafted dumplings and enjoy 20 percent off. It makes for a lovely gift or a bountiful dinner for the family. Hurry and book your pack. There are only a few more days to go.
This classic amalgamation of Chinese delicacies, held dear by traditionalists, yield a perfect balance of tastes and textures, while the wrapping of bamboo leaves facilitates absorption of the natural fragrance of the velvety pork and leaves by the rice. The result – a divine scent that you will not be able to resist.
INFORMATION
A. 320 Orchard Rd, Singapore 238865
W. www.marriott.com/hotels/travel/sindt-singapore-marriott-tang-plaza-hotel/
Comments
Thumping drumbeats and delicious dumplings are the exciting ingredients that make the Dragon Boat Festival a sizzler of a festival in Singapore. Age-old tradition lives on in modern Singapore with the Dragon Boat Festival, a traditional Chinese holiday with apocryphal origins dating back to China's Warring States era. Dragon boat races and dumplings—two of the most distinctive elements of the festival — have their roots in a story of patriotism and politics. A legendary figure One of the most enduring legends associated with this celebration tells the story of Qu Yuan, an incorruptible minister of state during the Warring States era of China. Once a trusted advisor, he was banished by his emperor due to political intrigue and in despair, threw himself into the river and ended his life. Because he was well-loved by the common folk, fishermen started to beat their oars against the water in a desperate attempt to stop the man-eating fish in the river from devouring his body. Others threw cooked rice wrapped in leaves into the water, in the hope that the fish would eat them instead. The stories have fused well with the tradition of Chinese fishermen using dragon-shaped boats to appease river 'dragons', which evolved into a sport during the Han dynasty. Beating the drums Today, many features of the ancient races remain intact, including the long and narrow boat shapes, the prows painted with dragons' heads, and the drums which set the pace for the rowers. In Singapore, a festive atmosphere rules as participants pull furiously on their oars, leaders beat their drums, flags are waved and spectators cheer for their favourite teams. It is vigorous action, tragic history and thrilling camaraderie, blended into one compelling and exciting spectacle. Did you know? Casualties at the Dragon Boat Festival were common in China, as opponents could throw stones and sticks at participants. Needless to say, this custom is no longer practiced! What's Unique A well-loved aspect of the festival, glutinous rice dumplings ('zhang' in Chinese) are triangular, wrapped in pandan leaves and have a wide variety of fillings. A popular version is 'bak zhang', stuffed with pork, water chestnuts and mushrooms, while the nonya (Peranakan*) version bursts with braised pork, five spice powder and candied winter melon. 'Kee zhang' has no filling and is eaten as a sweet, dipped in sugar or 'gula melaka' ('palm sugar' in Malay) syrup. *The term is an Indonesian/Malay word that means "local born", which generally refers to people of Chinese and Malay/Indonesian heritage. content originally appeared on www.visitsingapore.com https://www.visitsingapore.com/festivals-events-singapore/cultural-festivals/dragon-boat-festival/