Continuing its adventure along The Silk Road's gastronomic trail, modern Central Asian restaurant The Nomads launches Kafé Samsa – an all-day concept located in the space just before one enters the restaurant along Telok Ayer Street – that transforms from café and retail space, to a wine bar in the evenings.
Named for a local pastry typically enjoyed in Uzbekistan and Kazakhstan, the café naturally focuses on this buttery delight, offering levelled up versions that are perfect for tea time indulgence. In addition, Kafé Samsa also stocks a range of products such as spices, jam, bread, butter, candy and tea, that are either made in-house or sourced from Central Asia perfect for home cooking and dining.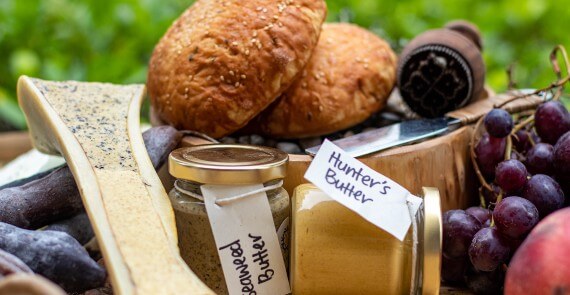 Kafé Samsa's home-made jams and spreads
Co-founders, OIzhas Zhiyenkulov and Shawn Kishore share, "With Kafé Samsa, the nomadic journey doesn't stop at our doorstep, we are the portal that introduces customers to a new Central Asian culinary experience. Our range of traditional produce – some of which are new to the Singapore market – will hopefully inspire everyone to enjoy its wonders from the comfort of their homes."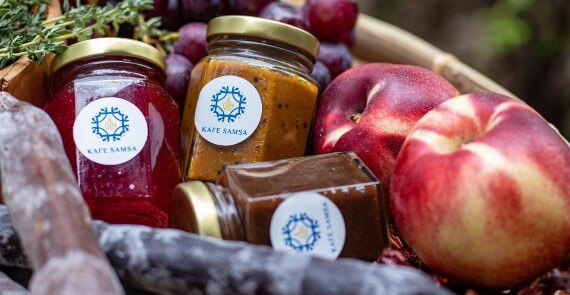 Executive Chef Dannel Krishnan has skilfully created five different flavours, including a sweet version. Perfect for house parties and office gatherings, each half-a-dozen box of savoury samsa ($40) comes with a complementary homemade relish made of fresh tomatoes and sage.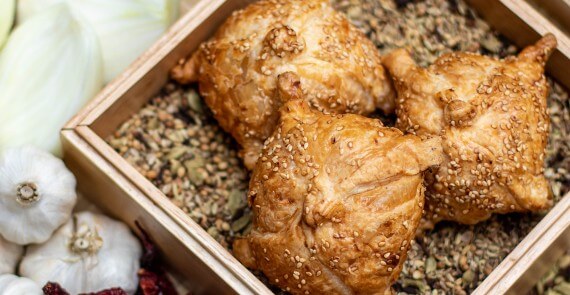 Lamb Samsa ($8) – An homage to the original samsa found in Central Asia, this modern puff pastry version is stuffed with a minced lamb, signature house-blend aromatics and sautéed spiced onions.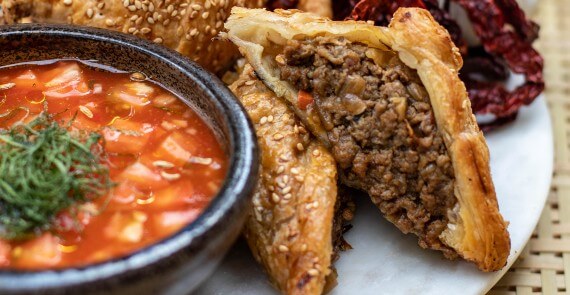 Wagyu Beef Samsa ($8) – Minced Australian wagyu marinated with The Nomads' Blend of house spices is combined with caramelised onions and beef rendering to create this pouch of comforting flavours; a perfect beefy stew that can even satisfy as a meal on its own.
Chicken Samsa ($7) – A Central Asian-style chicken pot pie in a puff pastry form, using native Uzbekistan and Kazakhstan spices. Mushroom & Lentil Samsa ($7) – Specially created for those looking for a meat-free option, this umami bomb includes king oyster mushrooms, lentils, onions and house spice mix; a definite must-try.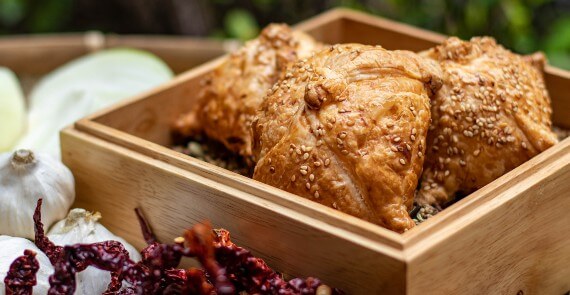 Apple Samsa ($6) – An exquisitely aromatic apple 'pie' like none other! Sweet apple chunks and puree are folded with earthy spices of cinnamon and cloves.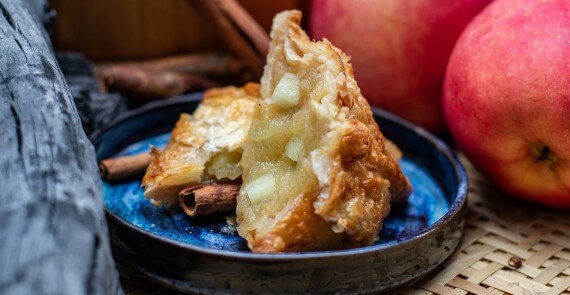 At dusk, Kafé Samsa transforms into a hole-in-the-wall wine bar that serves a selection of fine Central Asian wines, spirits and bar bites skilfully prepared by the Chefs at The Nomads. Available for dine-in, takeaway and delivery, recommended items include: Shashliks (skewered and grilled meats) – Tahini Glazed King Oyster Mushrooms ($6); Green Adjika Chicken ($6); Lamb Meatballs in Charred Tomato Sauce ($8) and sides of The Nomads Nan with Butter of the day ($16) and Hummus Mash ($10).
INFORMATION
A. 74 Telok Ayer St, Singapore 048462
S. www.facebook.com/thenomadssg/
Comments
Named for a local pastry typically enjoyed in Uzbekistan and Kazakhstan, the café naturally focuses on this buttery delight, offering levelled up versions that are perfect for tea time indulgence.
Very reasonably priced and delicious are Kafe Samsa's tea time treats. Local pastries typically enjoyed in Uzbekistan and Kazakhstan, I tried the range of 4 samsa's – lamb, wagyu beef, chicken and mushroom & lentil. At around $8 a samsa these would make for delightful starters if you were off to a friend's for dinner and wanted to take something different, or as a tea time snack. Kafe Samsa also retails home-made jams & spreads, decadent butters with flavours like seaweed and truffle. For $10 you could order a Nomads naan to have with these accompaniments, while sipping a wine from the Central Asian Region, at their wine bar. If this sort of fare is not you, Kafe Samsa has also curated five types of bottled spices to put a nomadic spin on your food. Adjika spice amongst other exotically-named spices is like a paprika powder, great for marinating meats. I am always on the lookout for something different when looking for gifts so this maybe something you might think of, when next in the Telok Ayer area. Pull a few of these artisan delights together to create a food hamper or gift basket. I guarantee your friends will be impressed. To round off my meal of samsas, I tried the artisanal tea blend of Toffee Time – rooibos, cocoa husk, caramel pieces, brittle pieces, natural flavouring. Delicious with a caramel tone and most importantly, without any sugar sweetness. My next try will be Ginger Pear. If you are passing by and fancy a tipple, Kafe Samsa is a quaint little bar that is so charming I am positive you will be as mesmerized as I was. Bar bites like Shashliks, Green Adjika Chicken and Lamb Meatballs are available for dine in and takeaway. Or if you fancy a fine dining meal, then reserve your seat at the Nomads, an elegant restaurant that serves fantastic fare from the Central Asian Region. With a pick of 3 choices in one establishment, that's a pretty good offer don't you think?