The One Michelin-starred restaurant celebrates fresh beginnings with Chef Takuya on board, who showcases a menu of classical French fare with a modern Japanese twist.
After opening at the historic CHIJMES landmark in 2016 and quickly becoming a veritable institution in the local dining scene, Whitegrass has become known for its seasonal menus using the best ingredients, thoughtful hospitality and welcoming interiors. 
Previously the Head Chef at Tokyo's One Michelin-starred Ciel et Sol, the Nara Prefecture native combines his classical French culinary background and inspirations from nature to offer diners five- and eight-course dinner degustation menus of exquisite creations, centred around Chef Takuya's culinary philosophy of 'La Cuisine Naturelle', or 'cuisine of the natural body'.
This is a reference to his profound reverence for nature and unwavering respect for produce, instilled in him since his growing up years in Nara.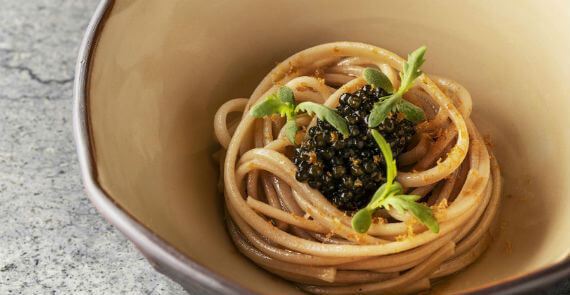 Tea, sake and somen, amongst other specialty produce from Nara, are proudly showcased in addition to seasonal fish from Kyushu and the freshest seafood air flown daily from Japan's best fish markets.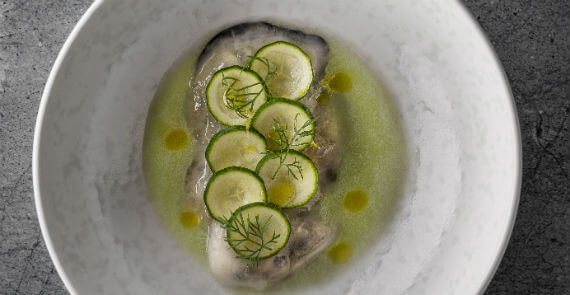 One of the menu highlights is the 'Oyster', specially sourced from the Hyogo Prefecture and served with Granny Smith apple purée, baby zucchini and nasturtium leaves.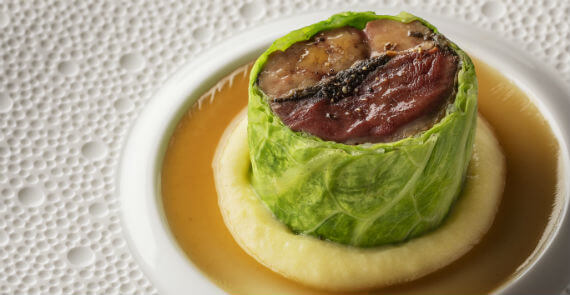 Another highlight, this time showcasing his French culinary underpinnings, is the 'Bresse Pigeon', (pictured above) a roulade of French pigeon and foie gras wrapped in Savoy cabbage and served with pomme purée. 
These dishes pay homage not only to the history of the produce Chef Takuya carefully selects, but also the passionate producers he sources from, from farmers to fishermen.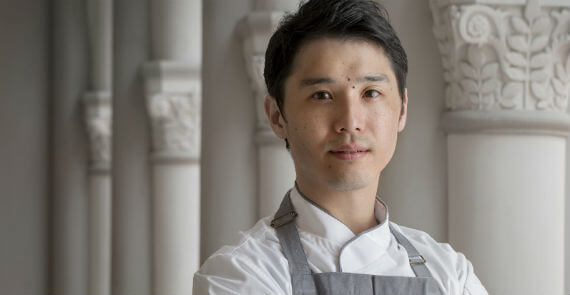 The 'Ikejime' is yet another dish in which Chef Takuya's close relationship with producers is prominent. Named after the traditional Japanese method of slaughtering fish to maintain the quality of its meat, the dish uses seasonal fish sourced directly from a fisherman who lives on an island in Kyushu, and a close friend of Chef Takuya's. The seasonal fish is steamed and served in a lobster stock alongside Hokkaido scallop and seasonal vegetables.
"Chef Takuya's joining marks a significant milestone for us. Combined with the welcoming design and excellent hospitality that the restaurant has been lauded for, we are confident Whitegrass will continue to scale to new heights," says Owner Datin Karen H'ng. Whitegrass is located at CHIJMES, 30 Victoria Street, #01-26/27 187996
A five-course dinner menu is available at $168++ per person, while an eight-course dinner menu is priced at $228++ per person.
There is also a beverage list of Old and New World wines and sakes from the Nara Prefecture, and wine pairings are available. For reservations, guests can call +65 6837 0402 or email [email protected]
Comments
Great news. Loved Whitegrass version one. Version two is bound to just get better and better. Most elegant dining room in Asia
If you are looking for a special night out, with exquisite food and ambiance and authentic attentive top-notch service, you cannot go past Whitegrass at CHIJMES. Both chef and front of house live it and give it to make sure every diner gets a truly special experience. You will not forget the modern Australian food or the beautiful restaurant.
The restaurant was known for its modern Australian cuisine, and located in Chijmes. Service was swift and smooth. I was shown to a sofa seat table with cushion around. Looking at the menu, I decided on the 3-course lunch set ($64++). The meal started with an amuse-bouche which was the chef's version of the korean bibimbap. It consisted of nori cream made with creme fraiche and nori, compressed cucmber sphere, cured trout roe, chrysanthemum petals, puffed wild rice, toasted nori, cherry bell radish, and dashi jelly. It was a party in the mouth. Roasted Mangalica pork jowl, sea scallop xo, braised wombok, land seaweed Interestingly the scallop was flattened into translucent silky sheet, which looked similar to Liang fen 涼粉, but it still retained the scallop's seafood taste. The chinese cabbage was braised in a milky creamy sauce. The pork was fork tender and flavourful. Line caught red seabream, sago porridge, fermented celeriac, young herbs, umami butter The dish was prettily served topped with cucumber's flowers. The sago porridge sat on a pool of herb oil, topped with the fish. The sago porridge was creamy and crunchy with vegetables in it. It smelt umami when served. Australian berries, young coconut mousse, lychee granita, dried milk The mousse was light not too sweet, which was quite balance with the slightly tart berries. The meal ended with a serving of petite four which consisted of a macaron and a tart with crispy noodle like base. I also ordered a cup of latte ($7++) to go with it. Overall the food was delicious and unique in its own way.