In its quest to become the choice destination for German cuisine, beer and celebration, Brotzeit is set to take things up several notches with the introduction of a sausage that measures one metre in length, along with other new sausage dishes.
The Würstel Ringelspiel mit Brezn (Sausage Tower with Pretzel) is an unprecedented metre-long link sausage that diners can enjoy in their choice of Farmer's Sausage (pork) or Smoked Chicken Cheese Sausage, or both with the half-and-half option.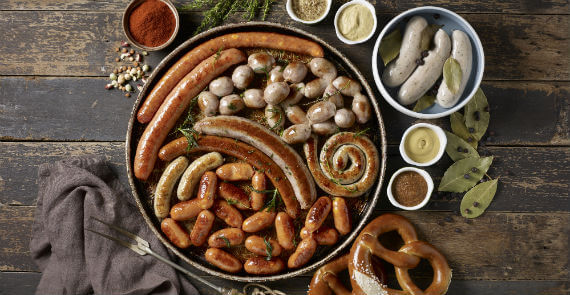 Brotzeit New Sausage Menu
Like all the other sausages you will find at the German beer bar and restaurant, every link is lovingly stuffed with top-quality, all-natural ingredients according to Brotzeit's recipes. Most of all, it feeds their spirit of celebration.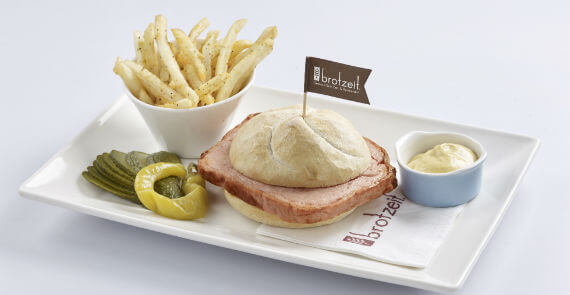 Brotzeit Meatloaf
"As you know, Brotzeit prides itself on doing traditional recipes in a modern way with only top quality produce and spices imported from Germany. Brotzeit is more than just good food and beer. When friends and family come together, we want them to celebrate every moment. This is very important to Brotzeit. It is our philosophy of food," said Brotzeit's Group Executive Chef Wolfgang Ranner.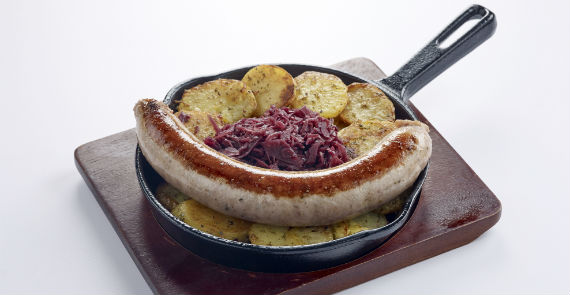 Brotzeit Farmer's Sausage
From 26 June 2019, diners can dig into the Farmer's Sausage, a coarsely ground pork sausage served with roasted potatoes and red cabbage; Smoked Chicken Cheese Sausage, a heart-warming blend of smokiness and melted cheese; and the Wurstsalat, a traditional German sausage salad with home-made vinaigrette dressing. True to their philosophy of sharing good food, guests are free to customise any sausage dish with their choice of sides.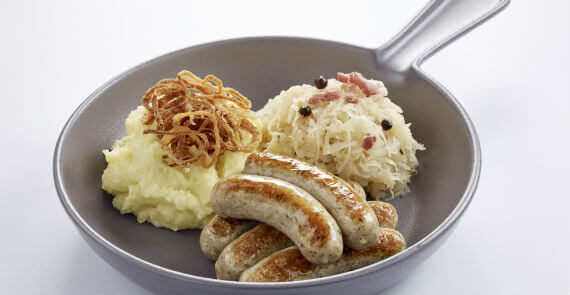 Grilled Pork Sausages
The tasty additions bring the total number of sausage dishes at Brotzeit to 12. Best of all, Brotzeit has the perfect beer for each one, paired by their in-house beer sommelier based on the flavour character each dish.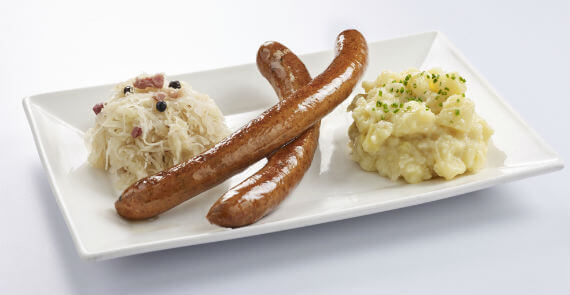 Spicy Chicken Sausage
Brotzeit is also introducing new mustards to complement the robust deliciousness of their sausages. The Horseradish Mustard is a medium hot mustard balanced with horseradish cream, while the Hot Grainy Mustard packs a punch with a slightly nutty taste.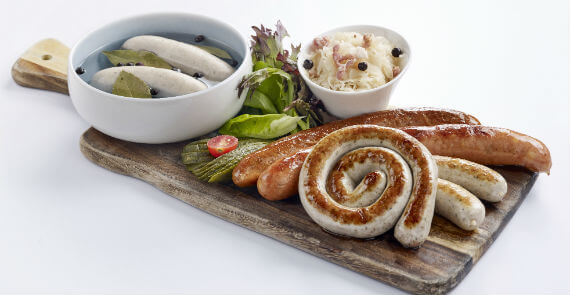 Brotzeit Sausage Platter
Along with their Sweet Mustard and Medium Hot Mustard, these piquant condiments are created with German spices and they bring out the best of the flavour-bursting goodness in each wurst.
Diners can also look forward to specials like the Steckerlfisch, or mackerel grilled on a stick, the campfire cuisine of choice for aficionados of the great outdoors. Now, guests can enjoy this popular summer barbeque dish in the cosy comforts of their favourite Brotzeit restaurant.
Brotzeit's Summer Menu has arrived and it is here to stay.
Brotzeit, German Bier Bar & Restaurant - KATONG ...
Brotzeit, German Bier Bar & Restaurant - Vivo City ...
Brotzeit, German Bier Bar & Restaurant - WESTGATE ...
Brotzeit, German Bier Bar & Restaurant - Raffles City ...
Comments
Brozeit's summer menu is a perfect party starter When your reporter thinks of German delicacies, two things spring to mind: beer and sausages. This then conjures thoughts of jolly, round, moustachioed Europeans in leather shorts having a great time with their friends and family - which is exactly what a trip to Brotzeit turns into. A long time favourite, this Asia Pacific wide chain is one of the highlights of traditional European cuisine on the Singapore scene, with its excellent selection of sausages, salad, and fish dishes, all accompanies by lashing of different beers to wash it all down. Brotzeit just introduced its 'summer' menu — which is here to stay. It includes old favourites Farmer's Sausage, a coarsely ground pork sausage served with roasted potatoes and red cabbage, Smoked Chicken Cheese Sausage, a heart-warming blend of smokiness and melted cheese (an Austrian invention according to Brotzeit's Group Executive Chef Wolfgang Ranner) and Brotzeit Meatloaf 'Leberkäse' (which literally means 'liver cheese' although it contains neither liver nor cheese) Like all the other sausages you will find at the German beer bar every piece of succulent meat is stuffed with top-quality, all-natural ingredients adhering to Brotzeit's strict recipes. One thing that particularly puts a smile on this writer's face is that Brozeit serves teenage favourite - Löwenbräu. Its name is German for "lion's brew" and most Löwenbräu beers are marketed as being brewed according to the Reinheitsgebot, the Bavarian beer purity regulation of 1516 - the Germans love their precision and regulations! The Brotzeit Sausage Platter is a must have and along with their sweet mustards and medium hot mustard, these condiments are created with German spices that bring out the best of the flavour-bursting goodness in each piece of meat. The horseradish mustard is simply glorious. The Steckerlfisch, or mackerel (or, as we finally got out of the team, can be any fish) grilled on a stick, is a connoisseurs favourite and a secret recipe of the highly amusing and talented Brotzeit Group Executive Chef. The team at the Somerset outlet are a credit to their evolving company and upstairs dining room is a great place to throw a party for a dozen or so friends and family. Their new menu is a cracker and can make any lunch or dinner fun and tasty.
Brotzeit have gone all out and introduced a new summer menu that takes the number of sausage dishes on its extensive German menu up to a choice of 12 The in-house devised recipes for the making of the many different styles of sausage here in Singapore are all secret, as the combinations of the herbs and spices used are unique to Brotzeit, together with the 100% real meat sausages are what stands these sausage treasure's apart from other cheaper cafe or supermarket sausages. Did you know that most sausages you buy for the poolside BBQ consist of about 30% meat and the rest is "god knows what". That's not to say that the decent butchers in town also offer 100% natural meat selections, of course many of them do, but when dining at Brotzeit you can rest assured you are eating 100% goodness and not low grade combinations of this and that... all mixed together. You can taste the difference! My favourite during our feast was firstly for the Farmer's Sausage, a coarsely ground pork sausage served with roasted potatoes and red cabbage. The taste of the Farmer's Sausage is great. When you cut into the sausage you can see the freshness and the goodness on the meat in every bit. At $18 for the whole dish it is a meal in itself. Next I really enjoyed eating the Wurstsalat, a traditional cold German sausage salad with home-made vinaigrette dressing. the salad was literally soaking in the vinaigrette sauce which made it even more delicious to the taste-buds. Brotzeit s all about the spirit of celebration, and with any celebration there is a whole lot of sharing involved. So in conclusion, I suggest the best way to experience the summer menu at Brotzeit is to get a group together and convene on one of the Five Outlets in Singapore and order up a sausage selection feast with the idea of sharing " everything" include the 12 side orders dishes on offer. And it goes without saying, order up on Beer, Beer, Beer and plenty of it to wash down those delicious and mouthwatering sausages....
I have been a Brotzeit fan for many years, usually frequenting the restaurant for a fix of sausages and beer. This month though was different, as it is the season of white asparagus, the king of vegetables! Chef Wolfgang gave us a narrative on why the rave about this seasonal vegetable. In Germany it is revered like durian is in Singapore. It also signals the end of winter which is uplifting but only extends till mid-June or so when the season dies out. You might ponder on the difference between green and white asparagus. The former is exposed to sunlight where the latter isn't. Harvesting white asparagus is also manpower intensive as it requires expertise in knowing which stalks are ready for the picking in the earth. Because white asparagus is sheltered from the sun, it grows a thicker skin which has to be shaved off before cooking hence 30% of the vegetable is lost. Being an ardent fan of German wines I was pleased to be served a dry Pinot Blanc from the Rheinhessen Region. Stumped as to where this was on the German map, I reached out to Google with a silent "thank you" for the convenience we have today. The largest of 13 German wine regions for quality wines, it lies on the left bank of the Rhine between Worms and Bingen. The food started to arrive. My first course was the cream of white asparagus soup with gammon ham. It was surprisingly light and hit the spot when dunked with a slice of rye bread, which was served on the side. Admittedly I do fill up fast with soup so I left half of it to keep space for what was coming up. The bacon-wrapped white asparagus was more than a hint of naughty. Meshing healthy with unhealthy food, it was a fabulous way to enjoy bacon and feel good about it. Do you think I left even a tiny morsel behind? No chance. Moving on to mains the white asparagus with pan-seared barramundi was outstanding. Served with a hollandaise sauce on the side, herbed garlic butter and parsley potatoes, the combination of food was perfect. I have to say the Kuhlbarra barramundi which is locally farmed in Singapore made all the difference. The crispy skin retained a lot of flavor from this delicious fish! Chef Wolfgang decided to throw a curly at us and asked if we would try a small glass of lager to go with our next course, the grilled beef tenderloin. Served with the same condiments as the fish, the meat was grilled to perfection. Juicy and delicious, it truly did go well with a sip of beer, which left a good taste of bitter at the end. It's not the thing to do – have beer with a good cut of beef when there are fabulous wines on offer but Chef Wolfgang being a practical man who is willing to buck convention, was all up for it. He convinced most of us that it is something to consider on our next visit to Brotzeit. We were pretty topped up by this time and were amazed to see a sharing platter arrive with black forest ham, gammon ham, smoked salmon, poached eggs, white asparagus and parsley potatoes. The eggs were placed on top of the asparagus, then broken, so the soft center oozed out to cover the asparagus. A treat to say the least but you'd have to love eggs! Desserts are a funny thing. I somehow have place for it. As if there lies a hidden compartment in my tummy waiting to be filled. This deconstructed lemon cheese tart was the perfect end to a full meal. The lemon and white asparagus blended so well with the cheese and crunchy tart crumble. Interestingly this dessert was served in a glass where the layers of each ingredient could be seen. Very nice indeed. The Brotzeit team were simply warm and entertaining. I could see their motto of caring and sharing project itself in large sharing platters and their ability to enjoy what they do. Corporate lunches and dinners are also available for groups of four or more. The venue at Somerset 313 boasts a room upstairs which is not obvious when walking past on the ground level. We didn't smell a sausage this time as it was the time for white asparagus to be crowned. If you have not tried this special vegetable, head on down to Brotzeit and give it a go!