What do you think about Raising the Steaks since 2012. Now that's a commitment!?
Inspired by the laid-back, food-loving ethos of Australia and its people, Wooloomooloo Steakhouse derives its name from a bayside town along the Sydney Harbour.
An offshoot of the successful Hong Kong-based Wooloomooloo group, the restaurant was established in 2012 at Swissôtel The Stamford, and also operates The Chop House at i12 Katong and Vivocity.
Wooloomooloo Group was established to, 'raise the steaks' in Asia's flourishing dining scene with ambitious culinary standards aimed to achieve an easy sophistication that both impresses and relaxes. In Hong Kong, it operates Wooloomooloo Prime, Wooloomooloo Steakhouse and The Chop House.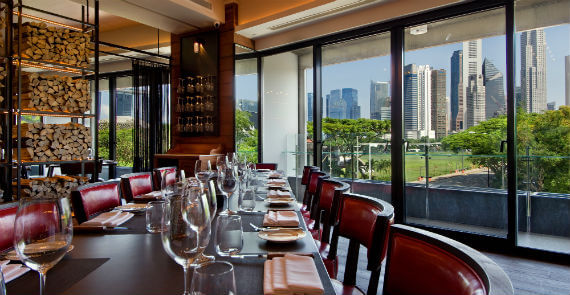 Over the years, the culinary team, headed by Chef Dinesh Nagalingam, has deservedly established Wooloomooloo Steakhouse as among the best of its kind in Singapore with its high standards. The restaurant promises a memorable dining experience with its premium steak selection, time-honoured grill favourites and impressive range of wines and cocktails.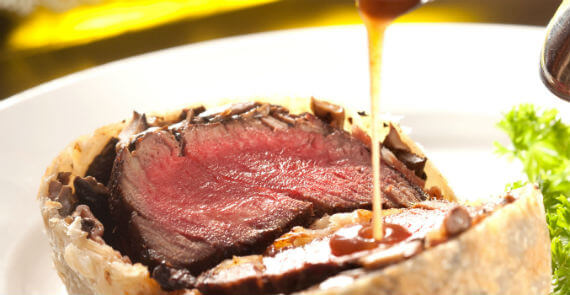 Beef Wellington - a filet mignon layered with mushroom duxelle, parma ham and foie gras
Its interior décor offers a combination of class and ease with elegant wood furnishings and leather-upholstered seats. An open theatre kitchen concept showcases the hustle and expertise of the culinary crew at work. Spread over 6,300 sq ft, the spacious restaurant is shielded by expansive floor-to-ceiling glass windows with panoramic views of the Singapore city skyline.  
Wooloomooloo takes its steaks seriously. Upon entering the restaurant, guests will be greeted by an impressive chiller where the beef cuts are personally aged – undoubtedly an indication that this steakhouse does not take the art of steak lightly.
Each cut at Wooloomooloo is handpicked, cut in-house and prepared by passionate and experienced hands. The well-trained kitchen team guarantees guests' steaks are done just the way they like them. Every slab is artfully flavoured with seasoned sea salt and broiled at approximately 980 degrees Celsius inside gleaming Southbend broilers from the USA, to attain the ideal medium-rare doneness, as recommended by the chef.  
Well-loved Wooloomooloo house specials include a range of cuts such as: Australian Wagyu Tomahawk (S$5 per ounce) – 350-day grain-fed, wet-aged Angus cut named due to its resemblance to a Native American Indian tomahawk axe (main image). This massive whole rib steak weighs between 42oz to 63oz with bone in – absolutely perfect for sharing. Australian Black Angus Porterhouse (S$140) – one of the most popular cuts, this 200-day grain-fed, wet-aged slab of beef is juicy right down to the bone. Weighing about 960g or 34-ounces, the Porterhouse could satisfy one to two diners.
Other must-try cuts at Wooloomooloo include the 300-day wet-aged USDA Prime Rib-Eye Steak (S$78 / 12-ounce) and grass-fed, 25-day dry aged Irish Black Angus Sirloin Steak (S$80/ 12-ounce). Each steak is served with four luxurious homemade sauces – Red Wine Madeira, Au Jus, Peppercorn and Mushroom - along with the choice of four gourmet mustards (Dijon, English, Granary and Green Peppercorn), to accentuate the exquisite taste of the beef.
Then, there's the luxurious Beef Wellington - a filet mignon layered with mushroom duxelle, parma ham and foie gras, wrapped in puff pastry (S$76). And unique to Wooloomooloo is the Wooloomooloo Steak (S$78 / 12-ounce); an Australian Rib Eye marinated in a perfect blend of Cajun spices, which accentuates the flavour of the cut. 
When it comes to Wooloomooloo's starters, guests will certainly be spoilt for choice. Wooloomooloo's appetisers range from the more traditional dishes such as Foie Gras served on homemade brioche (S$29) and Steak Tartare (S$28), and veers into novel creations such as Broiled Georges Bank Sea Scallops wrapped in applewood smoked bacon ($28) and Tuna & Spanner Crab Tartare (S$24) laid upon a bed of avocado, orange, shallot and coriander, and finished with sour cream and salmon roe.  
 
Wooloomooloo offers fresh oysters sourced from the coldest oceans around the world - Natural on the Half Shell (S$42 per half dozen) and Oyster Kilpatrick (S$48 per half dozen). 
 
For those who prefer to start with a hot soup, Wooloomooloo offers three choices; Cream of Forest Mushroom (S$18), French Onion Soup ($18) and their bestseller, Lobster Bisque (S$22) served with a cheeky dash of cognac and lobster meat. Salad choices include the Classic Caesar Salad (S$18) and Wooloomooloo Salad (S$29).
Non-Steak Specialties
Not in the mood for beef? At Wooloomooloo, diners looking for delectable alternatives can select from a list of game and seafood dishes. A crowd favourite is the Pan-Seared Barramundi Fillet (S$50), where the beautifully seared fish is perched atop Lyonnaise potatoes and accompanied with a zingy tomato sauce made with olive and capers. Other mouth-watering selections include Wild Mushroom Rigatoni (S$38) flavoured with black truffle, Grilled New Zealand King Salmon Fillet (S$52), Roasted Spatchcock Chicken (S$44), and last but not least, the restaurant's gloriously crusted Dorper Lamb Cutlets (S$62) served with a red wine sauce. 
No steakhouse menu would be complete without a line-up of side dishes such as the Baked Idaho Potatoes with all the trimmings, Lyonnaise Potatoes, Sautéed Onions, Steamed Broccoli, Creamy Corn, Sautéed Spinach with Mushrooms and Steamed or Grilled Asparagus. Sides range from $14 to $18 each. 
Although a rather tough feat, considering the irresistible array of first and main courses, guests are encouraged to leave room to indulge in the diverse selection of desserts at Wooloomooloo. These include the Wooloomooloo Hot Chocolate Cake (S$27) – a sinful chocolate cake with a molten liquid centre, balanced out with a scoop of vanilla gelato. Wooloomooloo has also garnered a reputation for its Soufflé (S$19), and rightfully so. For a lighter finish to the meal, the airy soufflé is an excellent choice, and comes in four flavours – chocolate, raspberry, passionfruit and Grand Marnier. 
 
Traditionalists will be pleased to know that classics are also on the menu. They include the Bread & Butter Pudding (S$17), Crème Brûlée (S$18), Pavlova with Chantilly Cream (S$19), the Wooloomooloo Cheesecake (S$19), and Cheese Board for Two (S$34).
Wine Selection  
Wooloomooloo's comprehensive wine list of over 150 labels is a wine connoisseur's dream. Painstakingly selected by Noel Emmanuel, the Managing Director, the range encompasses both Old and New World wines, as well as world class Champagnes and sparkling wines. 
 
Wooloomooloo also provides guests with the added service of 48 personalised wine lockers so diners may store their favourite wines for their next visit. Wine lovers simply have to purchase $2,500 worth of wines to own a locker for a year. Each locker bears a customised brass plate with the name of the wine locker holder engraved onto it. 
 
Lunch at Wooloomooloo – Noon to 2.30pm (Monday – Friday) Be it casual lunches with friends or power lunches with business clientele, Wooloomooloo is set to make an impression with its refreshing selection. A separate à la carte lunch menu is available every weekday, Monday to Friday, from noon to 2.30pm offering a range of food items varying from its regular menu. The menu is updated monthly to keep guests coming back for more.  
 
Apart from signature starters, look out for small plate items such as the tantalising Beef Carpaccio Arugula (S$34), or indulge in one of the three selections of fresh oysters: Fin De Claire (S$6 per piece), Rockefeller (S$8 per piece) and Kilpatrick (S$7 per piece). 
 
The main dishes available on this menu includes the highly raved Steak Tartare (S$25), with its creamy raw tartare flavoured with truffle aioli, charmingly contrasted with the crunch of shallots and chives, and served alongside perfectly toasted rye - makes a marvellous medley of flavours and textures in a single dish. Other hot favourites consist of the Miso Marinated Cod (S$28), Steak Frites (S$33) and the Iberico Pork Chop (S$31). 
 
However, if you are in the mood for Wooloomooloo's classic dishes, the regular à la carte menu is also available for lunch in addition to the lunch menu. 
 
Weekend Brunch at Wooloomooloo - 11:30am to 3pm (Saturday & Sunday)  Wooloomooloo's brunch menu will fast solidify the restaurant's position as an impressive contender in Singapore's growing brunch scene. One look at the mouth-watering five-course brunch menu (S$68++ per guest), which changes monthly, will make Wooloomooloo a regular brunch spot for food lovers. Celebrate the weekend even more by adding some fizz to the meal and opt for free flow Laurent Perrier La Cuvee Champagne, Gin & Tonic cocktails, wines, beers and spirits at S$128++. 
 
Adam & Eve Night  
At Wooloomooloo, no man is left behind! The humpday special has been extended to include both ladies and gents. Every Wednesday from 7pm to 9pm, all guests will enjoy free flow Laurent Perrier La Cuvee Champagne, red & white wines, as well as selected martinis, at S$58++. This offer is exclusive to the Wooloomooloo Bar.  Salud!  
 
MOOtini Nights
Martinis are twice as tasty when the second glass comes free! Available every Monday to Friday, from 5pm to 8pm, Wooloomooloo offers a splendid 1-for-1 MOOtini special in its sleek lounge. With an extensive selection of martinis, ranging from the Wooloomooloo Signature Martini (S$20) to the Espresso Martini (S$22) and Pink Kiss (S$23), a concoction of fresh lemon juice, crème de violette and gin. MOOtini nights get even better with complimentary steak sliders to accompany the 1for-1MOOtini deal.  
 
Weddings, Corporate and Private Affairs
Wooloomooloo makes a great location for any occasion. Providing the perfect ambience for an intimate wedding affair, the steakhouse offers a comprehensive wedding package, which includes an irresistible five-course menu. The sales and marketing team is also on hand to assist with customised plans for every event, from business conferences to cocktails receptions and lavish parties.