Is your daughter stuck in Singapore? Are you looking for a diversion to keep her occupied over the coming holidays - all while preparing her for the future? A tailored etiquette, grooming and make-up course that is designed to provide skills and knowledge for young ladies. 
The 3-day course being conducted at The Regent Singapore builds confidence and a positive sense of self for young ladies.  The ladies attending the 3-day course discover the value of good manners to navigate the modern world.  They learn skills to empower their lives to help them make decisions both personally and professionally, as well as the importance of making a lasting impression by way of etiquette, grooming, make-up and photography.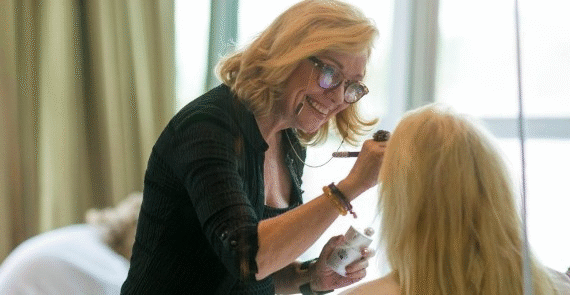 Image Credit: Your hosts Moira Coops and Asha Langdown
Course Content
Day 1 : Etiquette (3 Hours)
The ladies will be invited to a lunch where they will practise dining etiquette, good conversation and suitable table manners for all occasions. Particular attention will be given on how to conduct yourself in a professional or formal environment.
Day 2 : Grooming (3 Hours)
The ladies will learn about skincare and make-up products and techniques for ultimate grooming.  They will be introduced to the importance of health skin, hair and nails as well as wardrobe rules for various occasions.
Day 3 : Make-Up and Photography (4 Hours)
In a studio, the ladies will be taught make-up and hair skills that suit their unique style.  To celebrate the completion of the course, they will have a professional photographic shoot and be presented these photos together with a certificate of completion.
About Moira Coops
Moira Coops is one of the most sought-after image and make-up artists in the world.  She has worked with some of the biggest names in fashion, entertainment and business including Jewel, Prince Albert of Monaco, Deepak Chopra and many others. Moira also provides media trainings for Oakmedia and manages teams for fashion shows and corporate videos.
About Asha Langdown
Hospitality trained with more than two decades of marketing and communication expertise in the luxury industry. A senior management professional with skills in driving and managing a regional team of diversely different communicators to deliver top results for one of the most prestigious international brands.  A veteran in organising superior quality unique events for the ultra high net-worth society,  Asha is well-versed in the finer nuances of image, luxury brand building and communications which will set you apart and let you shine as a star in your own constellation.
For more information, course fees and further details, please contact :
Asha Langdown at +65 9799 7682 or [email protected] 
Moira Coops at +65 9789 5262 or [email protected]
Comments
With more than 20 years in the industry, Moira Coops is a true diva wrangler, having worked with major opera singers, pop culture singers, actors, and actresses.Moira teaches other makeup artists as well as blind women how to do their own hair and makeup. She does one-on-one makeup makeovers for ordinary women as well as specializing in TV work by guiding the anchors as to what to wear, how to look, hair, makeup, clothing choices, and posture, to name a few of her skills. Moira has worked with some of the biggest names in business, politics, and entertainment including Bill Gates, Hillary Clinton, Maria Bartiromo, Beyonce, Sir Richard Branson, George Bush Sr., Prince Albert of Monaco, Deepak Chopra, Barack and Michelle Obama, and many others. Moira also specializes in airbrush makeup. In the world of film and high-definition TV, with celebrities, the airbrush makeup technique is the superior application technique as it sprays a fine mist of foundation for a flawless, even application boasting lightweight, natural coverage that covers imperfections.